As serious ski destinations go, Chamonix has got to be one of the world's most famous. However, if you're looking for a slower pace this winter, head up the valley to Vallorcine, where quiet charm, epic skiing and authentic Alpine character make a fantastic base for mountain lovers.
Often referred to as an all-seasons mountain sports Mecca, the Chamonix Mont-Blanc valley is an unofficial meeting point for action sports lovers from across the globe.
Each winter, the area draws hundreds of thousands of visitors as snow sports fans hit the resorts' world-famous slopes, taking on some of Europe's most iconic descents and exploring some of the world's most famous off-piste terrain.
However, with so many visitors flocking to the area all year round, finding a quiet, relaxing place to stay in Chamonix itself can be tricky!
Instead, why not base yourself a little further up the road this winter and enjoy the peace, quiet and authentic charm of the stunning Residence & Spa Vallorcine Mont Blanc?
Just 30 minutes from the centre of Chamonix, Vallorcine is one of five villages that makes up the Chamonix Mont-Blanc valley; the others being Servoz, Les Houches, Argentière, and Chamonix itself.
Vallorcine is the last village between Chamonix and the nearby Swiss border and consists of a series of beautiful hamlets that wind their way up the valley. Indeed, although Vallorcine is just 30 minutes away with the free local train from the town of Chamonix, it certainly does not live in the shadow of its more energetic neighbour.
Instead, Vallorcine prides itself on preserving a more laid-back atmosphere and an authentic Alpine feel. For those looking to get away from it all, this allows for a quieter, more relaxing experience, where you can reconnect with the mountains and with yourself.
At the heart of Vallorcine lies our favourite spot in the area, the Residence & Spa Vallorcine Mont Blanc, standing proud against a spectacular Alpine backdrop.
Combining the cosy chalet atmosphere we all know and love with sleek, modern designs, the Residence & Spa Vallorcine Mont Blanc provides the perfect opportunity to escape the stresses and shackles of everyday life with a truly rejuvenating winter getaway.
Winter in Vallorcine
Though the resort of Chamonix has become synonymous with the Mont Blanc area's epic ski terrain, plenty of the area's most popular skiing can be reached from the valley's other villages, including Vallorcine itself. In particular, the Balme ski area, just above Le Tour, is accessible by gondola from the village and provides a wide variety of fantastic beginner and intermediate routes, as well as skiable access to Le Tour.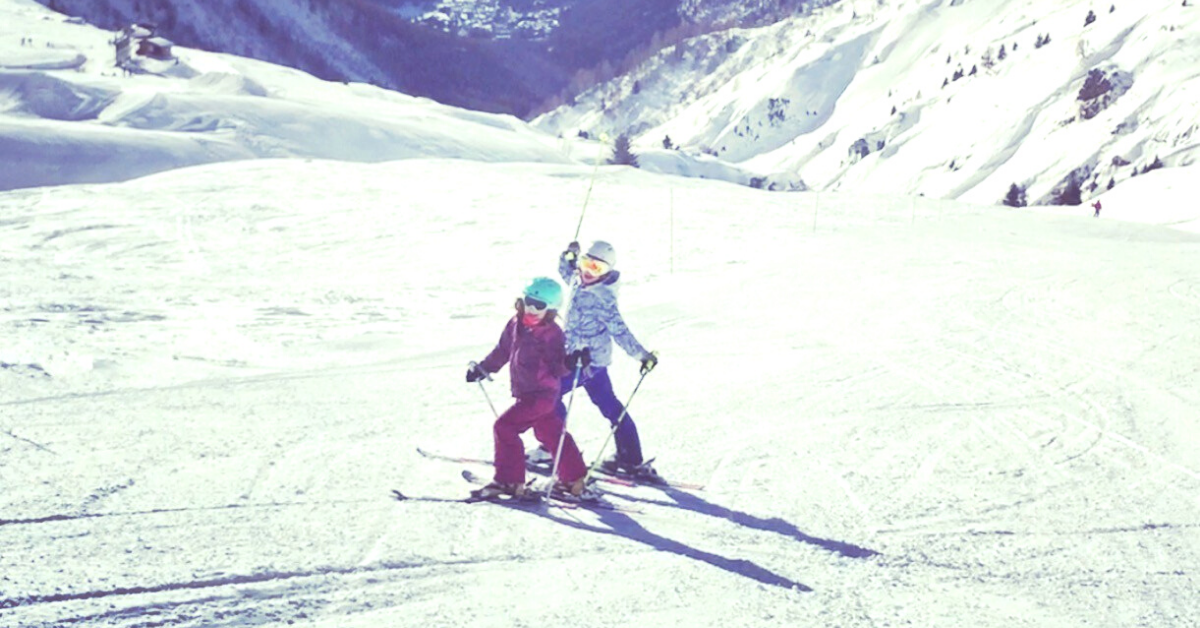 Looking for more expert entertainment? Advanced skiers based in Vallorcine can also enjoy some of the world's most spectacular slopes and off-piste terrain thanks to the Mont Blanc Unlimited pass. This allows access to 1003km of ski slopes across three countries, including not only the Chamonix area, but also the Megève-Evasion Mont-Blanc, Courmayeur & Verbier.
Even for those that don't ski, there's plenty of on-snow action to enjoy in Vallorcine. From dog sledding and tobogganing to snowshoeing and hiking, there are numerous ways to experience the quiet magic of winter in the mountains. If you're lucky, you might even spot some mountain wildlife! Vallorcine prides itself on its biodiversity and strong relationship with nature, so it's not uncommon to spot chamois, squirrels and deer enjoying the mountains alongside you!
A morning's hike amongst the mountain creatures and sun-tipped peaks, an afternoon relaxing in the spa, an evening filling your belly with some of the region's best cuisine… We can think of worse ways to spend a day!
Why the Residence & Spa Vallorcine Mont Blanc?
There's nowhere better placed to offer all this and more, than the Residence & Spa Vallorcine Mont Blanc. This gorgeous complex boasts 41 cosy chalet-style apartments spread over three buildings, each featuring a spacious balcony overlooking the valleys' dramatic mountainscapes.
It's the perfect place to unwind after a long days' skiing, whether you prefer to put your feet up in your warm and welcoming living room with your beverage of choice – or treat yourself to a spa experience in the residence's state-of-the-art wellness area.
Indeed, we don't think anyone will be able to resist a post-ski soak in the inviting waters of the SPA du Mont-Blanc, which features a large, revitalising swimming pool (heated to 28° and equipped with hydromassage jets) as well as saunas, treatment rooms and a fitness room.
There's also an option for younger skiers (aged 6-12) to enjoy the same special treatment as their parents in the Spa des Enfants, where the dedicated Nougatine brand offers pampering specially formulated for children.
In an age of social distancing and working from home, the Residence & Spa Vallorcine Mont Blanc have also created an offer that we think is going to prove very popular this winter; dedicated teleworking getaways.
Your apartment will feature your very own office containing high-end ergonomic furniture, desk lamp, printer availability and high-speed internet, while you will also enjoy all the additional elements of a fully serviced hotel stay. Spas, saunas, skiing (if anything calls for a long lunch break it's this!)… It's the perfect solution for those that might need to combine work and pleasure this winter.
Plus, if all that doesn't have you sold, there's even a gorgeous on-site tea room for those Brits who simply can't be without a cuppa!
Getting to Vallorcine
Like Chamonix, the village is easy to reach from the UK. Modern roads make driving to the resort quick and simple, while the proximity of Geneva Airport (just an hours' drive away) means you can easily reach the area, whether for a weekend or a few weeks!
With travel to France looking increasingly promising in the coming months, Vallorcine may just be the ideal location for those looking to escape everyday life this winter.
To find out more, or to book, head to www.chamonix-vacances.com