Pete Thompson was lucky enough to visit the slopes of visit Val d'Isère, but rather than just ski the slopes he found an icy pool to float in too.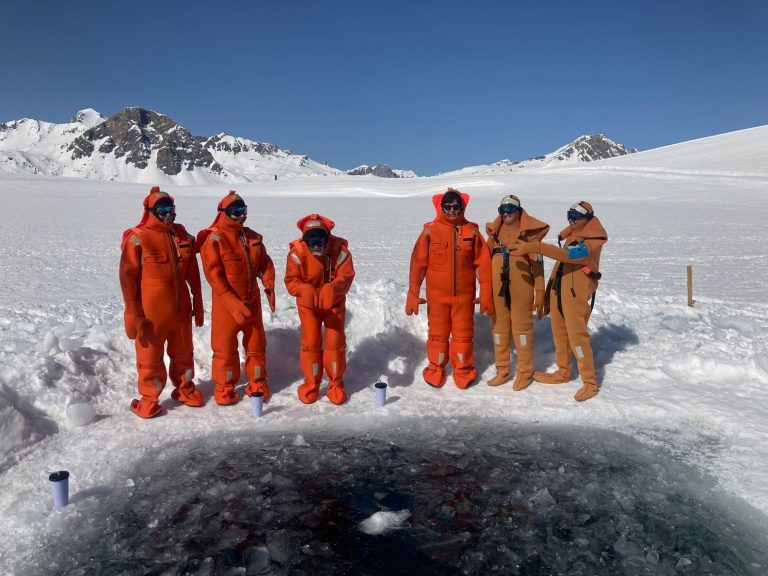 Gazing up at a clear blue sky while floating flat on my back in freezing cold water I am struggling to stop myself from drifting off.
I had hoped to avoid being in a horizontal position on the slopes in my first ski trip for two years, but here I am with my skis off wondering how on earth I am going to get back on my feet.
Off piste with not a solitary fellow skier in sight, I am almost motionless in uncharted territory surrounded by huge blocks of ice.
There is no need to call for help in the iconic resort of Val d'Isère, though, as I am in a state of sheer bliss rather than troubled waters.
Following a morning of whistling down quiet runs, I could not feel more relaxed as I experience ice floating for the first time.
During a short walk from an igloo to a large hole in the frozen Lake Ouillette, I had wondered what on earth I was letting myself in for.
Yet there was need to put Wim Hof's breathing techniques into practice when I eased myself into the water, as my enormous orange dry suit ensures I do not feel the cold high in the mountains.
Following the odd commotion as one or two fellow ice floaters warily enter the water, before long there is silence and I am completely chilled out in a world of my own.
Rather than gasp for breath, I'm nodding off in idyllic surroundings, reaping the rewards of such a unique sensory experience that originates from Finland and leaves me feeling revitalised.
Back On The Slopes, But Lunch First Obviously
Having just about managed to keep my eyes open while watching planes leave vapor trails high above me in a cloudless sky, I summon the energy to lift myself from a slumber and float up for a delicious lunch at the new Gigi restaurant in the Refuge de Solaise.
Eager to hit new heights with fresh legs, I head up to the Glacier du Pisaillas and marvel at the most incredible views of majestic snow-capped mountain peaks as I ski exhilarating runs on pristine pistes.
Very much a beginner when I made my only previous trip to Val d'Isère many years ago, I was unable to fully appreciate the vast and varied terrain available in one of the best ski resorts in the world, with its 300km of slopes, linked to neighbouring Tignes and its vast lift-served vertical, also one of the highest in the Alps.
And Relax (Even More)
Skiing down to the village with a thirst, I am soon drawn back into water, this time unwinding in an enticing outdoor jacuzzi at the luxurious Chalet Davos.
One of Ski France's Premium Chalets, the stylish Davos is just a short walk from the village and I barely have to lift a finger due to the introduction of contactless catering, which delivers delicious food pre-prepared to our chalet.
There is no need to rush back from the bar when you have a luscious locally-produced three-course dinner to heat up upon your return, with the only food for thought required being when to eat it.
Breakfast and afternoon tea are also delivered, while there is wine aplenty, beer stocks are replenished, the backstage chalet crew will come in to clean when you are out halfway through the week and ski hire is arranged as you benefit from a personal touch without the contact.
It is not only at the chalet where I feel very much at home, as the 1789 Restaurant has the intimate feel of the owners having opened their doors for friends to come in and enjoy the most authentic local cuisine.I refuel with a tender steak, washed down with fine wine and a génépy aperitif.
Over To Tignes
The following morning I am sampling génépy once again, but this one is the name of an exhilarating long blue run over in Tignes that I hurtle down after heading up to the summit of La Grand Motte rather than a post-dinner drink.
Relishing having so much ground to cover, I am suddenly stopped in tracks and captivated by the geographical wonder of L'Aiguille Percee – a spectacular rock formation with a large hole in – also known as 'the eye of the needle'.
There are some very alternative sights to behold at La Folie Douce, a mecca for apres-ski where I am treated to a sumptuous black squid linguine with lobster and bottarga for lunch before joining the revelers.
Professional dancers strut their stuff to the DJs tunes on a roof facing the slopes, while the fancy dress ranges from a Deliveroo uniform to Ali G at the highest cabaret in the world.
The next morning I get back into a good rhythm on cross-country skis before a visit to the Mountain Ski Academy, where I am trying my hand at biathlon.
Benefiting from former junior world champion Lena Arnaud's expert tuition, I load my rifle and manage to hit the targets –grateful I had not taken any shots at La Folie Douce.
My team finish second, with no video replays to punish a member of our group that stayed at the sublime Chalet Inuit and clearly felt that only the catering should be contactless as she gave me a push in the back during the relay race.
There was no need to be touchy, though, as we had broken the ice long before floating in it during such a fun-filled trip to Val d'Isère.
Pete Thompson stayed in Val d'Isère with Ski France in one of their Premium Chalets, Chalet Davos. For more information visit Ski France Premium or call 0203 475 4756.