It's easy to fall in love with Switzerland: the seamless service, the spectacular scenery, the big ski areas and cosy resorts, the high-quality, efficient transportation – the list of boxes ticked for offering what you need for the perfect ski holiday is a very long one.
Even before you leave the UK, you'll find a different class of airline if you book with SWISS, and your ski equipment is carried free in almost every fare bracket. Then once you land in Switzerland, you'll find railway stations in the airports and fast, comfortable and uncrowded connections to the resorts. A simple return rail ticket takes you there and you don't even need to reserve your seat – those crazy Swiss thought of running trains with enough seats for everyone to be able to sit down anyway, imagine that!
The only problem you face is the choice – there are so many great Swiss ski destinations. Over these six pages we'll try to lay out the options for you with our "speed dating" guide to many of Switzerland's best ski resorts, and you'll also find a list of some of the big events to look out for in the Swiss Alps – should you want to add an extra dimension to your trip by perhaps tackling Europe's longest floodlit toboggan run or take a ride on the yummy cheese fondue train. You'll also find our guide to some of Switzerland's most romantic slopeside, ski-in/ski-out hotels, one of which could be your perfect base.
Wherever you go and whenever you travel, enjoy falling in love with Switzerland, whether it's your first time or the hundredth.
Travel To Switzerland
From the UK and Ireland, fly with SWISS, as they have more than 180 weekly flights to Switzerland. Unlike with most airlines, your ski equipment travels free (excluding Economy Light fares).
Once you've landed in Switzerland, the best way to reach your holiday destination is with the Swiss Transfer Ticket. This special ticket takes you from any Swiss arrival airport/border station direct to your ski resort and back again at the end of your stay. The Swiss Transfer Ticket costs £94 (2nd class) or £151 (1st class) and is valid for one month. Children under 16 years travel free of charge, when accompanied by an adult holding a Swiss Transfer Ticket or Swiss Travel Pass.
So Many Ski Areas To Fall In Love With !
The toughest choice in skiing Switzerland is knowing which area to fall in love with. Each of the country's regions has plenty of ski resorts to choose from! But fear not, you can try several before deciding which is the one for you. Or maybe never decide and just keep trying.
Bernese Oberland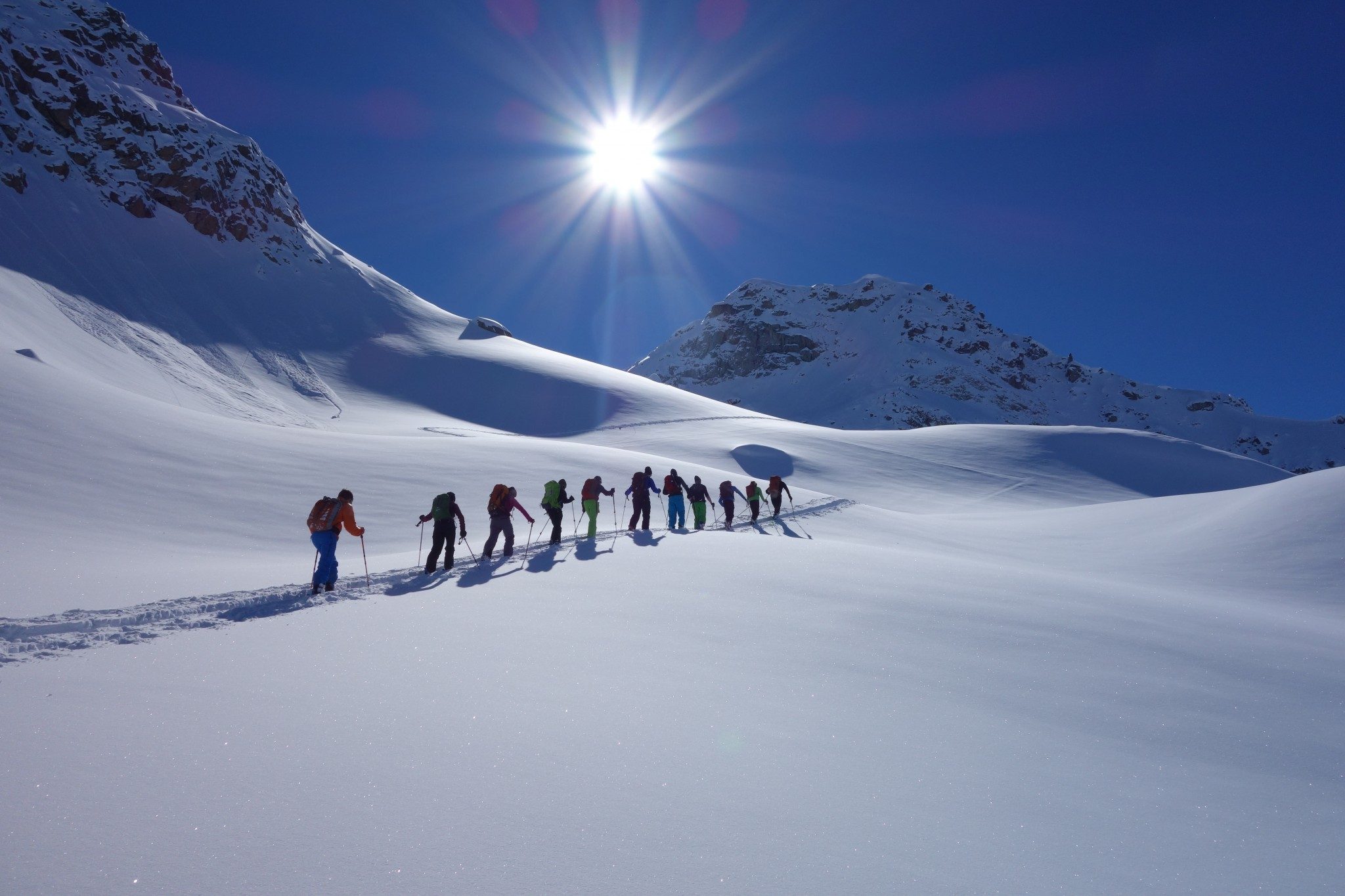 Home to one of the most spectacular ski destinations on earth, including the Jungfrau, Haslital, Gstaad, Lenk, Adelboden and Kandersteg.
Brits have been falling in love with the Jungfrau Region, and its resorts of Grindelwald, Mürren, Wengen and Lauterbrunnen, for nearly a century and a half.
The Jungfrau mountain itself is one of three including the Eiger and Mönch that stand imperious and spectacular above the extensive 260km of slopes which rise to 3000m and include the remarkable railway ascent to Europes highest station at the Jungfraujoch.
The four villages of Grindelwald, Wengen, Mürren and Lauterbrunnen together form one of Switzerland's most varied snowsports regions, and the many attractions here include the famous Lauberhorn World Cup race staged each January and the revolving restaurant on the peak of the Schilthorn mountain, immortalised in a James Bond film.
Adelboden, linked to Lenk, was once a traditional mountain resort that was popular with European nobility and artists in the 19th century and welcomed its first skiers in 1901. Today it's famous for its sunshine and welcome for families and boasts a ski area that is one of Europe's largest and Switzerland's third biggest, six miles long, end to end, and with 210km of slopes, linked to neighbouring Lenk, and a great terrain park.
Kandersteg offers the best of all worlds, with 50km of groomed piste, another 50km of prepared cross-country trails and some excellent ice climbing among its alternative winter-sports options.
The Haslital region is particularly well geared up for families, and you can leave the children in carefully supervised care with the Skihäsliland, which is totally focused on children's needs.
And yet another world-class area, pedestrianised Gstaad, lies at the heart of a region of 250km of piste – the separate sectors linked at the base by a railway line included in the lift pass and again a great centre for shopping, restaurants and a range of accommodation from modern hostel to luxury 5★.
Valais
Valais is one of the world's best-known ski regions. With no less than 45 peaks above 4000m, it is home to dozens of ski areas.
These include Switzerland's largest, Les 4 Vallées, which takes in half-a-dozen resort villages including Thyon, Nendaz and Champex and offers 400km of linked piste crowned by the snow-sure Mont Fort glacier.
There's also Saas-Fee, another of the world's most snow-sure destinations, with a season that runs for more than 9 months from July through to the following May. It's also a beautifully peaceful, idyllic, car-free village.
The huge Portes du Soleil region with its dozen villages on both sides of the Swiss-French border is one of the world's biggest in one lift ticket with more than 600km of runs. It's a place where you can ski for miles all day long and never take the same lift twice.
Valais is also home to the Sierre-Anniviers ski areas, famous for freeride destinations like Zinal, as well as the resort of La Fouly, a great ski area located on the Haute Route between Chamonix and Zermatt and close to the French and Italian borders, and also the Aletsch Arena, home to several mid-sized ski areas that are big on character and lift-served vertical among many more.
There is also the Super St Bernard ski area, where the ski lift climbs almost 900m to deliver wonderful red and black descents and access wonderful off-piste routes up to 10km long down over the border to Italy, with a bus service back through the tunnel.
The fresh mountain air, the inspiring scenery and the wide range of activities available make Valais a veritable winter wonderland.
Lake Geneva Region
The Lake Geneva Region is home to still more famous ski areas. Château d'Oex, Rougemont, Les Diablerets with its 3000m glacier skiing at Glacier 3000 nearby as well as Leysin-Col des Mosses and Villars-Gryon are all and each wonderful ski holiday destinations.
Whether you choose to stay with friends or family up in the snow-covered mountains, or stay in the relaxing atmosphere of an exceptional spa, there's something for everyone in the Lake Geneva Region.
Free Skiing & Accommodation For Children Up To 9 Years Old !
The Vaud Alps in the Lake Geneva Region pull out the stops for families with young children. Children up to the age of 9 can stay for free in their parents' room and get a free ski pass for the entire ski area including Château d'Oex, Rougemont, Leysin-Col des Mosses, Les Diablerets and Villars-Gryon too. In addition there are lots of discounts on offer for ski lessons, equipment rentals, visits and meals in the Go Kids Family Club.
Lake Lucerne Region
Skiing in the beautiful heart of Switzerland offers some fun alternatives to the usual ski holiday – you can even arrive at your ski resort by boat, crossing the famous Lake Lucerne!
There's a great variety of ski areas once again and it's not just about downhill; there are sledging runs, cross-country tracks, snowshoe trails and hundreds of kilometres of marked winter walking routes too to enjoy in the unique winter-sport destinations in the Lucerne – Lake Lucerne Region.
On Engelberg's Mount Titlis, which peaks at more than 3000m above sea level, stands Europe's highest suspension bridge. Those brave enough to try the metre-wide suspended cable construction can enjoy breathtaking views 500m down into the abyss of the Titlis south wall.
Engelberg also offers the largest and highest ski area in the region and a winter experience 365 days a year. A new eight-person gondola this winter takes just 15 minutes from the village to Stand (2428m), from where the famous Rotair revolving cable car glides up to the Klein Titlis (3028 m), where the ski season continues from now through to next May.
Fans of Engelberg's Olympic gold medallist, Dominique Gisin, will enjoy the downhill ski racer's "home run", which at 12km in length is one of Switzerland's longest descents.
Freestyle skiers and boarders will love the Frutt Park at Melchsee-Frutt ski area. The largest fun park in the Lake Lucerne Region features kickers, rails, boxes, spins, drop-ins, tree rides and much more.
One fun venue is the Pilatus Snow & Fun Park, which offers snow enthusiasts a wide variety of winter sports on Fräkmüntegg. Here you can try out the different types of snowsports equipment.
Or a visit to the Husky Camp in Muotathal is another chance for snow thrills – this time dog powered. Here you can drive a dog sled as a musher and stay at Switzerland's only husky camp surrounded by the huskies themselves.
Engelberg Deals
Early booking deals are already available for skiers and boarders ready to hit the slopes between the start of the ski season on 14 November and 17 December 2015 www.engelberg.ch
Graubünden
Graubünden is one of Switzerland's leading ski regions and home to many of the country's top resorts including Davos Klosters, St. Moritz, Arosa, Lenzerheide and Laax as well as many excellent ski centres less well known, such as Vals, Bergün and Savognin.
Offering pristine nature combined with modern tourist infrastructure, Graubünden has been offering winter holidays for more than 150 years, since the legendary hotelier Johannes Badrutt captured his British guests' imagination with the appeal of winter in the mountains and persuaded them to spend the first snowy season in the Alps. Today visitors still feel this fascination.
Graubünden in winter includes everything from tranquil cross-country, such as the trails of the Surselva, peaceful winter hiking paths and spa and wellness facilities to rail journeys, culture and history.
Laax
Laax has built a reputation as one of the coolest ski areas on the planet with great freeriding from its glaciated upper slopes and no less than four terrain parks hosting big events like the Burton European Open and the BRITS freestyle festival each winter.
This season Laax's old triple chairlift La Siala at Laax is being replaced by a modern gondola complete with 10-seat cabins which will take skiers and boarders up from Alp Sogn Martin to La Siala, with a very comfortable, pleasant ride. After Laax previously unveiled a chairlift designed by Porsche, this new gondola car was developed in collaboration with Pininfarina, the designers of Ferrari cars.
Davos Klosters
The traditional winter spa resort of Davos combines mountain magic with urban flair. Besides its huge choice of off-slope activities and great nightlife, the resort is home to Europe's largest natural ice rink.
The nearby village of Klosters is a foodie heaven, with excellent gourmet restaurants. Here pristine valleys lead to dreamy winter walks, and skiers are in their element with endless downhill runs alongside great terrain parks and pipes for freestyle boarders and skiers. There are great rustic mountain restaurants serving up quality cuisine too.
Davos Klosters has a complimentary guest programme with experiences compiled and presented by a designated "Insider Team" made up of locals, local celebrities and tourism experts. You could, for example, experience the sunrise on a mountain peak, take a behind-the-scenes look at an avalanche detonation or sit inside a piste-grooming machine.
Engadin
St. Moritz is of course one of the world's most famous ski resorts – some would say THE most famous. It has twice hosted the Winter Olympics and its next big event is the 2017 FIS Alpine Ski World Championships coming the winter after this.
St. Moritz sits at the heart of a wider area, the Engadin, and that has a number of smaller, more intimate villages too. The high-altitude Engadin valley is framed by snow-capped peaks – yet also strikingly wide and flooded with sunlight. Each village often has its own ski area right on its doorstep too. The great thing in any case is that, wherever you stay, you have access to the whole, huge Engadin region with its 350km (217 miles) of beautiful pistes waiting to be explored and the public rail and bus transport links between each area included in the lift pass.
There are the four larger ski areas of Corviglia, Corvatsch, Diavolezza and Zuoz, as well as five smaller but charming areas. Beginners, intermediates and experts alike will discover slopes perfectly suited to their ability, and the glacier slopes of Diavolezza have already opened for winter 2015–16.