With world-famous powder snow, well-kept pistes, unique resorts and exciting local cuisine, Japan is a ski destination like no other.
However, there is so much more to a Japan ski holiday than the slopes. Yes, the powder is incredible, but so too are the open air onsen (hot springs), cosy ryokan (traditional inns) and lively izakaya (Japanese pubs) which can be enjoyed in resorts.
Meanwhile, Japan's vibrant cities, historic temples and local wildlife can be easily explored in combination with a ski getaway. With winter being low season in Japan, the cities and sightseeing spots are much less busy, making it the perfect time to explore all Japan has to offer. Incredible skiing simply comes as a bonus!
World Famous Powder
It's no secret that the powder skiing in Japan is pretty much unparalleled. In particular, the Hokkaido resorts offer incredible backcountry terrain, complemented with well groomed pistes and additional options of touring and cat-skiing, making this one of the best places in the world to ski off the beaten track.
Tree Skiing
Many of the envy-inducing videos you see coming out of Japan's powder fields will feature the unique tree skiing of Hokkaido, where the silver birch trees provide a stunning setting for some epic runs.  It's easily accessible as the terrain is mostly open, great for those that might not want to take on the more serious backcountry but still want to experience that famous Hokkaido powder.
If you're looking for something more challenging, the more advanced areas are safely marked by gates and it is advised not to enter unless you are carrying all the recommended avalanche safety equipment (shovel, probe, transceiver).
Japan's most well known resort, Niseko, is undoubtedly one of the most popular Hokkaido destinations for powder hounds and it now boasts 11 of these such gates across its four interlinked ski areas. Here, the sheer quality, let alone quantity, of the snow (an average of 14 metres each season!) provides some incredible off piste opportunities, all in the shadow of the spectacular Mt Yotei.
Guiding / Touring
Though much of Hokkaido's off piste is accessible via lifts, to really make the most of this awesome terrain it can be a good idea to hire a guide. This is common practice in such areas where there is so much off piste terrain to explore and, as such, can be easily arranged from any of the Hokkaido resorts; Niseko, Rusutsu, Kiroro or Furano, as well as in the mainland resorts of Hakuba and Myoko.
For those happy to use touring equipment, guiding opens up the mountain considerably and allows you to discover new terrain and access lesser-known spots that would likely be missed without the knowledge of a trained expert.
For a truly unique experience in Niseko, skiers can tour into the crater of the iconic Mt Yotei, a once-in-a-lifetime adventure. Or, in the resort of Furano, you can reach the active volcano Asahidake for a day trip. The resort runs a single cable car ascending the mountain, and most of the terrain isn't pisted.
Cat Skiing
Travelling in a converted piste basher up the mountain to access the area's most incredible untouched powder? Yes please!
In Japan, the last few years have seen a number of cat-skiing operations start up in abandoned ski resorts, allowing skiers to enjoy previously inaccessible skiing terrain, from epic tree runs to untracked powder bowls.
Cat-skiing allows skiers to access terrain similar to that of heli-skiing, but not only is cat-skiing significantly cheaper, but it is also more readily available than heli-skiing. In Japan, heli-skiing is not possible at most resorts due to government or national park restrictions. Where it is allowed, exposed terrain and high winds can prohibit flights. Cat-skiing, on the other hand, takes place in the cover of the trees, so is not as exposed to (and thus reliant upon) the elements.
There are two cat-skiing operations in Niseko; Niseko Weiss Powder Cats or the Chisenupuri Snowcat Experience with The House of Powder. In Furano, Otoe Powder Cats runs an operation an hour away in the old resort of Fukagawa.
Not Just For Powder Hounds
However, Japan is not just about the powder! All Japan's resorts offer fantastic terrain for beginner to intermediate skiers. Many of these are impressively quiet, especially when compared to pistes in the Alps – perhaps because everyone is off in the powder!
For those just starting out, ski school and rental shops are plentiful across all resorts, so you'll be in very good hands wherever you choose to base yourself.
On Hokkaido, the beginner areas of Rusutsu, the family-friendly gentle slopes of Kiroro and the long, fun-filled runs of Furano offer those that prefer to stay on the pistes a lot of opportunity to enjoy and develop their skiing. Further south, the Hakuba Valley has the finest Alpine skiing in Japan, particularly for intermediate to advanced skiers, while the smaller more authentic resorts of Honshu, such as Nozawa Onsen or Myoko, give skiers a taste of the traditional Japan.
Beyond The Snow
Relax in an Onsen
Off the slopes, Japan offer skiers the opportunity to try a totally different type of après-ski. Traditional onsen are prevalent in all of Japan's ski resorts, giving you a unique way to wind down and soothe those aching legs! These geothermal heated springs contain many minerals that are said to be good for your body and mind and we certainly find that a steamy soak is the perfect end to a day on the mountain.
Many hotels have their own onsen in-house, but if not, there are many public onsen that visitors can pay to use. Not to be confused with public swimming pools or water parks, onsen are places of tranquility, peace and relaxed socialising.
Nozawa Onsen in particular has 13 public onsen, all free to use. These onsen are maintained by the locals, with the natural hot spring water also used to de-ice local roads as well as to cook vegetables and onsen eggs for some hotels in the village! It's a truly collaborative community experience.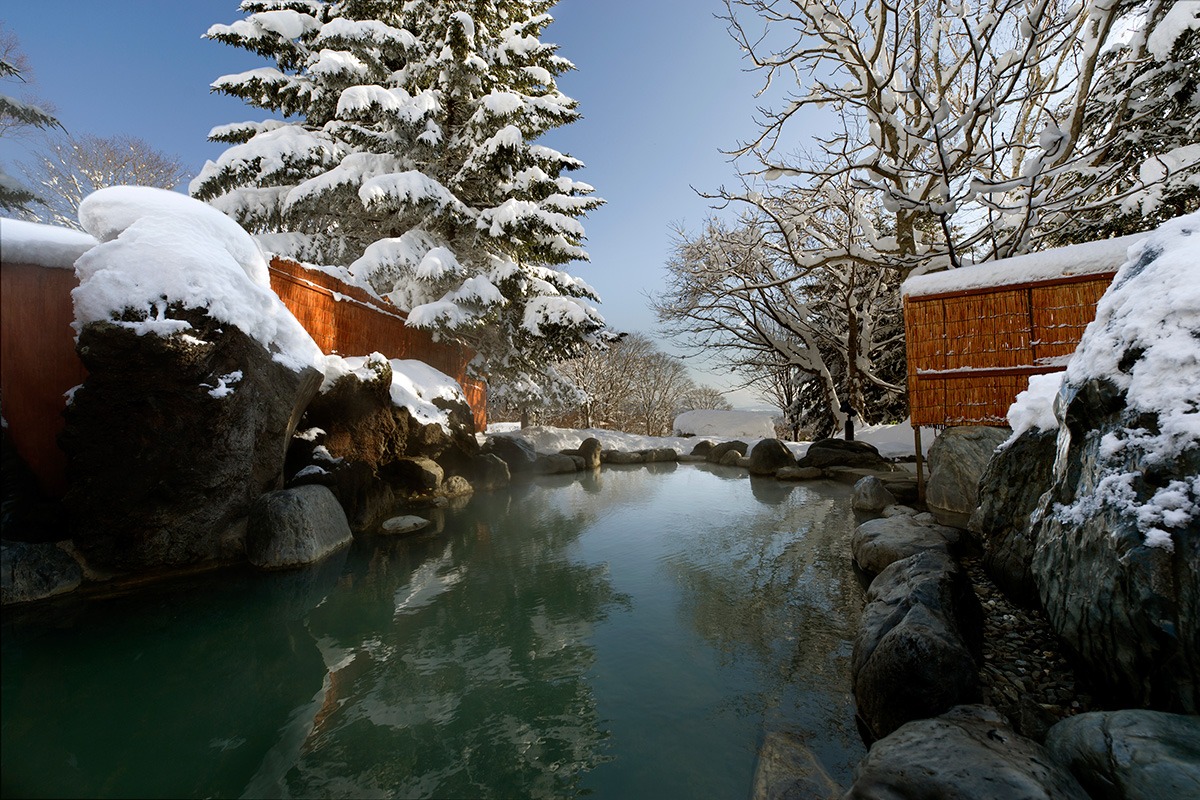 Sample Delicious Local Cuisine
One thing that cannot be denied about a trip to Japan is that the food is sure to be second-to-none. Forget copious amounts of Alpine cheese and meat; in Japan, skiing is complemented by a varied cuisine that is as adventurous as you choose to make it.
Whether it's curry, sushi or soba, here you are sure to enjoy some of the best of Japanese dishes, no matter the resort you choose. Meals such as the Japanese hot-pot style dish of Sukiyaki are often partially cooked while at the table, a uniquely interactive and social element enjoyed by many.
Another true Japanese experience that should not be missed is the izakaya. Considered the Japanese alternative to a pub or bar, these institutions are relaxed spaces for socialising, drinking and sharing small dishes. These are lively spots, with a friendly atmosphere, good food and local drinks, sure to please skiers looking for the Japanese alternative to après-ski.
However, for those that might prefer it, Japanese ski resorts also offer a number of more Western options, so families with children who are crying out for a burger or a pizza don't have to worry! 
Stay in a Ryokan
If you're heading to one of the Honshu resorts, nestled in the Japanese Alps, you will have the opportunity to experience one of our favourite elements of a ski holiday in Japan – a stay in a ryokan, a charming, traditional Japanese style inn.
Here, you will find yourself sleeping on a futon bed laid out onto the tatami floor, which really is surprisingly comfortable – don't be surprised if you find yourself googling where to buy your own back in the UK!
You will be decked out in your own kimono, soothe any aching muscles relaxing in your ryokan onsen and experience an exceptional kaiseki (multi-course) dinner. Many ryokans will have their own speciality whether a local dish or sake, breakfast is included as a standard and it's highly recommended to have at least one dinner too.
Ryokans are available in Nozawa Onsen, Hakuba and Myoko, as well as in the city of Kyoto. As rooms in ryokans can be extremely limited, companies such as Ski Safari can be very useful here, working with local specialists to find the perfect ryokan for you and your budget.
Meet a Special Type of Friendly Local
As if you needed another reason to head to the Japanese Alps… where else in the world can you watch wild Japanese macaque monkeys bathe in the snowy hot springs?!
The world's northernmost wild primate, the Japanese Macaque is unique in its ability to live through the extremely cold temperatures of Japan's winters. As such, the Jigokudani Snow Monkey Park has drawn visitors, researchers and photographers for years, allowing an unparalleled up-close experience with the macaques.
Winter is the perfect time to visit the snow monkeys as not only does the snow create an incredibly unique backdrop, but the monkeys are much more likely to be found in the water in the colder months. This is because they use the hot spring water to warm their bodies and to protect themselves from the bitter chill of the winter. It's great fun to watch these animals in their natural habitat, enjoying the benefits of the hot springs and the fun of the snow as we do!
The snow monkeys can easily be visited as a day trip from the resorts of Nozawa Onsen, Hakuba, Myoko and Shiga Kogen.
Marvel At The Modern Cities
The flight to Japan is not a short one, so for many, a ski holiday here is a once-in-a-lifetime experience. As such, it's important to squeeze out every possible drop of your holiday and a trip to Japan would simply not be complete without visiting one of its vibrant city centres. Easily accessible from Honshu's ski resorts thanks to Japan's lightning fast bullet trains, Tokyo and Kyoto are the most popular destinations, with a rich history, fusion of tradition and modernity, fantastic food and lively atmosphere.
Tokyo is a true metropolis, a world away from the peaceful slopes of the Japanese mountains. Teeming with technology, vibrant lights and unmissable shopping, it's definitely a must-see for visitors. This modernity is blended with historical sights, beautiful Buddhist temples and Shinto shrines. Tokyo's oldest temple, Sensō-ji, is said to be the most widely visited spiritual site in the world and with it's beautiful 5-story pagoda, picturesque gates and historical treasures, offers a true glimpse into the city's past.
Most visitors will take a direct flight to and from Tokyo to reach their destination, so it makes sense to start and finish your holiday with a few days here, at little additional cost.
Alternatively, you could visit the ancient capital of Japan, Kyoto. Teeming with cultural treasures and a staggering 1600 temples, Kyoto offers a quieter, more traditional experience, one which will leave you feeling totally enriched and inspired. Kinkaku-ji, the "Golden Pavilion" is one of the most picturesque temples in the country and well worth a visit, while the Kiyomizu-dera temple offers visitors stunning views and babbling waterfalls said to benefit the drinker in various different ways.
If you don't fancy one of the bigger cities, Nagano City is just an hour's drive away from the resorts of Nozawa Onsen, Hakuba, Myoko and Shiga Kogen. Based around the beautiful Zenkō-ji Buddhist temple, Nagano City has developed from a simple temple town to a thriving metropolitan city and is well worth a visit.
---
For the best way to experience all of Japan this year, plan your trip with the Japan experts over at Ski Safari. They can combine any or all of these experiences to create your perfect Japan ski holiday.
Ski Safari is a team of passionate skiers and snowboarders who specialise in tailor-made ski holidays and aim to provide the best service and value for money, from single resort trips and city add-ons to multi-resort ski safaris. They are sure to help you have the most extraordinary Japan ski holiday.
Find out more at www.skisafari.com or contact the experts at 01273 224060.