One of the easiest ski areas to reach in Switzerland, a short hop from Zurich Airport just one hour away, Engelberg combines a wonderful resort town with centuries of history and phenomenal skiing served by the latest high-speed lifts.
It's one of the world's most snow-sure ski areas too, thanks to a combination of glacier slopes and a snowfall record that's well above the Swiss average, providing it with one of the longest winter seasons in the Alps, an average of 220 days (that's over seven months) from October to May with snow guaranteed.
If all that's not enough, it's one of less than a dozen ski areas worldwide to offer more than 2,000m of lift-served vertical, with the trip up one of the fastest there is, using just two comfortable high-speed lifts. These include the incredible Rotair cable car, the first with a slowly revolving cabin so you take in the full view as you ascend … in just five minutes from the mid-station.
It all means that you can be stood at the top of one of the world's great descents, ready for one of the greatest runs of your life, less than two hours after you get off the plane or train in Zurich!
Freeride Eldorado
There are slopes for all tastes and abilities here, including great ski areas and facilities dedicated to families with young children, but Engelberg has built a particularly strong reputation as one of the world's great freeride communities, thanks to its exciting terrain, deep snow and huge vertical.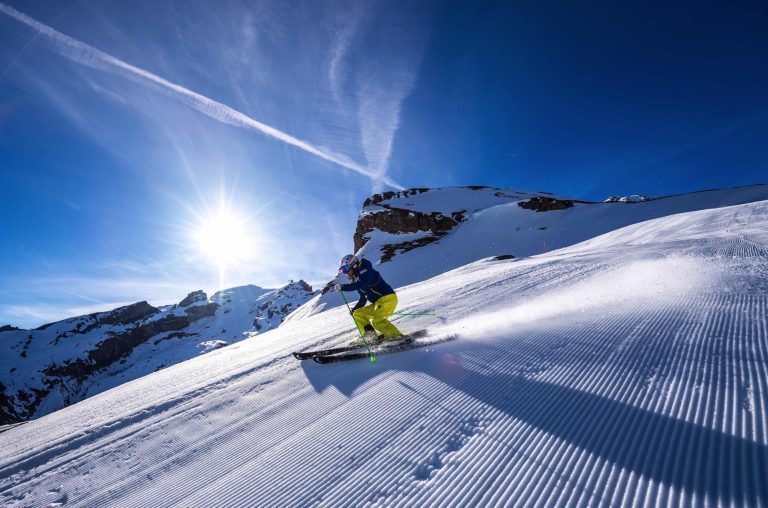 The Big 5 runs for freeriders, promoted here in the same way that people search out the big five animals to spot on an African safari, are the Laub, Galtiberg, Steinberg, Sulz and Steintäli descents, all famed for their legendary powder and all easy to reach by cable car. Booking a mountain guide to lead you to the best terrain available according to the conditions during your visit is the best way to proceed.
But you don't have to be an experienced off-piste skier or boarder before you arrive in Engelberg; the resort is also set up to help anyone get started freeriding with special areas and dedicated ski schools to teach and learn the skills to ride the backcountry easily and safely.
Along with the 2,000m+ descent from the Titlis glacier, there's another world-class 1,500m of vertical from the Jochstock.
Besides Skiing
Engelberg is a large resort with loads to do besides skiing and boarding. The TITLIS cliff walk, Europe's highest suspension bridge at 3,041m altitude, is not to be missed, nor is the free-to-enter glacier ice cave.
You also have different fun ways to descend the slopes. New this year is the Snooc tour – a kind of sit-on sledge with a single ski you steer at the front.
When your legs start to get weary from skiing or boarding and maybe want to start dancing, don't miss après-ski at Ski Lodge. Then it's time to combine two Swiss favourites – a toboggan ride and a fabulous cheesy dinner – with a booking for the excellent fondue sledge!
TITLIS SNOW X PARK
Or ride an electric snowmobile around the TITLIS SnowXpark at Trübsee, where you can go full throttle with the longest circuit with around 1km of snowy fun.
Sustainable from the start
Engelberg has always known the importance of efficient living in the mountains and with climate change that's taken on a whole new dimension. Since 2011 Engelberg has called itself an energy city, and now more than half of the heat comes from ecological sources and all ski lifts run on hydroelectricity with the Brunni mountain railway the only climate-neutral, certified facility in Switzerland.
We have a regular Podcast called The White Out where we review the latest gear, talk about the latest snow forecast and updates on where is best to ski now, as well interviews with absolute ski legends AND we spotlight a resort every week and so much more. You can check out our regular podcast here Apple | Spotify | Podcasts or search The White Out on your chosen podcast directory.