Mont Blanc, Western Europe's highest peak, has another side and another name on the Italian side of the border with France.
Monte Bianco is the home mountain of the classic Italian ski resort of Courmayeur, and they've just completed a €110m, four-year project to build the planet's most remarkable ski lifts yet; the Skyway Monte Bianco which connects Courmayeur with what they call, "The Roof of Europe."
But even without this amazing new attraction, Courmayeur has long been one of Italy and indeed Europe's leading mountain resorts for well over a century.  Starting out as a spa resort, it's many fans love it's atmospheric heart, with pedestrianised, ancient cobbled streets surrounded by enticing shops, cafes and restaurants. Indeed some of its most ardent admirers have visited hundreds of ski resorts but return to Courmayeur saying it is one of the most unspoilt, authentic mountain towns they've been able to find.
The skiing options too, excite many.  There's plenty for beginners and intermediates to enjoy on their holiday, but experts and freeriders are particularly well served with spectacular off piste descents around Mont Blanc, or monte Bianco and the Aosta Valley.
Some of these – including the world famous Vallee Blanche, the world's longest lift-0served ski run – are accessed by that amazing new Skyway Monte Bianco. The cable car cabins have floor-to-ceiling frost-and-fog free glass walls and revolve slowly for spectacular views as the lift ascends. The ride starts near Courmayeur at 1,300m, continues to the mid-station of Pavillon du Mont Fréty (2,200m), and ends up at Punta Helbronner, an incredible 2,166 vertical metres above at 3,466m above sea level
One of Europe's snowiest resorts, Courmayeur's local ski area slopes climb above 2,750 metres and are not east and north west facing meaning they are out of direct sunlight for most of the day in winter and hold the snow fresher, longer.  the area averages more than seven metres of snowfall each winter and around three quarters of the ski slopes have snowmaking cover.  The lifts up to Monte Bianco are among the highest in Europe accessing a year round world of snow and ice that's popular with ski tourers through spring and into early summer.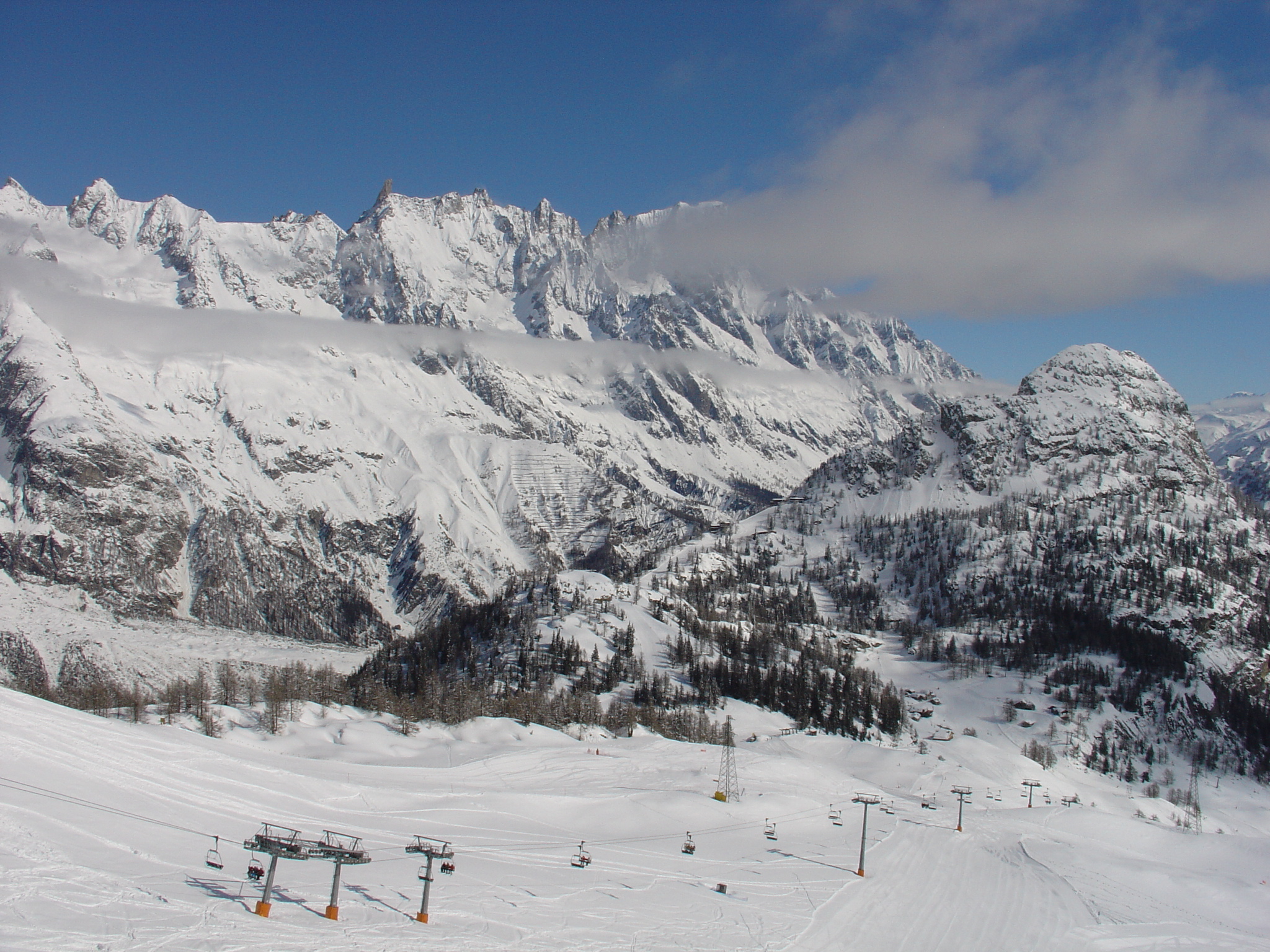 Courmayeur's ski slopes are formed into a classic, relatively compact area with around 40km of runs, accessed by the Plan Checrouit cable car.  This is skiing as it was in the era before the purpose-built high-rise resorts of the 1960s and 70s which means slopeside lodging is very rare and this is not a resort where you can clock up hundreds of kilometres on flattering easy and intermediate 'motorway' style pistes.  It has much more character. Freestylers will find terrain park facilities and there's a new 'Riglet park' especially designed for young children.
If you do want to bag more piste miles though, it's easy to access other Aosta Valley ski areas and indeed pop over to the Chamonix Valley to ski above nearby villages too.
However Courmayeur is best known for its extensive and excellent off piste skiing which many rate as amongst the world's best.  The two major off-piste locations are found within the Courmayeur's local slopes and under Mont Blanc. The off piste runs from Courmayeur's cable car include descents such as Vesse, Arp Vieille, Cresta di Youla, and Cresta di Dolonne down through spruce and larch woods.
The new Skyway Monte Bianco cable cars access some of the best off-piste slopes, such as the scenic Vallée Blanche 24km descent to Chamonix and on the Italian side the Toula and Les Marbrées  runs have achieved cult status. From the cable car mid-station at Pavillon there are several slopes that descend through the Mont Fréty woods to the village of La Palud.  Local guides can take you to dozens (hundreds) more routes and heli-skiing is another possibility – with a special beginners package available to those who have not heliskied before
Simply strolling through the streets of the town centre is a pleasure in itself in Courmayeur.  In the elegant old historic district around central car-free Via Roma you'll find old stone houses and fountains, along with designer boutiques, fashionable bars and gourmet restaurants.
The "Courmayeur way of life" involves a great sense of style and a cosmopolitan outlook that gives a taste for the latest technology whilst respecting old traditions, genuineness, and elegance.
If you have non-skiers in your party, or just fancy an afternoon or a day or two off the slopes (and the crowds of Italians that arrive from Turin and Milan each weekend aren't too bothered about skiing either) there are plenty of other things to do in and around Courmayeur besides ski and board.
Snowshoeing on scenic routes along the local Veny and the Ferret Valley floors are popular and you can also tour the smaller villages around Courmayeur,
Cross country skiers also head to the Ferret Valley where trails start from Planpincieux (1580m), and marked, groomed trails extend along the valley to Lavachey, with a total of approximately 19km of tracks.
Bikers are not neglected in winter with snowbikes or the new fat bikes (with super chunky tyres) available to rent. Guided night time biking tours are offered and new this winter is the e-fatbike, an electric version of the bicycle with over-sized tyres.
Along with the outdoor options the Forum Sport Center at Dolonne, a few minutes away from the village centre, has ice-skating, tennis, climbing, table tennis, squash, indoor golf and pilates, and yoga glasses as well as a fitness area, a spa, a restaurant, and a bar.
An experience you can't miss while staying in Courmayeur is a visit to the nearby Terme di Pré-Saint-Didier spa centre (three miles from the resort centre), located within a nineteenth century building but fully modernised within with hot water springs, aroma saunas infused with mountain fragrances and spa treatments on tap. In winter the hot spring waters are surrounded by snow and mountains, with a wonderful view of Mont Blanc as you look up.
Courmayeur has a great range of authentic eating and drinking establishments in the resort centre and up on the slopes for both foodies and party animals alike. At the mountain huts you can also enjoy some of the most stunning scenery in Europe from sun terraces at several establishments.
All use seasonal vegetables and source local ingredients and some bars and restaurants also serve vegetarian, vegan and gluten-free dishes created by the local "food artisans."
On the slopes the Courba bar offers fruit juices made from the genuine products of its own farm, for a delicious supply of energy and vitamins and up at 2,000m the new Skibox venue is where young Italian chefs create high quality "snow food" – a snowy variant on the current street food craze – with original new snacks including the "ski-scetta" and a special gourmet hamburger.
At the high end of the dining options, in more ways than one, is Malluquin a medieval tower, where the Michelin-starred chef Maura Gosio hosts lavish dinners for two
Popular bars include Bar Roma on the central Via Roma, Bar delle Guide, Bar Americano (popular for its cocktails in particular) and Le Privé.
Late night options include the J-Set Club and Planet Disco Bar which both offer dancing. Out of the centre Maquis and Jimmy's Club in nearby Entreves are open to the wee small hours.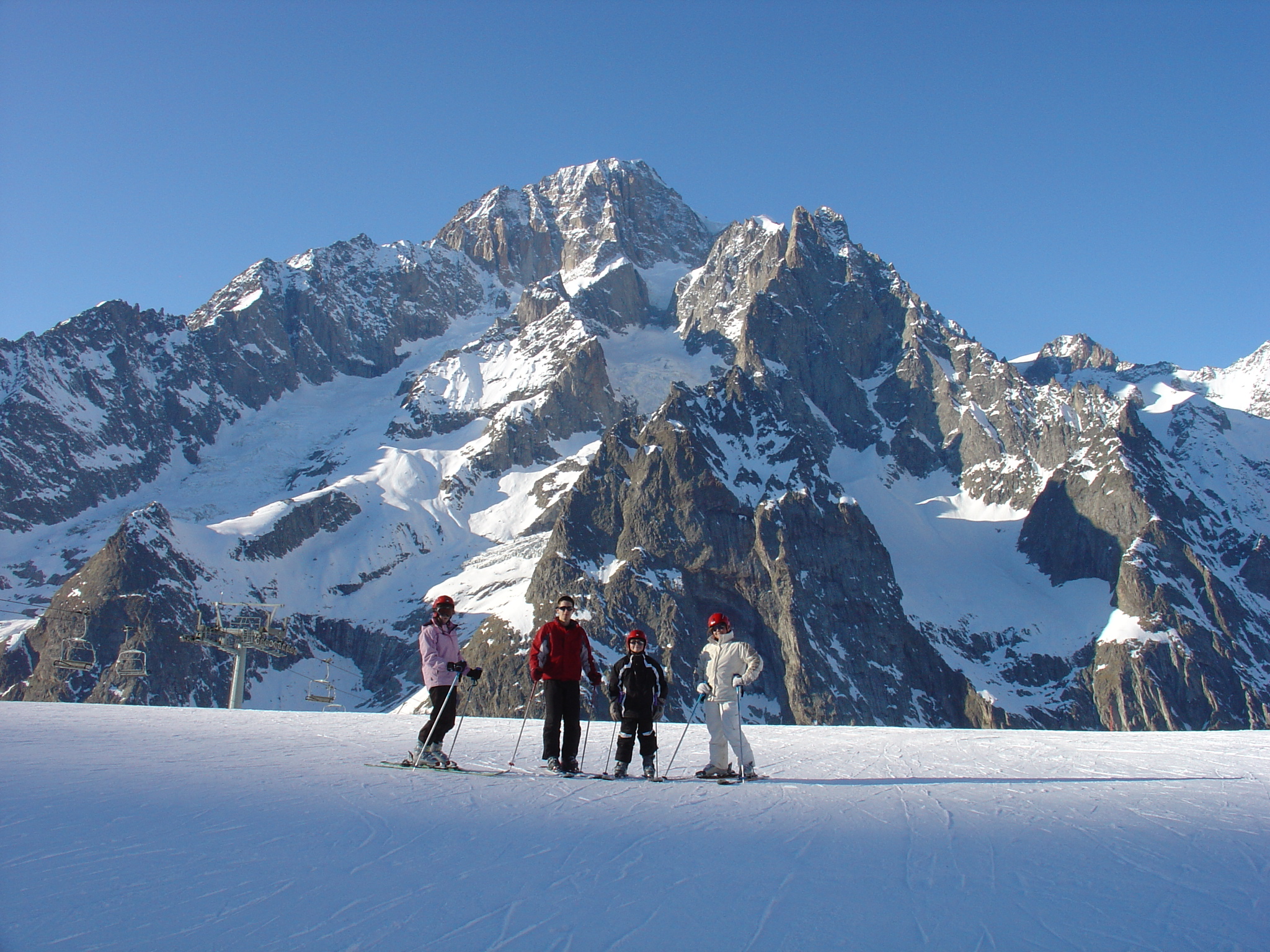 hotels.com have put together a series of interactive guides to help you plan your next ski trip.
Further hotels.com ski deals are here: http://uk.hotels.com/hotel-deals/ukskipromotion/