Whilst we wait for the long-delayed release of the new James Bond Movie 'No Time to Die' The famous Italian ski resort of Cortina d'Ampezzo is celebrating 40 years since the release of an earlier 007 move: "For Your Eyes Only", on 24th June 1981, which included winter sports scenes filmed there.
Venues at the ski area that were featured in the film include a ski slope, the Bob Bar, and the resort's Olympic Ice Stadium, all of which are real places that anyone can visit.
"Chosen both for its glamorous image, perfectly suited to the sophisticated Agent 007, and for the wide range of Olympic and sports venues offered, Cortina was, and still is, the perfect venue for secret missions and action sequences," a Cortina spokeperson claimed.
During the film, 007 stays at Cortina's five-star Miramonti Grand Hotel (the same hotel used in the original Pink Panther starring Peter Sellers). Bond then meets his arch enemy at the Olympic Ice Stadium, and a ski chase down the Olympia delle Tofane piste also takes in the Olympic Ski Jump and  the Olympic Bobsleigh Run.
It's not yet known if there will be any snowsports action in No Time To Die, however the previous movie 'Spectre' featured scenes shot in a number of Austrian mountain resorts, particularly Solden in the Tirol region which now has a whole permanent visitor centre themed on the famous spy: 007 Elements.
The version of Bond portrayed in Spectre was reputed to be in part a homage to George Lazenby's Bond of 50 years ago for On Her Majesty's Secret Service, large parts of which were filmed in the Swiss resort of Murren, which also has a number of Bond them attractions, including some very stylish toilets.
Other Bond ski connections include the resort of Peyragudes in the French Pyrenees which was a major location in the 1997 Film Tomorrow Never Dies and is now home to the '007 James Bond' ski run named after him on the 20th anniversary of the film's release.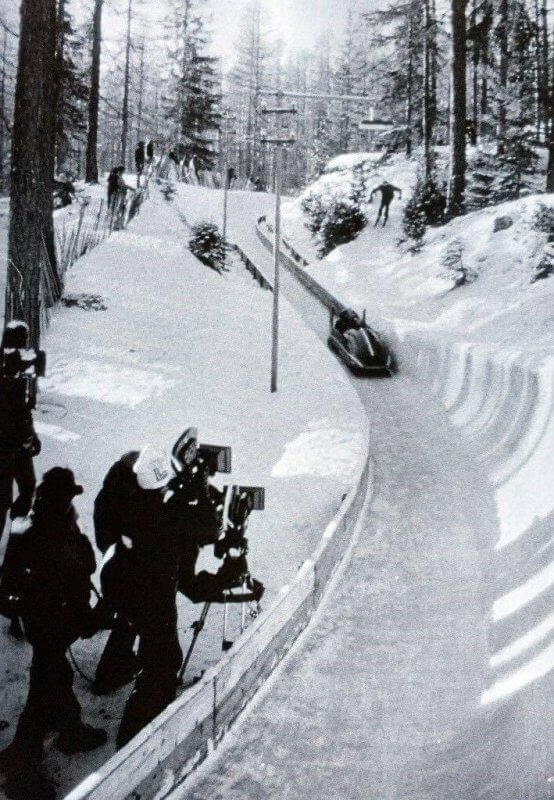 Cortina Pic Credits: Ford Cortina Autobob (top) -> Credits Ford Motor Company / Photos private collection -> Credits Private Collection Bernard VandenDriessche.