Imagine if, after all those years of ski lessons, trying to improve, never quite getting beyond that 'intermediate plateau' it was never really down to our skills progression on the slopes. It was all down to our ski boots?
The problem for most of us is that we start skiing with low-quality rental gear, we perhaps ski a week or two each winter, maybe trying and buying a pair of boots we feel fairly comfortable in and we never really get the boot that's right for us, we just make do. There are, after all, enough things to buy in our lives without wanting to splash out on some boots we only wear one week a year.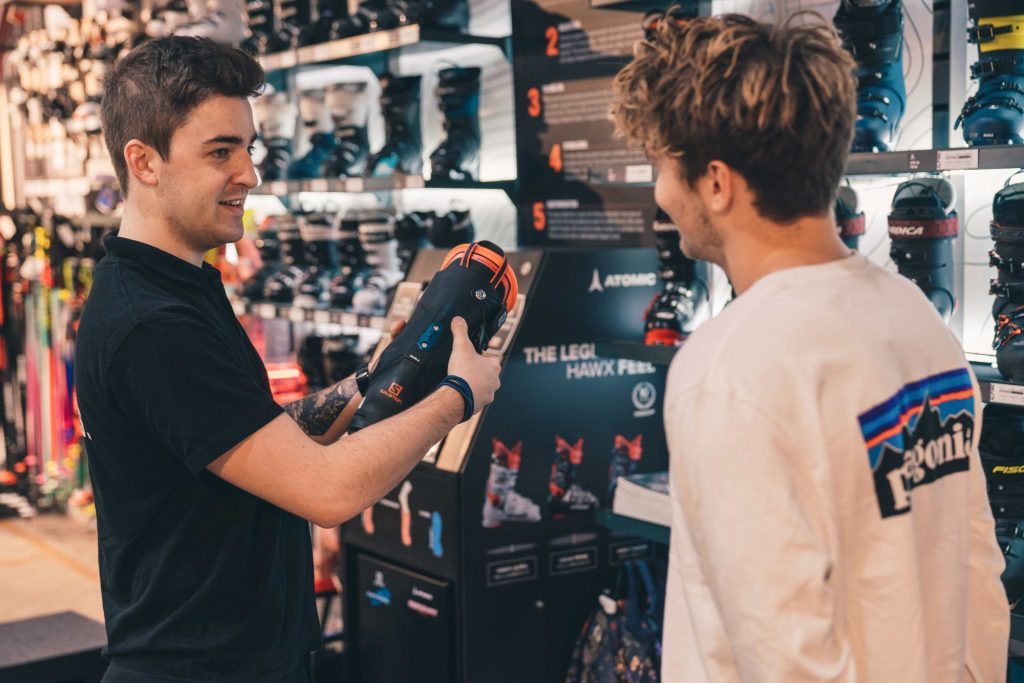 The thing is that getting your boots right can make a phenomenal difference to your skiing. Probably a lot more than a good week in ski school. There have also been huge advances in just the last five or ten years which massively increase comfort as well as functionality.
"In ski boot design, everything starts with the foot because even minor foot problems can ruin a ski day," says Paul-Eric Chamay, Salomon's Product Line Manager for Alpine ski boots, adding, "The foot is also the key to steering the ski on the slope, so it must be well-fit to the boot and lead the movement to the ski. As podiatrists will tell you, the most important part of the foot when it comes to comfort and steering is the instep, and it's the most delicate part of the foot anatomically."
The creation of footbeds to fit your feet precisely, the heat moulding of boots so that every contour of your foot and ankle is held in perfect place, nowhere too loose, nowhere too tight, is relatively quick and simple to do. In short, the boot fitting tech that used to the preserve of racers are now available to all. In short, even if you don't feel you are, and don't particularly want to be, a great skier. Why not be as good as you can be, and have comfortable ski boots at last?
Getting It Right
How? Well the classic mistakes include, first, reading online reviews and going for a boot some journalist suggests is the best, or, second, buying a discounted pair that look good in resort, or, third and probably the worst crime to your feet and your skiing of all – buying a pair in your size online.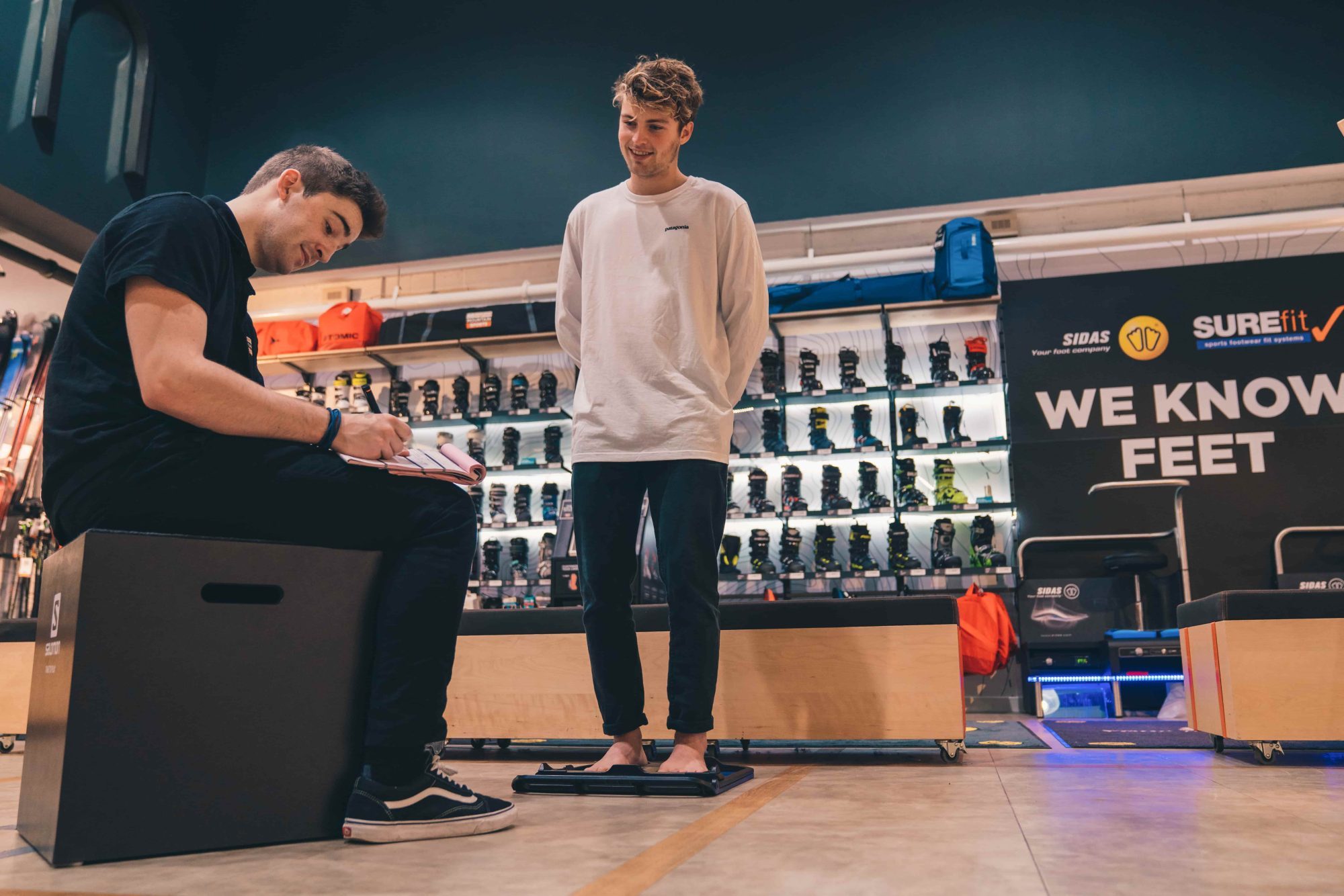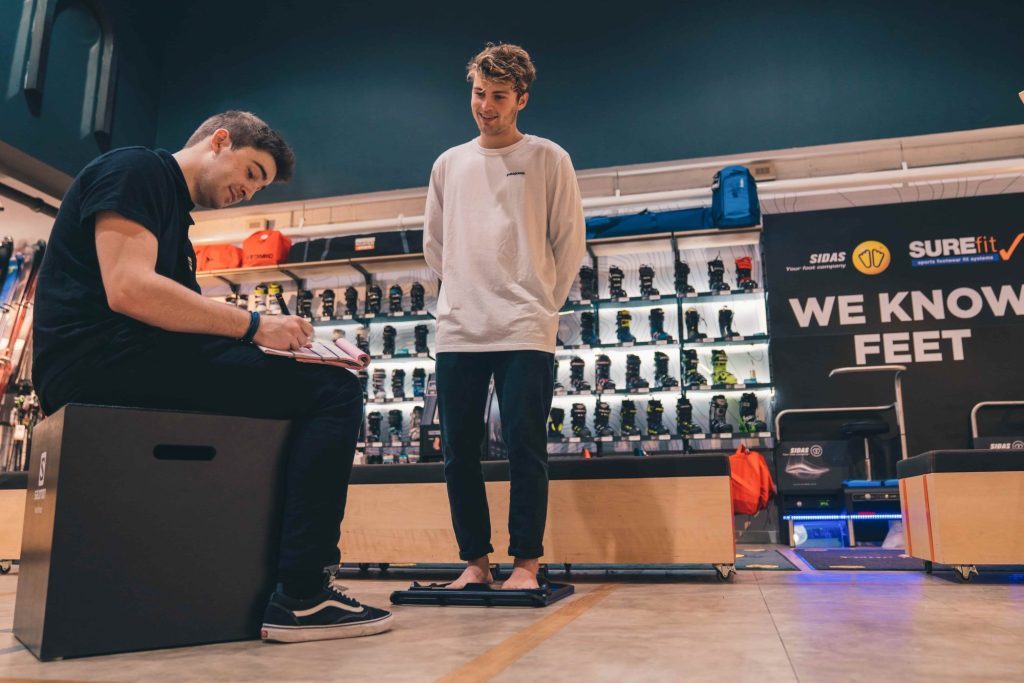 What you need to do is head to your local specialist ski shop, book a boot fitting appointment if it's a good shop – and mot are – allow several hours for this to be done properly) and be prepared to talk through what you think you need and to listen to staff suggestions on what you might actually need.
True, for a decent pair of custom-fitted boots for will be talking north of £300 (before you add the cost of foot beds), and can cost double that for the real top end, but consider how much you are spending on your ski holiday each year and how much specialist knowledge and boot-fitting tech you are buying along with the boots themselves – it's almost a private medical consultation for your feet.
5-Steps To The Perfect Fit
Ellis Brigham, one of the longest established names in ski retail and with shops across the UK, are the experts when it comes to boot fitting. All of their staff are staff are SUREfit trained and employ the same clear, five-step process designed to ensure you get the right boots for you and that the pair you choose are a perfect fit.
The first step is assessment, a kind of ski boot psychiatry session when your Ellis Brigham expert listens to your previous experiences with ski boots, both good and bad to get an idea of your skiing experience and aspirations. This is done alongside an assessment of the size, shape and biomechanics of the foot and lower leg. Using various techniques and equipment, they'll find out anything that affects how a boot fits and make a recommendation for the best options, including the correct footbed solution.
Next up is the shell check. Ski boots comprise two basic components. The softer inner boot, for comfort and control; and a harder shell, for transmission, performance and fit. The shell governs how a boot fits, so a shell check is needed with every boot. The foot is placed into just the shell (no inner boot inside) and the amount of space is assessed in five crucial areas – length, ankle width, forefoot width, instep height and calf. This ensures the correct size, shape and volume. The shell check, along with your level of ability and skiing needs, will clearly indicate the most suitable models for your foot.
Once a short list of possible boot matches has been reached, the next step is to try on the complete boot. Brand new ski boots feel tight and short at first, which is normal. The inner boot is designed to fit in length and volume, initially with no excess space.
The boot is put on correctly (leg clips first) then left on for 10-15 minutes while you're in a standing position, mimicking a relaxed ski stance. It shouldn't be necessary to try on more than two or three models. At this point it is crucial to remember that as the foam of the liner packs down, the ski boot's internal volume can increase by about 15%, so a snug fit at the beginning is very important.
The fourth step is stabilising, to really make boots perform and be comfortable, you have to ensure your feet are stable while skiing. Boot-fitting problems generally stem from the foot itself, not the boot.
Footbeds eliminate a lot of problems, dramatically improving the fit and skiing performance by supporting the foot structure. This helps muscles relax and stops them from tiring so quickly, meaning there's less movement and rubbing caused by collapsing of the foot.
"We cannot emphasize enough the importance of well-made custom footbeds to successful ski boot fitting," an Ellis Brigham spokesperson stressed.
Finally, it's time for customisation if you're really after the perfect fit. Standard ski boots should fit well out of the box, but it is very simple to improve on this as they are designed to be adapted.
For many models these days this is now a part of the fitting process and, in most cases, will involve the inner being heated and custom moulded to the foot.
As specialists in boot fitting, Ellis Brigham staff are also able to make bespoke changes to boots. This can take many forms, including modifications to the shell or liner via heating and mechanically stretching materials, carefully shaving plastics and foams, or altering angles and stance.
The end result is increased comfort and better performance.
Salomon's S/PRO Alpha
With certain models including the upper end of the Salomon range the plastic shell can also be custom moulded.
While modern ski boots allow boot-fitters to fit both high and low insteps well, ski boots have traditionally made it difficult to fit a broad range of insteps easily. To develop the new S/PRO Alpha ski boot range, Chamay and Salomon's Alpine ski boot Design & Development Team worked with professional boot fitters from 10 countries with decades of experience fitting feet to boots.
There are three main benefits to the 3D Instep Shell Technology in the S/PRO Alpha range, and they are found in the lower shell. First, there is more space between the two forefoot buckles, which leaves the sensitive instep area clear of any buckle pressure. Second, there is a specific 45-degree placement of the second forefoot buckle to reinforce the foothold, which is crucial for steering. Finally, Salomon redesigned the lower shell construction to dramatically improving the step-in and step-out thanks to a new "virtual hinge" that helps with opening of the overlaps.
There is also a new two-piece custom tongue that is removable from the liner via a Velcro connection. This allows boot fitters to work on the plastic tongue by relieving pressure points or adding padding to a desired area for a better instep fit, which will improve the foothold.
The CustomFit 4D liner also uses a Thermoformable material called Talyn on the outside of the liner, which allows a personalized fit adaptation even with the fingers and keeps softer foams closer to the ankle so it's easier for boot fitters to improve comfort in the ankle area for the skier.
S/Pro Alpha range include five men's models and four women's models covering expert and recreational needs.
Developed to offer outstanding performance and fit for EXPERT SKIERS no matter the shape of your feet, Salomon's S/PRO Alpha 130 ski boot £520 ensures stronger heel lock without putting unnecessary pressure on your instep. Entirely customizable and with a fully dismantlable tongue, this 98 mm boot with race-like claw strap will instantly improve your comfort and performance levels. The thinner plastic and strategic positioning of the second lower shell buckle put less pressure on the top of your foot and make it easier to step in and out of your boots. The new 3D instep shell and 45° placement of the second forefoot buckle ensure that you can enjoy a stronger heel lock and more homogeneous foothold regardless of your instep height. Finally, the S/Pro Alpha features a dismantlable, two-part, fully customizable tongue and CustomFit 4D liner with thermoformable Talyn, making it easy to adapt the instep and fit to the uniqueness of your feet.
Developed to offer EXPERT women skiers outstanding performance and fit no matter the shape of their feet, Salomon's S/PRO Alpha 110 women's ski boot ensures a stronger heel lock without unnecessary pressure on your instep. Entirely customizable and with a fully dismantlable tongue, this 98 mm boot with elastic Energized strap offers more progressiveness at every turn. The thinner plastic and strategic positioning of the second lower shell buckle put less pressure on the top of women's feet and make it easier to step in and out of your boots. The new 3D instep shell and 45-degree placement of the second forefoot buckle ensures a more powerful heel lock and homogeneous foothold no matter your instep height. Finally, to deliver a more personalized fit, the S/PRO Alpha features a dismantlable, two-part, customizable tongue and CustomFit 4D liner with thermoformable Talyn, making it easy to adapt the instep and fit to the uniqueness of a woman's foot.
We regularly review the latest gear on our youtube channel see our 2022/23 Gear Playlist Here, or for the latest snow forecast and updates on where is best to ski now, as well as up to date gear reviews, you can check out our regular podcast here Apple | Spotify | Podcasts or search The White Out on your chosen podcast directory.