So you've finally given in and you're going to see what all the fuss is about with this skiing business – but where to start? What are the best ski resorts for adult beginners? We take you through the best resorts to get you up and about on the mountain, while also enjoying all the perks of a great ski holiday off the slopes.
The Best Ski Resorts for Adult Beginners in France
This is a great resort for those that might be going on their first ski holiday in a group containing beginners and more advanced skiers. Set within Les Portes du Soleil ski area, one of the largest in the world with 650km of pisted runs, Avoriaz itself has an area of around 140km of piste. This means that the more adventurous skiers in the group have the choice to enjoy the whole of the Portes du Soleil, while the less advanced or beginner skiers can stick to the more local area, without having to pay for a whole area lift pass they will not use. In Avoriaz, the beginner slopes are right next to the town, so are easily accessible, making life as a beginner a lot easier.
Avoriaz itself has a huge amount of accommodation choices. It's not necessarily the most picturesque alpine town, more a purpose built collection of buildings, but this does mean that there is a large range of choices as to where you want to stay. You can make decisions dependent on budget, location and ease of access; Avoriaz has something for everyone.
The town also has a bustling nightlife scene, perfect for larger groups that want some decent après or a night out or two. Or, for those wanting to rest their boots for the day, why not try Aquariaz, the hugely popular spa and swimming pool.
Alpe d'Huez has a huge beginners area located in the Rond Point des Pistes area, just above the main town and easily accessible from most of the in-town accommodation.
There are a lot of lovely wide, gentle runs here for you to start out on without worrying about busy, crowded slopes. Then, when you have the basics sorted, there is more than enough variety for you to explore and enjoy the mountain without having to tackle anything you don't feel comfortable on. Rond Point des Pistes is also where the ski schools operate from. There are a range of ski schools to choose from in Alpe d'Huez, with the main ski school being the French ESF. Another option is the British ski school Masterclass which is probably your best bet to make sure nothing gets lost in translation.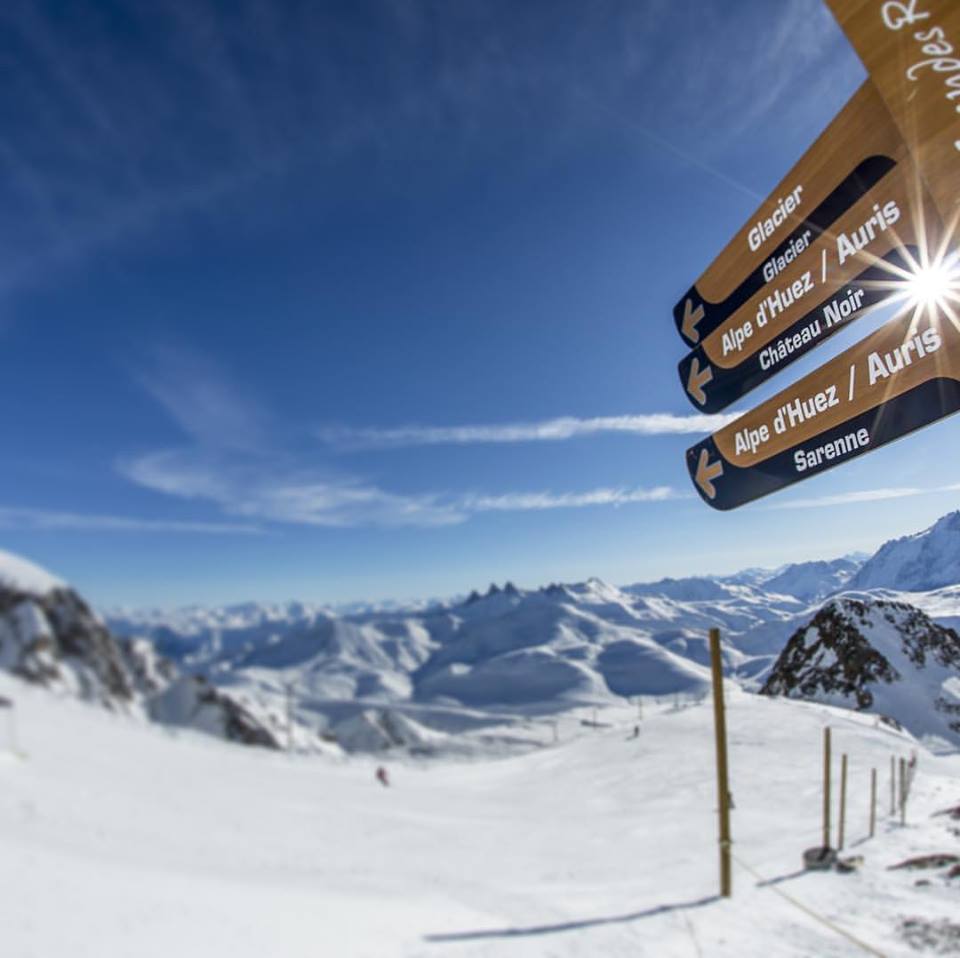 Alpe d'Huez is widely regarded as one of the sunniest resorts in the Alps, and claims to have around 300 days of sun a year, which is a huge benefit when you are a beginner. It's much more enjoyable to spend your time skiing in the sunshine than trying to master the basics in the midst of a blizzard!
For those travelling in groups of varying levels, Alpe d'Huez offers a large ski area that will please all skiers. Advanced skiers will be more than happy enough with the terrain across the area, which includes a whole host of great off piste runs as well as Europe's longest black run, the Sarenne.
For beginners that want to experience the madness that is French après ski, you're in luck here. La Folie Douce is located at the top of one of the main chairlifts, the Marmottes lift, with an easy blue run bringing you back down in to resort. This means that as a beginner you can enjoy the après experience just as much as anyone else.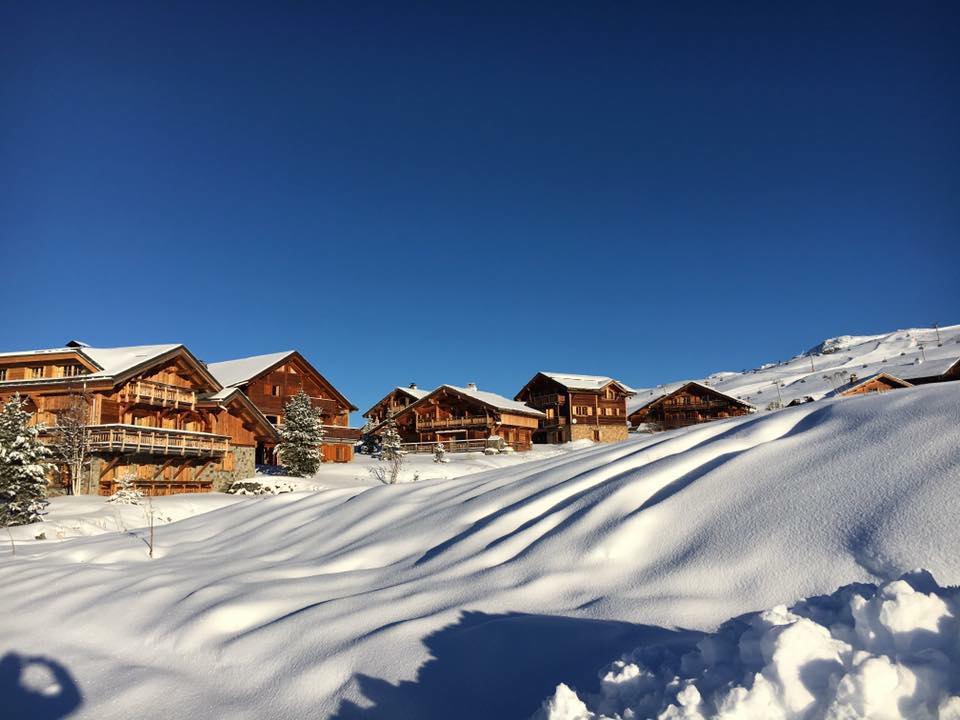 There are 96 in the Les Deux Alpes area, of which only 12 are black and 22 red, while 45 are blue and 17 are green. Many of the easier runs are 'Ski Tranquille' slopes (slow ski slopes) perfect for beginners and there is also a large variety of great ski schools in the area for those who want to benefit from some tuition.
Four nursery areas are available, with some of the slopes in the village serviced by free lifts, meaning that total beginners don't have to buy a full area lift pass straight away. However, the vast majority of the beginners slopes are towards the top of the mountain, meaning that while you may have to buy a full pass for these days, you will also benefit from any fresh snow just as much as your more advanced friends. And benefit you will – Les 2 Alpes has a fantastic snow record, with north-facing slopes that manage to hold the white stuff as long as possible!
While there is a blue run back down to the main resort so you can ski all the way home, it's best to avoid this run right at the end of the day as it can get very busy. Furthermore, this mountain gets more difficult towards the bottom, so don't be fooled at the top into thinking you can do it if you aren't the most confident. You don't want to get half way and realise you can go neither up nor down!
Les 2 Alpes is a resort that has a great atmosphere off the slopes and is a lot of fun for younger adults. It has an energetic party scene and many decent bars, restaurants and clubs, with good prices and deals throughout the season.
With over 10 English-speaking ski schools in Méribel, you are in very safe hands if you decide to visit this resort as a beginner.
Méribel has an abundance of easy green runs perfect for starting off, as well as a lot of blue runs and even some gentle reds for those who feel comfortable towards the end of the week. The green Altiport run has a free drag lift servicing it, which is a good addition for complete beginners who may want a few days to get their bearings without having to pay for a whole area pass.
As part of the 3 Vallées ski area, one of the largest in the world, Méribel provides access to a huge amount of skiing for more adventurous beginners to enjoy. The resort town itself is hugely enjoyable too, beautiful alpine architecture and a brilliant all-year-round town energy. There's a lot of choice of shops, restaurants and bars, as well as the Olympic Centre, which contains a swimming pool, climbing wall, ice rink, spa and fitness centre.
The Best Ski Resorts for Adult Beginners in Austria
With some of the best snow coverage in Austria (they're already got heaps of the stuff and it's only early November!) Obergurgl is a great choice for an adult beginner that wants a getaway in a beautiful alpine location. Gentle slopes surround this Austrian town, which are perfect for beginners to get to grips with their ski legs. You can really enjoy yourselves on these runs, without having to worry about crowds of people; Obergurgl tends to be much quieter than other Austrian resorts.
However, this does not mean it's a boring resort! You can certainly make the most of the legendary Austrian après here. Granted it's not quite as mad as the parties that take place on the slopes in St. Anton or Ischgl, but head down to the Nederhütte once the ski day winds down and you will definitely see why Austria is such a popular ski destination for those who like to party!
The 110km ski area of Obergurgl can be quite limited for those that are not beginners, but this year you can purchase a combined lift pass with the neighbouring area of Sölden in order to get even more skiing in! Perfect if you're an adult beginner travelling with a group of varying abilities.
The Best Ski Resorts for Adult Beginners in Italy
Cervinia
Cervinia is a fantastic destination for beginners, with 18 lovely blue runs as well as a lot of very gentle reds for when you get bored of the blues with your newfound skiing skills! There are good nursery slopes by the centrally located Cretaz lifts, as well as at the top of the Plan Maison cable car where easy wide blues are serviced by easy drag lifts and magic carpets.
While Cervinia is a gentle area that is definitely best for beginners and intermediate skiers, it still provides a lot of fun for advanced skiers as well, who can make the journey over to Zermatt with an International area pass. With a good altitude guaranteeing decent snow cover, as well as a number of long, cruisey runs, it's no surprise Cervinia is a hit with all ski fanatics, regardless of level.
Italy is often overlooked by a lot of British holidaymakers when it comes to skiing, with many preferring the easier resorts of France. However, with generally lower prices, picturesque settings, great food and long, empty slopes, it makes a great location for adult beginners.
It's also no secret that Italian food is widely regarded as some of the best in the world, and you are going to need a lot of fuel for your days on the slopes. What better excuse to top up on pizza, pasta, tiramisu and the odd bombadino (a kind of creamy, alcoholic egg-nog type drink that comes served with mountains of whipped cream and is definitely something to try!)
The Best Ski Resorts for Adult Beginners in the Rest of Europe
Soldeu, Andorra
Soldeu has been a favourite of many a British beginner for years, perhaps a mark of its fantastic ski school and easy beginner terrain. If you're looking for tuition that will really help you become the best skier you can be within your time frame, Soldeu is a good place to head.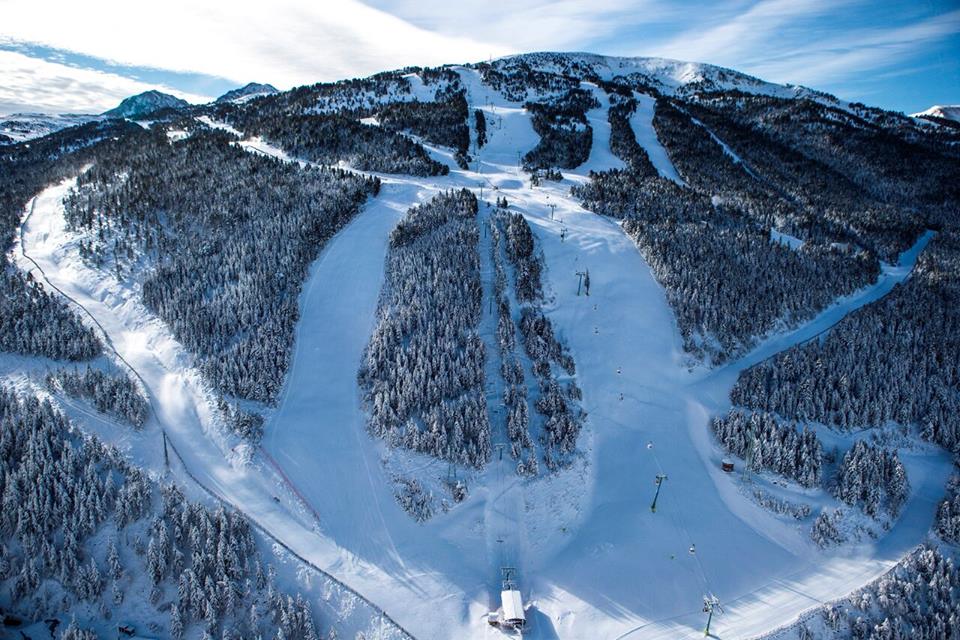 There are two beginner zones in the Soldeu area, both offering a good base for beginners to learn the basics and then progress to more adventurous beginner to intermediate runs. The ski school in Soldeu is brilliant, with a great English focused section and many English instructors, making communication much easier than in other resorts' ski schools.
Just be aware that the Grandvilara lift pass here is rather expensive and you do have to purchase a whole area pass, even as a beginner. Therefore, if you are on a budget, Soldeu might not be the best bet.
If you fancy something a bit more exotic, why not head to Bansko in Bulgaria? While the pistes here may be slightly tame if you are travelling with more advanced, adventurous skiers, they are perfect for beginner skiers. There are fast lifts, well groomed slopes and a good variety of easier slopes, which means you can explore as you progress. A long gentle run will take you all the way back down to the resort, so you can get in the most skiing possible.
Good snowmaking facilities keep you on the slopes regardless of weather forecasts and the hub at the bottom of the main gondola has a great lively atmosphere. Bansko is a great resort to visit if you're on a budget, as Bulgaria is slightly cheaper than the popular British-favoured resorts of France or Austria. Restaurants are noticeably cheaper and do not scrimp on quantity or quality, which is definitely beneficial after a long day on the slopes!
The town centre is beautiful and there is great choice for accommodation with many fantastic hotels. All in all, Bansko is a great option for a group of beginner skiers on a budget looking for a new, fun destination.
To get prepared for your trip, take a look at our beginner's guide, which contains all the information you need to know before heading out to the mountains for the first time!