One thousand, three hundred and sixty-nine – that's the number of days it's been since I last went skiing. So when I was given the opportunity to visit Andermatt in Switzerland for its opening weekend in October, I grabbed it with both hands.
"How was that?" Pascal, our instructor asked me at the bottom of the first run. My heart was pounding and I was breathing heavily hunched over on my poles gazing up towards the peaks we had just skied down from.
"Other than my quads being on fire, it's good," I replied, "…it's good to be back."
Despite my ski fitness needing a little work, the exhilaration and beauty of being in the mountains was just as I remembered it. That clear mountain air, those expansive vistas and the sense of adventure was a welcome treat, especially this early in the year over Halloween weekend.
(Andermatt 29 October 2021)
Winter in Andermatt packs a punch and boasts an impressive snow record however our turns this early in the season were before the first real dump had arrived so we owed them to an eco-friendly snow preservation technique called 'snow farming', whereby a protective fleece is placed over deposits of snow to stop the summer sun from melting it away.
This allowed us to ski a red run from the peak of Andermatt's highest ski area, Gemmstock, meandering from 2961m above-sea-level to the bottom of Gurschenalp chair lift at 2015m. Admittedly ~6.5km of skiing is slim pickings compared to 180km worth of pistes accessible from Dec – April but considering the time of year it was certainly enough for a weekend blast to get my ski legs back again.  (Editor's note: After a big early November snowfall, just after James' visit, sorry James, Andermatt now has 20km of trails open and a 1,500m vertical already).
(Andermatt 5 November, 2021)
Andermatt is a resort with a rich history and a bright future. I learnt this from eccentric local Banz Simmen who was our guide for the evening. He was somewhat of a local celebrity – entrepreneurial with his own Internet Cafe and bilingual regurgitating a 90 minute tour in over five languages on cue. Most impressive, though, was how he was wearing only sandals on his feet despite sub-zero temperatures outside… apparently he considers wearing socks when there's snow in the village.
Simmen explains how Andermatt, nestled at 1400m, is the centre of high mountain passes linking four Swiss cantons. Early settlers from the Valais cultivated the region and by 1830 the Gotthard Pass became navigable for horse-drawn carriages opening up Andermatt as a holiday location to 'lowlanders' which soon attracted illustrious guests such as Queen Victoria
But when the Gotthard Tunnel bypassed Andermatt rerouting tourists who once stopped there, trade and commerce dwindled rapidly. The Swiss military then moved in making it a base for their operations for over a century allegedly building facilities, including a hospital, within the mountains themselves. After the military exited Andermatt in the 90's so did jobs, money and people – the resort's future became uncertain.
That was until a fortuitous helicopter ride where Egyptian billionaire Samih Sawiris (pictured above) looked down upon Andermatt and fell in love with its unadulterated natural beauty. Only 90 minutes from Zurich, the businessman with a track record of successfully developing desirable holiday destinations, could see its potential to become a premium Swiss resort rivalling the likes of Verbier and Zermatt.
Sawiris' vision was to develop Andermatt into a year-round tourist destination whilst preserving the soul and untouched nature of the region. He proposed to upgrade the ski area and build a state-of-the-art car-free village, Andermatt Reuss, in keeping with the quaint architecture of the old town.
His plans were well received by locals in 2005 who overwhelmingly voted 96% in favour of the CHF 1.8 billion investment. His sales patter must have been as convincing to the Federal Council who granted the project exemption to 'Lex Koller' – the Swiss law that restricted foreigners buying second homes – therefore allowing him to open up investment opportunities globally, essential to his bottom line.
Since, they have been hard at work and now the resort boasts award winning hotels including the 5* Chedi Hotel (pictured above) and 4* Radisson Blu; an 18 hole Championship golf course; expansion of the lift system connecting Andermatt with its neighboring resort Sedrun; a Concert Hall and a mixture of private chalet and apartment residences, just to name a few.
In the wake of COP26 and Earth Shot it's pleasing to see that responsible building has been a priority throughout and Andermatt Reuss hasn't come at the cost of the environment. Apartments and hotels are built to the MINERGIE standard, a recognised Swiss quality label for sustainable and ecologically designed buildings with reduced energy requirements. 100% of electricity consumption and heat are generated by renewable sources, ensuring a CO2-neutral energy supply for all of the properties. The Reuss River was re-naturalised in the course of the construction activities, and environmental organisations were involved in the planning and construction of the golf and ski resort.
This mindset is woven into the tapestry of Andermatt Swiss Alps. From the balcony of gourmet restaurant Gustch I admired four wind turbines in the distance, with every rotation contributing renewable energy into the grid that powers SkiArena Andermatt-Sedrun's ski lifts. Perched at 2300m the dining experience was at the highest level. Ranked the top mountain restaurant in Switzerland, Marcus Neff and his team have been decorated with 16 Gault Millau points and a Michelin star promising fine dining that oozes passion for craft and respect for local produce.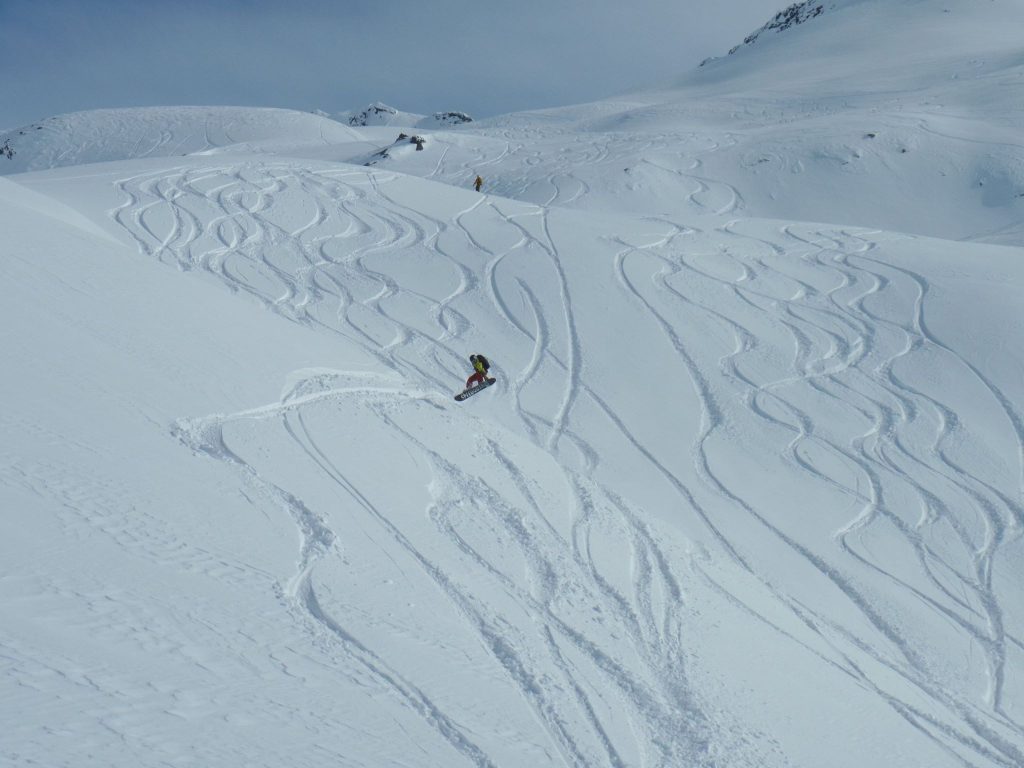 After a fresh snowfall – library pic
Andermatt Swiss Alps' respect for nature and its surroundings clearly emanates from the locals. Authentic mountain people acting with nature, not against it, and everyone seemed to be doing their part. Local Guide, Simmens, leads tours foraging for herbs and berries educating tourists of the richness of mother nature, and Ski Instructor, Pascal, runs a not-for-profit reforestation project called Wald & Klima.
It comes as no shock that in 2021 Andermatt Swiss Alps was recognised as 'Swisstainable', a label Swiss Tourism launched to advise holiday guests whether a destination meets sustainability criteria and uses resources sparingly as possible.
While covid undoubtedly added a sprinkling of extra faff to the trip it didn't dampen the excitement of being abroad. The long weekend reminded me of the pleasure that's derived from meeting new people, experiencing foreign culture, and of course, sliding down mountains.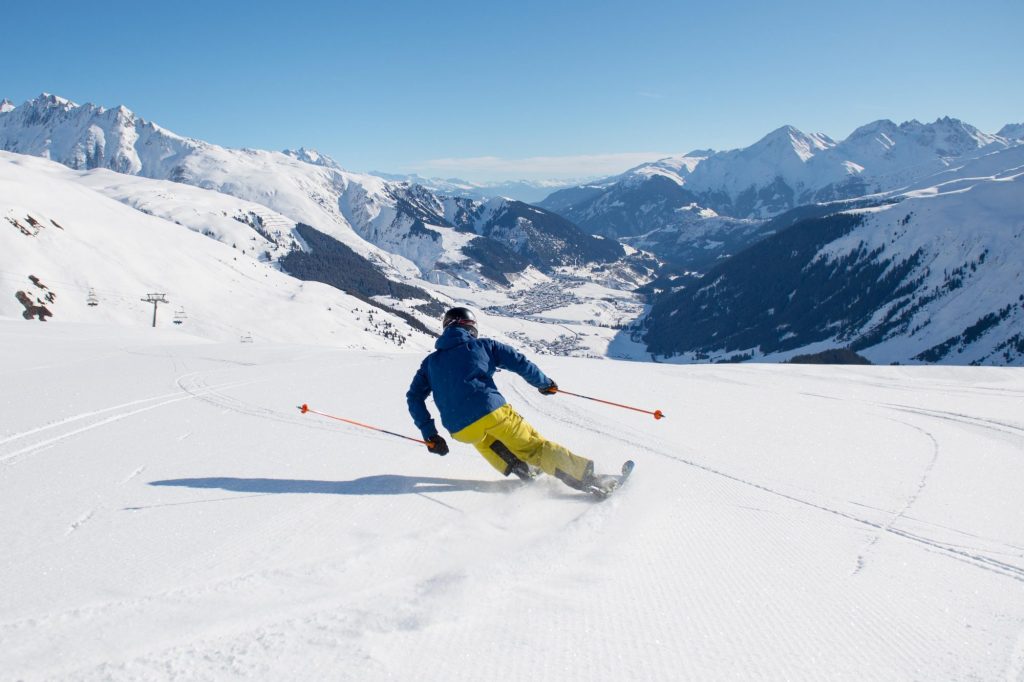 Good to know… (correct as of 12 November)
The Swiss Government requires that people who enter events/restaurants etc. need to have a COVID pass.  The NHS covid certificate is accepted and you must present the pass with a form of ID.
You need to complete a Swiss traveller locator form before travelling.
Masks are worn in all indoor public places, other than eating/drinking at a table, and also on ski lifts (chairs and gondolas).
Purchase a day 2 COVID test for returning to whichever UK nation you are returning to.
Upon return complete a passenger locator form for whichever UK nation you are returning to as well.
Gemmstock on 7 Nov 2021