When you think of your ideal ski holiday destination, what is it that comes to mind? An incredible vast ski area? Glorious powder bowls? A buzzing Alpine town with energetic apres-ski? In all likelihood, it's a mix of all of the above – throw in a reliable snow record and a short transfer and you've got yourself a winner. Many areas claim to have it all, but we've found there is one destination which has truly grown into its status as a perfectly rounded ski destination – Avoriaz.
A high-altitude skiing paradise, Avoriaz is one of our favourite European resorts. Just an hour and a half from Geneva airport, it's one of the easiest ski resorts to reach from the UK but is often overlooked in favour of the more expensive power-houses of Tignes, Val Thorens and Chamonix.
However, in our opinion, Avoriaz has everything you might want when it comes to a ski holiday, whether you're traveling with friends or family, beginners or experts.
A World-Class Ski Area
In Avoriaz, you are perfectly placed to explore one of the world's best ski areas; the Portes du Soleil. This exceptional area boasts a staggering 650km of slopes across Switzerland and France, providing an unbelievable amount of skiing for those of all abilities. Beautiful tree lined pistes and gentle beginner areas are interspersed with world-class snow parks, steep black runs and entertaining off piste routes, Indeed, there is enough for any skier to enjoy week after week, year after year, without ever getting bored.
Beginners are very well served here as over half of the runs in the Portes du Soleil are classified as easy, from wide sunny pistes to build confidence, to longer winding routes perfect for honing new skills. In Avoriaz, a range of these slopes are located right next to the resort, so absolute beginners will be in the perfect spot to start their skiing journey!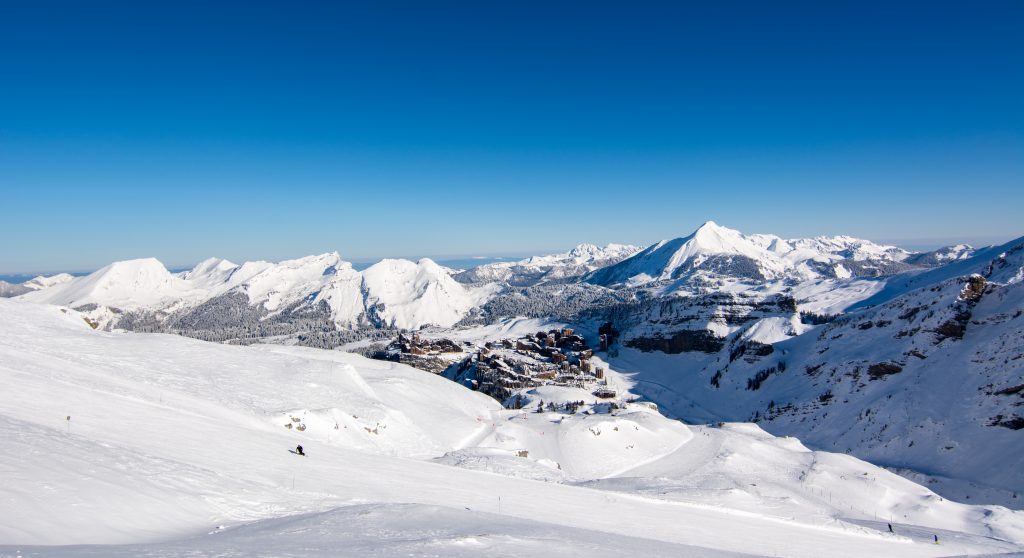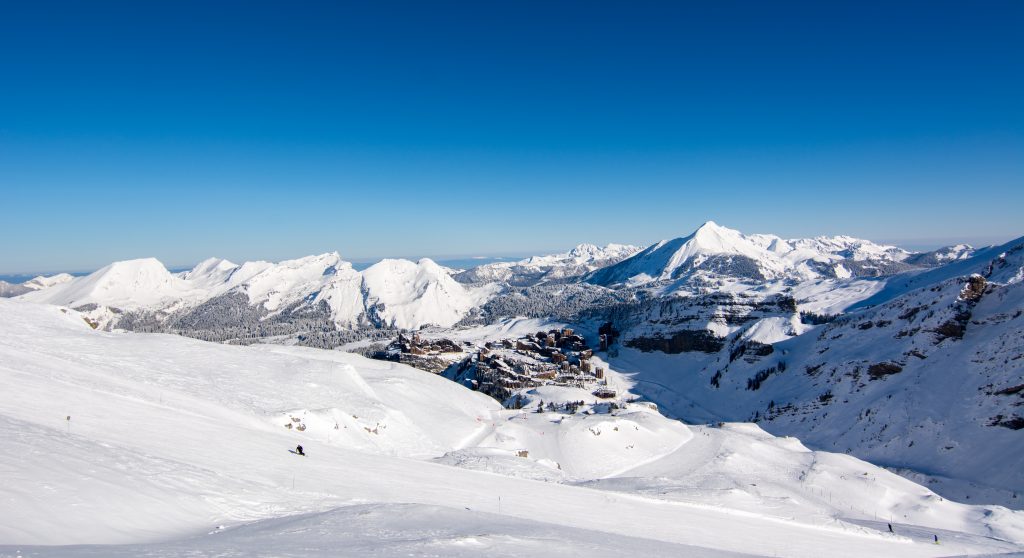 For intermediate to advanced skiers, there are a huge amount of blues reds and blacks to explore, along with a number of snow parks, fun zones and off piste opportunities. The sheer size of the area means that you can explore a different area each day, or really challenge yourself by trying to circuit the whole area in one day!
Avoriaz is also the highest resort in the Portes du Soleil, which means that it has a much more reliable snow record than some of the area's other destinations. For anyone looking to travel early or late in the season, this is particularly important – you will have a much greater chance of a White Christmas in a high altitude resort like Avoriaz than at a resort a few hundred metres further down!
Epic Runs
As can be expected from a resort with such a vast variety of terrain, Avoriaz is a destination that offers some epic, world famous ski slopes. For those that fancy themselves the next Aksel Lund Svindal or Lindsey Vonn, Avoriaz is home to the Jean Vuarnet World Cup Downhill Run, which begins from the top of Les Hauts Forts and continues all the way down to Les Prodains.
Or, if you really want to ramp up the adrenaline, you can take on the notorious Swiss Wall. Known officially as Le Pas de Chavanette, this mogul run down to the Swiss resort of Les Crosets has been known to raise the eyebrows of even the most experienced skiers. Classified as an orange run (even more difficult than a black!) it is very steep, very bumpy and is one many skiers dream of ticking off their lists one day! Though the run can seem extremely scary, with the top moguls reaching impressive sizes, the terrain does level out after around 50 metres, becoming a very enjoyable route for those who feel confident on moguls.
Family Fun
Now we all know that things don't always go to plan on ski holidays. You might have a day of bad weather, or your might have children that just don't want to sit with you and have a nice vin chaud after a hard day's skiing, but instead still have boundless energy that needs to be dispersed before bedtime.
This is where it comes in very handy to have a variety of off-slope activities in your resort, particularly when travelling as a family. Luckily, Avoriaz's Aquariaz is one of our favourite off slope spots in the Alps – for both adults and youngsters! A truly unique water park experience, complete with a gently flowing indoor river, an aquatic halfpipe, paddling pool, water playhouse, jacuzzi areas and a large pool with natural climbing walls. It's a whole lot of fun for the whole family, whether you're looking to expend that extra energy with a range of activities or relax your aching muscles in a tranquil setting.
Entertaining Apres-ski
If you're holidaying without the kids, you might want to sample some of the famous Avoriaz après-ski. The notorious dance floor of the Folie Douce never fails to attract the liveliest après-ski in the Alps and last season, this Alpine institution opened it's doors in Avoriaz. With live singers, dancers, DJs and musicians taking to the stage each and every day, it has swiftly cemented itself as a staple on the Avoriaz après-ski scene. Partying on a sun-drenched terrace in the middle of the most breathtaking Alpine vistas? There's really nothing else that compares. Based close to the resort, the Avoriaz Folie Douce is accessible both on skis and by foot, so that everyone can enjoy the après and there's no worrying about when the lifts close!
However, Folie Douce is by no means the only après option in Avoriaz, so if you prefer to keep your après off the slopes, you have a vast amount of choice within the town itself. Whether it's the outdoor terrace at Le Tavaillon, happy hour at Le Shooters or the chilled vibes at Le Chapka, you're sure to find something to suit you!
Great For Groups
Indeed, with a lively town centre and variety of evening activities, Avoriaz is one of our top picks for larger groups of skiers. The huge ski area offers more than enough entertainment for skiers of all abilities, so groups of mixed levels will all be able to enjoy the terrain.
With Skiweekends, you can book week or weekend getaways for groups of up to 50 without losing that authentic chalet feel. Groups of this size can be booked across 4 chalets, all within a 2-minute walk of each other, so you can combine all the benefits of a large group getaway without sacrificing any of the luxuries of a chalet stay.
Fantastic Accommodation
Avoriaz itself is a bold, purpose-built hamlet built to merge with the surrounding cliff faces, with the result a strangely impressive architectural achievement. Sure, purpose-built may not be your thing – I'll be the first to admit that it usually isn't mine – but this is one resort where I'm happy to make an exception. Not just for the absurdly high quality of the skiing and snow-sure altitude, but for the resort itself. Traffic-free, with just charming horse-drawn sledges to help visitors around and with the ability to ski right back to your door? What's not to love?! The atmosphere is magical as you walk along snowy streets surrounded by the drama of the silhouette mountains right behind you and tree lights twinkling everywhere.
Yes, you did read that correctly – pretty much every accommodation in Avoriaz offers a ski-in, ski-out option. And I don't mean 'ski-in ski-out' in the way that many tour operators do, which can all too often result in you walking in your ski boots to find the dubiously identified 'slope' that's supposed to take you to or from your chalet. No no no. This is proper ski right to and from your door territory.
Our Top Picks?
One of our top picks, Chalet Jean-France is just a few minutes' walk from the town centre in a prime slope-side location. Whether you are adults looking to frequent the après bars of Folie Douce and Yeti, or a family who would love to be close to Aquariaz, Chalet Jean-France holds the perfect position to enjoy all Avoriaz has to offer. With five large ensuite bedrooms, it can sleep 12 people, so is ideal for larger groups.
For a more relaxing, tranquil experience, Chalet Lauzes simply can't be beaten for ski-in, ski-out access and boasts some of the most spectacular views in the area. It's even got an in-house sauna to warm you after a day on the slopes! Chalet Lauzes sleeps 8 people.
Pictured below, these chalets are right next to each other and can be booked together – the Perce Neige sleeps 10 people and the Violetta 14 people, making this the perfect chalet holiday for larger groups. A stone's throw away from the Folie Douce, you can dance the afternoon away at après and be back in time for your delicious three course dinner and wine!
For more information, head to: skiweekends.com or call their team of experts on 02380985654
---
Featured Image © Loic Bouceht – Avoriaz 1800