Bumps
This month Jon talks us through a few key technical and tactical points to skiing bumps. The points should be useful whether it is your first time on a gentle pitch of bumps or if you are already a confident bumps skier.
Technical tips
The upper body should be in a more upright position compared to normal alpine skiing.
By turning the skis quickly you can control the speed of descent down the moguls. The movement should come from the leg turning in the hip socket. Keep the skis flat to isolate the movement and enable a fast rate of turning.
A good range of up and down movements with the legs is required – as you hit the bump, bend the legs to absorb it. As you drop off the bump, stretch the legs to push the skis into the hollow.
At lower levels use a flat ski to enable it to skid and control speed. If the ski is edged too much, it will grip and accelerate, usually leaving the skier in the back seat. Skiers with excellent rotary and pressure control skills can use more edge to increase speed.
Plant your pole over the top of the bump onto the backside. This allows for better flow down the bumps, and the upper body is less likely to be pushed back.
Tactical decisions
Bumps limit where you can turn your skis; with this in mind it's important to understand the line you choose and how this will affect your speed down the moguls.
High line – In the moguls ski up onto the top or high on the shoulder of the bump so that the tip and tail are free and it is easy to rotate the ski. Rotate the ski and skid down the back of the bump to control the speed.
Low line – Keep the skis in the rut line. The skier is much more restricted in how much and where they can turn and skid the ski. Speed down the slope is generally faster than in a high line.
By choosing somewhere between the high and low line the skier can choose how easy it is to control the speed.
Red = High line, Arrow = Skid, Green = Low line
Offset lines – To further reduce the speed, a more offset line can be taken.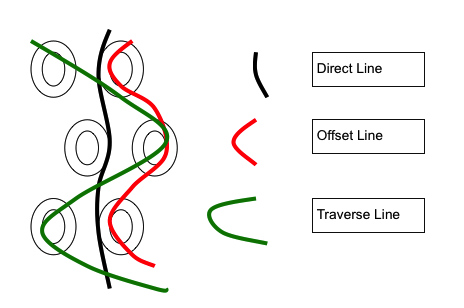 Enjoy yourself and remember to warm up properly before getting stuck into skiing bumps! ☺
The Altitude winter company portfolio includes the ski and snowboard school, the Futures instructor training programmes, and Freeride Verbier, a new school dedicated to off-piste coaching in Verbier.
For more information please contact us on: 0041 27 771 6006;  [email protected],
altitude-verbier.com – altitude-futures.com – freeride-verbier.com
To follow the Altitude Verbier team:
https://www.facebook.com/altitudeverbier/
https://www.instagram.com/altitudeverbier/
https://twitter.com/AltitudeVerbier
Enregistrer