Switzerland has an abundance of 'beyond five-star' ski hotels, many located in some of the world's great ski areas, some in business now for over a century, since the earliest years of winter sports holidays.
I've been lucky enough to visit quite a few of them now and the greatest irritation they almost always provide is that you don't really want to go out skiing.
It's particularly frustrating when you consider that in resorts like Crans Montana, Gstaad or St Moritz, fewer and fewer people actually do go out skiing; at least as a proportion of the number of guests, and so often the pristine slopes are pretty well empty before 10 am, so if you did go out to the slopes, you'd have them to yourselves.
Something like this in fact…
(Image © Gstaad Saanenland Tourismus)
But then perhaps the reason the slopes are so empty in the mornings isn't because people don't want to ski, more that their accommodations are so good, so people linger too long in bed, then over breakfast.
It's not like these hotels don't make it very, very easy to get on the slopes either. Embarrassingly so really. They'll have heated your boots overnight, someone will help you put them on if you don't quite feel up to it, someone else will carry your skis to your private shuttle and drive you to as close to the lift, accessing what's been deemed the best skiing of that particular day, put your skis down in front of you.
I haven't actually had my foot lifted off the ground and clipped into the bindings for me yet but we've got close.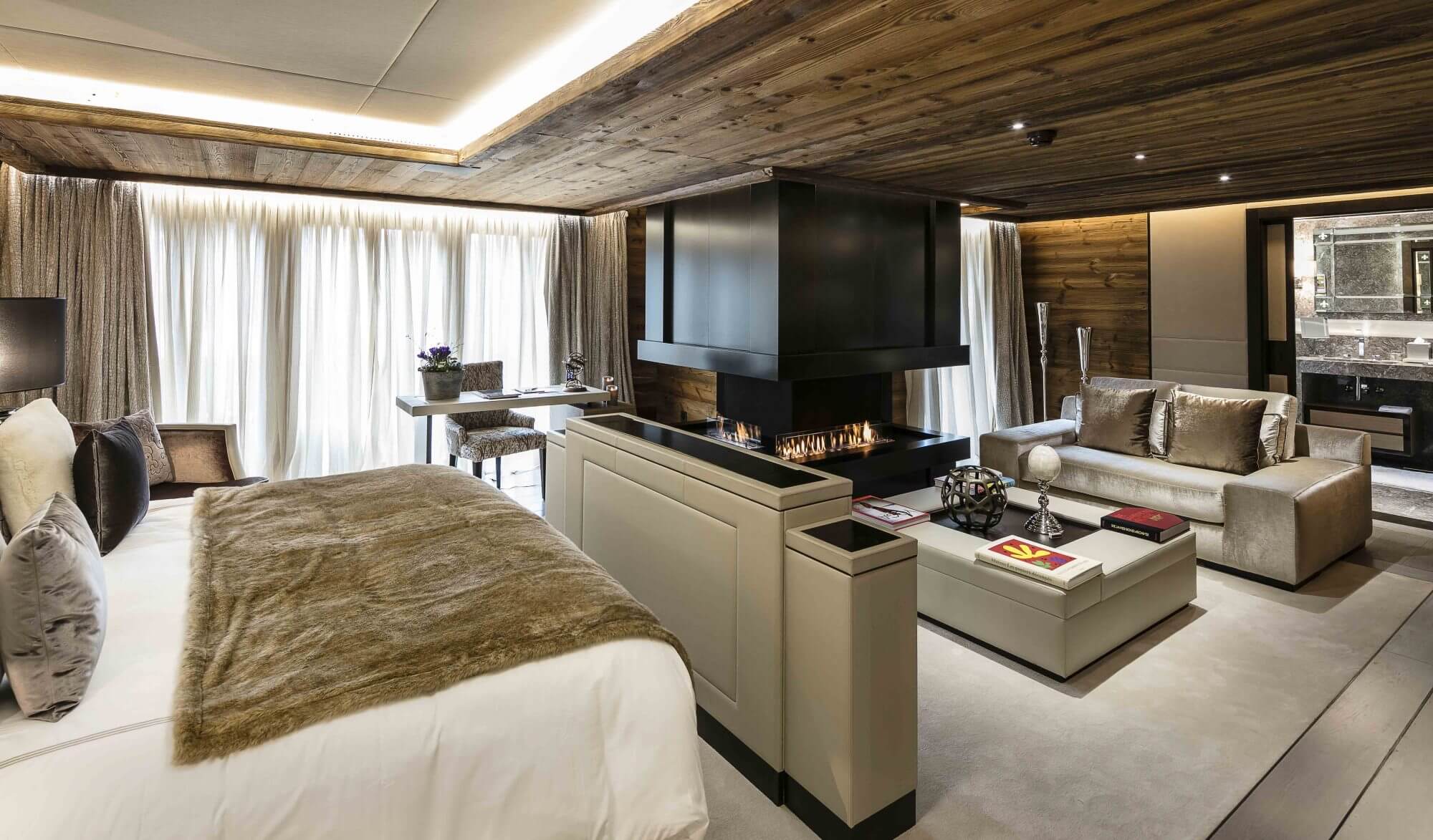 But it is the fault of these hotels – the sumptuous suites, the massive breakfasts, the enticing spas. They're so hard to leave. It's easy to find yourself being drawn into the crowd of no-shows on the slopes before 11 am.
The luxury ski accommodation market is also a tough one to break in to, with most of the establishments involves having seen generations of skiers pass through their silently welcoming doors, so I was intrigued by an invitation to visit the relatively new Ultima Gstaad, part of a small (but rapidly growing) group of chalets and small hotels, the Ultima Collection, established by young entrepreneurs Byron Baciocchi and Max-Hervé George when still in their twenties.
The Ultima Gstaad Hotel is very different to most grand Swiss five-star ski hotels, which usually have at least 100 rooms and suites, a choice of restaurants and large, luxurious spas. The Ultima Gstaad has just 10 suites, along with several private residences whose owners can also use the hotel's facilities. In fact, it's all spacious designer suites and luxury residences, there are no regular 'hotel rooms'.
The result is kind of mid-way between a luxury chalet and a luxury hotel, but rather better than that sounds. Having a uniquely designed, sensational suite to stay in which you know is as good as, but different to, the other suites, feels very nice. Finding out there's a spectacular luxury-hotel-sized spa down below that you get to share with just a handful of other guests, at most, starts to feel very special indeed. A lot more special than a regular room or suite in a traditional large luxury ski hotel in fact.
I have been lucky enough to stay in both of these variants on many occasions and my first impression of life in The Ultima Gstaad was that they may have hit on something very good indeed. Probably not by accident.
On the one hand, the grand hotels are great, but you are usually sharing the spa, the restaurant and all the other facilities with dozens, sometimes hundreds of people. They rarely feel very personal. I had, a few years before, stayed up the hill in Gstaad's famous Palace hotel, popular with everyone from Hollywood A-Listers to royalty down through the decades. I recall small rooms and a battle to find a poolside lounger when I visited, a nightmare.
I've also stayed in plenty of luxury private chalets with jaw-dropping rental costs if you were fortunate enough to be able to pay to stay in them in the peak season (my visits were by contrast in the lowest of low season). Ultima Gstaad was much closer to one of those establishments in Courchevel or Verbier perhaps, and indeed I understand, the group's other properties, so far, located in Crans-Montana, Megève and Courchevel as well as a newly opened private residence by Lake Geneva, operate more like chalets. Ultima prefers to call them 'Private residences' though, they are less chalet party, more rented private luxury home.
That's good because the downside of the chalet party, whatever the price tag, is that you are rather bundled in with your fellow guests, which is very often a great way to meet interesting people, but occasionally, an annoying place to be stuck with people you don't get on with.
Ultima Gstaad though finds a middle way. You are, essentially, in a very small, very comfortable hotel with just a few dozen guests at most. You do get to know all the other guests, if they leave their suites around the same time as you do, by sight, but you don't feel obliged to get to know them. You're not all going to be sitting down to dinner together.
The hotel opened in 2016, three years after Messrs Baciocchi and George purchased the down-at-heel former Sport Hotel Rutti. The hotel was completely demolished and work started on the construction of what was to become Ultima Gstaad, a collection of buildings with the look of traditional Swiss chalets, although much lighter and brighter than most, and with a large underground car park and spectacular spa on the lower levels.
Mr Baciocchi is still a young man, but has already done business in the billions of Euros (the luxury property group is just a part of it) and clearly has a wisdom well beyond his years not just in finance. His vision is of healthy longevity through well-being, so the Ultima Group is designed to deliver just that.
It begins in much the same way as a luxury chalet or hotel visit. You're met from the train or plane, whisked to the hotel where your bags are whisked off to your suite.
The team waiting to welcome you, of course, know who you are, you're taken up to your spacious suite with its giant bed, massive bathroom and nice touches that help reassure you further that you're staying somewhere very special like the big TV that rises out of the base of the bed if you want to watch it, the hi-tec real flame fire and of course the plates of perfect fruit and chocolate waiting for you.
It's then up to you how much and how often you venture out of your suite.
(Private dining in your residence)
You will want to head out at some point though, perhaps first to visit the bar and restaurants on the ground floor, or even the exotic option of the shisha bar. The hotel's restaurant, created with the assistance of three-star Michelin chef Georges Blanc and led by head chef Xavier Watrelot is, as you'd expect, sublime.
Then there's a cinema room, fitness room and the stunning spa on the floors below.
Breakfast is all part of Mr Baciocchi's philosophy. You can easily eat far too much but you'll find the onus is entirely on the freshest food beautifully prepared and delivered, with a vast choice of fruit, nuts, juices and seeds along with the usual breakfast staples, presented to the highest standards.
(Bathroom in one of the suites)
Eventually though, as inevitably it seems all ski holidays must, you will find yourself in the ski room, two levels below ground in the glass elevator with someone helping you slide into your warmed ski boots.
The room (well, more a lounge really), opens into the underground car park, where your heated boots are handed to you, yours skis loaded into the shuttle waiting on the other side of the sliding door, and your driver ready to take you to wherever in Gstaad's huge ski region, is considered to have the best skiing to suit your needs on that day (assuming there's much daylight left once you've finally decided to venture out).
But perhaps you could leave skiing for another day? That spa is almost as tempting as the snow though, large heated indoor and outdoor pools, large jacuzzi, sauna, steam room and of course treatment rooms with a long menu of massages and beauty treatments available. Again Mr Baciocchi's philosophy is quietly evident as you can, if you wish, look into lots of treatments and ideas to keep you healthier and happier for longer here, including DNA testing to look into the likelihood of future illnesses, and a Geneva-based clinic, Aesthetics, with a local outpost here to advise on products and services to help with your future health.
It still counts towards that delivery of "healthy longevity through well-being" right? Even if you stay in the spa and don't ever actually make it out on to the slopes?
In terms of pricing, suites at the Ultima Gstaad are available from CHF 800 per night and residences available from CHF 4500 per night. There are also various deals from time to time.