The longest possible skiable vertical descent in the world remains yet to be skied in one go after a new expedition this spring didn't quite complete the challenge with the participants choosing to stay alive instead.
The biggest skiable vertical in the world is a potentially possible 18,009 feet (5,490m) descent from the peak of Mount. St. Elias, North America's second highest mountain located on the Canadian Yukon/Alaska border to the shores of the Pacific Ocean.  Although there are of course higher mountains, all of them also start higher above sea level at their base and no other offers so much vertical.
The problem is that Mount St Elias also has some of the most extreme weather conditions on earth, and precipitously steep sides, so off the few dozen people who have now tried to ski down it, no one has managed to make it from top to bottom in one go and several have died in the attempt.
The latest attempt is reported to have been made this spring by Janelle and Mark Smiley and Jed Porter who made a video of their attempt:
The trio climbed from sea level up to 16,400 feet over several days but due to the extreme condition they encountered decided that to aim to ski from a higher point would be suicidal.  They did however continue ascending to the top, leaving their ski equipment at 16,400 feet then returned back down to ski as far as they could down the mountain from there.
So that descent could be the longest and will certainly be one of the longest ever ski descents.
The descent has been attempted several times previously. 15 years ago in 2002 three American mountaineers attempted to snowboard or ski down but two were killed in the attempt and the other abandoned it.
A decade ago in 2007 a group of 'extreme ski mountaineers' attempted the same feat with support from Red Bull and later produced the film 'Mount St Elias' (2009) as a result. They were also unable to complete the full descent in one go in May 2007 due to extreme weather conditions but several members of the group returned later in the year in August and were helicoptered in to ski the part of the descent that had been missed on their original attempt – so they did ski the full vertical, but in two separate sections on different days.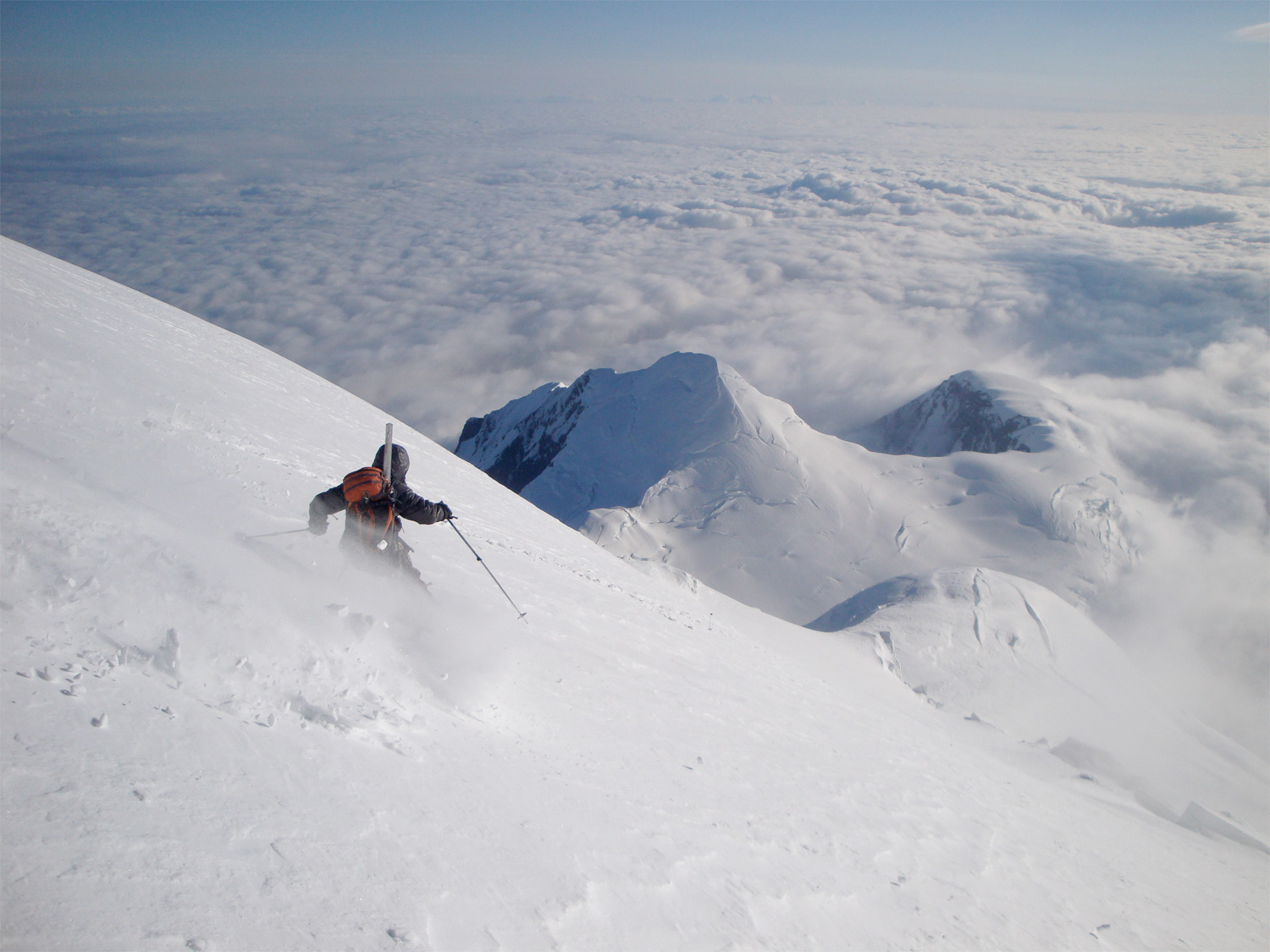 In June 2010 a group of three Canadians also completed their descent in two stages (pictured above), but stayed on the mountain in between the two legs.  They skied down to their base camp at 9750 feet from the summit in one go – a vertical descent of more than 8250 feet / 2500 metres, but were then forced to wait for a weather window there for eight days before attempting the lower section, managing to get down to 1500 feet  above sea level (after a further 8250 feet / 2500 metres of vertical) before the snow ran out for a combined vertical descent of around 16,500 feet/5000 metres – just with that eight day camping stop half way down.