Ski holiday companies are reporting booming holiday sales for next winter, with Christmas and New Year holidays particularly popular at present. It seems skiers are getting over the shock of missing this season and booking for next season now whilst still in lockdown but with optimism of, hopefully, "a light at the end of the tunnel."
When contacted by InTheSnow they are repeating their warning for skiers to be aware of potential availability issues.
"Whilst the complete loss of this winter has been a disaster for the industry, forward bookings are at least looking positive for next season," said Craig Burton, boss of travel agency Ski Solutions, adding "Thanks to the vaccine rollout we can begin to look forward with considerable confidence to next winter, and what we are seeing is evidence of the enormous pent up demand to travel again. Capacity, particularly for chalets and peak dates will become an issue as we get closer to next winter."
Half-a-dozen different reasons are being given for surging bookings and limited availability, some fairly obvious, others perhaps less so.
It's A(nother) Roll Over
The obvious top issue is that many of Britain's long established ski holiday companies have strong customer loyalty and those skiers have rolled over bookings for one and in some cases two seasons, so their space for the upcoming winter 21-22 is already taken.
Booking Winter Now Because Still Uncertainty Over Summer
"The inherent uncertainty which remains about the restart date for travel this summer means that customers are waiting to secure their summer breaks, but have confidence in the longer term outlook and are taking the opportunity to get their winter plans sorted now," said one ski travel company.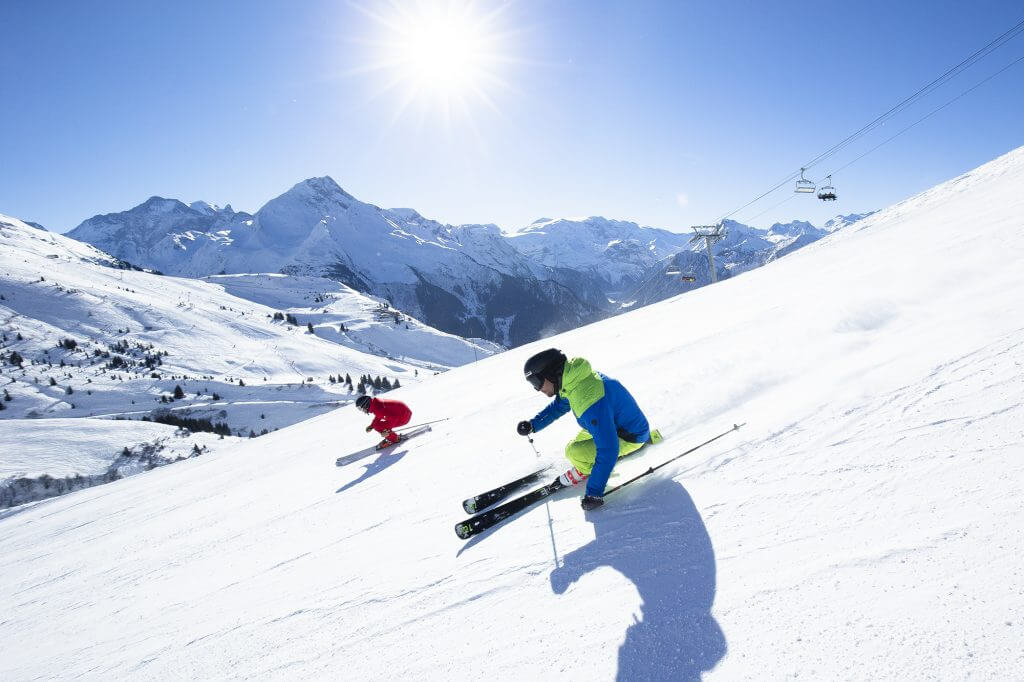 Fitting 2 Seasons' Holidays in to 1 Winter
Some skiers who paid for a holiday at Easter 2020 or this current 20-21 winter are taking a view that they're still owed and have paid for that holiday, but still want their 21-22 ski holiday too.
"There are quite a few who have said that they plan to go twice next year, once at Christmas and again at half term or Easter. These clients have asked us to hold on to their money so they will only have to pay for one new trip," said Jane Bolton, Product Director at NUCO Travel & Erna Low.
Brexit & COVID Hit Chalet holidays
Those looking for the tradition Great British ski chalet holiday should be aware availability is reported to be down, down, down – some claim by 70% – due partly to COVID but mostly to Brexit,  which now makes it difficult to employ staff at viable rates to provide a high value holiday. Expensive chalets are not so impacted. So the rules of supply and demand mean again that it is probably best to secure your chalet holiday sooner if you spot one.
Earlier Availability
The pandemic has seen the emergence of the option to book some ski holidays two years in advance as travel providers strive to secure future business. A result of this is that providers who might not have released pricing and availability until closer to travel times are now doing it over a year in advance meaning its now easier to book and secure space further ahead than before.
Busy Christmas and New Year
"The biggest challenge is going to be the Christmas/New Year dates which means we are encouraging arrivals on Friday/Saturday and Sunday for a minimum of seven nights," says Cathy Rankin, UK Sales & Marketing Manager at Groupe Pierre & Vacances.
All this Means …Cheap Late Deals Less Likely
Although the pandemic has taught us not to be sure of anything, the logical conclusion of all of the above is….
"Skiers need to be aware that there are unlikely to many bargain weeks next season – if price is important look at pre-Christmas, mid-January and possibly the second two weeks of March.  Easter is later and in sync with Paris holidays so demand and supply will be affected," concludes Cathy.
(Image top credit: Are, Skistar, Sweden, image above credit: La Plagne)