I'll go in to more detail below, but to save time for those of you in a hurry, here's a quick checklist as to why you should go skiing at Sierra Nevada, a remarkable resort in Andalucia, Southern Spain:
Direct BA flight from London City to Grenada Airport – 50 minutes from the slopes.

Great ski area with over 100km of runs – something for everybody and a good network of chairlifts and gondolas. There'seven a British run, English speaking ski school.

Exceptionally good value – a beer and tapas from 2 Euros. But the gourmet and luxury market well catered for too.

Sea and Ski – the Med is only about an hour's drive and in spring its popular to ski in the morning then drive to the beach for the afternoon and evening.

The incredible ancient city of Granada, home to Spain's most visited attraction, The Alhambra, a UNESCO world heritage site at its base (and easier to visit in winter).

Spectacular views from the slopes, you can even see Africa from the top on a clear day.

A much more vibrant resort base than you find normally – Granada is a university city with 60,000 students who like to come up and play.

Genuine atmosphere – numerous small bars, shops and cafes run by locals, not corporations.

The kind of locally-sourced, authentic food and drink lots of resorts talk about but don't deliver like this – seafood among the particular strengths.

A great range of accommodation from budget to super-luxury, including one hotel with Spain's largest spa – a veritable indoor water theme park for adults and children alike.

Great for a weekend or midweek break as well as a full week.

Bragging rights to say you've skied Europe's most southerly ski area.

Great snowfall record (most years!) plus a powerful snowmaking system.

Spanish sunshine and longer daylight hours – even in mid-winter.
I've been skiing for nearly 40 years, visited almost 300 ski areas in dozens of countries but, to my now great regret, until this past weekend, I'd never before skied at Sierra Nevada, which shares my birth year – 1964.
I had known about this remarkable resort for almost as long a I've been skiing, it famously hosted the World Alpine Skiing Championships in 1996, but I had not realised how refreshingly different it would be to most of those hundreds of others I'd skied before.
Unfortunately, this winter Sierra Nevada is (to the great frustration of the locals) suffering one of its least snowy seasons in 20 years. But even with almost no natural snow, the resort's mighty snowmaking system was working well thanks to a dedicated team working night and day, and I found plenty to keep me busy on more than 20km of runs.
I also know, from writing snow reports from around the world every week for many years, that quite often Sierra Nevada has one of the best snow records in Europe, building up a base of 5m by the end of the season at the start of May, when a mass celebratory ski in swimwear is organised.  It's a fun place.
I'm a little concerned that this review will appear so enthusiastic it will look like an advertising piece from the resort, but it honestly is all my own work, I just really like this resort.
It's hard to think of many downsides really to try to balance it out. Other than the snow shortage this year, I suppose the fact that English wasn't universally spoken might concern some, but with a bit of gesticulating and a smile it was never a problem being understood.
Oh the English queuing system was lacking at the busier lifts and it was a bit of a scrum at busy times, but that said there was no pushing-in or uncomfortable crowd surging either that you sometimes get in the Alps, everyone was so friendly in relaxed that if anything we were the most pushy ones wanting to get back up the slopes.
OK, on to the unbridled enthusiasm (which is quite rare for me):
1. It's Very Easy To Reach
Sierra Nevada is located high above the ancient city of Granada and its small airport. This airport takes largely domestic flights but a new BA service from London City means you're on the slopes in under an hour. With relatively small airports at each end the usually time consuming process of immigration and walking miles through the airport at each end is eliminated and it's normally quick and painless, plus you have BA's higher calibre of service.
If London City isn't convenient it's usually a case of driving to Malaga – to which there are numerous flights with many budget airlines from most UK airports – and either renting a car or taking a bus, it's about a two hour drive on a good road through endless fields filled with olive trees.
2. Sunshine, Snow and Added Daylight
Sierra Nevada's southerly location means it gets more daylight than resorts in the Alps or further north – it can add up to over an hour more daylight in mid-winter so if you've ever thought your ski destinations a bit dark and grim, this is the resort for you.
Sierra Nevada also clocks up some 320 sunny days a year, so your chances of sunny days on the slopes are also higher here than almost anywhere else.
But snow is usually not a problem and Sierra Nevada normally clocks up an ever deep base through winter and spring, backed up by a snowmaking system that delivers through a mighty arsenal of 350 snow cannons. Slopes are largely North West facing which helps to hold the snow.
3. A Great Ski Area
Sierra Nevada is not only Europe's most southerly ski areas but it's also one of the continent's highest, meaning that even at these southerly latitudes the temperatures tend to be sub-zero and the snow light and fresh.
A choice of fast gondolas and chairlifts gobble up the crowds wanting to get up the slopes in the morning, lifting them to a mid-mountain plateau at Borregeguiles from where a network of chairlifts serve higher terrain and open up glorious long runs from top to bottom over Spain's biggest lift-served vertical – 1,200m.  The longest, El Aguila, is more than 6.2km long.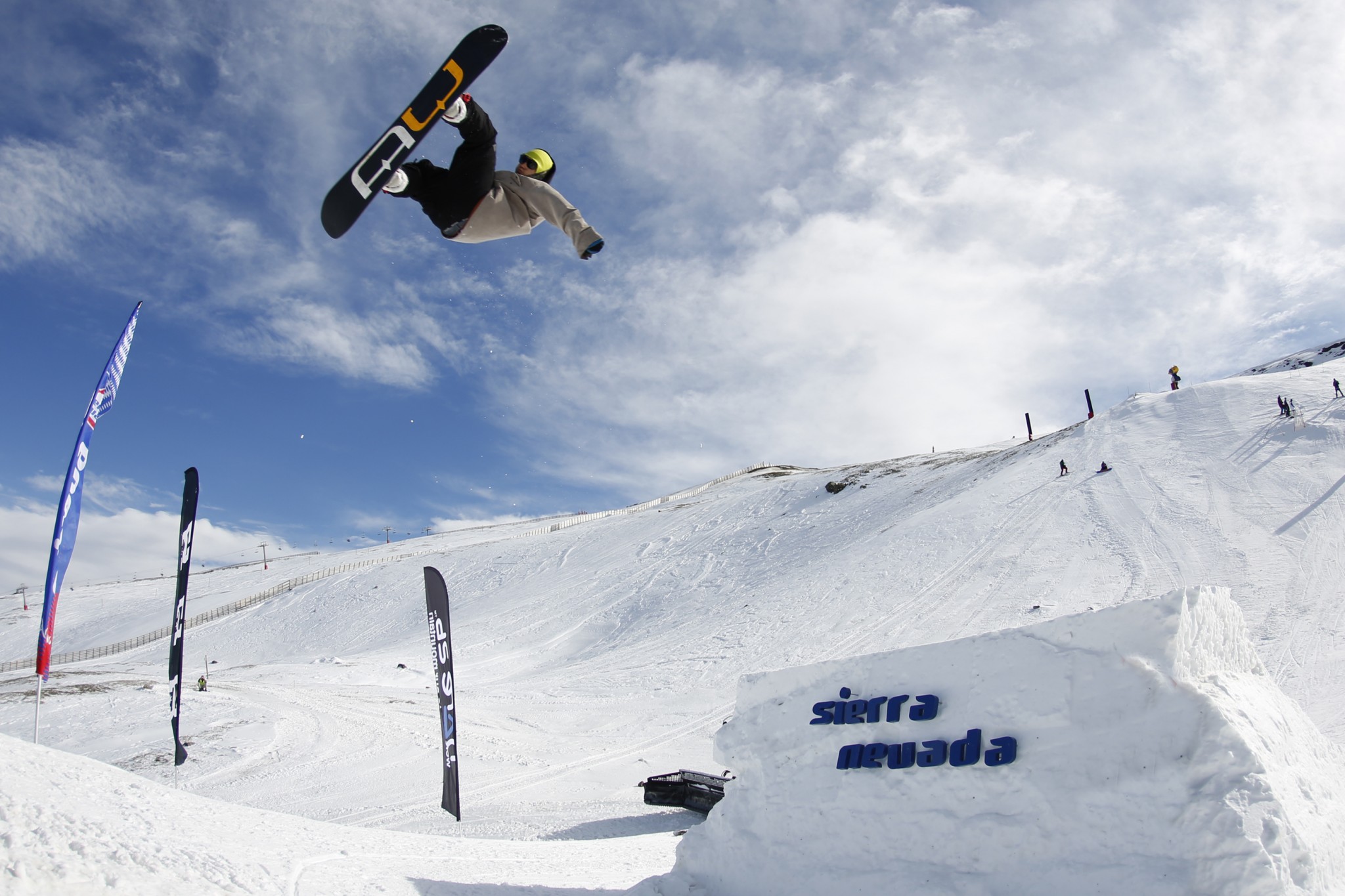 There are 124 runs to choose from, spread over 107km.  These of course include a wide range of green, blue, red and black runs but there are many other themed slopes and seven terrain parks too. These include a mini beginners' terrain park and the full scale Sulayr terrain park which incorporates a permanent ski cross course.
First Tracks are available for skiing from 7.30 some mornings and there's night skiing on the Rio and Maribel slopes from Thursday to Saturday evenings too. When the snow is good there are freeriding opportunities too.
Other options include an automatically timed slalom course connected to your lift pass which films your descent automatically as you start with the video waiting to be downloaded online.
There are several large restaurants at the base of the slopes in Borreguiles with the option of fine dining with table service on an upper level in sat the Alcazaba restaurant, which, like all the restaurants I visited, had a great menu; excellent food; fast, friendly efficient service and prices which were more like the cost for something much less impressive served after queuing in a cafeteria in the Alps.
Children are especially well catered for with excellent nursery slopes served by a covered conveyor lifts, wonderful children's runs including the new Pita des Bosque where you ski through a giant shark, which joins the existing Pista el Bosque which features mountain animal figures.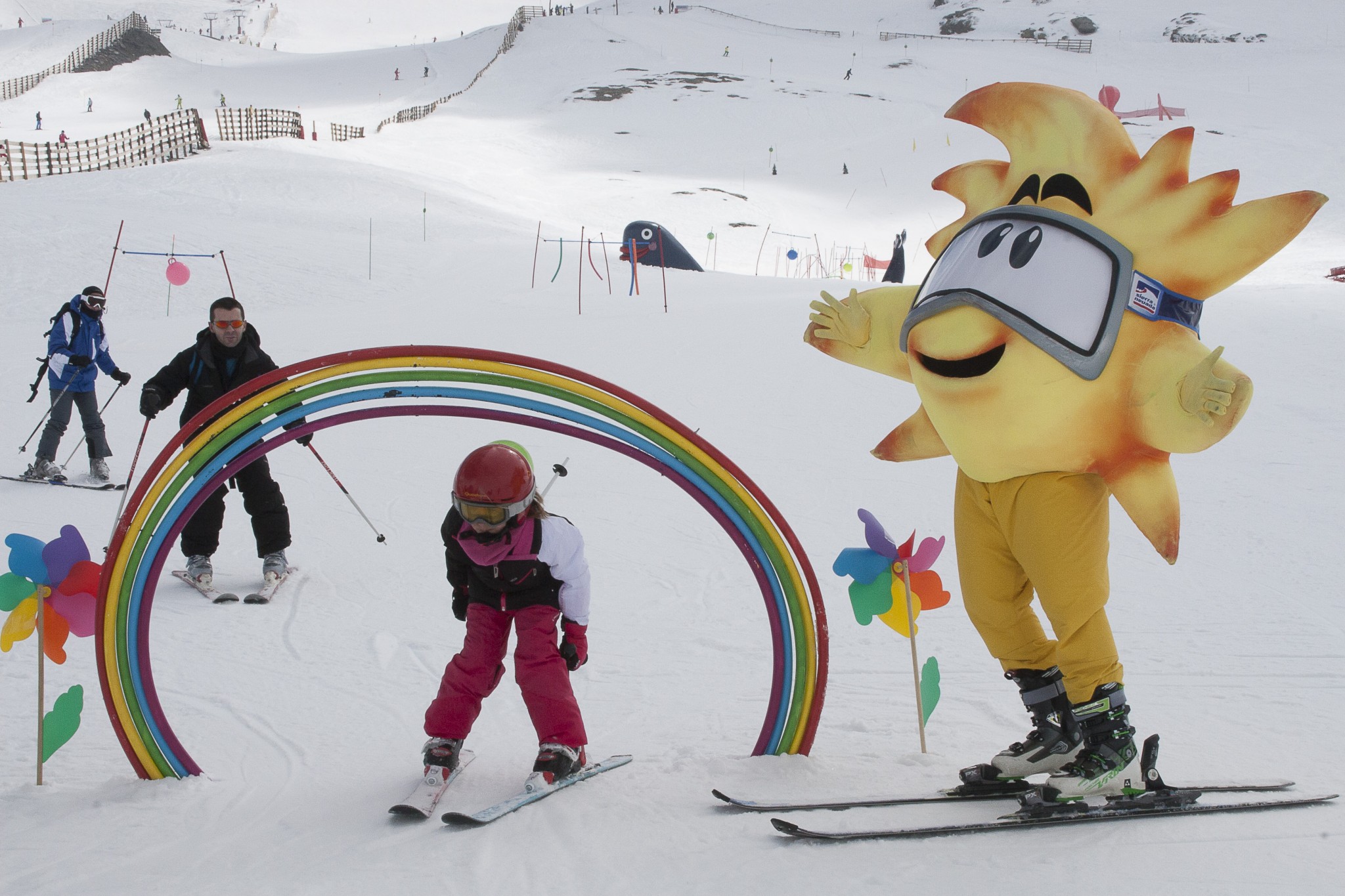 4. Compact, Vibrant, Resort Base
I'd looked at pictures of Sierra Nevada over the years and had wrongly thought this was just another purpose built resort.  In fact it's a really vibrant village with the streets lined with dozens and dozens of small bars, cafes, ski shops, tapas bars and the like, many spilling out chairs and tables on to the streets in is largely pedestrianised centre.
A unique selling point of the region is that you are always served a small tapas food item with your drink, even with a small beer or coke for a few euros, and the tip I was told was to look for the busiest bar as that typically meant the best tapas was being served with the drinks. With tens of thousands of students in the city below, Sierra Nevada has a youthful, busy, fun feel to it.  I was told the budget conscious students can find the bars with the biggest food items being handed out and after they've bought three or four drinks through the evening they felt they'd had a meal and a good night out for under 10 Euros.
But it's wrong to portray Sierra Nevada as a resort just filled with Spanish students. There's a great cultural mix – including many Brits based in Malaga and elsewhere in Andalucia – and a wide range of ages and demographics together here. Along with budget apartments there are some very comfortable three and four star hotels and several remarkable luxury establishments, including brand new El Lodge which would look completely at home at the very top-end of properties in Aspen or St Moritz, of which more later.
Whatever your budget Spanish time tens to run later than British with lunch normally happening around 2am and dinner from 9pm. One local explained this wasn't due to a relaxed attitude but that the time in Spain is really set two hours later than it should be (geographically it should be behind GMT, not ahead), but a former leader made a bad decision to have the same time as countries far to the east in Central Europe and they're stuck with it.
5. Granada
(The Alhambra Picture Credit Bernjan)
A lot of people visit Granada without realising there's a great ski resort up above and probably a lot of people go from the airport on motorways through Granada without realising quite what a great city this is.
The huge and remarkably preserved Alhambra Palace features incredible architecture from the centuries, more than 600 years ago, when Spain was largely ruled by the Moorish culture, and also, since the Christians gained control, elements from almost every part of Spanish history from the past millennium, much of which has connections to wider European history. So history buffs will be blown away, everyone else can just be wowed by the buildings.
The point to note here is that from spring to autumn it's difficult to get in to the Alhambra Palace as it so popular and busy, but during the ski season, with temperatures usually in the mid-teens down in Granada, it's a pleasant stroll around a quiet UNESCO world class attraction.
Outside its gates the city is very attractive to walk around too, with lots of great shops and cafes and some areas in the Arabic quarter with narrow streets lined with colourful stalls that could easily be Morocco or Tunisia.
There are many hundreds of restaurants to choose from, most providing authentic local cuisine at very affordable prices. I dined at the recently opened Aparicio's which was new and stylish, but still provided high value, great food and friendly efficient service, all you could ask for in fact.
All in all Granada is a unique and remarkable attraction, located just over 30km below the ski resort, to visit before, during or after you stay in Sierra Nevada – that's very rare.
6. Beach
There are not many ski areas in the world, especially in Europe, where you can ski on snowy slopes in the morning then drive to the beach and be skiing in warm seas just over an hour later.  But that's what's possible at Sierra Nevada and a popular activity, particularly as the weather gets warmer in spring time.
Sometimes skiers and boarders get so confused, or maybe excited, by the possibilities that they put on swimwear before they even leave the ski slopes.
Along with saying you've skied at Europe's most southerly ski area, and if you're lucky seen the Med and possibly even the African coast from the highest point, you get bonus bragging rights if you manage to ski-and-sea during your trip.
7. Great Apres Ski
The huge number of students down in Grenada coupled with Spanish sunshine and affordable apres all seem to combine to create a buzzing apres ski atmosphere.
The resort's oldest surviving bar is Crescendo, located at the base of the slopes, it's a cool and cozy venue that sometimes has live DJs but began life in the 1970s with more of a jazz club feel. You'll find pictures of figures like Sean Connery and James Hunt on the walls, visiting in their younger days a few decades before you.
Champagne lovers will also find a Veuve Clicquot champagne bar near the base of the home run back to the resort.
8. Excellent British-run Ski School
Forget all the sad battles over ski teacher qualifications in France, Sierra Nevada has a long-established, first class British run ski school – one of a remarkable choice of around 20 different ski schools in the resort.
The British Ski Center was set up in the winter of 2002-3 by Brits John and Giles. Giles had actually skied in Spain as a child more than 30 years ago and had gone on to be the resort manager n Sierra Nevada for British tour operator Neilson in the late 1990s.  He decided to stay on after they left and trained s a ski teacher – recognising that whilst Sierra Nevada has a lot of schools, it didn't have many English speaking instructors.  Jonathan had been working as a ski instructor in Sierra Nevada since 1991, both men hold the top level "Diplomado" instructor qualification from the Spanish ski federation, RFEDI, (Real Federación Española de Deportes de Invierno).
Based at Intersport Rio Sport, the school offers English-language tuition for all ability levels and all ages, but also aim to be a one-stop information shop for all things Sierra Nevada offering help with everything from transfers, accommodation, rentals and lift passes, if you need it, to recommending  popular haunts; the Spanish tapas bars and restaurants.
9. Great Alternative Activities
Driving one of a selection of Audi cars on snow at the base of the pistes when the lifts close is a thrilling and useful driving experience.  The Audi driving school, managed by a professional rally driver, has instructors sit in with you and after a safety class in rally driving you're off, learning how to drive and corner at speed on a snowy slope, which invariably involves lots of high sped spins in comparative safety.
For something a little more relaxed, the spectacular YHI Spa within the Melia Sol y Nieve hotel is a real attraction in its own right and open to non-residents. A kind of adult water theme park, as well as a high class relaxing spa, it's Spain's largest mountain spa and covers a huge 2,500 m2 with hydrothermal circuit including Finnish sauna, Turkish bath, 4 whirlpools (2 with oxygen therapy), sensation showers, flotarium, pediluvial and (If you can face it) a cold plunge bath.
High pressure water cannon in the central pool area are great for a back massage or you can book a treatment in one of the seven treatment booths (one with private whirlpool).
There are lots of other leisure facilities and activities besides including tubing and ski biking up on the slopes, evening tours in a converted snow groomer.  And at "El Mirlo Blanco" leisure centre you can enjoy the ice-skating rink, mini-slalom with ski-bikes or ski-chairs, Russian sleighs and archery
10. Up To Five Star Deluxe Accommodation Options
Accommodation options range from budget B&Bs and apartment complexes to some really high calibre three and four star accommodation, plus five star and even the kind of uber-luxurious institutions you're more likely to find in Aspen, Courchevel, Verbier or St Moritz.
The four star Melia Sol y Nieve is one of the resort's leading hotels, located at the entrance of Sierra Nevada but only a 100m walk to the gondolas. There are over 250 comfortable rooms and guests can choose from a vast breakfast buffet of hot and cold food especially designed for skiers, as well as visiting that huge spa complex (see number eight above).  There's also the option to enjoy the exclusive 'The Level' service, which provides many advantages and includes access to the The Level Family Lounge (-1 floor). For adults (over 16s) it also includes access to The Level Lounge, a private reception area, open bar and permanent buffet serving sweet and savoury snacks.
Another hotel, very famous in Sierra Nevada and the whole skiing world, is Rumaykiyya (above), a unique five-star, slopeside hotel belonging to Spain's Vincci group.
Apart from being extremely comfortable, with some great rooms and suites, a well-appointed bar and separate restaurant and an intimate spa area, and with the very high service standards you would expect from this high class of hotel, Rumaykiyya is located at 2,400m making it the highest ski hotel in Europe.
The biggest news in resort accommodation this winter in Sierra Nevada however s the uber-chic El Lodge, an 'above  five-star' Alpine chalet-style hotel built to a luxuriously high spec on the ruins of a former luxury hotel which was destroyed by fire two years ago (The indoor gondola cabin picture above is from here).
El Lodge has only 20 glorious rooms, but these include several remarkable suites on the hotel's penthouse floor which include partially enclosed roof terraces complete with hot tubs.
The hotel also has a spa, indoor and outdoor pools, a guest's lounge and a huge slopeside terrace which is popular throughout the day with visitors and guests a like. There's an a la carte gourmet restaurant too.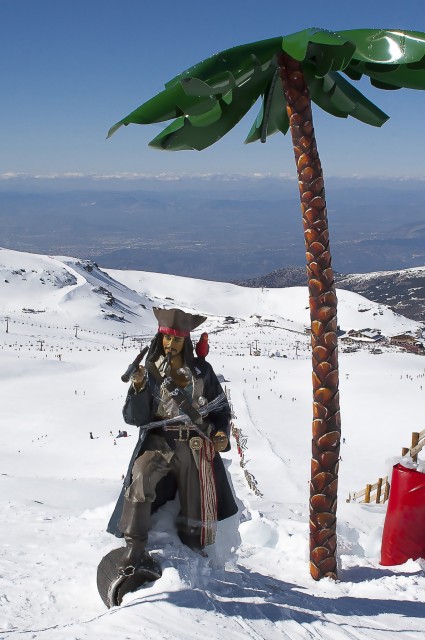 Enregistrer