Ahead of the start of the World Champs in Oberstdorf on 23rd February, InTheSnow spoke to Team GB Cross Country Skier and Olympian Andrew Musgrave. Originally from Oyne in Aberdeenshire, Scotland but now living in Trondheim Norway, Andrew has been part of the British team at three Winter Olympics and is a regular on the World Cup and World Championship circuit.
ITS> for those of us with no idea about cross country skiing, tell us a little about it?
AM> Cross country skiing is one of the hardest endurance sports in the world. It puts huge demands on the whole body, both cardiovascularly and muscularly. The highest VO2 max scores (the ultimate "physical capacity" test) ever recorded mostly have come from cross-country skiers.  You have to be able to combine this endurance with the ability to navigate technical downhills at speeds of up to 80km/h on light, narrow skis with no metal edges. Dave Ryding, Britain's top alpine skier, once described it as trying to ski down hills on pencils!
ITS> In downhill, there are various disciplines.  Is it the same in XC Skiing?
AM> Well there are two styles of cross-country skiing. Where swimming has breaststroke, freestyle, backstroke & butterfly, cross-country skiing has classic and skate. Classic is the old school style of skiing where the skis are kept parallel and you propel yourself forward in a bounding, running-like motion, with a glide phase. Skate is the faster technique, where you propel yourself forward like a skater, but also using poles to increase power.  The Olympic distances range from the sprint, which is 1.5km and takes roughly two and a half minutes, to the 50km which takes roughly 2 hours.
ITS> You spent six years of your childhood living in Alaska – is that where you got into cross country skiing?
AM> Although I learnt to ski in Alaska, it was actually when my family moved back to Scotland that I properly got into cross-country training and racing. Very randomly it happened that we moved to an area with one of the most active cross-country ski clubs in the country.  It was through the Huntly Nordic Ski Club that I really got bitten by the ski racing bug.
ITS> You must burn up huge amounts of calories – what's your favourite food?
AM> We definitely do get through a fair few calories on heavy training days. I'm not too picky when it comes to eating, which is probably a good thing as I spend half my time travelling and living on dodgy hotel buffets. When I'm back home I do like experimenting in the kitchen though. I've actually just bought a pressure cooker, so at the moment I'm very into all sorts of pressure cooked stews and casseroles.
ITS> What Is the best way of getting into cross country skiing here in the UK?
AM> There are actually a surprising number of clubs in the UK. Cross-country has a really good summer alternative called rollerskiing. It's just like the real thing, but on wheels instead of snow, and can be done anywhere with some decent tarmac, so the UK clubs get most training done on wheels. If you want to see if there's a club near you, then British Nordic has a good overview you can check out.  It's got details of clubs all over the country, there are even London based ones.
ITS> What has been the highlight of your career so far?
AM> Winning the Norwegian Championships in 2014 is definitely up there. Norway is the dominant force in skiing, so winning their national championships is one of the hardest things to do beside winning the Olympics or World Championships. In Norway skiing is like a religion, and the national champs are pretty important. I wasn't so well known internationally at that point, so it was pretty shocking for the Norwegians to suddenly be beaten at their own sport by a Brit!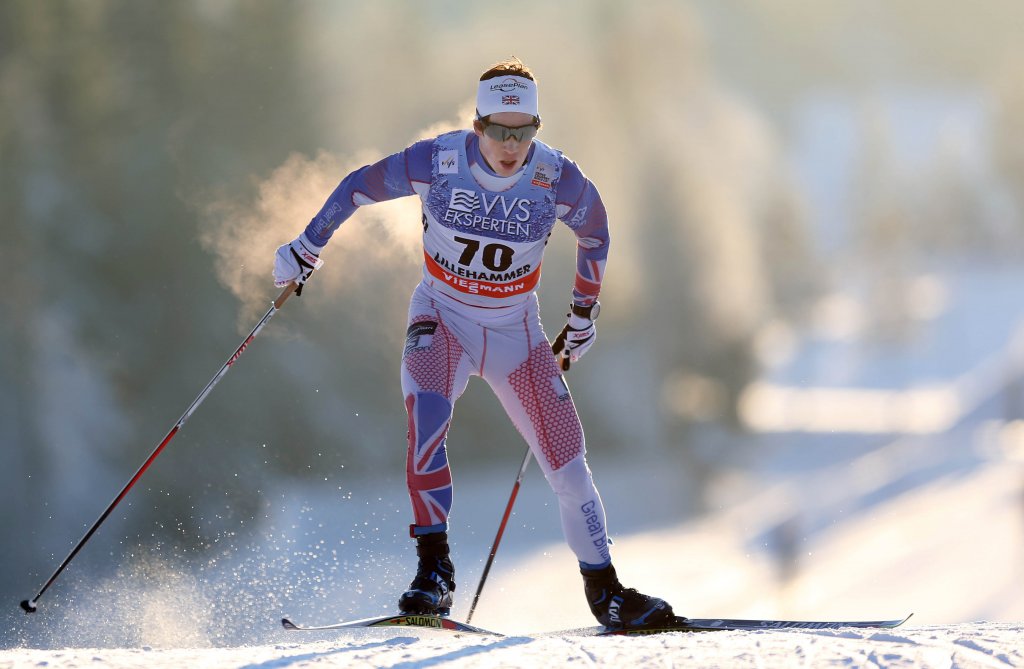 ITS> And setbacks?
AM> I've been fairly lucky throughout my career so far, and not had too many setbacks. The last few seasons though I have struggled with chronic Achilles tendinopathy. I'd get up in the mornings and be so stiff and sore I could barely walk, which isn't ideal for an endurance athlete! I spent 3 years doing all sorts of rehab protocols and treatments, but nothing seemed to help. Last summer I finally bit the bullet and gave in to having an operation on both Achilles. The surgery didn't seem to help much at first, 6th months post surgery I was still as bad as ever. This last month or so though things have started to get much better. I can get out of bed without walking like a stiff old man! Just in time for the World Championships.
ITS> What's the hardest race you've competed in?
I once completed the Oslo 50km World Cup (known as the hardest race on the world cup calendar) with a broken arm. I'd broken it after falling out skiing the week before without realising, and just thought I was being a wuss when it was sore out training. The race itself was a disaster, I fell on the first lap and broke my ski. I had to do 5km before I got a new one and I was miles behind everyone by this point. I definitely wanted to pull out, but I'd never quit a race, so kept going. The final result was terrible, but there's not many people that can say they have finished the Oslo 50 with a broken arm and a broken ski!
ITS> Tell us about your hopes for the World Champs?
AM> The goal is to be fighting for a victory at the World Championships in Oberstdorf. I've never quite made it on to the podium at the World Champs, so it's about time to do it now! I've been close before, in 2017 I was 4th, a gutting 2.9 seconds behind the winner after 50km and almost two hours of racing. I feel like I'm in a better place this year than I was in 2017, so I'm confident going into the championships.
ITS> And beyond that?
AM> I've definitely got a few years left of racing in the tank. It'll be full gas next season with the Olympics coming up! After that, who knows? There's a World Championships on my "home" track in Trondheim in 2025, so I hope I'm still motivated to be racing at the top of my game then. And if I go until 2025, then I may as well go for the Olympics in 2026…
Andrew is sponsored by Salomon