It's not been a terribly memorable season for snow in much of the skiing world.  The over-riding factor, unfortunately, can be summed up as 'unseasonably warm' for much of the winter with several regions – The Dolomites, Scotland and parts of Austria among them – having a particularly challenging season, particularly at lower elevations.
But the picture is not universal and some areas have had above average snowfall.  It's been a pretty good season for snowfall in the Pyrenees, the Aosta Valley and (at higher elevations) in much of the Alps.
Across the Atlantic, whilst there have been warm periods at times too, there have been big snowfalls all winter out West, and Storm Stella recently brought a big dump to the East coast too leasing some areas that had already closed early for the season as it had been too warm, to re-open.
April will see about 98% of the northern hemisphere's 6,000 or s ski areas close by the end of the month, but if you do fancy a final fling during the final few weeks of winter 2016-17, here are 10 areas that are in good shape for April 2017 in terms of snow cover.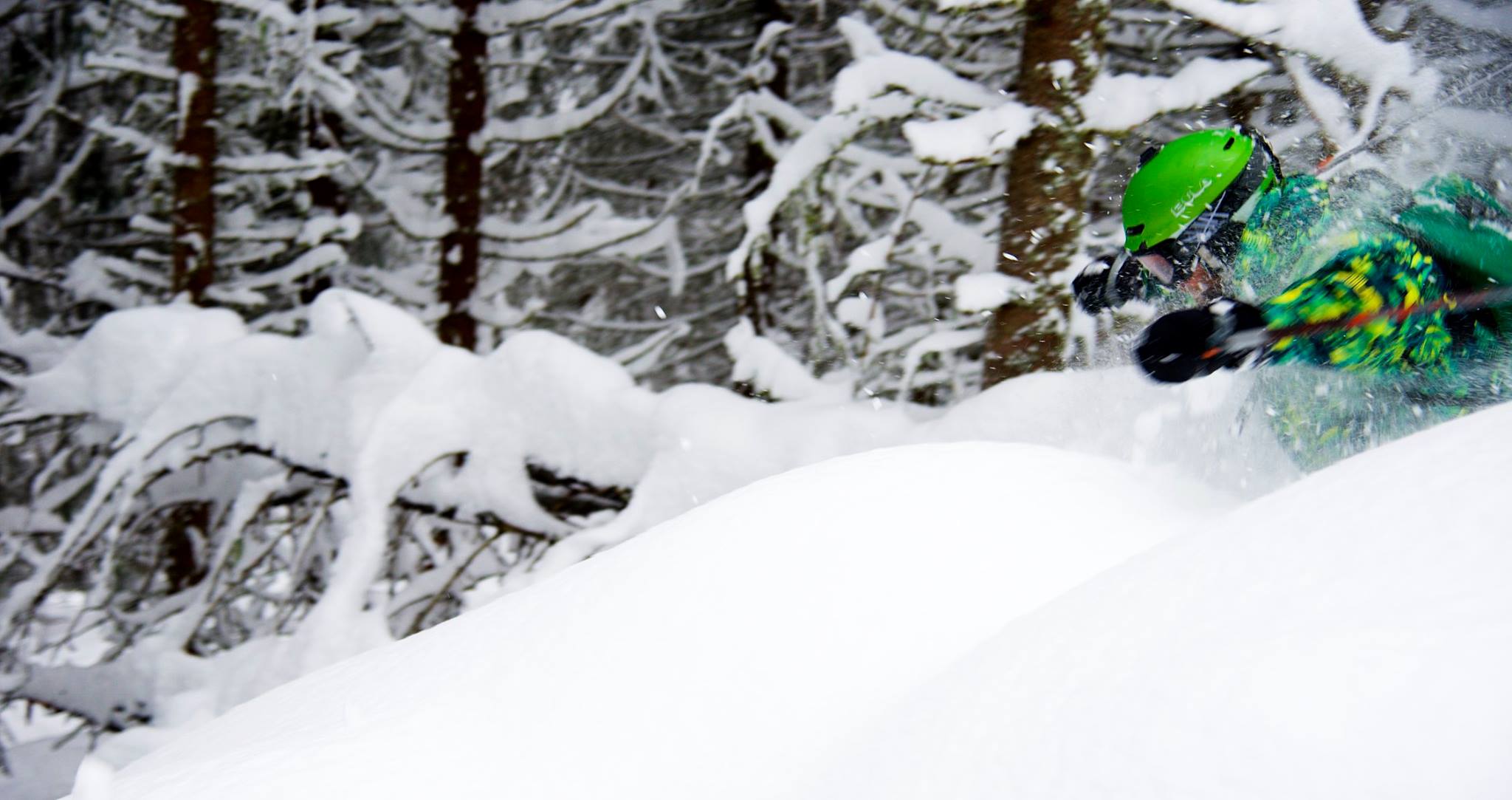 Voss, Norway – 1.8 metres of snow – Open Until 23rd April
Although there are Norwegian areas open a week or two longer than Voss, and three glacier areas in the country that start to open at the start of May, Voss does have a reputation for some of the deepest snow and best powder in the country.  It did get off to slow start this season but in late March spent a week getting 20-30cm of snow every day and it now looking good for the end of the 2017 season.
Val Thorens, France – 2.3 metres of snow – open in to May
Europe's highest ski area has come in to its own somewhat this season with the benefit of building high and having high altitude slopes evident here as snow has fallen and bases built whilst some low elevation areas have struggled.  As well as the 2.3m lying up top – one of the best bases in Europe, more impressive still is the 1.3m still lying at resort level – very few European resorts still have more than a metre of snow on their lower runs, many have nothing at all.
Snowbird, Utah – 3.3 metres of snow – Open in to May
Although most US resorts close by mid-April, Snowbird is among the handful that soldier on in to May.  Utah has perhaps not had the huge snowfalls California has but the locals would now doubt argue that their snow quality is better.  They've certainly had more than enough snow in any case, with 3.3m/11 feet lying as we enter April.
Cervinia, Italy – 2.1 metres of snow – Open until May
Cervinia has Italy's highest ski slopes stretching up to nearly 3,900m  opposite the Matterhorn above Zermatt and the resort and the wider Northwest border resorts of Italy have had some of the best snow in Europe all season.  You'll struggle to find anywhere with more than a 30cm base in resort in Italy right now, so the run back to resort may be problematic soon if no more snow falls, but up top you can be sure of good snow cover, and there's even glacier back up.  The video above shows what April skiing is like in Cervinia, though it was recorded two years back, thanks to the Warren Smith Ski Academy.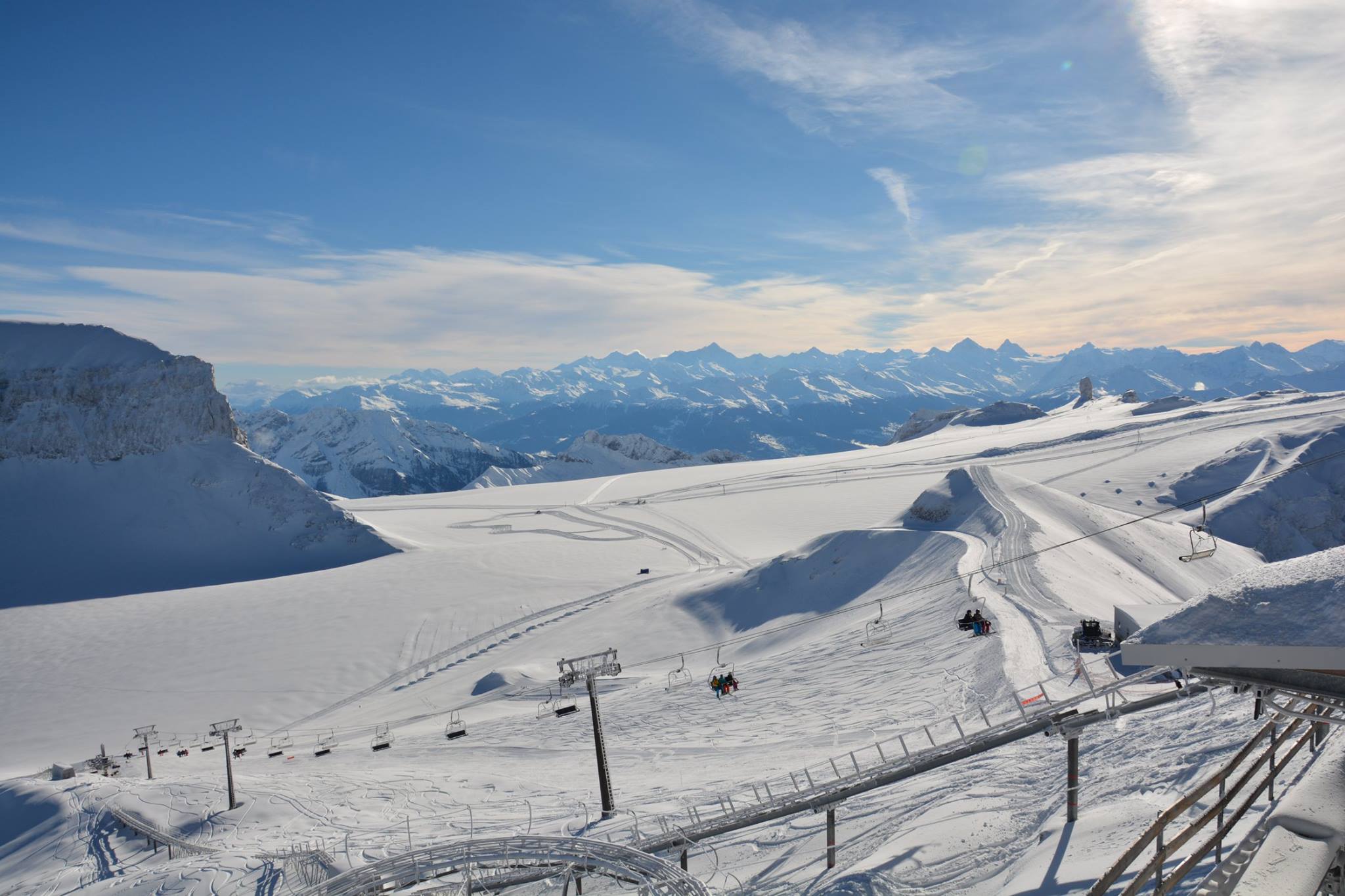 Gstaad, Switzerland – 4.8 metres of snow – Open until May 7th
Gstaad currently claims the deepest snow base in Europe at 16 feet (480cm), up on the slopes of Glacier 3000.  It's the only resort in Europe claiming more than  4m base on its upper runs, although it does say there's no snow left down in resort.
Mammoth, California – 8.3 metres of snow – Open until July.
It's been the snowiest winter in California for some time and the snow on upper slopes is still lying more than 8 metres (26 feet) deep as we enter April at Mammoth Mountain.  The famous centre announced back in January it would be opening on July 4th this year, and another Californian resort Squaw Valley (With a 6.3m base) have said the same if you fancy a two-centre trip, there may be others joining them too.  Mammoth  currently has 4.3m (over 4 feet) of snow lying at resort level too at the base of the slopes.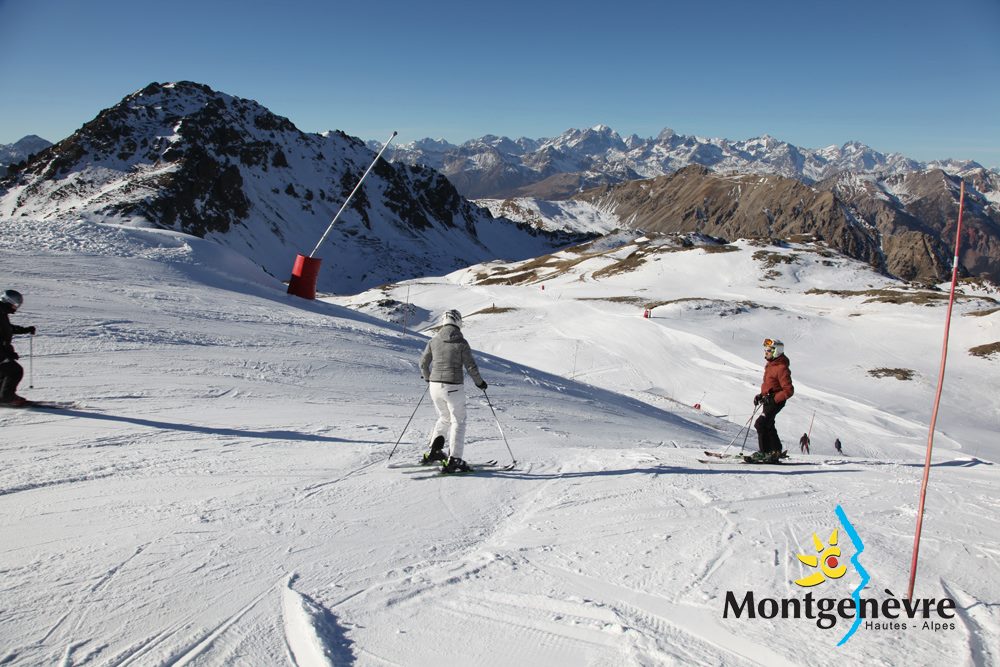 Montgenevre, France – 2.5 metres of snow – Open until 22nd April.
Although other French resorts have (slightly) deeper snow on their upper slopes, I've chosen Montgenevre as it has reported deep snow at its high (1860m) base all season.  Currently lower slopes have 1.4m (nearly five feet) lying which should mean top-to-bottom skiing definitely won't be a problem the rest of the season, and much of the terrain should also remain above the freezing line, meaning that snow stays in good condition longer too.
Whistler, BC, Canada – 3.5 metres of snow – Open until late May, re-opens early June.
Whistler has had a very snowy  March with more than three metres of new snow reported.  It still has eight weeks of the min season left then closes for a week or so before re-opening  for summer skiing and boarding.  With skiable glaciers too, it's one of North America and the world's most snowsure resorts.
Kaunertal Glacier, Austria, 3.1 metres of snow – Open until June 5th.
Austria is know for having some of the lowest ski areas in the Alps at some of its famous resorts, but it also has eight high altitude ski areas that are home to permanent glacier ski field – that's more than any other single country on the planet.  These all open for the season early at the start of autumn each year but several also stay open right through spring at the other end of the season, among them Kaunertal. Which this year is the only major ski area in Austria to enter April 2017 with more than a 3/10 foot snow depth.
Niseko, Japan, 3.1 metres of snow – open until May
It has been quite a good season for snow in Japan, as usual matching resorts across the Pacific in Western North America.  Niseko has had its famous powder but beware that by Easter that snow is largely hard packed and the famous floaty light stuff has long since lost its integrity and turned into snow with a heavy, sugary texture.  There's still plenty of it though with more than 1m at the base of  the slopes and three times that much up top.
Enregistrer
Enregistrer