The Ultima Collection, who have had a major impact on the luxury ski market in recent years opening stunning properties with incredibly high service standards in Crans Montana, Megève and Gstaad, will open their first property in Courchevel this winter.
Opening in early December, this new ultra-luxury resort will be launched with 13 sumptuous chalets, two world-class spas, an impressive lobby, treatment rooms, a lavish restaurant and ski rooms with direct exclusive access to the slopes, for the utmost privacy away from the crowds.
Occupying a pristine slope-side position at the heart of the world's largest ski region on the heights of the Tarentaise Valley, Ultima Courchevel will offer the signature luxury services of a five-star resort within the confines of fully serviced private chalets on demand.
"It will provide guests with a sanctuary from which to enjoy invigorating days on the slopes, followed by rejuvenating and restoring wellness treatments at the spa, and a vibrant après-ski offering. The residences will be available for weekly bookings as well as full-season reservations," a statement from the group explains.
Located in the Belvedere area, Ultima Courchevel is spread over 3,700 square metres with the 13 private chalets each providing spectacular views of the valley and the Dent du Villard summit (2,284 metres) with all offering an ultra-indulgent luxury experience.
Sensational Private Chalets
Each chalet is home to four or five bedrooms with en-suite bathrooms and its own lift, sleeping eight to ten adults, so are ideal for families or groups of friends looking for the privacy and space to relish an ideal post-lockdown escape.
"Designed as a tranquil retreat in a buzzing destination, the floor-to-ceiling windows and balconies will offer guests the most spectacular views of the verdant alpine landscapes covered in immaculate white snow and fill the chalets with natural light," the Ultima Group's statement continues.
A leading feature of the resort is the world-class 350 square metre wellness, beauty and fitness centre at Ultima Courchevel will be for the exclusive use of its residents and provide an oasis of pampering and indulgence. With two spas, two swimming pools – one of them inside/outside, a sauna, a hammam, a jacuzzi, and specialist treatment rooms, Ultima Spa aims to provide the epitome of holistic approaches to beauty and wellbeing.
The resort will offer a series of bespoke immersions and programmes with leading wellness experts, ideal for those who want to invest in transformative and meaningful treatments while away from home and recuperate in the fresh air of the French mountains and comfort of the ensconcing Ultima environment.
Ultima Courchevel will also introduce a new restaurant and terrace with scenic views of the mountains. Serving world-class cuisine in the heart of the exclusive ski region, it will provide guests with a convivial and lively atmosphere to spend evenings reminiscing about their days on the slopes. It will be open to residents and their guests who want to indulge in a gourmet lunch experience with views of the ski slopes or savour a sumptuous dinner with family and friends.
Exceptional Service and Design
Renowned for its award-winning interior design, Ultima Courchevel will bring together contemporary lines and traditional French chalet architecture in a true Ultima signature fashion.
The finest materials have been meticulously selected to create a luxurious and cosy atmosphere to welcome guests in the most expansive and elegant settings. The pinewood blends in perfectly with the Italian nubuck leather. Bronze mantelpieces, chesterfield leather bed headboards and vast white-veined black marble bathrooms are subtly accentuated with colourful signature artwork. As ever, Ultima Collection adds the finest exquisite touches with an expertly curated selection of delicate, rich and textured fabrics to adorn the luxurious designer furniture and linens. At Ultima Courchevel, the home-away-from-home feeling has been refined with awe-inspiring touches of luxury design and comforts.
Each chalet has its own private lift, comes fully equipped and is available with all the signature Ultima on- demand luxury services including a 24-hour concierge on hand to arrange every element of the guests' stay from beginning to end, as well as housekeeping, butler, and private chef for intimate meals in the comfort and opulent setting of the chalet's private dining room.
Located in one of the most accessible ski resorts in the world, guests may travel by car and train, or simply fly to Geneva or Lyon international airports and be picked up in a luxury vehicle. Private jet and helicopter transfers to Courchevel Altiport and Chambéry Aerodrome can also be organised by request for guests expecting extra-privacy and a swift journey.
Year-Round Glacier Skiing in the 3 Valleys
To take advantage of the beautiful scenery and nature of the Vanoise National Park, the team at Ultima Courchevel will curate unique and authentic experiences on demand for the guests to immerse themselves in the region's finest offerings. From creating the dream skiing experience for advanced skiers who can spend a full week exploring different slopes every day to organising excursions, and private experiences, the Ultima team will cater to the evolving needs of international guests.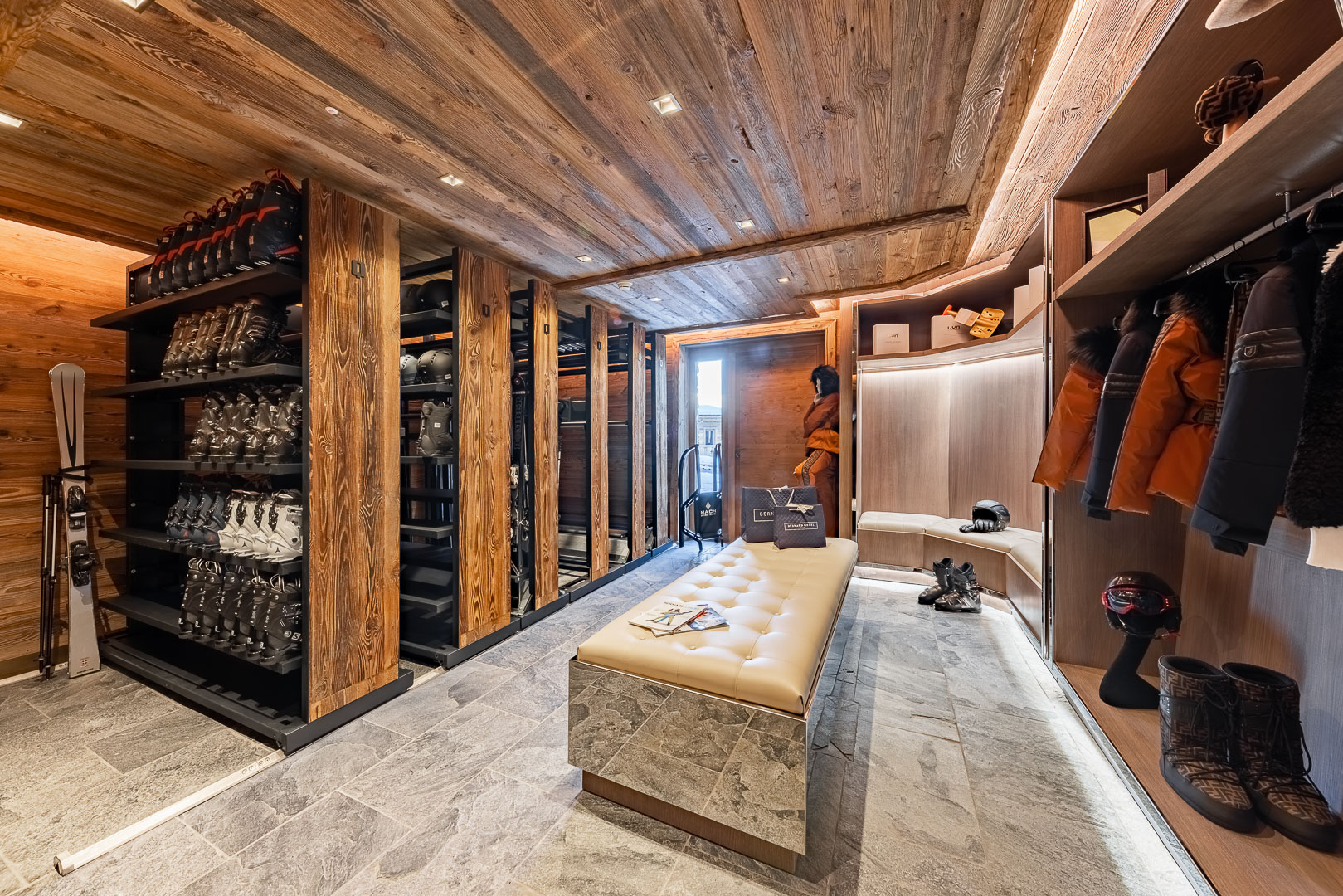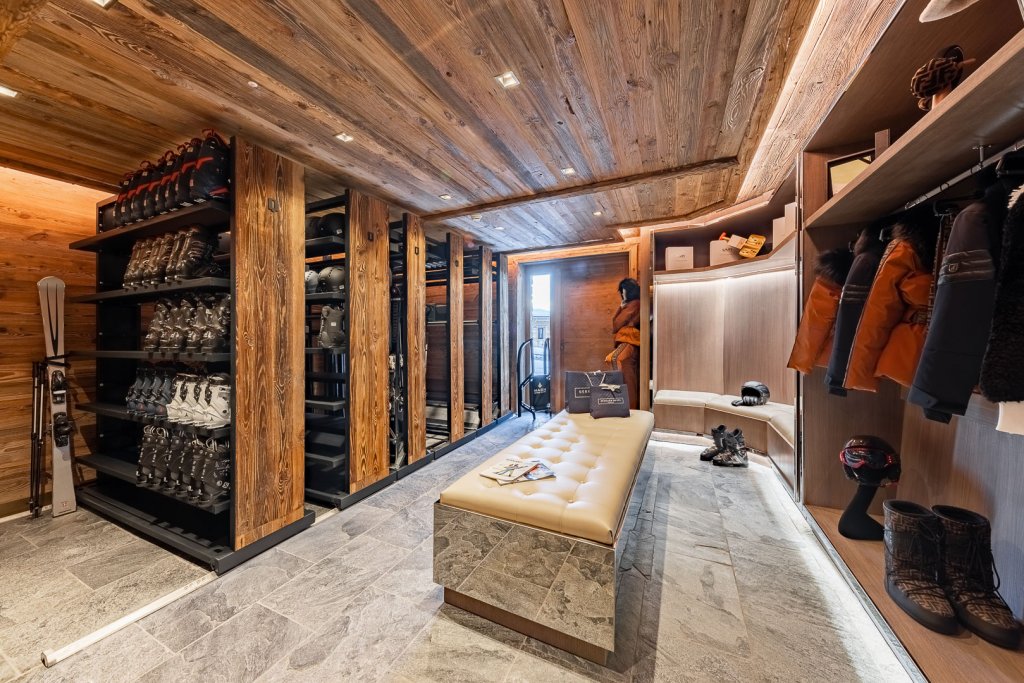 Ski guides and instructors will be available by request, providing ski lessons and excursions for all levels, for a first alpine discovery or adrenaline-fuelled outings tumbling down the ski runs after admiring the jaw-dropping view from the Creux Noirs summit. The resort's proximity to the Cime Carron glacier (3,200 metres) also makes for an extraordinary skiing expedition to the glacier all year-round, a truly unique alpine experience.