Our top five reasons why a ski holiday to the Dolomites should be on every skiers' bucket list.
"I'm not religious, but this place almost makes me believe in God" an American accent drawls from a few tables away. Sat on a sunny terrace in Val Gardena, watching the sunset paint the peaks of the Dolomites in shades of pink and orange, I'm inclined to agree.
Ask any group of skiers about those ski resorts you truly can't miss, and you'll generally find the same names pop up time and time again. The mountain Mecca that is Chamonix Mont-Blanc, the iconic couloirs of Jackson Hole, the waist-deep powder of Hokkaido…
However, there's one destination that doesn't need to shout about its bucket list credentials. A destination that, once visited, will keep you coming back time and time again to experience its ridiculously vast ski area and awe-inspiring beauty.
So what exactly is it that makes the Dolomites so special?
The Scenery
"Pictures just don't do it justice" was perhaps my most commonly-used phrase during my latest trip to the Dolomites. After two years away from the slopes, I was adamant to appreciate it more than ever this year; drinking in (and documenting) every single view. However, within just a few days I realised that my lowly iPhone was never going to do justice to the truly breath-taking scenery of this area.
A designated UNESCO World Heritage Site, the Dolomites are distinctive in their beauty. Local legend suggests it is a princess from the moon who is responsible for their unique colouring, but the real reason for the "Pale Mountains" as they are often known, is down to their unique carbonate rock, Dolomite.
It's just as beautiful in the summer months (some would argue more so) and although we currently sit on the snowier side of the fence, we'd highly recommend a summer trip here too.
Don't Miss: A trip up the Sass Pordoi cable car, which takes you up to the highest point in the area. The journey up is almost as spectacular as the views from the top.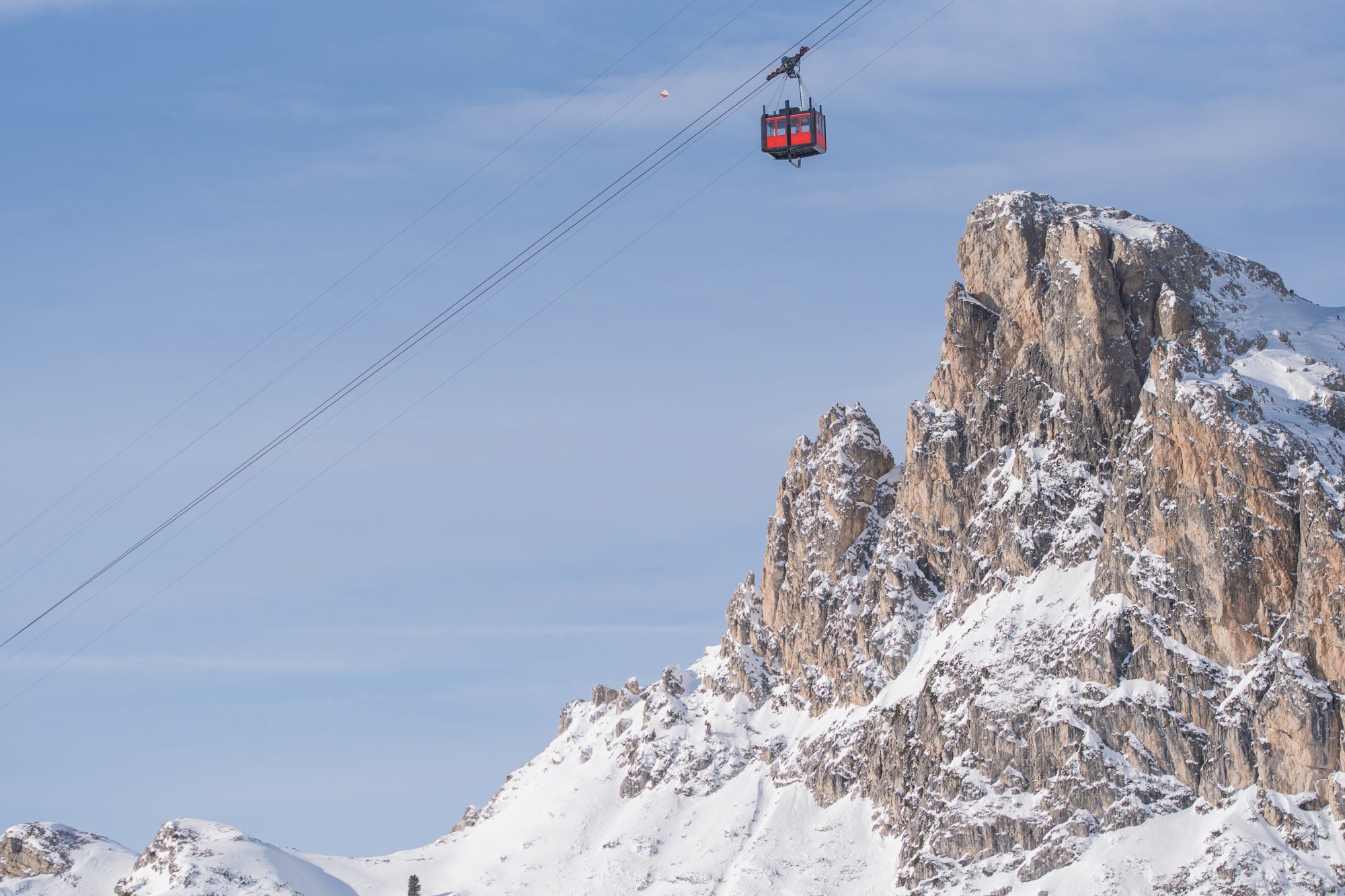 The Ski Area
Ski for a week and you still won't even touch the sides of this huge ski area. With over 1400km of piste, this isn't an area that has something for everyone – it's an area that has everything for everyone.
The beauty of the Dolomiti Superski is that each ski area has its own distinctive draw. You've got the dreamy cruisey blues of La Villa, the steep, challenging blacks of Arabba, the powder playground of the Marmolada Glacier (and that's just three of the area's twelve ski areas).
With an area of this size, it can be tricky to know where to start. We're not complaining, of course, but there's almost too much choice…
As a result, one of the things we love most about the area is its dedicated ski circuits. Ideal for skiers who want to explore without having to spend hours formulating a route, or for those picture-perfect days when you really don't want to bury your nose in a piste map.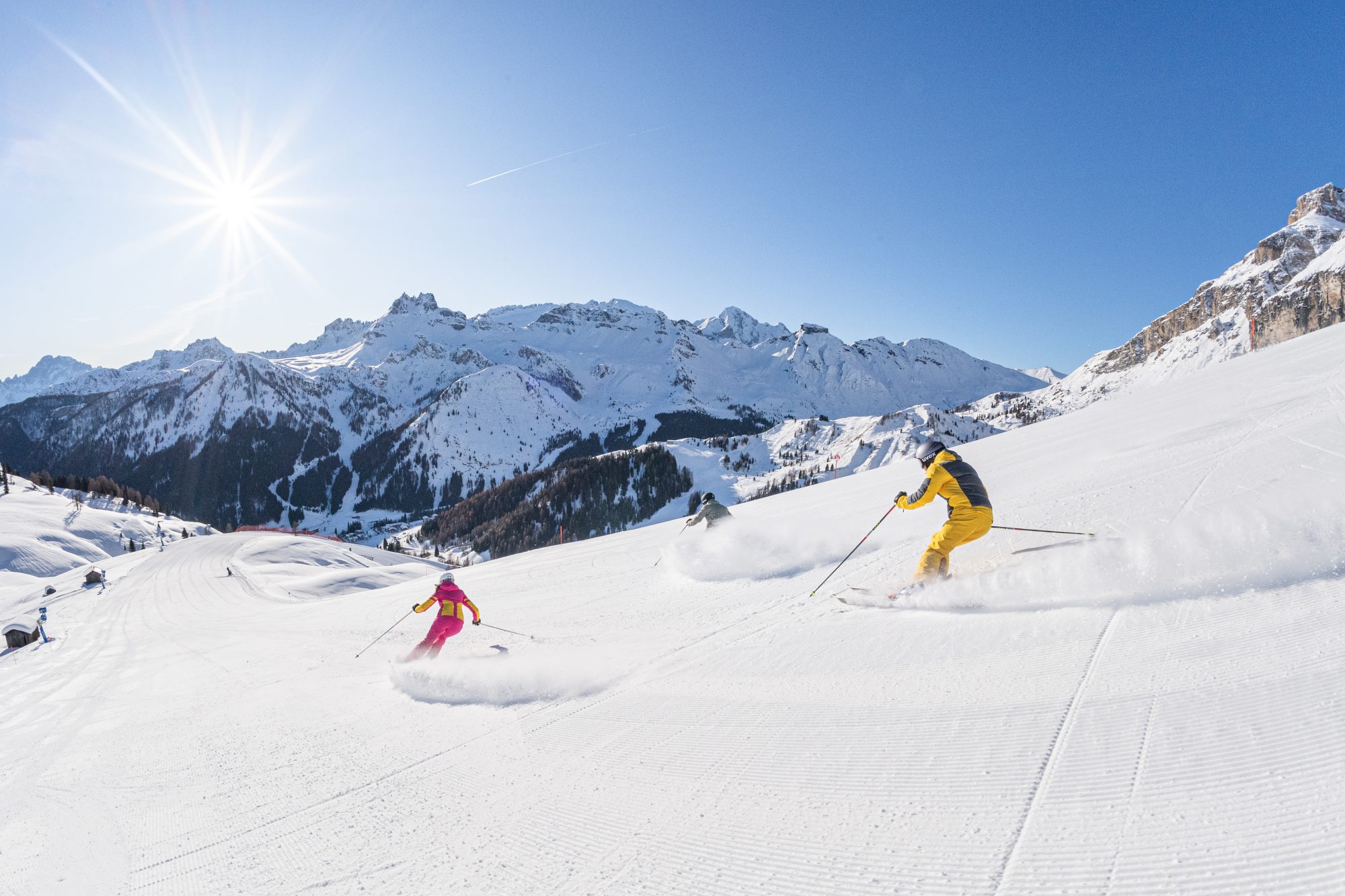 The Sellaronda is by far the most famous and is a must-do for any skiers who visit the Dolomites. Part of its appeal is just that; it can be done by skiers of all abilities, usually in just one day. OK, it might not be too fun for a complete beginner, but the vast majority of will enjoy its entertaining variety of gentle blues and forgiving reds.
The World War One Ski Tour is another such route. The front line of the First World War went straight through the Dolomites, and remnants of it remain throughout the area – if you know where to look. It's fascinating to ski from museum to refuge, past long-defunct cannons and Alpine trenches, learning more about the rich history of the area. It's certainly a thought-provoking experience, that somewhere so peaceful could once have been so full of conflict, but it's certainly a history that we all should keep alive. Longer than the Sellaronda, more advanced skiers should still be able to do the entire route in one day, but we'd recommend taking a few days to truly appreciate it
Don't Miss: The Armentarola slope, generally agreed to be one of the most beautiful ski slopes in the world. A 8.5km route that takes you from peak to valley, passing beautiful mountainscapes, frozen waterfalls and lush forests, ending with one of the most enjoyable ski lifts you'll ever experience. Grab a tow behind two impeccable … horses and enjoy the scenery as you're pulled back to reality.
The Food
I mean, we couldn't write a piece on skiing in Italy without mentioning the food, that would just be criminal. However, the food in the Dolomites isn't just Italian. Just like the culture, it's a delicious blend of Austrian, Italian and traditional Ladin dishes that makes my mouth water just writing about it…
Say goodbye to mountain lunches of sad sandwiches and soggy cheeseburgers. In the Dolomites, your mountain lunches will be quite different. Alpine classics of schnitzel, spatzle and kaiserschmarnn (a sort of cheesey, potatoey, pancakey delight) sit alongside fresh Italian pastas, pizzas, soups and meats. We'd forgive you for forgetting you've got skiing to do.
Of course, you've got to wash it all down somehow, so it's also a great time to sample the local beverages. Chill out with a Weiss beer or a local wine, warm up with a comforting gluwhein or a creamy bombardino, and of course, sample the multitude of non-alcoholic options available!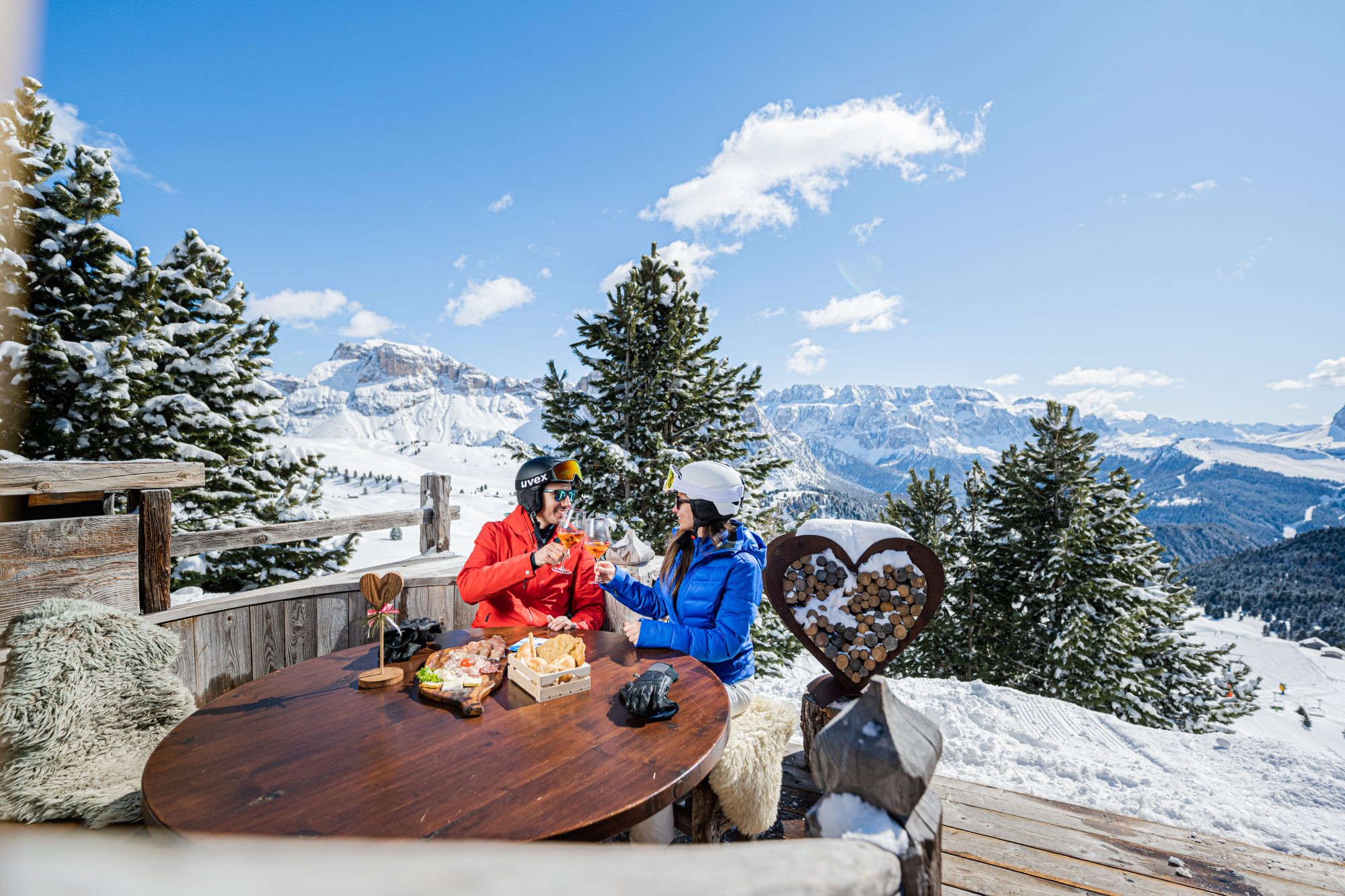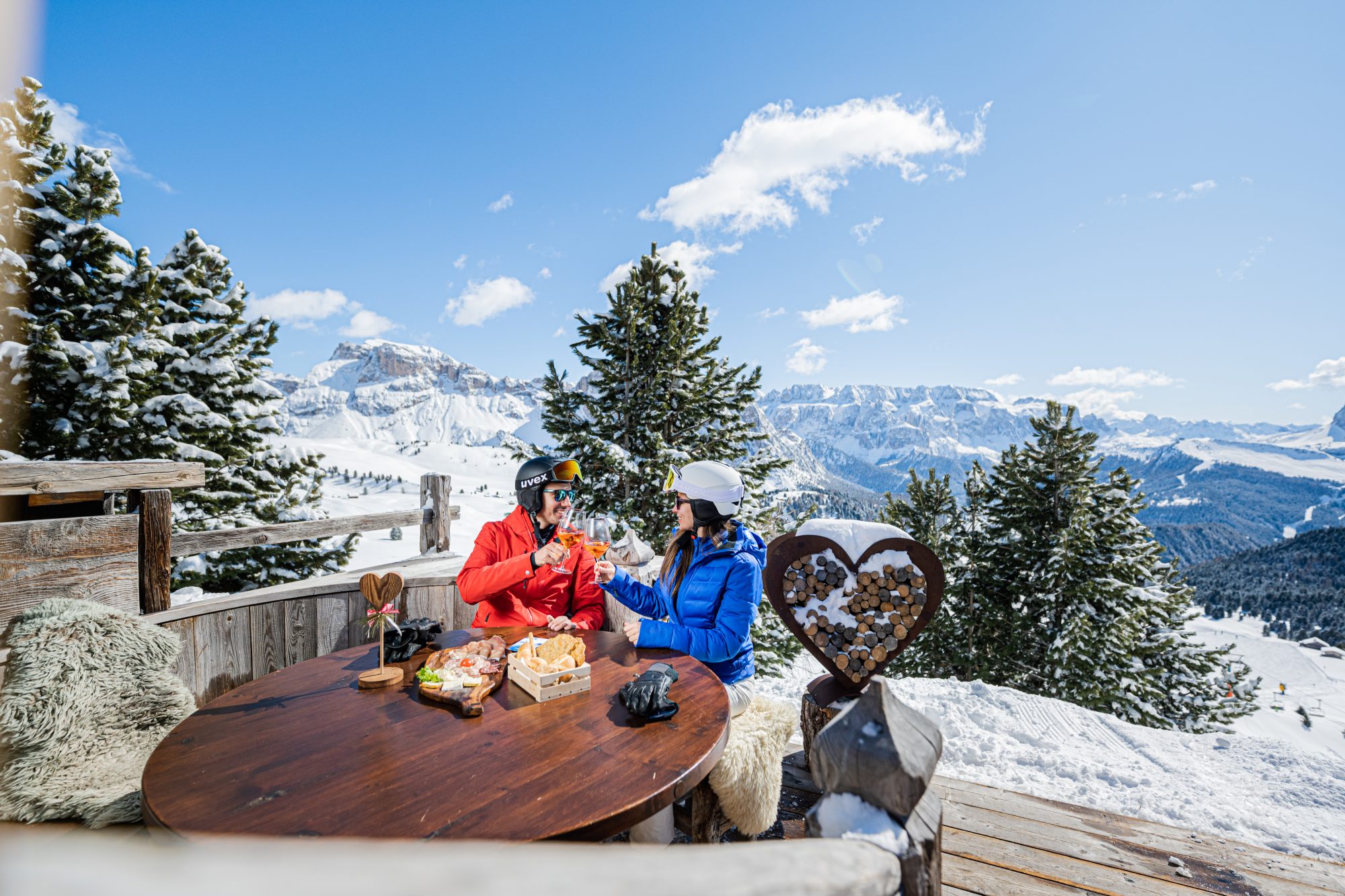 Yes, skiing's great, but so too is taking a long, long lunch to sample this magnificent cuisine in the shadow of the world's most beautiful mountains. There's not much better.
Don't miss: Some of our favourite spots in the area have to be Rifugio Boe, Canazei restaurant, Corvara restaurant and Val Gardena hidden gem 'The Yak Place'.
The Culture
How does a resort land a place on a ski bucket list anyway? Well, often it's because it offers a ski experience like no other.
The Dolomites certainly does this. Sitting right on the border of Italy and Austria, the Dolomites enjoys a rich heritage that brings these two cultures together to create an iconic winter destination.
Indeed, though those local to the region typically speak both German and Italian, the area also has its own unique language, Ladin. Spoken by the first inhabitants of the Dolomites, this ancient language is still used by around 30,000 people in the area and is recognised as the region's third language.
Handcrafting and woodwork both play a strong part in the area's heritage, and the local people are highly skilled in working with iron, timber, glass and other materials. It's well worth visiting the local shops and workshops to view these beautiful local products, steeped in skill and tradition, as well as to purchase a few keepsakes of your own.

A Staggering Variety of Resorts
With 12 resorts in the Dolomiti Superski area, you're spoilt for choice when it comes to deciding where to stay. Plus, with tour operators such as Inghams operating in many of these resorts, you can easily find the best deals from the UK, all with total peace of mind that your booking will be totally financially protected.
Our top picks:
Ortisei
Just down the road from the equally enjoyable resort of Selva, Ortisei is probably one of the most beautiful ski resorts you'll ever see. Sat in the heart of the valley, with a crystal-clear river carving its way through the town, Ortisei is the furthest you can get from a purpose-built ski resort.
Editor's pick: Adler Spa Resort Dolomiti
A seriously luxe hotel with friendly, attentive staff and home away from home feel. The heated outdoor pool is a godsend after a day on the slopes, while the breakfast and dinner experiences need to be seen to be believed.
Two Alpine villages that share a distinctive charm, Corvara and Colfosco enjoy a sunny location in the Alta Badia region and a prime position on the Sellaronda circuit. Popular with British skiers for generations thanks to their friendly atmosphere, easy slope access and bustling village centres.
Editor's pick: Hotel Col Alto, Corvara
Set in a fantastic location with quick access to the central Boe gondola, Hotel Col Alto is a brilliant base for those wanting to make the most of their holiday. Unwind after a day's skiing in the spa, cosy lounge or beautiful bar areas.
Recently lift-linked to the rest of the Dolomiti Superski area, Cortina is a seriously stylish resort that draws skiers from across the globe. Skiers can enjoy some of the world's most beautiful forest-lined ski slopes, including the iconic women's downhill, while non-skiers will love exploring the resorts' many shops, restaurants and activities.
Editor's pick: Grand Hotel Miramonti Majestic
If you want to make your stay in Cortina truly magical, you can't go wrong with the old-school elegance of the Grand Hotel Miramonti Majestic. There's a shuttle to the shops or the ski lift, while back at the hotel you can unwind in style enjoying some spectacular views.
The number of resorts in the area also means that there's a lot of accommodation available, so whether it's a low-season long weekend or a half-term holiday, the Dolomiti Superski will always have space for you.
For the best deals on Dolomites ski holidays, head to inghams.co.uk