The second day of competition saw a battle against the elements to crown British Champions in the newest Olympic discipline. With the top names from PyeongChang stepping aside, it was time for some new faces to conquer the winds and the almighty Laax pro line to claim the gold medals. When all was said and done, it was Billy Cockrell and Mia Brookes heading home with the overall national titles.
With lower than forecast winds, and blue skies appearing from behind the clouds, spirits were high as practice began in the Laax snowpark on some of Europe's most highly-regarded kickers. But the conditions weren't to last, and the whole contest would rest on one solitary run – a tough break for those who didn't land their first hits. But on the mountain, you have to be ready for the elements, and be ready to lay it down when it matters.
In the women's contest, it was 11-year-old wonderkid Mia Brookes who showed her consistency and style by laying down a perfect 360 indy on her one and only hit to add the Picture Big Air to her British Indoor title. Running Mia incredibly close with a BS 360 tailgrab was Cerys Allen, who nabbed silver ahead of boardercross champ Maisie Hill.
Stoked on her maiden overall win at The BRITS in Laax, Mia said: "I'm super happy! I'm glad I did my back 3 on my first run, but if we'd had a second, I'd have done a back 5 or something. The jump was really nice, and I'll definitely be back next year." When asked what she would do with her prize money she had some great ideas: "Maybe save up for a car, or maybe spend it on some Lego!"
During practice, it became clear that the men's event would be one for the ages, with at least three different riders throwing double flipping combos, but the question remained: who could lay one down when the pressure was on? Harry Waite was the first to stomp his – a cab double-underflip – and then suffered a nervous wait to see if anyone could top his huge hit. Unfortunately for Harry, Billy Cockrell could, dropping the hammer with a perfect back double-cork 1080 mute and scooping the win. The bronze medal went to 15-year-old George Waite with a clean BS 720.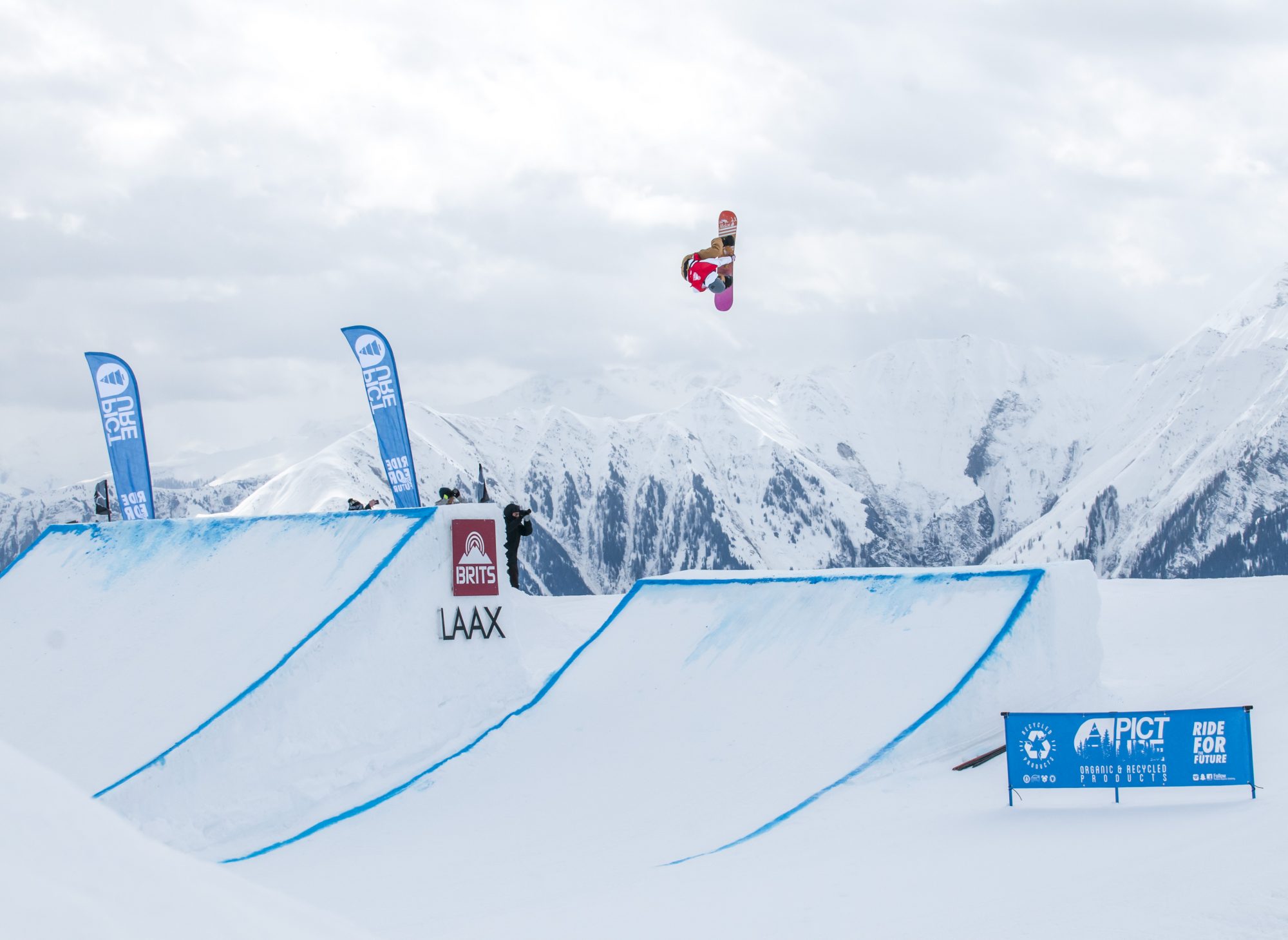 In great spirits after his win, Billy said "It felt amazing, it was like a dream come true!"
Once again the youth were out in force and showing that British freestyle snowboarding is in good hands for some years. With Jenny Jones dishing out the medals at prize giving, it was a heartwarming sight to see Britain's first-ever Olympic medallist on snow handing the torch to the mini-shredders such as Emily Rothney, who scooped the under 12s bronze before even reaching her 10th birthday!
Picture Organic Clothing British Big Air Championships – Snowboard Results
Men
1st – Mia Brookes
2nd – Cerys Allen
3rd – Maisie Hill
Women
1st – Billy Cockrell
2nd – Harry Waite
3rd – George Waite
Be sure to follow The BRITS on our social channels for all the latest photos and videos from the championship as it happens – www.facebook.com/britssnow and @britssnow on Instagram
Photo credits: Snowboard – Motionstoppers.com / Ski & Podiums – Bluebird Photography