Everybody loves ski holidays Italian style – sunny slopes, friendly faces, espressos and pizza as well as perfectly prepared pistes. It's time to ski la dolce vita!
One of the world's great skiing nations, we've been enjoying the slopes of Italy for well over a century now, and they provide a very different experience to the ski centres of the Northern Alps. Firstly there's the value factor – much more affordable lift passes, dining and après-ski than in the other 'Big Four' European ski nations. Then there's the sunshine for which the country is famous, alongside spectacular scenery – be it over in the mighty western Alps by Mont Blanc or over in UNESCO World Heritage Site The Dolomites to the east. Italian style is omnipresent wherever in the country you choose to ski, such is the Italian love of the good things in life – the best food, be it pizza, pasta or anything else, fabulous coffee and much more besides. They call it 'La Dolce Vita' or 'the sweet life'. What better way to ski?
Val Gardena – Ski Italy
The beautiful ski destination of Val Gardena is one of Italy's best-known and most-loved ski resorts.
Located in the north of the stunning Dolomite mountains, a UNESCO World Heritage Site, the local community brings together Ladin, Austrian and Italian influence for a very rich cultural heritage which you'll benefit from in many ways when you visit, but particularly when you come to taste the fabulous local cuisine.
The extensive ski area, with everything from peaceful and perfectly laid-out beginner terrain to exciting World Cup Downhill descents, is part of an even bigger network of interlinked pistes. That huge ski area connecting 500km of runs radiating around the famous Sellaronda circuit is one of the world's three largest.
But feeling like you can ski forever doesn't just come from those impressive stats; it's more of a state of mind that being in this stunning location gives you and owning a Dolomiti Superski pass facilitates.
Going back from the feelings to the facts though, Val Gardena is a nearly 20 km-long valley that's home to three main villages – Ortisei (1,236m), S. Cristina (1,428m) and Selva Val Gardena (1,563m), which is actually the highest village in the Dolomites. It's also very easy to reach from Verona or Innsbruck airports.
On The Slopes
Val Gardena has a great selection of slopes including the "Legendary 8", which includes the Saslong, Cir, Ciampinoi, Bravo, Falk, Gardenissima, La Pilat and the aptly named "La Longia" … as it's the longest slope in South Tyrol at 10.5km. You can also head off around the famous Sellaronda circuit of about 40km of lifts and runs from Val Gardena, a trip that takes about five fours and offers incredible panoramic vistas of Sassolungo, the Sella Massif and the Marmolada Glacier.
Not Just Great Skiing
Val Gardena has been a famous ski resort for many decades now, and the visitors from all over the world have helped it grow in other areas too. The Valley is now also known as the cradle of South Tyrolean art, for example, with over 200 artists based here and filling the local shops and businesses with their beautiful creations.
There's fabulous food to be enjoyed everywhere, from homely mountain huts to Michelin-starred restaurants. The après-ski scene is vibrant, helped on its way by a local gin "8025" from Refugio Sofie.
You can also visit the Museum Gherdëina for insights into the valleys' evolution, stepping back in time on a journey starting millions of years ago, delving into geology, palaeontology, flora and fauna and archaeology as well as the history of art. An ichthyosaurus fossil, part reptile, part fish, found in the Seceda mountains above Val Gardena is also here.
The many other attractions include a new 1,500m-long zip line, Monte Pana, along which you whizz 100m above the ground.
Overall, for the warm Italian welcome, for the amazing skiing on snow-sure slopes and for the incredible Italian food, it's impossible to beat Val Gardena.
Courmayeur Mont Blanc – Ski Italy

Courmayeur Mont Blanc, situated on the Italian side of Mont Blanc, is a traditional yet sophisticated resort surrounded by spectacular scenery and full of history and charm.
Located in the heart of the Italian Alps and famous for its freeriding terrain, while also offering lots of groomed terrain for every level of skier or snowboarder, this classic ski town is renowned for its warm Italian welcome and fabulous winter sports scene.
There's so much to do and see both on and off the slopes, and the resort is ideal for families and friends as well as both skiers and non-skiers who are looking to spend time outside in the fresh mountain air.
While the UK is often a damp and gloomy place to be through the winter, Courmayeur Mont Blanc December through to all the gloomier months in the UK makes the renowned ski resort a vibrantly tempting destination filled with fresh-powered slopes, unspoilt trails, and peaceful views from the highest of peaks. Ideal for any mountain enthusiast, Courmayeur offers superb heliskiing, off-piste and cross-country skiing, as well as joy skating, fat biking, hiking, snowshoeing, climbing, cycling and much more.
Peak of Taste
Besides its incredible skiing, Courmayeur Mont Blanc has built a reputation as a fantastic destination for foodies, with fabulous restaurants on the ski slopes and in the resort, as well as special culinary events.
The cable car to the slopes keeps running until midnight, providing the opportunity to dine on the mountain for an amazing culinary experience.
This coming winter, the luxury family resort is welcoming the return of their renowned culinary events for the first time since before the pandemic.
Courmayeur Mont Blanc is hosting its delicious culinary month, Peak of Taste, for a second series in March 2023.
The month incorporates a remarkable 10 culinary events which will take place across the gastronomic resort. Resort guests are invited to meet and eat on the slopes, with sumptuous meals created by some of the region's most exceptional chefs.
Planned events include Michelin Star curated dining experiences at Super G, the most exciting après-ski venue in the Italian Alps. Other participating venues on the mountain include La Chaumière, a traditional and cosy bistro, and the Rifugio Monte Bianco, run by Alex Campedelli, the president of the local alpine guides which offers a fine dining experience as well as Les Dames Anglaises.
There will also be an aperitif tasting at the highest lift-accessed peak in Europe – the Punta Helbronner Station in Skyway – followed by a descent of 2,173m to the Pavilion in the valley below for dinner in the mountains.
Wine tastings and pairings will also take place throughout the Peak of Taste festival at newly re-opened restaurants all around Courmayeur Mont Blanc including Le Cadran Solaire, L'Auberge de la Maison, La Sapinière and 4810 (which combines a bar, bakery, ski rentals and restaurant from the historic and famous 4810 company run by the Grivel family for many, many years).
Fresh and local ingredients are always at the heart of the culinary extravaganza in the mountains.
Perfect Pila – Ski Italy
Pila has a very unique offer in the world of skiing. Besides having slopes right up to 2,700m, part of the reason why the snow cover here is so good; and spectacular views out across the French, Italian and Swiss Alps reaching Mont Blanc, Monte Rosa and the Matterhorn, it also has the option of a gondola ride from the ski resort base down to the valley town of Aosta.
Aosta is not just any town either, it's rich in Roman remains, so as well as taking the 20-minute ride down to perhaps do some shopping or enjoy a meal, there are Roman buildings to explore, if you fancy something really different on your ski holiday.
But back to the ski resort itself and the slopes. Staying on the mountain you'll find a great value, snow sure, family friendly resort where 90% of the accommodation offers doorstep skiing on quiet sheltered pistes, mostly above 2000m, making it one of the most snow sure destinations in the Alps and with breath taking views. Even without the added Aosta option, it is pretty special.
There are 75km of perfectly prepared pistes, served by 10 chairlifts, the gondola and a cable car as well as five conveyor lifts, there are no drag lifts. Beginners have half-a-dozen easy blue runs to hone their skills on, then intermediates have a great choice of 27 red pistes to explore. For expert skiers there are four black runs but plenty of off piste to be found with a guide. An Aosta Valley regional lift pass gives the option to explore neighbouring ski areas too and for the well-heeled there's even the possibility of heli-skiing. Freestyle ski and snowboard fans van enjoy Pila's AreaEffe Snowpark which has been expanded for the 22-23 season.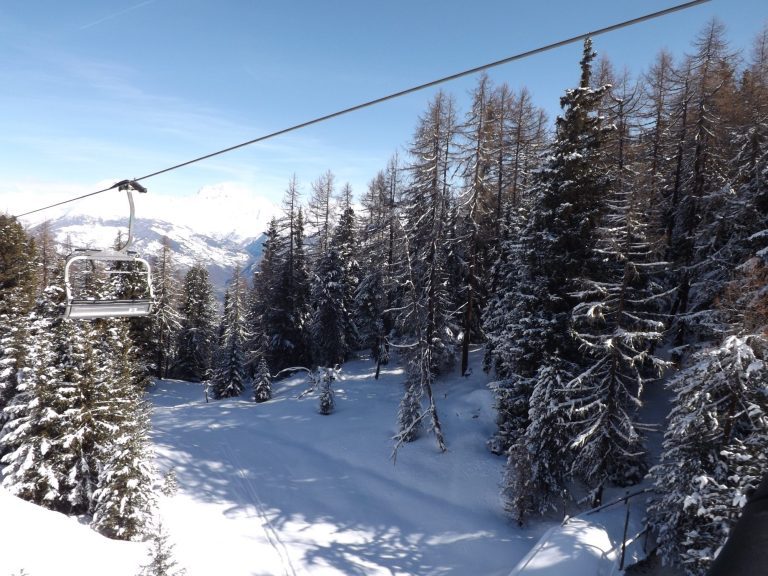 There's a good mixture of tree-lined and above tree line terrain at Pila, and along with its excellent natural snowfall record the ski area has more than 500 snow cannons to initially build up bases and top up when needed.
To make your Pila ski holiday extra special, besides that option of the gondola down to the Roman City of Aosta, there are little extras organised in Pila that you can add to your days on the slope. Popular options include dinner in a mountain restaurant, accessed using a snowcat over-snow piste machine, or there's the magical torch light descent by ski, the chance to go snow shoeing at night or a fun wine tasting at the Yeti with Sommelier Katia Albanese.
Pila is friendly and welcoming and although it is quiet in the week and feels like your own private ski area, it can get busier at weekends when the Italians arrive en masse and there's a surprisingly lively apres ski scene. There are great value bars and restaurants on the slopes and in the base village. You'll find a wide variety of excellent food on offer to satisfy any taste in the restaurants on and off the slopes, from fine dining at Society on the Nouva Piste to Pub food at the Boulin Rouge.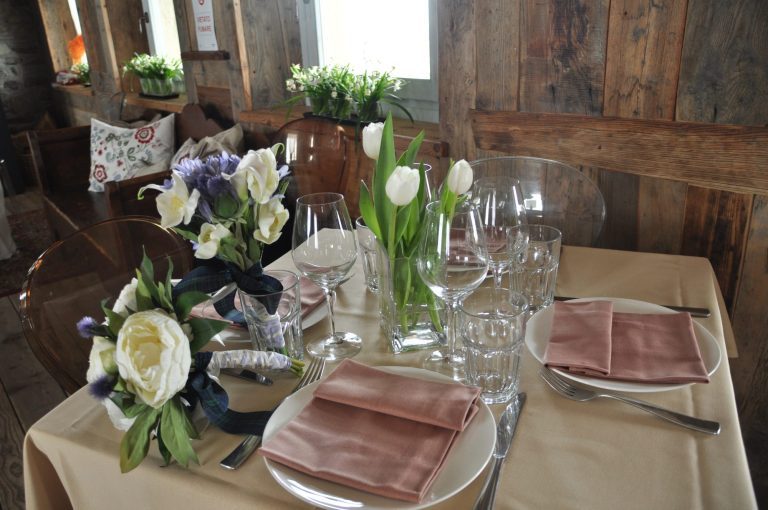 Pila is a short transfer from Turin airport and the Aosta Valley is Italy's smallest province, in the northwest corner of the country, making it one of the closest and easiest areas of Ital to reach by rail or road from the UK too.
The New Gondola
The team at Pila are hard at work on a new gondola which will have three drop off points on its way up to Cima Couis 1 at the top of the ski area at 2700m and is due to open for the 2023-24 season.
The new lift is designed to make the mountain accessible to anyone wishing to admire one of the most incredible views of the Alps, whisking skiers to the top of the 'Platta' Piste No 27 in no time .
Pilaski Ltd
Pilaski are the Pila experts, run by BASI qualified ski instructor and race coach Carole who has specialised knowledge of Pila, and takes ski guiding groups out almost every morning to help explore the slopes and help her guests make the most of their holidays. Carole is part of the Pila Tourist Board and fluent in Italian with 80% of her clients returning each season.
Pilaski offers holidays to all, from individuals, families to groups of any size. As well as package ski holidays, Pilaski has created an affordable tailor-made holiday experience, where clients are looked after, from start to finish, simply get in touch with your needs/requirements and they will do the rest.
The company also works with the Caring Cancer Trust, Special Olympics and Impulse Racing and many more.
"With Pilaski you will get a personalized experience. I ski and spend time with my clients, not just at the end of a phone. No call centres, no speaking to someone that does not know the resort, no hard sell and if by any chance I don't know the answer, I will find out!" says Carole.
Main Image © Giacomo Buzio