These days it is not enough to just pick a snowsure resort for your Easter ski trip, you need to think about everything else besides 'just' great skiing.
Even if you do head to a great ski resort like Vaujany in the French Alps, which has a huge ski area topped with glacier skiing above meaning, unlike many resorts, even in a warm winter like this one, you can be confident of access to snow right through to the end of April – you'll need to be sure your destination offers a lot more than the skiing.
But even in snowsure resorts like Vaujany spring skiing is a different kettle of fish to mid-winter, the days are longer, by lunchtime the snow is softer, and everyone is feeling a bit more relaxed, a bit happier in the sunshine.
So it's far better to be in an unspoilt, uncrowded, authentic French ski village than in a vast, soulless purpose-built, concrete mountain-top accommodation complex.
Unless Easter turns out to be in one of those Aprils when it just dumps down and we do have midwinter like conditions (and let us face it, that's now as likely in April as it actually is in mid-winter, and vice versa), it's likely many members of the family will be thinking about ending their ski day by early-mid afternoon and thinking about how to spend the second half of the day, up to dinnertime, so the important thing to keep everyone happy is to be in a resort with plenty of options.
Fortunately, Vaujany ticks all the boxes whether you want to ski all day or mix and match your Easter mountain break activities and tour operator Ski Peak who have been specialising in the village for more than three decades and are based here year-round, are perfectly placed to help your family make the best of all there is on offer. That means everything from providing advice on the best area to ski on any one day, depending on the conditions, to providing relaxing, comfortable accommodation and sumptuous cuisine in one of their chalets, as well as the option of a self-catering options.
So what if you all just want to ski or board all day of your Easter holiday? Well, luckily, even if you have one of those old-school families that DOES want to ski all day until that last lift closes, Vaujany is still a great choice. Besides the huge Massif des Grandes Rousses ski area with 250km of slopes climbing up to the glacier-crowned 3,300m high highest runs, the local slopes of Montfrais are north-facing, meaning great conditions right up until the last week of the season.
Simply hop on the Vaujany cable-car in the early morning and you'll find yourself in the heart of one of the world's best ski areas, complete with one of the planet's biggest lift-served verticals, all served by more than 80 ski lifts.
But even if you do decide to finish your ski day early but the kids want to keep going then, assuming you're confident to let them ski alone, the local mountain restaurants are perfect for soaking up the afternoon rays, at the same time they enable you to watch your kids ski past. They can take the drag lift or chairs and ski past you on a number of pistes, even through the two freestyle areas (one for jumps and one for rails and boxes).
Whether or not you do that, a spot of apres-ski is well deserved anyway, perhaps at Le Scratch, Table de La Fare or at Le Carin, each of which is highly recommended on those long spring afternoons. Each offers unbeatable views down the Romanche valley and with the fading light turning red most days, lighting up the mountains. In fact, that's how the 'Grandes Rousses' (or "large red head") got their name!
If you're needing child care or ski school for the children, a wonderful purpose-built creche is available for kids aged 6 months to 5 years old inclusive, and for children wanting to learn to ski a ski kindergarten operates for children from three years old, complete with its own 'snow garden' exclusive area and its own lift. There's ski school too of course for older kids.
Whether you do ski or board all day or spend half the day on the slopes, the other half enjoying early-season summery mountain experiences such as mountain biking lower down the mountain, there's lots for the family to do in the afternoon and evening in Vaujany.
The resort has a great leisure complex with large 25-metre swimming pool complete with a long flume as well as a paddling pool and there are spa facilities for Mum and Dad. There's also a sports hall with climbing wall, indoor squash and tennis courts, bowling and an Olympic-sized ice rink to skate on or watch exciting ice hockey matches free of charge. Other attractions include a cinema and museums – all in all, they're much bigger and better than you'd expect for such an intimate resort village and it means that crowding is unheard of – again all adding to that feeling of relaxation in a beautiful location, the bass of a quality family mountain ski holiday.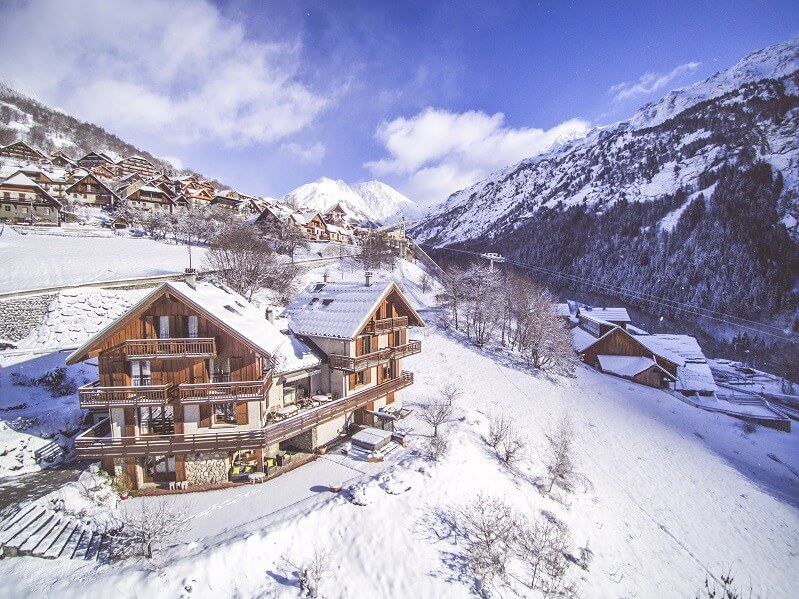 The final ingredient? Great food! This is available in abundance in and around the village, with wonderful mountain restaurants, some great cafes and restaurants in the village itself and Ski peak's reputation for gourmet standard dining, including high tea for the kids and a five-course dinner for adults in Chalet Saskia.
So everything is waiting in Vaujany for your perfect family ski holiday this Easter, you just need to get your booking enquiry into Ski Peak (01428 608070; [email protected]; www.skipeak.net/) whilst there's still space available.
Quote 'crack the egg' for a limited 20% discount.