Skiing 'Jap-pow' the famously 'snorkel deep' floaty light powder on Japan's northern island of Hokkaido at resorts like Niseko has been on the bucket-list of most serious skiers for over a decade now.
At the same time, Japan has become a much more popular travel destination generally. Prices are much lower than they once were, the country easier to navigate and, despite its fame as a global centre for electronic gizmos, has carved out a niche as a place where the locals care about more than just their cars and phones but have a spiritual side to explore, and a little known foodie and spa (onsen) culture beyond the (admitted superb) sushi to boot.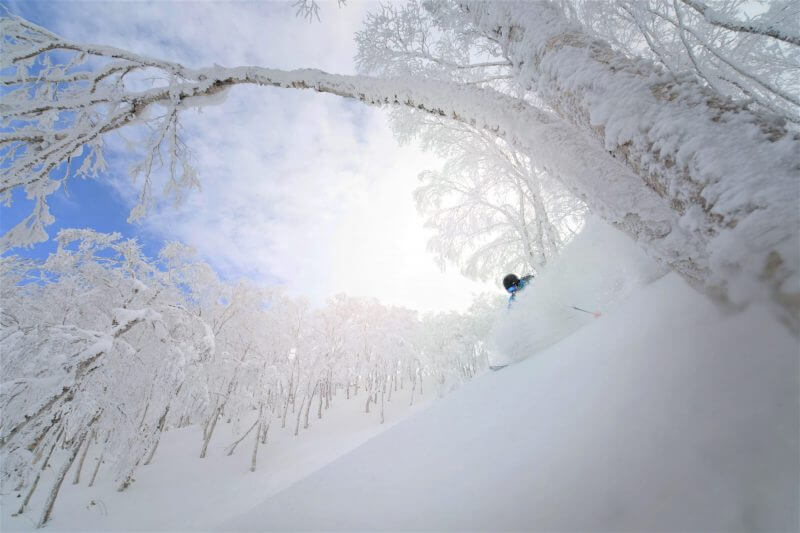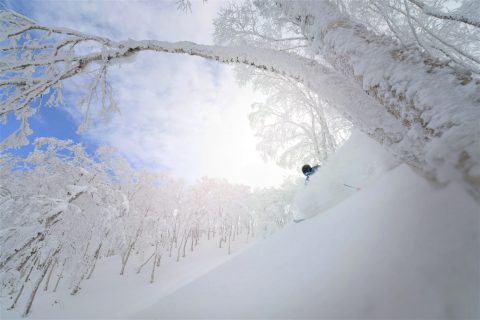 So what if you're not some single 30 or 40 something-year-old powder-crazy single guy who has no real interest in Japan EXCEPT the legendary powder, but you're just a 'regular piste skier' who wants to experience more of Japan than just the snow, but would be happy to do some skiing too?
Well, what had stopped some making the trip (apart from the "it's just about the powder" stereotype) has been the length of the trip? True it's not much different flying here as it is to California or Vancouver on the North American West Coast to ski Mammoth or Whistler, but having to fly into Tokyo then find a flight up to Hokkaido when you've already been travelling a full day and gone through ten time zones was quite the long haul.
The good news is that this winter that's all changed. Thanks to a new direct service from Europe to Hokkaido with Finnair. Changing plane in Helsinki whilst you're still feeling fresh, you land at Sapporo, the capital of Hokkaido, ready for the transfer to resort. Finnair's clean, modern planes with plenty of legroom even in economy, and attentive, friendly staff make the trip even easier and for those based outside the South East there's the option of connecting from Manchester too. Helsinki airport is so modern and clean, it's more a pleasure than a chore transferring and spending a couple of hours there.
Rusutsu
Rusutsu, just45 miles from Sapporo, is a less well-known resort than its near-neighbour Niseko, internationally, but it has similar ski area stats, and thanks to that lack of fame – much quieter slopes. Those stats are good too – 13 metres average annual powder snowfall, 70% of the terrain accessible by high-speed chair and gondola lifts and a skiing day that lasts 11 hours, thanks to floodlit slopes.
It's also a good place to start your Japanese ski odyssey as it's a great example of the giant Japanese ski resort complexes you'll find across the country. Essentially the Japanese create something a bit like a cross between a large hotel complex (Rusutsu's is dominated by its large tower), but then they turbo-charge it by adding a small shopping mall and, (why wouldn't you?), a mini amusement park at the hotel base.  It's all a little surreal and lets you know you're not in Europe or North America anymore.  The great service, high quality and the legendary epic breakfast should make you feel quite happy about that.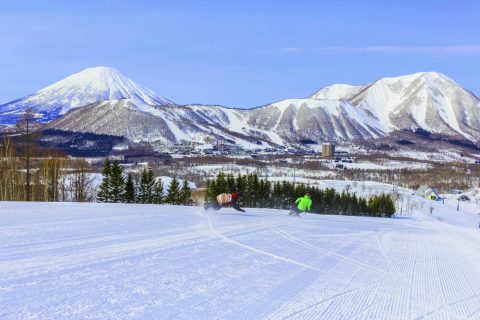 There are 18 lifts in total serving more than 40km of runs and with a combined capacity of more than 30,000 people per hour, you can expect a chair or cabin all to yourself, and of course, no queuing. If you want to head off-piste the resort has built a reputation for its tree skiing.
Niseko
Niseko, a little over 50 miles from Sapporo, needs no introduction. Located close to the Sea of Japan it famously gets dumped on big time as warm air that's has traveled thousands of miles across Asia reaches the sea, sucks up a little moisture then dumps on Niseko, and indeed all of Hokkaido.
But beyond that powdery reputation, Niseko is much more of a global destination resort. It has multiple bases and a good-sized ski area with some of the most modern lifts in Japan, a dynamic, multi-cultural foodie scene, some great shopping, nightlife, and an ever-growing list of attractions besides skiing.  And all with the magnificent Mount Yōtei as the backdrop, a perfect half-sized replica of Mt Fuji.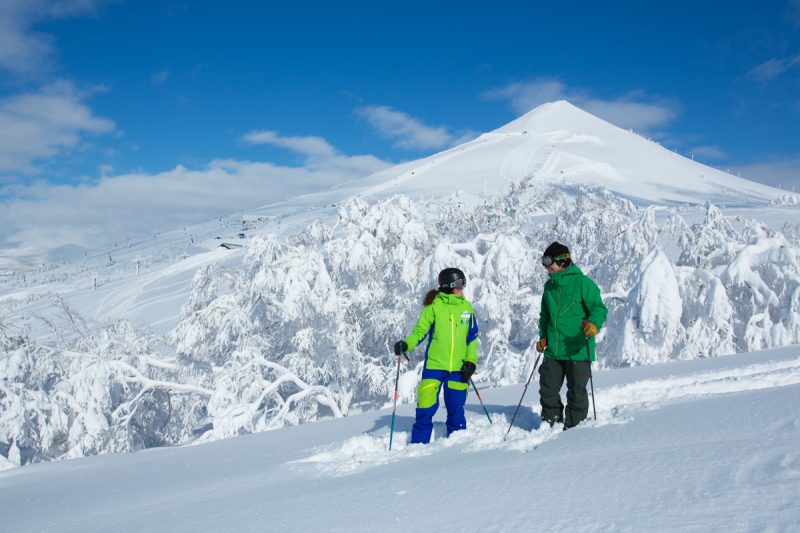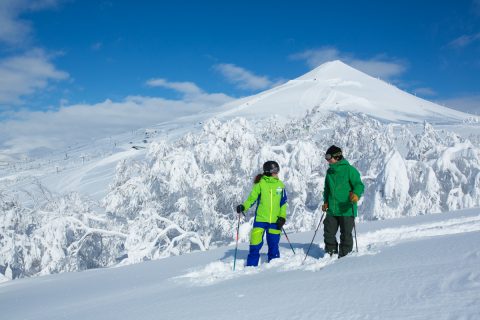 Niseko's growth over the past 20 years since it was 'adopted' by powder-crazy Australians has been phenomenal. It came through the worldwide crash a decade ago relatively unscathed and is probably the most successful global destination ski resort of the 21st century, picking up where others left off with the crash, and now attracting skiers and investors from around the world, in recent years particularly the Asian market.
Famed for its powder, the authorities try to keep people safe by limiting access to it via a system of gates from the pisted area and controlled off-piste areas, access to which is permitted when conditions are deemed safe enough. But if you want to ski mostly on the groomed runs, you'll find them extensive and with great nursery slopes areas for beginners and family areas for children to learn and practice in safety.
The resort has at least four separate bases, with the slopes above inter-connected. There's the main village, Grand Hirafu, where there are extensive shopping, nightlife and plenty of restaurant choice,  but there are also lots of large resort developments some distance from the town, the big new one this winter, the Park Hyatt, which opened last month (January 2020).
This has the latest rooms and suites, a spectacular range of eateries including five Japanese options, a Chinese and an Italian restaurant; as well as spa facilities, pool and onsen, cigar lounge, wine cellar and of course a karaoke bar.  For skiers though the ski-in/out facility is a major attraction compared to many Niseko properties.
Sapporo
Host to the 1972 Winter Olympics, manufacturer of world-renowned beer, and particularly famous for its spectacular annual snow festival with around 200 snow sculptures, many of them massive, attracting nearly 3 million visitors during the first half of February each year, Sapporo is a city well worth a visit in its own right. For skiers, it's well worth a stopover at the beginning or end of your Hokkaido trip.
With a population of around two million (so rather less than the number that arrives for the snow festival), Japan's fifth-largest city has a vibrant cultural scene and a bustling nightlife. There's not just the eponymous beer to be tried in its natural location, but every other beverage you can imagine under the rising sun and of course, you must try a little karaoke whilst in town. "When in Rome" (or indeed Sapporo) and all that.
For a Treat: Finnair Business Class
If you're prepared to pay more for the ultimate comfort on your trip to Hokkaido, it's well worth spending a little extra to turn left as you get on the plane and travel business class with Finnair. Your seat is spacious with a flat-bed option (particularly welcome for the flight East), and there are only two in a row so very relaxing with lots of privacy. Finnair is proud of the food and drink Finland produces and serves this up, including the option of local gin in the airline's trademark, iconic Ultima Thule hand-made glassware which has been designed especially for the company for more than 50 years.