Japan – which still has strict travel restrictions in place for tourists – says some of the most restrictive rules will go next month.
Announcements made by leading Japanese politicians over the past few days indicate that fully-vaccinated skiers and snowboarders from a large number of countries will be allowed to enter Japan again from September without needing to be part of an approved group tour …and that the requirement of recording a negative PCR test before getting on the plane there will be dropped for those who qualify.
Japan completely closed its borders to tourists for two-and-a-half years but started to allow people from countries on its 'blue list' of nations (which include most of Europe, North America and Australia and New Zealand) in June …so long as they were on escorted tours, not travelling independently. However visitor numbers are reported to remain low – with under 8,000 arrivals a month when pre-border-closure the numbers were over 2 million a month.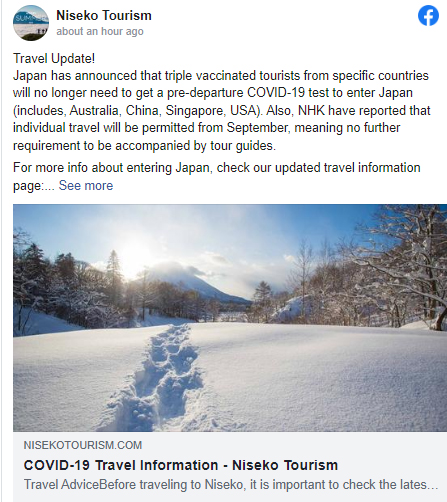 The reports of the rules being eased are coming in from Japan's state broadcaster and are not yet fully detailed with an exact list of which countries will be allowed in, although it has been specified that arrivals from approved countries will have to be triple vaccinated to be allowed in. This is similar to the US and some other countries where international arrivals still need tpo be fully vaccinated in most cases.