It's making waves on the ski gear scene at the moment, but is heated ski gear the future of winter sportswear?
We all know the feeling – trying to enjoy a day on the slopes, soaking in incredible views and well-groomed slopes, but that stubborn chill in your bones just won't budge! As much as we all love the mountains, the winter cold can be a pain, especially when you're not fully prepared for it. There's nothing worse than cold hands, feet and limbs when you just want to be revelling in the snow. But who wants to be wearing hundreds of layers and limiting their freedom of movement just to stay warm? Well, this is where heated ski gear comes in and this winter, InTheSnow readers can save 10% off heated clothing at peeqsports.co.uk. Read on to find out how.
In the past, heated ski gear has often been considered something of a 'gimmick', hugely expensive items that require extensive charging or bulky battery packs. However, in recent years heated ski gear has come on leaps and bounds and new products on the market are promising to change the ski wear game for good.
Take the Odlo I-Thermic Mid Layer for example. This award-winning mid-layer effectively regulates body temperature through use of an intelligent thermal sensor, one of the most advanced active heating systems available. Available for both men and women, it combines a stylish fit with the ultimate in high tech heated apparel, providing your own personal micro-climate.
The technology in this layer analyses and regulates body temperature using its own thermal sensor, with heated cables within the fabric. If the automatic regulation isn't quite warm enough for you, you can manually adjust your temperature yourself with the associated app, Clim8. This app provides smart temperature control, meaning that you can easily manage your body temperature while you're out on the mountain.
You might expect such a garment to be slightly uncomfortable, what with its sensors and heated cables – but it's actually incredibly comfortable, with the cables seamlessly woven in to the garment for ultimate comfort.
Don't just take our word for it, though. The I-Thermic has won both the ISPO & CES Innovation Awards, coveted awards that demonstrate just how game-changing a product this is.
Indeed, for skiers and mountaineers, the I-Thermic mid layer is a breath of fresh air (pun intended), giving you full control of your temperature and eliminating the need for big jumpers and super thick thermals. It means that you can benefit from enhanced freedom of movement and really enjoy yourself, unrestricted, on the slopes.
Along with the heating element, this mid layer also features a half zip and Odlo's hugely comfortable organic body-mapping fit, making it the perfect ski gear addition for anyone that feels the cold this winter.
---
InTheSnow readers can save 10% on heated clothing this winter at peeqsports.co.uk. Just use the discount code PEEQHEAT10 at checkout.
---
If a heated mid-layer doesn't sound quite up your street, there are many other options out there when it comes to slope-side warmth.
Why not go the whole hog with a heated ski jacket? Another award winning favourite, the Roxy Premiere Jacket is a great choice for women looking to buy their first heated item. Impeccable styling combines with the revolutionary Roxy WarmLink technology for a highly effective warming system, easily controlled via an app on your phone. Throw in 20K waterproofing and PrimaLoft® Gold Luxe insulation and it's unsurprising you've got a winner!
"This super warm premium jacket pulls no punches: the Warmlink panels are integrated into the jacket very slickly and the materials have been chosen thoughtfully" – ISPO 2019 Award Panel
If you want to dip your toe in the pool of heated ski gear without quite so much commitment, heated gloves could be a very good choice. For those who particularly feel the cold in their extremities, gloves such as the Hestra Power Heater Ski Gloves can be an absolute game-changer.
With integrated heating coils in the fingers, your hands will stay toasty all day long with these gloves, which are also wind and waterproof. The heating has three options, which can be easily controlled depending on temperature and weather. Fully rechargeable, these gloves are a must-have if you're skiing in the colder months and colder destinations, or for high altitude skiing.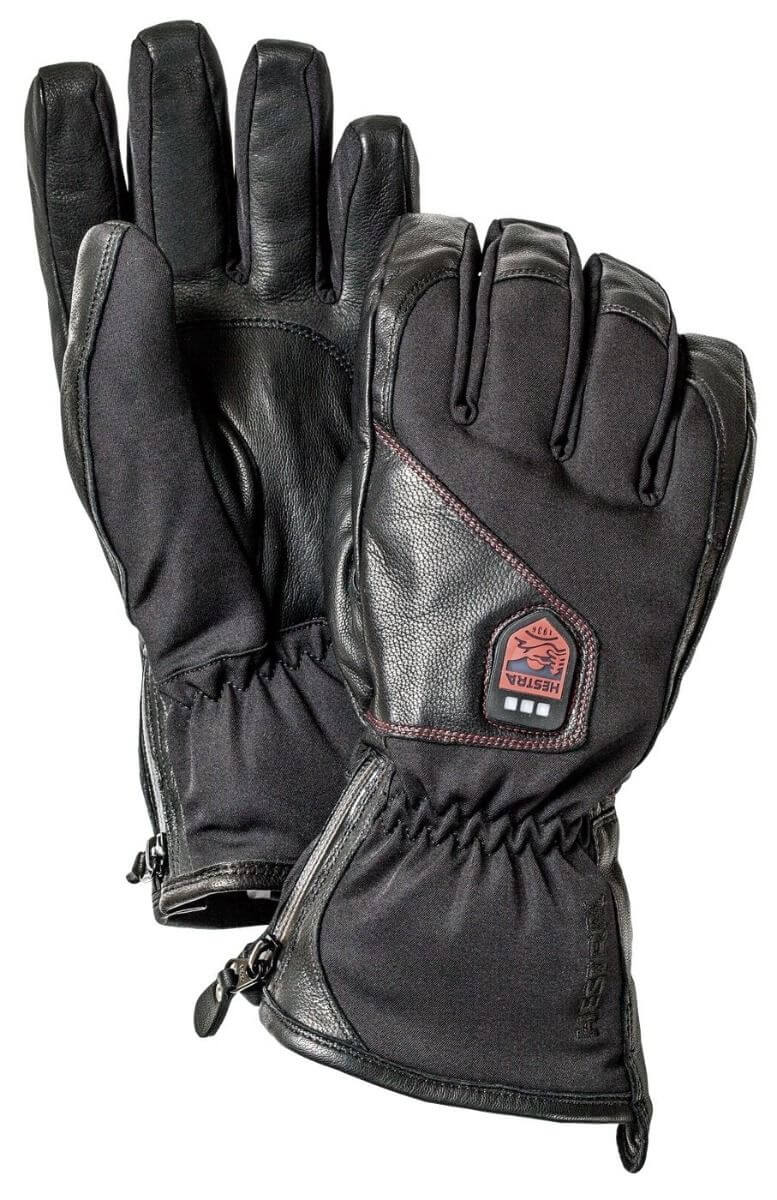 Similarly, the Racer Heated Gloves and Heated Mittens offer a new, advanced thermoregulated heating system, the iR-Warm 2.2 system. Developed by the RACER® Research and Development Department after conducting tests with the Army Biomedical Research Institute, this is another top quality glove reaching the pinnacle of smart technology.