Hokkaido has recently become one of the world's most talked-about adventure destinations, so what exactly has travellers itching to return to this epic island?
When we consider the adventure capital of the world, many of our minds will wander to the craggy peaks of Chamonix, or the high-octane activity of Whistler Blackcomb. However, there's one destination that has been quietly building a reputation as a hugely versatile adventure travel destination; Hokkaido.
With a fantastic winter offering and a huge variety of activities available throughout the summer 'green' season, Hokkaido is a spectacular base from which to experience the best of Japan's culture and beauty.
So, if two years away from the slopes has you itching to take on a bucket-list ski holiday this winter, you should look no further than Hokkaido and its central city of Sapporo. It's a perfect time to visit, as reaching the area has recently been made far easier thanks to increased air travel opportunities. A number of highly convenient airports are dotted around the island, from the convenience of New Chitose Airport (only nine hours from Europe with a Finnair direct flight from Helsinki) to the mainland proximity of Asahikawa Airport (only 1.5 hours from Tokyo).
In previous years, it could take almost 20 hours to travel from Europe to Hokkaido, but with Finnair's direct flights, this journey time has been significantly reduced to around nine hours. These direct Finnair flights to Sapporo are scheduled to resume in July 2022, and more detail can be found here.
Winter Adventures in Hokkaido
For most, a winter holiday in Japan's northern island of Hokkaido is all about one thing, that famous 'Japow'. Here, the perfect powder day is not a once-or-twice-a-season treat, but simply a daily occurrence. The snow is drier and finer than what we're used to in Europe; more caster-sugar than soggy sorbet, making it a joy to float through.
It's the sort of snow that you simply have to experience at least once in your life, and Hokkaido offers the perfect combination of terrain, activity and culture to ensure that a ski holiday in Japan is one you will never forget.
The island's myriad areas offer a huge amount of skiing and snowboarding potential and piste-skiers will love the feel of the impeccable groomed runs. Off the pistes, you can explore the island's plentiful untracked powder terrain with backcountry ski and CAT (snow tractor) tours allowing you to access the most incredible spots on the mountain.
However, despite what you may think, a ski holiday in Hokkaido isn't just about the snow. Here you have the opportunity to experience a completely different type of ski holiday. Enjoy an après-ski drink at a friendly local izakaya (a type of Japanese pub) or end the day with a relaxing in an outdoor onsen (Japan's natural hot spring baths), before sampling some seriously special local cuisine.
Our Top Picks:
For Powder:
It's impossible to write about skiing in Hokkaido without mentioning arguably the most famous Japanese resort of them all; Niseko United.
Niseko United is a resort has gained an almost mythical reputation in recent years. No matter where in the world you are, people will always know of the Niseko snow…
One of the country's most picturesque ski areas, skiers here will enjoy striking views of the Mount Yotei volcano, as well as (on a clear day) visibility out to the Japanese sea on one side and the Pacific ocean on the other.
This is a resort that caters for all abilities. Intermediate skiers will absolutely love the powdery pistes and gentle off piste opportunity, while advanced skiers can explore some of Japan's best backcountry (though this is best explored with a guide).
Down in the town, you can explore the many stores and restaurants in Goshiki Onsen and Hirafuzaka, or, for those who love to ski hard and play hard, there's an energetic and entertaining nightlife scene. Our top picks would have to be Wine & Dine Niseko and the Toshiro's Bar, both of which provide the ideal post-ski dining experience.
Not enough adventure for you? Snowmobile and snow rafting are also key features of life in Hokkaido and both are sure to get that adrenaline pumping!
https://www.skiing-hokkaido.com/
Asahikawa City is the perfect base for those looking to access to two of Hokkaido's best powder resorts; Asahidake Ropeway Ski Resort and Daisetsuzan Kurodake Ski Resort.
Serious powder hounds will find their tribe in Asahidake, where backcountry skiers can explore some of Japan's best terrain. From serious powder fields and amazing tree runs, this totally un-groomed resort offers the ultimate Japow experience with more knee-deep powder than you could ever imagine. We'd highly recommend hiring a guide here in order to find the most spectacular hidden gems of the area.
Meanwhile, Asahikawa City is the perfect place to experience some of Hokkaido's best cuisine. Asahikawa is a key distribution centre for Hokkaido, and is a city where you can seriously explore the variety of Hokkaido's local cuisine, including seafood, vegetables, and meat. Traditional ramen shops, craft beer bars, local sake spots, there's a little bit of everything for all tastes here.
For CAT Skiing:
For those that have never before tried CAT skiing, it essentially involves you heading up the mountain in a Snow CAT – essentially a snowmobile with a glass cabin, to explore totally un-groomed ski areas. Once atop the mountain in Iwanai, CAT skiing allows you to enjoy totally untouched powder skiing and snowboarding, all with a spectacular ocean view. Enjoy a day's waist-deep powder before skiing down to the ocean to sample some of the area's famous seafood, especially Abalone (a delicacy of marine snails).
For Unparalleled Spectacle:

The drift ice of the Okhotsk Sea is an incredible natural phenomenon that grips Hokkaido's northern coast in a deep freeze for much of the winter season, with . Hokkaido is the most southernmost place in the Northern Hemisphere where you can see drift ice and along the coast, You can experience this extraordinary event up close in a variety of fascinating ways including through a number of activities that can only be enjoyed during the drift ice season.
Ever taken a SUP out on the sea amongst gigantic chunks of ice? You're missing out… Other adventures include ice walking, fat biking, and drift ice and bird watching cruises, all of which allow you to get up close to this once-in-a-lifetime phenomenon.
https://www.shiretoko.asia/world/index.html
For a City That Has it All
If you're looking to experience all the unique joys a winter holiday in Japan has to offer, Sapporo is the place for you. It's a truly special city where the cosmopolitan combines with the natural world to create a vibrant one-of-a-kind experience. Here you can enjoy the best of Japanese culture, food, skiing and post-ski entertainment, all in one day. It really does offer the best of both worlds.
Japan's Capital of the North and the first city in Asia to host the Winter Olympics back in 1972, Sapporo has a huge amount to offer winter adventurers. Blending both urban terrain and rambling nature, Sapporo has a unique draw for adventure and nature lovers. Whether you prefer exploring cultural offerings, sampling local cuisine, viewing the area's most innovative art or immersing yourself in the breathtaking local nature, Sapporo has it all.
In the winter, Sapporo is the perfect base for skiers and snowboarders seeking that perfect powder.
Thanks to cold air currents from Siberia crossing the Sea of Japan, fluffy powder snow is all but guaranteed at the city's many surrounding ski resorts, just a stone's throw from the city centre. With copious options for beginners, intermediate and advanced backcountry skiers alike, you'll be able to enjoy a fantastic day on the slopes before skiing back down to the city for a post-ski sake.
Indeed, we all know the importance of that evening refuel and Sapporo provides endless opportunities to sample incredible, warming winter cuisine. Explore the local seafood market for fresh fish and sashimi, dive into deep bowls of ramen or sample sizzling lamb BBQs. You won't go hungry here!
Editor's Picks:
Ski: Sapporo Teine and Sapporo Kokusai

Close to Sapporo, the impressively consistent snow conditions and breathtaking landscapes of these two resorts make for a real winter wonderland feel.
Eat: Susukino
One of the Japan's largest entertainment districts that lets you enjoy a one-of-a-kind mix of city lights, restaurants, bars, karaoke, and many shops with local specialties. Have a stroll around at night and reflect on an epic day on the mountain over a bowl of ramen in Susukino's electric night-time atmosphere.
Rejuvenate: Jozankei Onsen
Jozankei Onsen offers the very best of a Japanese hot springs experience: awe-inspiring nature, superb accommodations, and a revitalising sense of tranquillity and harmony permeating the air. Spoil yourself with a dip in the natural hot springs set amid gorgeous natural scenery, with steaming hot water enriched by natural mineral components. One of the most famous Onsen locations in Hokkaido, there's no better way to end the ski day.
Travel: Finnair to Sapporo New Chitose

Sapporo is now easier to reach than ever for European skiers thanks to a direct route from Helsinki to New Chitose Airport. New Chitose Airport is incredibly close to the city of Sapporo, in fact, it's just a 40-minute journey away from the main town so it's a super convenient arrival destination. The direct flight route, operated by Finnair and set to resume in July 2022, allows travellers to reach the Sapporo suburbs in just nine hours, making Hokkaido's superbly snowy slopes more accessible than ever before.
Summer Adventures in Hokkaido
OK, OK, we may be biased in thinking that winter in Hokkaido just cannot be beaten, but we will admit that summer here is pretty spectacular.
There are six national parks in Hokkaido; Kushiro-shitsugen, Shiretoko, Rishiri-Rebun-Sarobetsu National Park, Daisetsuzan, Akan-Mashu, and Shikotsu-Toya. Each has its own distinctive personality and a huge variety of natural and cultural adventures to enjoy.
Paddle at Rishiri-Rebun-Sarobetsu National Park
Sea kayaking in Rishiri, Rebun-Sarobetsu National Park is one of Hokkaido's greatest pleasures. Each island offers a multitude of water-based activities, so you can enjoy the crystal clear seas and vibrant splendour of Rishiri and Rebun islands to the fullest. The west side of the island, with its sea-eroded landscape of cliffs and jagged rocks offers a total contrast to the rolling, gentle hills of the east side. It's like looking at two totally different islands, a joy that only those on sea kayaks are able to discover.
What's more, the waters in this area are a treasure trove for fish thanks to the nutrient-rich waters of the north and the invigorating ocean currents running between Rebun and Rishiri Islands. As a result, when you go out to sea in a sea kayak, try sinking a jig, a lure that doubles as a weight, and see if you get lucky with a yellowtail catch! You don't have to cast far, so it's easy to do while keeping your balance in the kayak.
Raft on the Ishikari River
The Daisetsuzan Mountains are blessed with a number of crystal clear rivers and the best way to explore them is to hop in a raft for an afternoon of high-adrenaline entertainment.
The Ishikari River, for example, offers a vibrant rafting experience in the rich nature of Daisetsuzan National Park, where you can experience the rapids in the melting snow in May, the deep greenery from June to August, and the autumn leaves in September. Or you can enjoy the Sorachi River in Furano, which also originates from the Daisetsu Mountains and offers stunning scenery and the opportunity to jump into the water from rocks up to 3 metres high!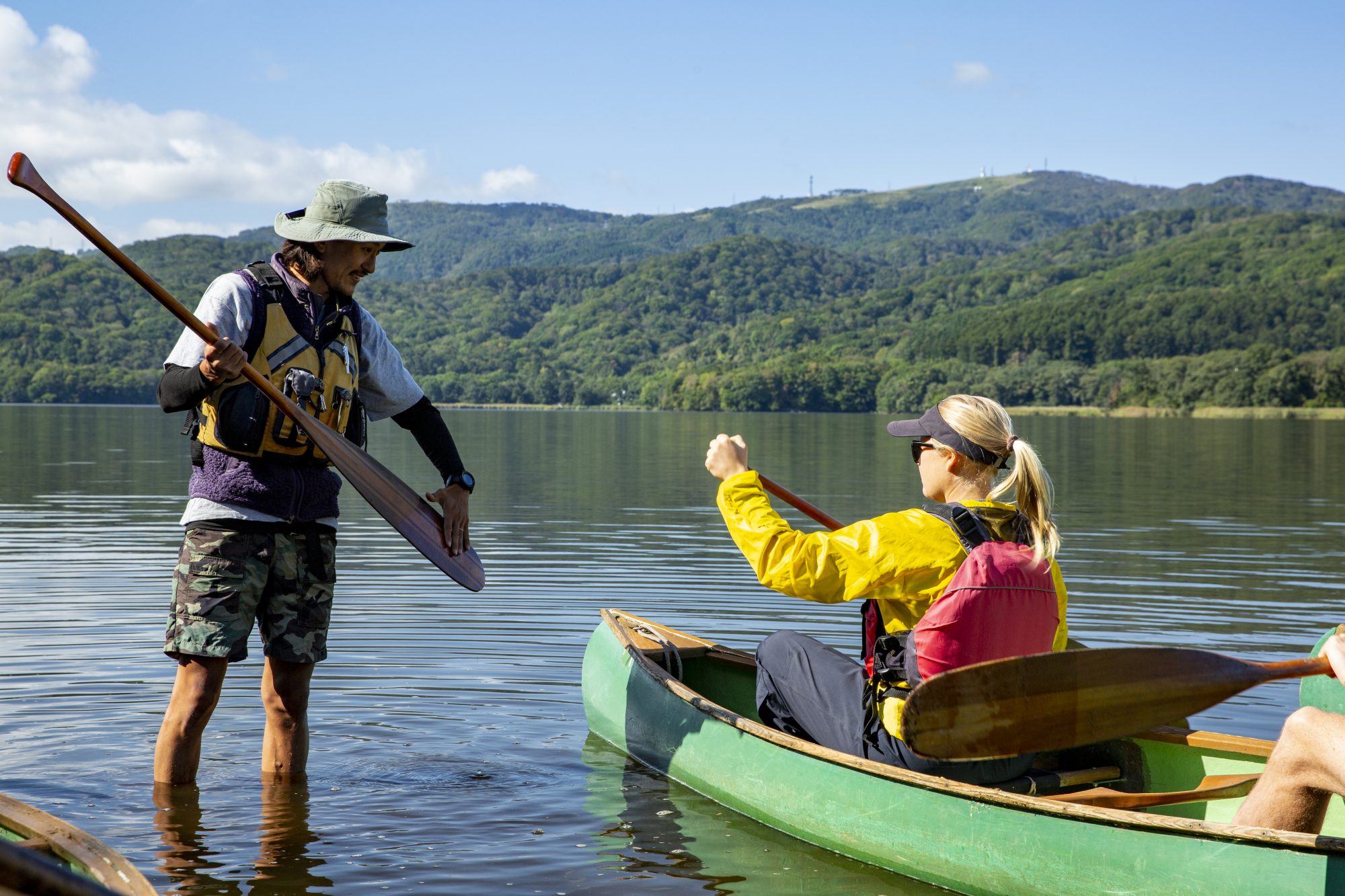 Camp on the shores of Lake Shikotsu
Nestled in the lush Shikotsu-Toya National Park, Lake Shikotsu is the second deepest lake in Japan and offers outstanding clarity due to the few rivers flowing into it and little resulting sediment inflow. Unsurprisingly, watersports and paddle sports are very popular here, as you float in the shadow of Mounts Eniwa, Fuppushi and Tarumae, whose bases come right down to the waters' edge. For prime access, we'd recommend camping right on the lakeside, at one of the two campgrounds, Morap and Bifue.
https://hokkaidolove.jp/en/wateractivities/
Spectacular Sapporo
We've already mentioned the spectacular winter experiences in Sapporo, but this impressive destination is not just for cold weather wanderers. Indeed, Sapporo's harmonic blend of forests, parks and innovative modern artwork fosters a warm and welcoming atmosphere that few other adventure destinations are able to encapsulate.
Deep nature is just a short walk or quick train journey away from the city's bustling downtown area, where you can enjoy canoeing through mystical streams, exploring lush greenery or climbing steep hills to experience spectacular views.
Hike, run or canoe your way through lush forests, parks and jungle, or meander your way through the city's bustling streets. Either way, Sapporo is sure to satisfy.
Don't Miss: the spectacular scenery of Mt. Moiwa and Maruyama Park & Hokkaido Shrine, or the unique experience of Odori Park, where you can feel the fusion of city and nature in the centre of Sapporo.
Culture and Art
One thing that makes Sapporo seriously stand out from other winter destinations is its incredible art heritage. Culture and art permeate this city, from local attractions in the middle of the city to art parks and museums, making this a year-round destination for those more refined tastes.
Immerse yourself in the rich local culture and feel inspired by one of the many endless artworks and relaxing hot baths that are waiting to be discovered around every corner in Sapporo!
Don't Miss: The Hill of the Buddha, Moerenuma Park, Jozankei Onsen
---
For more information on Hokkaido, head to hokkaidolove.jp/en