While we all absolutely love skiing and snowboarding, we can't ignore the fact that, like most sports, they do come with a certain amount of risk. It is true that helmets have become much more commonplace in recent years, with many countries making it illegal for those under 16 to ski without a helmet. However, there is a wealth of other protection for skiing out there that people often do not consider. From back protectors to padded shorts and knee pads, it can be hard to know what would be necessary for you and this often leaves people wondering "what protection do I need on the slopes?".
Protection for Skiing: Back Protection
Back protection is a big one when it comes to skiing and snowboarding, especially if you are an adventurous rider who loves to explore the mountain. While back injuries are not the most common injuries seen in ski resorts, they do happen and can be extremely serious when they do. For freeride and freestyle skiers, who are most at risk from falling objects, solid impact or awkward falls, back protection should definitely be something to consider.
Previously, back protection has been avoided by many due to its heavy, rigid, uncomfortable nature. However, with modern advances in technology, back protection has become a lot more comfortable to wear. Created with more flexible material, they fit better with the shape of your back and are able to move as you do.
Back protectors come in either a harness, vest or jacket style. It tends to just be a matter of personal preference that sets these apart; all have their various pros and cons. The harness style, such as the Slytech NoShock Back Protector above, is often more rigid than the vest, but can be lighter and easier to manoeuvre. The vest style however is extremely lightweight and can be more comfortable for some people, fitting easily onto your body and staying in place well. Additionally, the back plates can usually be taken out in order for you to easily wash the vest, which is likely to get a bit sweaty while you're working yourself on the slopes!
Finally, the jacket style offers all-round body protection, often including elbow, shoulder and chest protectors, but can also be very bulky, especially when worn between a base layer and an outer jacket. This offering from Dainese is the prime example – though it may be bulky it offers a huge amount of protection for those that may need it!
You can also often find backpacks that come with back protectors within, such as this Free Ride backpack from Ovortex. Less intrusive on the body and easier to manoeuvre, this is a good element to look for in a backpack if you are an adventurous skier looking to purchase one
Protection for Skiing: Wrist Protection
Wrist protection is definitely something that is more important for snowboarders than skiers. If you're a skier, you can probably get away without these, but as a boarder (particularly if you are a beginner), wrist guards can be incredibly helpful. Website www.skiinjury.com found that snowboarders are twice as likely to get wrist fractures than skiers.
Snowboarders are much more likely to put their hands out to break their fall, which, if you fall the wrong way, can have devastating consequences for those precious wrists! Apparently, 40% of snowboard injuries are to the wrist and 24% of injuries are wrist fractures. So, wrist protection can do you a world of good if you are a keen boarder and we would definitely recommend investing in some protective gear.
When it comes to wrist protection, you have two main options; gloves or mittens with inbuilt protection, or standalone wrist protectors that fit under a glove. As with back protectors, there are pros and cons for each. Protection inbuilt into gloves tends to be slightly more comprehensive in protecting the entire wrist, and also means that you don't have to worry about fitting or forgetting your wrist guards because they are always with you.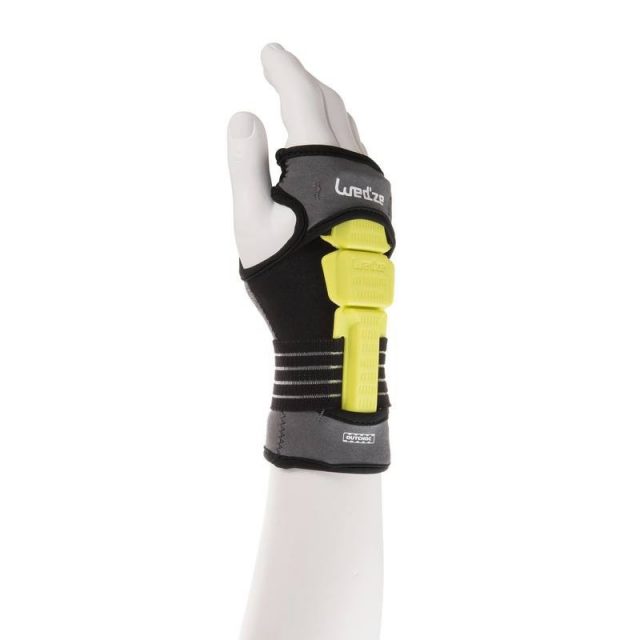 However, some people much prefer their wrist protector to be separate to their glove. This way, they can decide if/when they want to wear them, if they want to wear just one or both, and they have the flexibility to wear them under any glove they want. Furthermore, wrist protectors can be better if you're on a budget. Take this pair from Decathlon for example – just £11.99! This is definitely a product we would suggest to try before you buy though as you do need to be sure that they will fit well under your glove.
Protection for Skiing: Padded Shorts
While skiers may benefit from the warmth and protection of padding around the derriere, again, padded shorts are generally more useful for snowboarders (especially those just starting out). These shorts tend to have padding around the coccyx, hips and thighs, which will protect you from a lot of pain when falling backwards or sideways onto hard snow.
Admittedly, some people don't like the bulky nature of many of these shorts. However, as with back protectors, the snow protection gear industry has advanced leaps and bounds, creating items that are incredibly comfortable and flexible while still providing ample protection. For example, these Forcefield shorts are ergonomically designed to move with your body while still providing optimal impact protection. It does pay to make sure that padded shorts fit under your saloppettes before you buy them though, to avoid any annoying first-day-of-holiday realisations!
Not only do padded shorts offer protection, but if you are learning to snowboard, you are probably going to spend quite a bit of time sat on the snow. This can result in a very cold bottom if you don't have the adequate insulation. While thermal leggings and salopettes can do the job, many padded shorts come with enhanced thermal technology that can be a very well received addition.
Protection for Skiing: Knee/Shin/Elbow Pads
It has been estimated that knee injuries account for around 25-45% of all ski injuries. If you've ever known someone that has injured their ACL skiing, or done so yourself, you will know how debilitating knee injuries can be, particularly for ski-lovers. Designed to cushion the force of impact, knee pads come in two types; hard and soft (like as these Burton shin pads). Both are effective, but skiers and boarders tend to opt for the softer option as they fit better under salopettes and allow for more freedom of movement in the leg.
If you already have knee problems, knee supports and braces are something we would definitely recommend to help you get the most out of your ski holiday while remaining as free of pain as possible. There are many knee braces around, such as the discreet Ski Mojo brace, that takes up to a third of the strain off the legs, reducing impact, alleviating leg and knee pain and delaying muscle fatigue. It's all about what works best for you and your specific needs, so make sure you do your research either online or by speaking to those in the know, such as your physiotherapist. Also, be sure to try the brace on before you head to the mountains to make sure it's comfortable (you could even take it to your local UK slope!).
Elbow pads on the other hand are not something we would say you need when skiing or snowboarding, but they can be helpful and help prevent the pain of falling over for beginners and younger learners. Similarly, shin guards are not necessary unless you are a race skier. For recreational skiers, your ski boot itself offers your shin more than enough protection.
However, there is one type of shin pad that may come in handy for skiers. Gel shin pads such as those from Ski An'Gel are friction reducing shin pads that prevent the shin-bite & bruising that can be caused by skin rubbing against a ski boots inner lining. Designed to be worn underneath your sock, these pads provide a very economic solution for those who may have problems with their ski boots or worry about uncomfortable rubbing when using hired boots.
So there you have it – we hope that this can help clear up some of the questions you may have about what protection is or isn't necessary for you on the slopes. Let us know your thoughts!