In the last ten years or so, helmets have become one of the key staples in any skier's suitcase. Offering unrivalled protection for your head as well as keeping your ears warm (win win), it's no surprise that the helmet industry has exploded in recent years, with a huge amount of helmets now on the market.
Of course, we're not complaining; we love the amount of choice out there these days! However, it can be quite daunting when it comes to actually choosing one. Here we've gathered our top picks of helmets for the upcoming season when it comes to design, durability and that all important protection for those precious heads! Drop in and shred away with confidence in your head gear this winter.
Incredibly versatile, you can get your money out of this helmet year in, year out, as it complies with both ski, skate and bike safety certifications. With a premium knit liner that holds adjustable BOA technology to really create the perfect fit, the Bern Baker helmet is the ultimate in comfort, style and safety.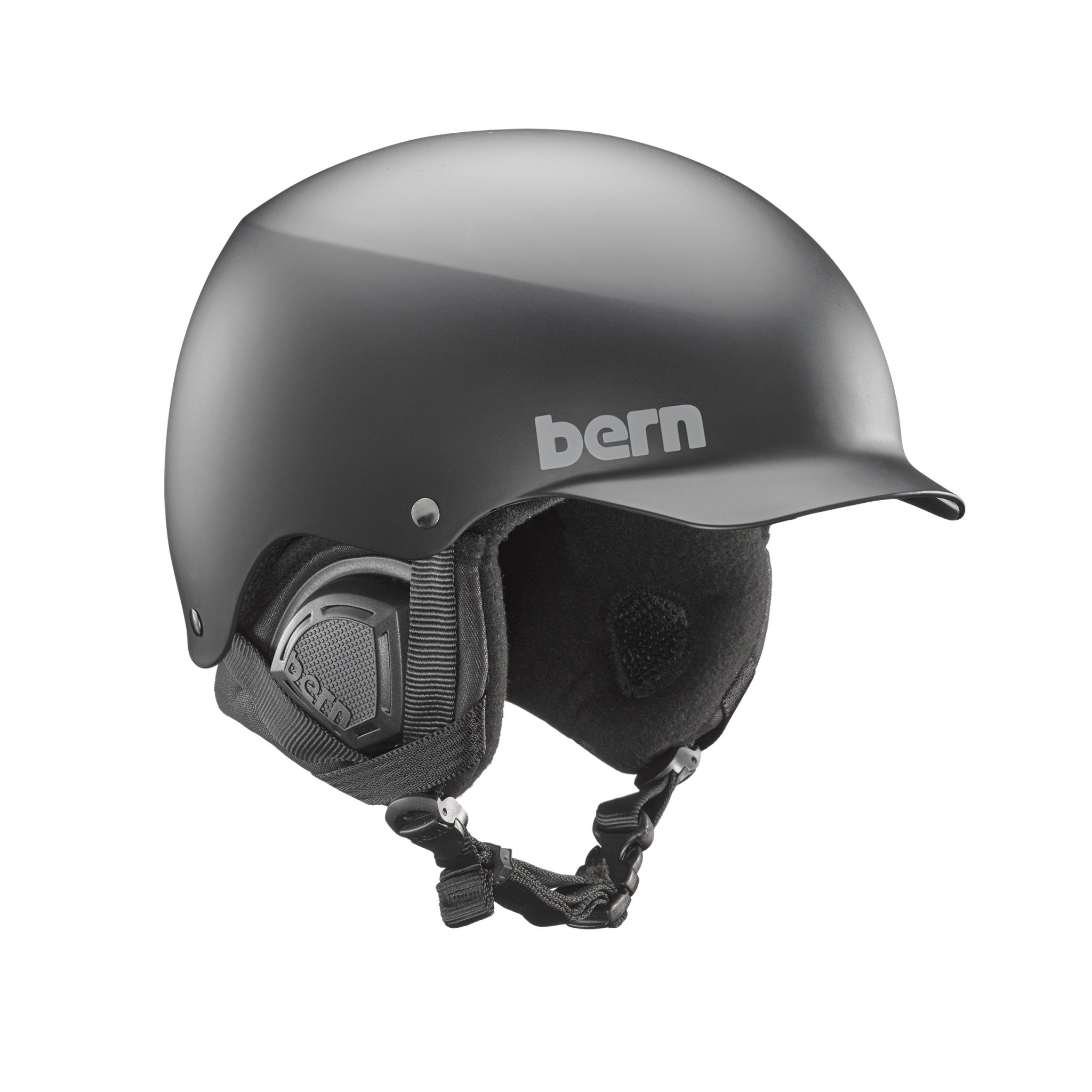 ThinShell technology offers the ideal balance between the hard ABS/polycarbonate shell and interior EPS foam thickness. This means that it maintains great protection while offering a lightweight feel. However, EPS foam only offers one time use though, so it pays to be aware of this if you do (touch wood) end up in a major impact.
This helmet is also one of our favourite looking of Bern's offerings. The 'sink-fit' low profile keeps it looking fresh, while Bern themselves were the pioneers of the peaked brim style, so you know you're in good hands here.
A great lightweight helmet that proves incredibly popular year on year, the Smith Variance is definitely one that gives the utmost when it comes to protection and comfort. It's a very lightweight helmet, so much so that you can almost forget you are wearing a helmet at all, yet it is packed full of the most advanced safety technology.
Built with Smith's Hybrid Shell construction, this helmet fuses tough bombshell ABS construction with flyweight in-Mold technology, optimising the best traits of each material. Furthermore, the Smith Variance benefits from Smith's MIPS technology, which is used to reduce the rotational forces to the brain in the case of an oblique impact.
Already designed to absorb direct impacts very efficiently, when combined with MIPS, Smith helmets better absorb oblique forces by allowing a small rotation of the outer shell relative to the liner.
The 18-vent system works brilliantly, keeping the helmet breathable yet surprisingly warm even on the coldest of days. It has a low-profile regulator adjustable climate control, allowing you to modify the helmet's airflow and heat exhaust while out on the hill. Furthermore, an AirEvac 2 ventilation system means that when combined with Smith goggles, the two function as one system, venting warm moist air away from the goggles, through the helmet climate control system and away from the head.
The design is simple and sophisticated, with a variety of colours available and of course, it also fits perfectly with any Smith goggles. The Adjustable Smith x Boa® fit system offers an easy and simple way to achieve a perfect customised fit.
POC's Receptor BUG helmet offers a fantastic combination of award winning design and safety. With POC's Ventilated Double Shell Anti-Penetration system (VDSAP), the Receptor Bug helmet consists of two overlapping shells that protect from sharp objects and impact. The advanced ABS outer shell makes a robust barrier while the in-mould polycarbonate/EPS inner liner provides impressive test-winning impact absorption. Basically, your head can't get much safer than when it's surrounded by the POC Receptor Bug.
The VDSAP system also simultaneously provides effective ventilation that can be opened when your head gets too warm and closed on colder days. Meanwhile, detachable ear pads and neck roll keep this helmet easily flexible according to personal preference. Style and safety, a winning combination.
This is definitely one for those who will be hitting up the backcountry or the snow park this season and want that little added protection. This helmet uses Shred's Rotational Energy System (RES), a 360-degree floatation technology that mimicks the natural cushioning behaviour of the fluid between the skull and the brain in order to reduce rotational accelerations to the head during impact. Confused? In essence, it's a simple and lightweight way to stop forces from any direction.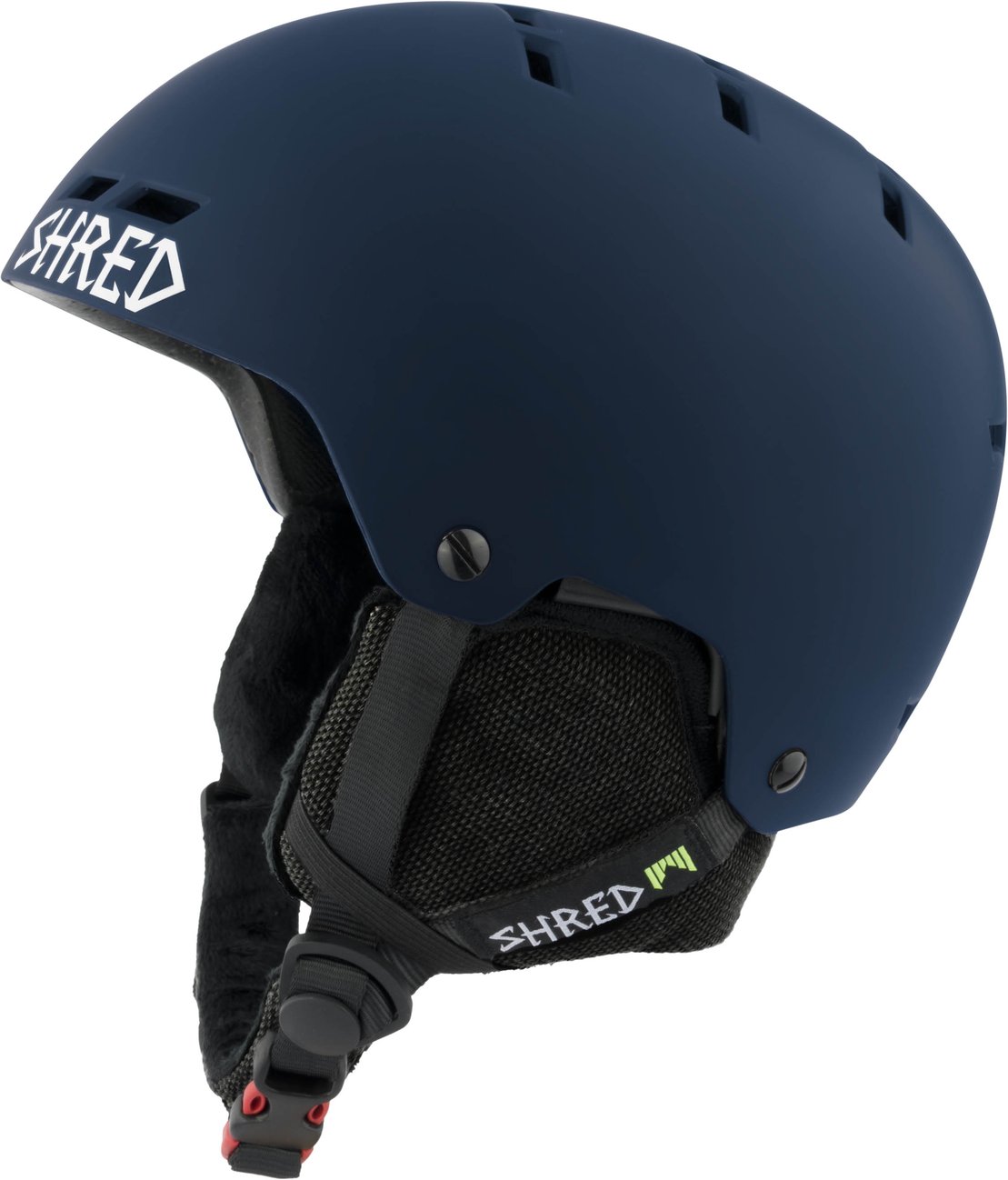 However, this helmet does not stop there! It also boasts Slytech's patent pending NoShock technology, an EPP honeycomb foam integrated within the EPP core of the helmet. This, when combined with the RES, provides an unparalleled defence against linear and multi-directional forces to the head during impact.
Built to withstand any adventure, this is a great choice for daring skiers and the soft comfort liner with Aegis™ Microbe Shielding provides anti-bacterial and anti-odour action that will definitely come in handy after those long days exploring the mountain. The Shred Shield ABS helmet shell is super tough for dent and impact resistance, giving the helmet an increased life span. This helmet is also very stylish with a simple, block colour design that will match almost any ski outfit.
This is a helmet for someone that really wants to stand out on the slopes this season! Looking slightly like it was designed for space travel, this is a helmet that not only brings you unprecedented style, but also top levels of safety and protection. The uvex IAS fit system means that this helmet is easily adjustable and will be a good on-slope partner for any head.
Made using hardshell technology, the helmet has an injection moulded outer shell and an EPS inner shell. Its elaborate and eye-catching construction is impact resistant on the outside, while the inside protects effectively against impact as well as cold weather. If you do find yourself heating up thanks to some intense skiing sessions, simply adjust the numerous vent covers to increase cool airflow.
The striking lasergold lite visor's mirror finish protects against infrared rays and reduces glare, as well as boasting a supravision® anti-fog coating to keep great visibility no matter the conditions.
uvex's Chrome coating really makes this helmet stand out, perfectly matching the litemirror visor lens. While this helmet is definitely not for someone who doesn't like all eyes on them, it's a great choice for the more fashion forward skiers amongst us!
With six aeration holes producing good ventilation, thick ears. and a reverse anti-cold bar at the front, this Wed'ze helmet will keep you warm and comfortable all day on the slopes. We all know how important ventilation is for a helmet as the last thing you want are steamed up goggles. However we also all want to keep our heads as warm as possible while out in snowy conditions, so we very much approve of this Wed'ze design that strikes a balance between the two.
When it comes to protecting your precious noggin, some people do avoid the cheaper helmets as they feel they may offer less protection. However, this helmet complies with standard 1077-B and has an ABS outer shell for even greater strength, meaning it definitely does not compromise on safety.
For only £34.99, you really can't go wrong with this Wed'ze helmet and personally, we love this in the blue colour that is definitely on trend at the moment. Wed'ze also have some great ski helmets for kids in a huge variety of colours, from only £9.99. Added bonus – the inner foam is easily removable and machine washable!
And specifically for the ladies….
For any ladies after a really fashionable ski helmet, Sawako Snow are definitely worth a look. A globally recognised name when it comes to stylish cycling helmets, Sawako have this year broadened their range to include a line of super fashionable helmets for the snow.

In 2006, architect turned helmet designer, Sawako Furuno, set out on a mission to make an active lifestyle accessible to fashionable women, bridging the gap between luxury, utility, sport and safety. Her ski helmets certainly succeed in this respect.
The patterns are borrowed from her best-selling cycling designs, with additional features like goggle strap, air vents, warm inner padding and a chin guard to ensure the fit is as comfortable as it is sophisticated. Most importantly though, these new helmets comply with European safety standard CE EN1077 and American ASTM F2040, which makes them safe for all winter sports. For someone looking to stay secure yet really make a statement on the slopes, you can't go wrong with a Sawako Snow helmet.
A stable name at the forefront of fashionable women's snow apparel, wherever there is snow, you are bound to see a Roxy helmet or ten. Fashionable and fun, with enough protection, these helmets are always a hit. Our pick for this year is the Avery helmet, with a slight peak that will be a great help in heavier snow while keeping your mountain style stakes high.
The Neon Grapefruit Cloud Nine design will definitely be a hit with anyone who loves ski gear with that added bit of fun and energy, with an added bonus that you'll also be easily spotted on the slopes thanks to the bright colours!
When it comes to safety, Roxy don't hold back. The Roxy Avery helmet has a double micro shell with super light in-mould helmet construction, as well as EPS shock absorber foam. Front and top shell passive ventilation keeps a good air flow throughout the helmet, while mesh and fleece lining keeps your head warm and comfortable.
Meanwhile, soft and thermo-formed ear pads with sherpa fabric will ensure your ears maintain maximum warmth. These ear pads are also removable so that you have a good amount of flexibility when it comes to how you like to wear your helmet.
Best Ski Helmets Throughout the Years
Now we all know that ski helmets have had a few interesting designs throughout the years, so we'll leave you with a collection of our personal favourites.
Check out our post on further protection for skiers here.