After two weeks of living in Crans-Montana, I unconsciously consider it a micro-city. The Swiss Government classifies it as a 'commune', and with only 10,447 year-round inhabitants it isn't exactly Bern. Yet its structure, sentiments, and grandeur are more metropolitan than any Alpine town I've visited.
This is not a drawback; indeed, it's to the commune's advantage. Given its economic reliance on the service and entertainment industries, the place has everything both a tourist and resident could need or want. Luxury  boutiques and jewellers; sports centres and ski slopes; cuisines both local and exotic; alongside all the working features of a town. There are five sizeable supermarkets, a hospital, and row upon row of hotels, chalets, and apartments.
My first impression of Crans-Montana was that of a great seaside boardwalk. From 1,495m up, I could see right across the 30km of vineyards, pine forests and the Rhône to the other side of the valley. The mountains here have a constant presence, peering at you over chimney-tops and through narrow, snow-lined alleyways. As you step off the funicular (a 12-minute, comfortable ride from neighbouring Sierre) you feel the height as well as the Alpine cold: not a damp weight as in the lowlands, but a light, uplifting euphoria.
I say this as a Scot who for many years has not seen a white December. Conversely, Crans-Montana was a whiteout on the 9th: a foot of powder blowing like flour from the sky. Typically the snows reach their peak in January making this blizzard premature, but for skiers and boarders the slopes have much to offer winter-round. I only had the chance to ski once and at the very start of the season, but the pistes were sublime. Even with only a fraction open there was great variety in easiness and terrain. Furthermore, the multiple access points throughout the resort and free, regular bus services from end-to-end took much of the brunt out of lugging heavy equipment.
Sadly, my ski career ended of frugality; I do not own skis, nor a season pass. Until I earn my first paycheque here, I will remain at the lifts' bottom and on the commune's streets. This is not a problem however: the pavements are like most things in Switzerland clean and well-arranged, and I am an avid road runner.
Moreover, exploring Crans-Montana on foot is the best way to know the place through a subjective lens. Jogging along plazas and promenades, I marvelled at the number of lakes here (including the iconic Étang Grenon), and the stark contrast of pastel public service buildings beside grand wooden holiday homes. The town is built on many tiers and a zig-zag pattern. Every structure has a balcony and French windows.
This is with good reason: the view is the best part of waking up.
This is true whether rising early, when dawn breaks on the Pennine Alps and the sun's fingers stretch the pale sky to brush the snow-caps with rose; or late morning, when the southern peaks shine golden in their full and seismic glory. As I walk to work here before first light, I always take a moment to stop before entering my workplace and look out to that great, terrifying beauty. When everything is still in this Alpine resort, bustling by day every day of the week, one can't help wondering whether it's the mountains casting their spell.
Knowing the idiosyncrasies of Crans-Montana takes time, and is unlikely to occur in a week's holiday. Many of them are peculiar to Swiss culture at large, striking me as a Scottish man on the continent. Of course, the town has fondues, patisseries, and Valais wine—each of which are deservedly the tourist's favourite.
However, there are many smaller things I've come to love about Crans-Montana (and again, Swiss culture at large). The lack of global chains—be they fast food or other—is as refreshing as the Alpine air. Recycling, though complicated, is practiced religiously, and litter is non-existent. Cars (of which Porsches, Teslas, and Audis are the standard) almost always stop for pedestrians. The line between café and pub is blurred, meaning one can down an expresso[1] while their friend shots vodka.
Other things are more alienating, and came as a slight shock. Stout is non-existent, as is soy milk in coffee shops (difficult for myself as a vegan). Businesses close for two hours at lunch and supermarkets at seven o'clock—a blessing and a curse, depending on a person's situation. As well as this, many ingredients common in Britain are hard pressed here; in particular the spices we enjoyed plundering in the 18th and 19th Centuries[2].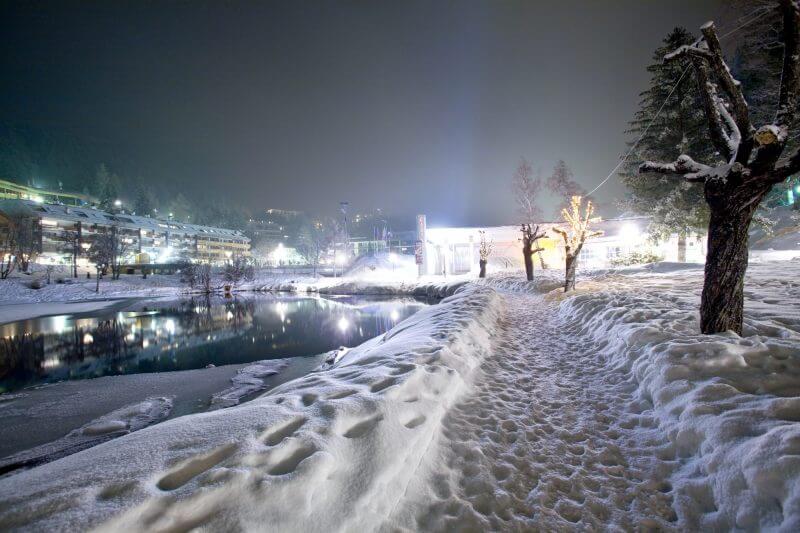 Yet one thing remains the same about life in the resort, as to my little village back home: that is the people. Regardless of language, religion, and folk culture, the people of Crans-Montana are people of the world. They're kind and flawed, welcoming and rightfully proud. They're ordinary, and wonderful.
I can always get a conversation in a bar and the people I meet are bound to be interesting. Despite its small size and relative rusticity, Crans-Montana attracts visitors from around the world. Last night I spoke to a French-Canadian computer scientist, a Brazilian globetrotter, and an Italian neurosurgeon studying at Harvard. I work with a Portuguese chicken farmer and a Latvian comedian, in a hotel offering Japanese cuisine. Although I came here for my French, I hear English in a new accent each day.
If you can ski in Crans-Montana you should. If you can't, you should come anyway. Life in the Swiss Alps is slower but more precise. It's more expensive but worth the price. Crans-Montana may be one of many ski resorts, but it is unique in its status as a living, breathing place. People live here; Nature works here. In contrast to the thousands of destinations defined by their tourists, Crans-Montana has a separate identity: a pervading charm, as old as the mountains themselves.
I may only be here for the winter, but that charm will stick with me forever. With luck, it will stick with you too.

[1] The heretical Swiss-French equivalent of the rightful espresso
[2] That being said, Crans' only Indian (Le Darshana) is fantastic, especially for non-meat eaters