For those in the know, you will have noticed that our new TV show, The White Out was released last month, with essential news, info and features from across the world of snow sports.
Within the first episode, our Buyer's Guide experts discuss the importance of ski goggles, an essential item in every skier's kit. From the elements you should consider when buying your next pair of ski goggles, to the newest and most innovative technologies on the market for the coming season, we've got all your goggle bases covered.
However, whether it's Oakley's new 3-in-1 lens or Smith Optics' 25% more vision , this new technology does come at a price. For those that will be skiing only once a year, you might be better off looking for more affordable, budget ski goggles – unless, of course, you're a stickler for the latest tech!
Online retailer SportPursuit offer a huge selection of ski gear at discounted prices, so if you're looking for a fantastic pair of goggles for the most affordable price, we've rounded up our top picks below.
Equipped with Smith's legendary Chromapop lenses, the Vice goggle features a semi-rimless design and over-sized spherical lens to give you the maximum in peripheral vision. At just £69.99, these goggles are a total steal for skiers looking for high performance at a very decent price.
Indeed, you're certainly not missing out on any of the high-end lens tech with this goggle. Smith's ChromaPop Photochromic Rose Flash lens is one of the best on the market for medium to bright conditions, with exceptional optical clarity.
A Porex™ filter prevents optical distortion elevation changes, while Fog-X anti-fog coating ensures that you don't get any of that pesky misting up that can so easily ruin a day on the slopes.
This goggle also fits really nicely with most helmets – the low profile outriggers keeping this integration smooth and the wide silicone backed strap and easy adjustment system ensuring that the goggle will not slip off. A great pick for style-savvy skiers that want high quality tech at a very decent price.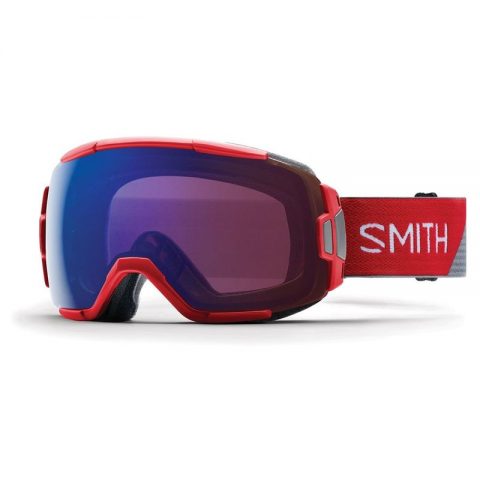 One of our favourite goggle brands out there at the moment, Dragon always know how to combine style and substance to create a fantastic product.
Being an OTG (over the glasses) goggle, the Dragon D3 is a perfect choice for skiers who may prefer to wear their glasses while skiing. While some skiers choose to opt for contact lenses or prescription goggles, others would rather just find a decent goggle that fits perfectly over their glasses for optimal comfort and clarity. This is where the D3 excels.
Its triple foam hypoallergenic micro fleece lining fits beautifully onto the face without discomfort from your glasses arms.
This goggle features an optically correct 6 base injected spherical lens and like Smith's Chromapop, Dragon's Lumalens technology gives fantastic clarity and really allows you to make the most of the slopes. The lens itself also boasts 200% super anti fog and 100% UV protection, so your eyes are totally safe from the bright conditions and the possibility of fog misting up.
The black polarised option offered here is perfect for bright days and the minimalist design will suit any ski outfit.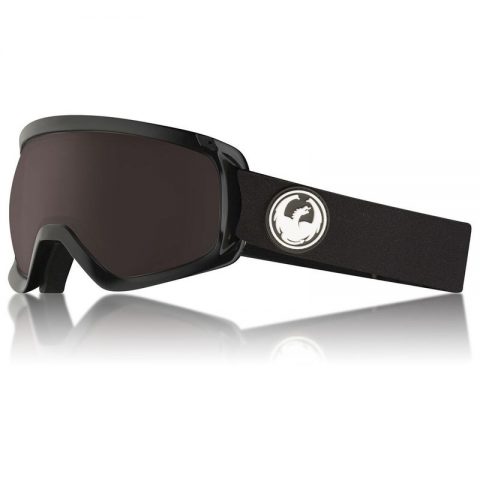 Famous for their fearless spirit, the Red Bull brand has become a juggernaut in the world of adventure sports, skiing and snowboarding notwithstanding. This goggle from Red Bull Spect is not only one of the best-looking goggles out there, but is jam packed with technical add-ons and comes with an additional second lens, all for the price of £64.99!
The large spherical lens offers exceptional peripheral vision, with triple layer face foam to increase comfort on your face. The polycarbonate outer lens provides anti-scratch and UV protection, while the inner lens features anti-fog treatment, which combined with the Red Bull branded ventilation system, ensure unhindered vision at all times.
What's more, this goggle has an impressively quick and easy lens change system thanks to a number of incredibly strong magnets (Magnetron – get it?) on the lens. With two lenses included, one for brighter days and one for days of lower visibility, you know that you are well prepared for whatever conditions the mountain throws your way!
These goggles are also OTG compatible, an added bonus!
If it's serious value for money you're after, you can't go wrong with the POC Cornea goggle. This is a brand with a true heritage of skiing and has been a steadfast contender on the snow sports racing scene for many years. With POC, you know you are getting a quality product and the Cornea goggle is no different, offering unparalleled vision and comfort for a staggering £49.99.
The cylindrical lens has been treated with Ripel D Hydrophobic and oleophobic treatment to ensure optimal vision, with an anti-scratch and anti-fog treatment.
Meanwhile, the triple layer foam makes the goggle fit comfortably on your face and a silicone grip on the strap ensures a good fit with your helmet.
If you're looking for a highly reliable product for a low budget price, the POC Cornea may be just the ticket.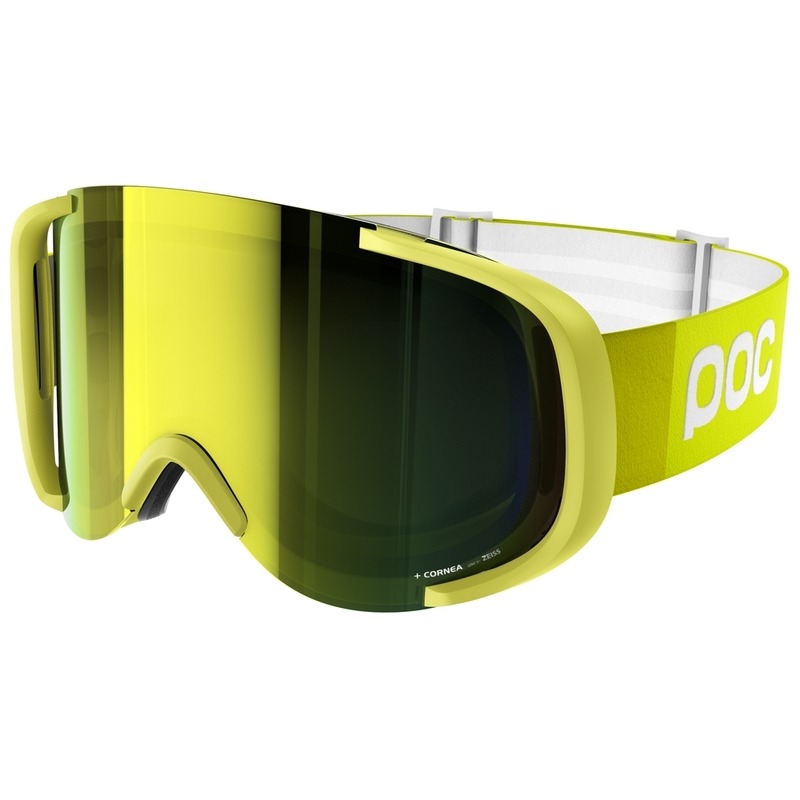 If you want to make sure you're at the forefront of slope-side fashion, these unisex goggles from Sinner are a seriously good choice for under £60.
These goggles have a frame of only 2mm in width, which offers an impressive field of view.
The vented double mirror lens is perfect for bright and sunny conditions, blocking the harmful UV rays of the sun with 100% UVA / UVB / UVC protection. Like any good goggle, the Sinner Olympia also benefits from an anti-fog coating.
An adjustable, anti-slip strap and an outrigger system allow a perfect fit to your head, whether you prefer to wear your goggles inside or outside your helmet.