What do you want from the ski resort you choose to visit? Great snow conditions are the top priority for almost all of us, of course. But in terms of things we can control, from the way travel companies and the resorts themselves market ski destinations, the priorities appear to be ever more comfortable accommodation and ever more things to do besides skiing.
The problem, for some, is that some ski areas are now so choc full of of comfortable slopeside accommodation and have so many shops and restaurants and other things to do than the actual skiing is almost getting sidelined.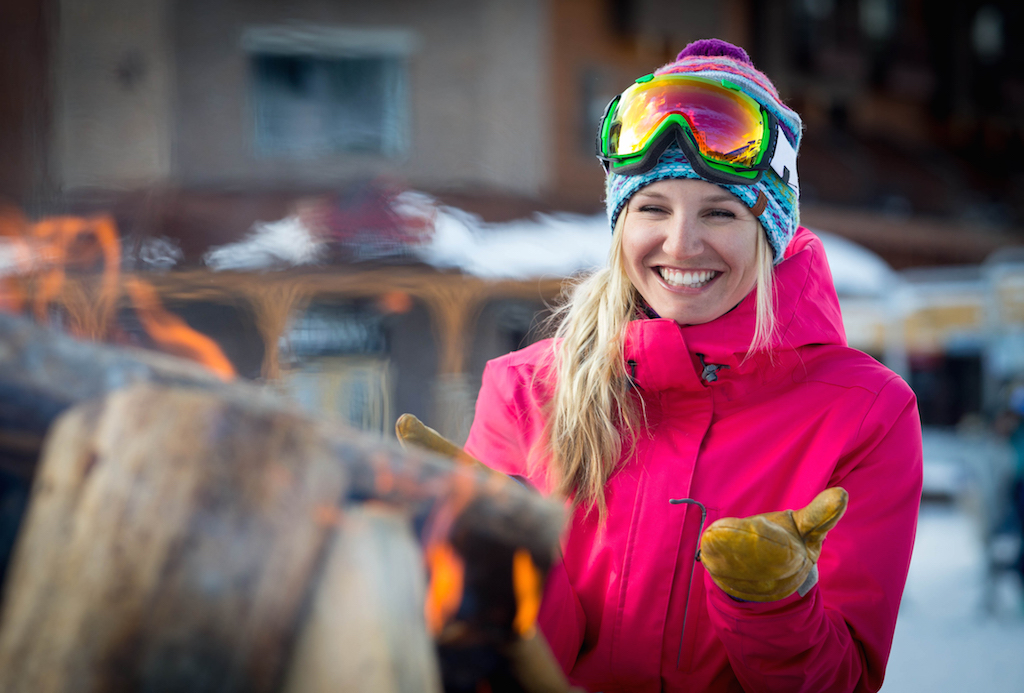 In other destinations, if you arrive in a busy week the scenario is a lot like the reality behind the TV car ads. You watch a sleek car whizzing along empty roads in the countryside in the dreamy advertisements, but the reality for most people is bumper-to-bumper traffic in some urban metropolis.
You just watch videos of great skiers bouncing through neck-deep powder on a big screen in the ski bar of the resort you're in, but the next day spend your time standing in lift queues or battling for space to turn on the piste.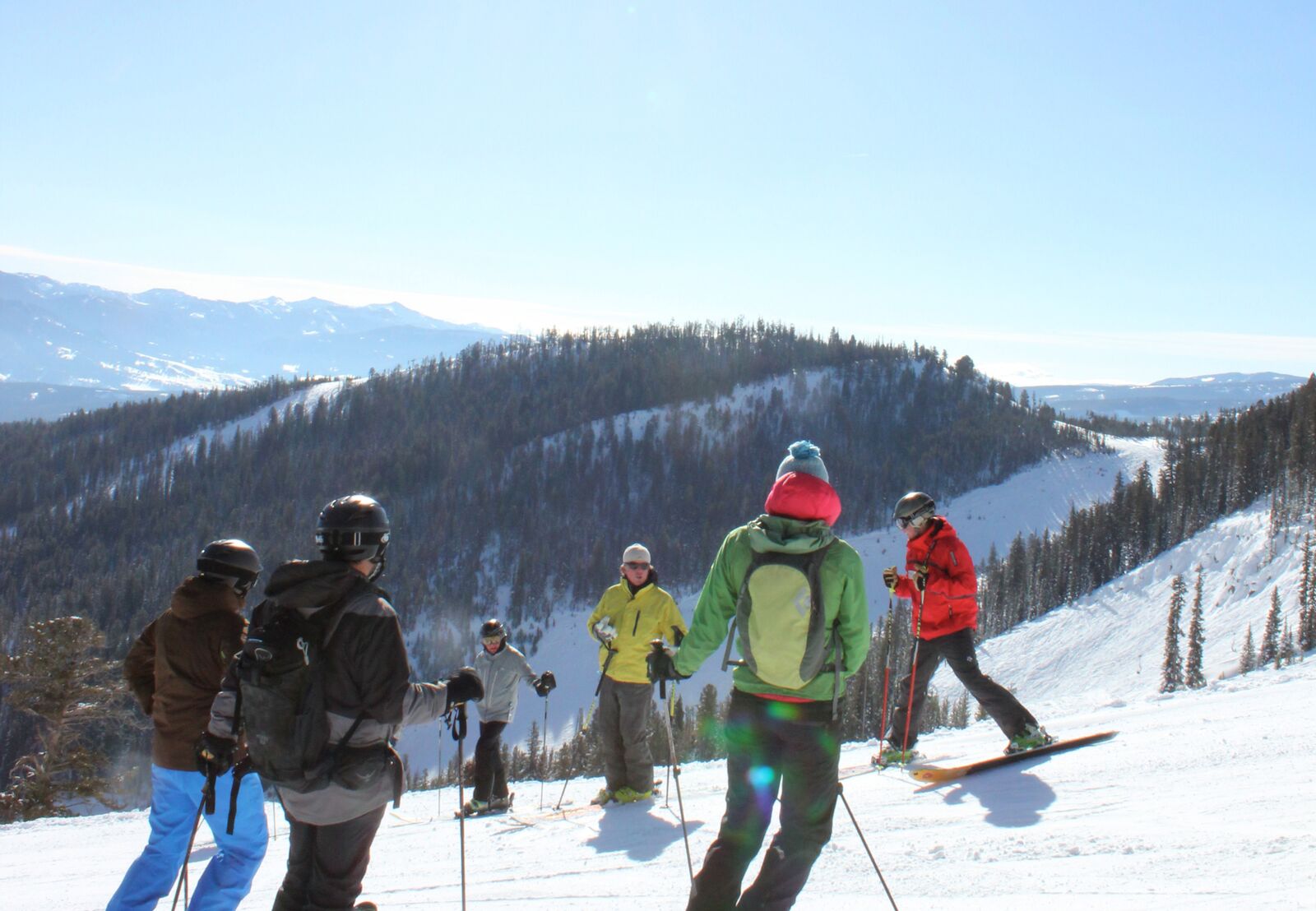 So, after 35 years on the slopes and several hundred resorts visited, including virtually all of the famous name centres, I tend to find I most often enjoy skiing the smaller places few other people bother with, where I get the slopes to myself and quickly get to know the lift staff in the day time and bar staff in the evening.
Don't get me wrong, there are very few ski areas I haven't liked (and I'll not name those on the list), but I know now what I really like and on a road trip in the Western USA last Easter I finally landed on a real gem: Big Sky in Montana.
I'd known about Big Sky for a long time and I'd only ever heard good things. These were its key attractions for me:
At one point it had built an intriguingly small new cable car to open up what was, for a few years, the biggest lift-served vertical in the USA.
It claimed there were so few skiers on those extensive slopes that you could ski for miles and not really see anyone and there was the lowest skier density per acre than any other major North American resort. How's your maths? There's an average of 3,000 skiers per day and the lift capacity is nearly 40,000 skiers per hour. Clearly, skiing in the USA has a lot going for it.
At one point it was one of three adjoining ski areas (a rare scenario in the USA, where few ski areas border others) and if you added the terrain of all three together it was bigger than any other ski area in North America – so, top five in the world. Big Sky actually bought out one of those three areas (Moonlight Basin) and absorbed its terrain to create the biggest ski area in the USA – for one season – until Vail Resorts merged Park City and Canyons ski areas in Utah to the south to take the "biggest" title.
BUT the other one of those three areas was a private ski resort, the Yellowstone Club, where you had to be at least a multi-millionaire to own a property, so only the super rich and their pals could ski it all (not great, but a fascinating scenario nonetheless).
The scenery was said to be unusually spectacular for the USA – with mountains more like the pointier bits of the Alps.
One of Britain's greatest skiers, Martin Bell, and his family had made their home here for many years.
Friends I respected who had visited said I'd love it.
Sometimes when I visit a resort I've had on my bucket list for decades but have not previously visited, the reality is underwhelming, but as I drove up from Salt Lake City (now served by a direct Delta flight from Heathrow) the signs were increasingly good.
The wide, straight interstate got progressively quieter and the mountains ever more impressive. The speed limit sign suddenly said 80mph (approximately 129kph) which I had not realised was allowed anywhere in the USA, and then, as I drove up the side of Yellowstone National Park, a sign said "Warning, Buffalo Crossing" and there were a few dozen of the huge animals grazing by the roadside. Wow!
Nearing the turn-off up to Big Sky resort there was a stylish building with a sign reading "The Warren Miller Performing Arts Center". I hadn't known before, but the great ski film-making icon spends half his year living here.
Thankfully, when I finally arrived Big Sky didn't disappoint in any way. The opposite was true – it just kept getting better.
The resort base is relatively compact, with everything within a few hundred metres of wherever you're staying. The main building is the historic Huntley Lodge, a sprawling mammoth where a convention of medical specialists was underway when I was in town. But there are still more comfortable condominium complexes and comfortable hotels to choose from, all just steps from the slopes. There are a few dozen shops, bars and restaurants too, with a nice eclectic, quirky feel to many of them.
The slopes and the scenery exceeded expectations. Although Park City may have taken that "biggest in the USA" title, Big Sky Mountain still feels much bigger (I skied both on the trip), perhaps because of all that space all around and the lack of any encroaching urban sprawl.
I spent my days enjoying those famously endless slopes, trying everything from steep and deep powder terrain to long cruisers. One took me past the borderline with Yellowstone where I could gawk across at some vast slopeside mansions.
A few miles down the road from the main slopeside base village there's a rapidly growing community where another few dozen quirky, locally run shops and restaurants have appeared, along with added facilities like a cinema and supermarket. It was down here that the "Yellowstone effect" was visible, as what at first appeared to be your regular small ski area grocery shop turned out to have a drinks selection Harrods would be proud of, with $1,000 bottles of rare wines and plenty of vintage Krug champagne.
But this being Big Sky nobody batted an eyelid whether you splashed the cash on a pricy bottle like that or just picked up a six-pack of Bud.
Since my visit the owners of Big Sky have announced a huge, $150 million, 10-year spending plan, Big Sky 2025 (bigsky2025.com), which will see almost all of the lifts replaced with new, faster models (two are being upgraded for this winter), improvements to the resort base and the resort re-taking the title of "biggest lift-served vertical in the US".
Hopefully all this won't make Big Sky too popular: I do love those empty slopes.
Big Sky
Open 24 November 2016 – 16 April 2017
10 metres average annual snowfall
5,800 acres of terrain
300+ named ski runs
32 lifts, mostly chairs
Package holidays
kuoni.co.uk/ski-holidays/usa/big-sky
Enregistrer