Over the first weekend of February 2023,
Arc'teryx Freeride Academy
returned to St Anton following a successful pilot event.
Part freeride school, part kit-testing weekend and mountain film festival, the multifaceted event connects riders of all levels to a community where they can expand their skillset. This year the Academy broadened its offering with a wider range of educational on-snow sessions or 'clinics' alongside world-class freeriders Eric "Hoji" Hjorleifson, Silvia Moser, Sam Kuch and Maude Besse. The freeride village in the centre of St Anton created a social hub and meeting point for the riders, offering food, drinks and a place to share stories after each day on the mountain.
On-snow clinics
The program of 40 clinics included freeriding, touring, safety and ski mountaineering, with sessions such as Big Mountain Freeride, Ski Touring Arlberg Style and Women's Freeride. The range of options ensured that participants of all levels found what they needed to take their riding up a notch. On Saturday 4th February the Arlberg region was pounded with snow and 35cm fell overnight. This was good news in terms of fresh pow but bad news for avalanche risk which was ramped up to level 4.
So what were the sessions like?
This course was about preparing and adapting on-piste skiing style for ungroomed terrain.
Firstly our guide established that everyone had their safety equipment including a transceiver, shovel and probe. He challenged us to remove and assemble all our equipment from our backpacks before switching our transceivers to search and hunt for a hidden device in the snow. A safety demo is a good way to start that day because it reminds the group of the inherent dangers of skiing off-piste and tests everyone's abilities.
Next, we did a couple of piste runs to assess the levels and split into groups. Safe and controlled skiing on black pistes was a prerequisite for the course and we skied some hard-packed, steep off-piste sections before traversing towards deeper powder. At this point, the guide shared some pointers on how to ski in deep snow: legs together and body in the fall line.
We spent the rest of the day tackling various types of off-piste terrain, doing our best to navigate everything the mountain could throw at us. Thanks to a fresh dump the night before, we could try our hand at proper powder. Being off-piste beginners, we all fell over plenty but that was all part of the fun. Helmets were regularly caked in snow after tumbles, but overall it was a day of big smiles and progression. This course is designed to introduce skiers to powder skiing and build confidence on varied terrain – it certainly ticked those boxes.
This was the course I was most looking forward to because I was keen to see what difference a female-only session would make to the overall group dynamic. Our guide, Martina, explained that based on the avalanche warning being at level 4, we would take it easy and exercise caution. We began by assessing the ability of skiers on piste before splitting into two groups. The other two clinics I participated in were groups of ten+ with guides at the front and back, so a smaller group was a welcome change. Not only was it easier to talk to the guide, it meant more personal attention with regard to technique and less waiting around for others.
Talking about the clinic, Arc'teryx athlete Silvia Moser said:
"Women like to understand more, ask questions and be together for the vibe: the feeling of sisterhood. It's good to see other women riding and feel safe and protected together in that environment."
Even though the sun blazed over the Arlberg region that morning, it was very, very cold so the balaclavas were pulled right up with toes wiggling on the chairlifts to avoid freezing solid. We headed straight off-piste into some steep terrain which was pretty tracked out from the days before. The sudden heavy snowfall on Saturday combined with strong winds had created instability in the snow layers which merited the high avalanche warning of 4.
To set our minds at ease, Martina explained how to ski each face before we tackled it and what terrain to expect. We followed the ski route 'Filmrinne' on the Galzig side over to Stuben and took the gondola up to Albona. From there we then took a long off-piste itinerary called Milchboden (milky grounds) where we tackled snow with a hard crust from the sun, crossed a bridge and navigated a long, winding forest trail down the Verwall valley. After fuelling up with some knudeln at the Wagner Hut, we hopped on the bus and took the gondola to Rendl where we followed an off-piste itinerary on the North face back to the bottom of the valley in St Anton. We channelled our inner mountain goats during that descent which took us through thick forest; traversing, side-slipping and shimmying down hard-packed slopes peppered with bushes and rocks. It was an all-mountain type of day!
First-time participant Jenny Dong said:
"Even when some of us were self-conscious, I think we recognised it in each other and we would soothe one another with encouragement. I felt like I could ski without hindrance, I didn't feel like I was being judged… just enjoying the mountain and snow, safely. It was really cathartic."
Having skied in mixed groups for two days, I noticed that the participants were much more forthcoming with their concerns and fears in the smaller women's group. There was a readiness to say: I don't know how to do this, I'm not sure if I can manage, I'm feeling a bit chicken. But then everyone would go ahead and nail the run. In larger, mixed groups perhaps people don't want to hold up the group or expose weakness for fear of judgment. It was refreshing to be surrounded by women simultaneously pushing themselves whilst being completely honest and transparent about their abilities. There was no competition, no ego and no fear of asking silly questions. Frankly, it's amazing what can happen when you take testosterone out of the picture.
Mountain guide Martina added:
"Groups with only men tend to be more competitive and make fun of each other. Women's groups never do that, they help each other and tell each other they do well."
This clinic gave an insight into the world of earning turns. With everyone being relatively new to touring equipment, it was necessary to first familiarise ourselves with touring bindings. It was avalanche risk level four, so we started with a transceiver demonstration and equipment check. We then spent some time skiing off-piste sections to reach the slope we would tour up, where we stopped to attach our skins. Being rookies using mostly rented equipment, it took us some time to get ready but eventually we headed uphill in the skin tracks made by the leading guide. We were told to move in a sliding motion rather than stepping, keeping ten metres apart.
We were lucky to bask in sun during the ascent, taking in the stunning views of the valley below. We passed an area of unstable snowpack which had recently resulted in a small slide, and a rescue helicopter in the distance reminded us of the importance of remaining vigilant in exposed terrain. At the top, we were taught kick turns (although this would have been useful at the start) and packed away our skins for the descent. Thanks to the recent snowfall, we enjoyed a few powder turns and plenty of freeriding on the way down.
This year the Arc'teryx Freeride Academy offered a bigger all-round experience for participants, aiming to cement its place in the St. Anton community and freeride calendars. With the popularity of freeriding on the rise, it's easy to see why riders keep coming back for more. Stay tuned for 2024…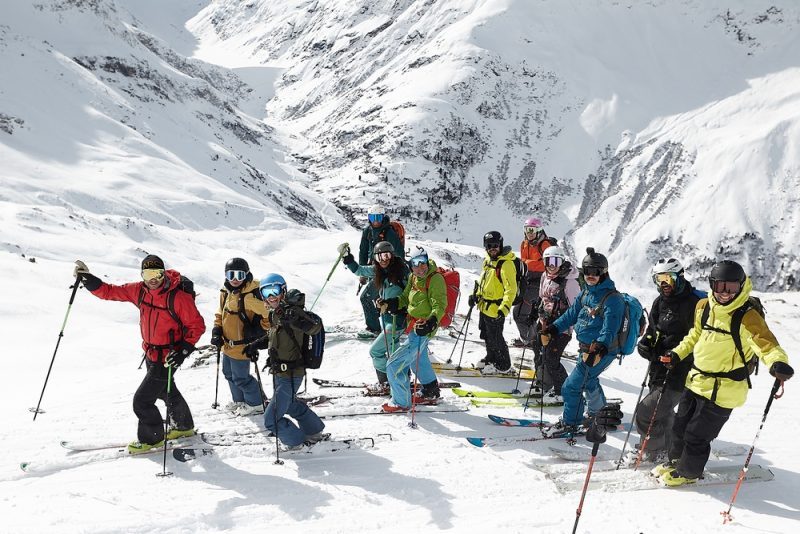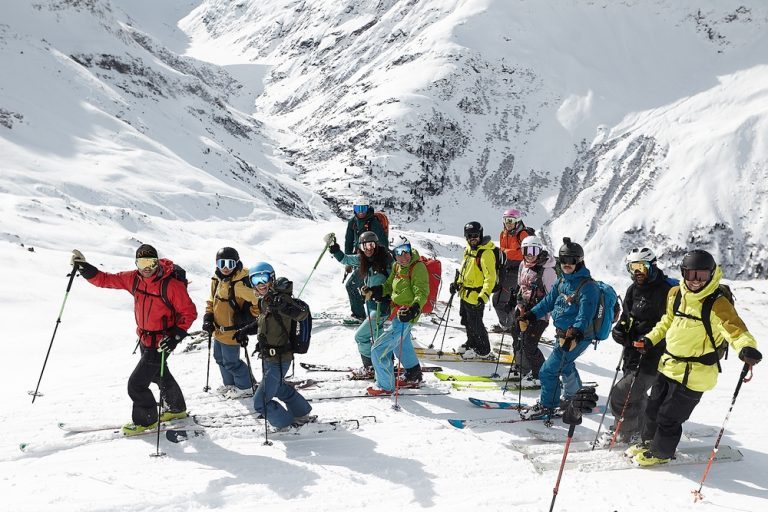 We have a regular Podcast called The White Out where we review the latest gear, talk about the latest snow forecast and updates on where is best to ski now, as well interviews with absolute ski legends AND we spotlight a resort every week and so much more. You can check out our regular podcast here Apple | Spotify | Podcasts or search The White Out on your chosen podcast directory.