Doppelmayr, the world's leading ski lift manufacturer has unveiled a new kind of lift we'll all be riding in the years to come. The first one is currently being built in Switzerland.
Doppelmayr's new TRI-Line, "pushes all the limits of modern ropeway technology (and) heralds the next ropeway age," a company spokesperson enthused.
Essentially TRI-Line combines the benefits of two of the company's recent advances. First the proven D-Line system which providers a much smoother ascent and reliable operation than previous lifts and second the tricable (3S) system which uses three support cables to provide a more stable uplift carrying more people in each cabin.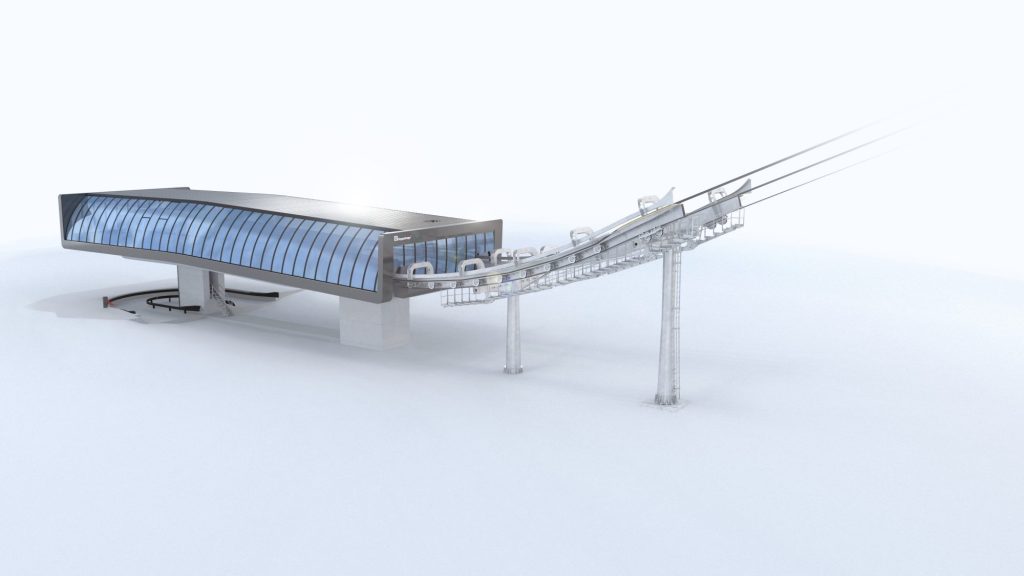 Combining the two mean TRI-Line lifts will offer spacious cabins for up to 20 people in a newly developed carriage and have a huge transport capacity of up to 8,000 skiers per hour.
"The TRI-Line is a detachable continuous-movement system and a compact further development based on two proven ropeway systems. It combines the benefits of the D-Line with those of the high-capacity 3S system," explains Peter Luger, who heads development of the TRI-Line at Doppelmayr in Austria.
Among the other advantages Doppelmayr list a smaller footprint for stations and easier, faster construction and low maintenance requirements.
Cabins seat 12 with a further eight standing places and are designed to be entirely barrier-free with level walk-in and exit and electrically operated doors on both sides. The lift can also work with Doppelmayr's recently unveiled autonomous operating system which allows remote operation of lift stations.
"Having doors on both sides of the cabins means that passenger flows can be optimally organized in the stations. This enables the impressive transport capacity of up to 8,000 passengers per hour and direction – a new benchmark in the ski lift industry," Doppelmayr say.
The first TRI-Line in the world is under construction in the Swiss ski resort of Hoch-Ybrig where it will replace a 55-year-old cable car.
The company believes the new lift will be popular for the rapidly growing urban transportation market as well where its speed, capacity and small station foot print will all be popular.