The 2018 Winter Olympics are here in South Korea.  It's that time, once every four years, when we become obsessively interested in winter sports we perhaps don't watch quite so much the rest of the time, along with those we do.
Although some winter sports come and go (they didn't even have downhill skiing events at the first few games), the 22 previous Winter Games are still home to many of the ski slopes, jumps, bobsleigh runs, ice rinks, super pipes and terrain parks that were used at their Olympics, and most are open to the public, often with lessons available in whichever discipline you fancy.
Here are some of your options: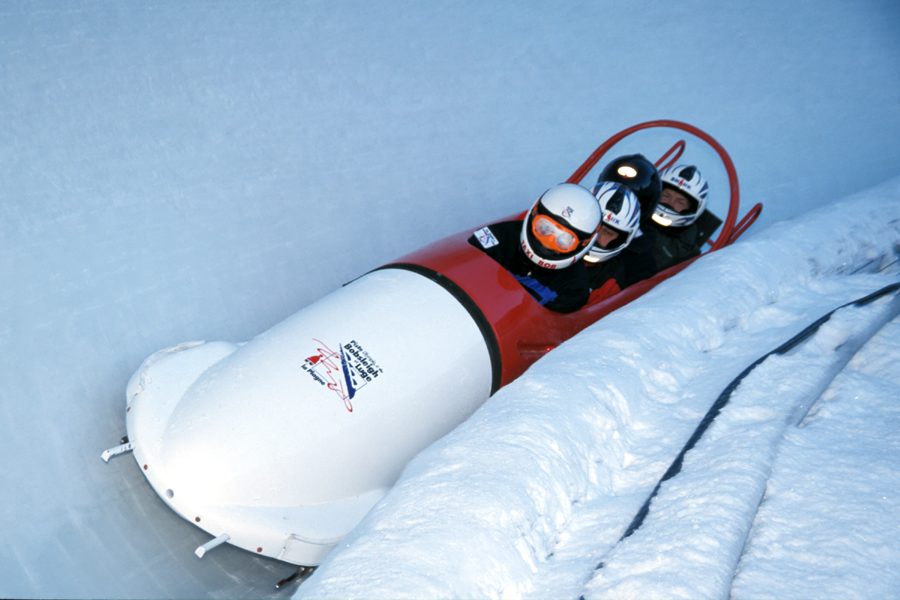 Bobsleigh:  La Plagne, France (As Used in the 1992 Winter Olympics)
La Plagne maintains the only bobsleigh run in France and it's the one where ice sliding events were staged at the Albertville Olympics in 1992.
There are plenty of different options for first-timers to descend the course.  These include a 'self-guiding taxi-bob' and the chance to take a 'taxi bob' – riding down in a proper bobsleigh behind a  professional bobsledder.  Sometimes the option to descend with a former Olympian steering is an option.
Biathlon:  Whistler, BC, Canada (As Used in the 2010 Winter Olympics)
Ski fast and shoot straight to test your biathlon multi-tasking skills of cross-country skiing and marksmanship—there are even biathlon classes priced from £49 per person for beginners at Whistler Olympic Park. Or simply enjoy cross-country skiing on nearly 90 kilometres (56 miles) of trails from £15 per person.
After a long await, it's time to reveal what #biathlon4newbies is! (Sub titles in ENG, GER and RUS!)To help new viewers of the sport and to entertain the fans, IBU tv gathered many familiar faces in the attempt to explain biathlon, but with a different twist: to show it to newbies, a newbie tried the sport, while the athletes, busy in all sort of jobs around an event, presented the rules or starred in unexpected cameos. Can you spot your favourite ones?Thanks to all who helped for this great project, including Susan Dunklee, Baiba Bendika, Simon Eder, Eva Puskarčíková, Dorothea Wierer, Darya Domracheva, Erik Lesser (Offizielle Fanpage), Scott Dixon Biathlete, Alexis Boeuf, Kaisa Mäkäräinen, Ole Einar Bjørndalen, Anastasia Kuzmina, Rosanna Crawford, Biathlete, Lisa Hauser, Michael "Ebs" Rösch, Martin Fourcade, Elisa Gasparin, Windisch Dominik, Johannes Thingnes Bø / Boe and all the others!

Posted by Biathlonworld on Friday, 2 February 2018
Speed Skating: Lillehammer, Norway (As Used in the 1994 Winter Olympics)
The Vikingskipet ("The Viking Ship"), officially known as Hamar Olympic Hall, built for the 1994 Games, still hosts speed skating.  A day pass costs about £10 and you may run in to, hopefully not literally, the Norwegian skating team who also put in several training sessions here.

Half Pipe: Park City, Utah, USA (As Used in the 2002 Winter Olympics)
Back in the 1990s as Utah were planning to host the Salt Lake City Olympics in 2002 it was noticed that most ski areas around Park City banned snowboarding – awkward!  Park City quickly decided to lift it's ban and went so pro-boarding in fact it now boasts one of North America's most progressive park and pipe set-ups includes eight terrain parks serving the total spectrum of ability levels and two halfpipes.
The 22′ Eagle Superpipe is the one that played host to the 2002 Winter Games in addition to multiple Grand Prix and Olympic Qualifying events.
Downhill: Innsbruck, Tirol, Austria (As Used in the 1964, 1976 and 2012 Winter Olympics)
Of course the downhill ski runs are still there to be skied at pretty well every Olympic Venue from the past 80 odd years (they didn't have downhill skiing at the first few Olympic Games), but only Innsbruck has hosted three Winter Olympics (If you include the 2012 Youth Winter Olympics) and its Patscherkofel mountain is home to the Men's Olympic slopes (the women raced at Axamer Lizum).  This season the newly installed Patscherkofelbahn 10-seater gondolas transport you up to a newly-built mountain station at 2,248 metres above sea level.
Ski Jumping: Calgary Olympic Park, Alberta, Canada (As Used in the 1988 Winter Olympics)
Eddie 'The Eagle' Edwards will be hosting learn to ski jump holidays in Canada next month, right back at the Winter Olympics venue where he found global fame at the 1988 Winter Olympics, three decades ago.
The holiday, which will include a week's skiing with Eddie at Kicking Horse Mountain Resort along with the opportunity to learn ski jumping at The Calgary Olympic Park this winter, runs from March 10, 2018 and costs £3,295 per person, which includes return flights from London to Calgary, transfers, 7 nights accommodation in a luxury lodge including breakfast, 6 days guided skiing, ski passes and numerous other extras and events thrown in. A day of heliskiing is also available as an optional extra.
"I went to Kicking Horse last winter for the first time and absolutely loved it. I'm looking forward to going back – now I've also got the chance to introduce some more people to ski jumping too. It will be a fun packed week full of some great skiing and good laughs."

Slopestyle: Sochi, Russia (As Used in the 2014 Winter Olympics)
Slopestyle only made its Olympic debut at the last Olympics in Sochi so that's the only place you can try it out on the actual Olympic course, or at least a recreation of it.  The venue to head for is Rosa Khutor and follow the signs for the 'Extreme Park'  Good luck!
Ice Skating:  Lake Placid, New York State, USA (As Used in the 1932 and 1980 Winter Olympics)
You can jump into a time capsule of Olympic history in Lake Placid in the Adirondacks, where the 1932 and 1980 Winter Olympics took place. Amongst the various Olympic sites, the former Olympic village offers plenty of ways to experience the energy of the games this Olympic season.
A special 'Olympic Passport' is available which includes the chance to try skating on the Olympic Skating Oval amongst other attractions.
Freestyle:  Cypress Mountain, Vancouver, BC, Canada (As Used in the 2010 Winter Olympics)
Cypress hosted all the freestyle skiing and snowboarding competitions at the 2010 Winter Olympics—moguls, aerials, ski cross, half-pipe, snowboard cross, slopestyle, and giant parallel slalom—and is open for day, night, and cross-country skiing.
Cross Country Skiing: Pragelato, Italy (As Used in the 2006 Winter Olympics)
The venue for ski jumping and other Nordic sports including cross country skiing at the last Olympics in Western Europe 12 years ago were the little village of Pragelato now linked to the vast Milky Way ski region that straddles the French/Italian border including resorts such as Montgenevre, Sestriere and Sauze d'Oulx.
The ski jumps are unfortunately no longer in use but you can still ski on the Olympic cross country tracks or rather the 'Pista Olimpica di Fondo' as they're known locally.  There are the with ac combined 10 km made up of a 6.2 km loop graded red and a 3.8 km graded yellow.