Switzerland's Crans Montana has taken the traditional Christmas market and invested more than a quarter of a million pounds to take it to a new level with Michelin-starred food stands, a kilometre long magical lantern path, and the biggest big wheel ever erected 1500 metres up on a mountain side (they think) …as well as all the usual Christmas market stands and more.
Christened the Etoile Bella Lui festival, the event has already proved a resounding success, attracting over 3,000 visitors to its opening weekend.
"The passion of the chefs, artisans, entertainers and artists was palpable, and everyone involved played the game to create a truly enchanting atmosphere. I think visitors felt this, and were really able to grasp the magic of winter in the mountains," explained Sébastien Schornoz, president of the event's organising committee.
Around half of the visitors this weekend made a beeline for the chefs' market, where they could enjoy gourmet food paired with a glass of wine for a low set-price. Here chefs and winemakers from 10 local chalets and hotels who together boasted no less than 76 Gault & Millau gourmet points between them provided the food whilst Crans-Montana winemakers served over 4,500 glasses of their fine wines to epicureans at the festival. Much of the wine served came from local vineyards. Along with many tasty meat and cheese dishes, delicious vegan options are available courtesy of the Art de Vivre hotel's stand.
As for the Big Wheel Village, both young and old marvelled at the star attraction, the illuminated 33m big wheel, which carried lots of visitors up to admire the breathtaking views. The big wheel, consisting of 26 pods, and which took two days to erect! Visitors were able to warm up in the cosy dome, around a central fire, savouring delicious homemade mulled wine whilst admiring the entertainment and work displayed by a variety of artisans.
The long-awaited inauguration of the Lantern Path brought fairytale magic to Saturday evening, thanks to the many talented artists, including fire-jugglers, present all along the path. Besides the 150 lanterns on the Jack Nicklaus golf course, 15 lightwork pieces by Eric Barray highlighted a Lantern Path which was longer and even more beautiful than last year, stretching from Lake Etang Long to Lake Moubra in a fairytale walk which can be enjoyed until 22 March 2020.
Inspired by the local tale, The Shepherd and the Bella Lui Star, which sees a shepherd searching for lost sheep in a blizzard have his way to safety illuminated by a magical star, this family walk also leads guests to visit a hamlet, nestled in the heart of natural surroundings, where little ones can share their wishes with the Bella Lui Star, in the symbolic shepherd's chalet from this mountain legend.
"This legend, which is at the same time tender, magical and enjoyable, has caught the imagination of generations of local children. It was a natural evolution for it to take the form of a lantern path last year. The success of the lantern path inspired the enchanting festival that we see today," commented Samuel Bonvin, who is in charge of entertainment/marketing on the organising committee.
For anyone who would like to spend a convivial evening with their family, colleagues or friends, enjoying mulled wine, a Valais platter and raclette they not book their own private evening in a typical mountain chalet in the heart of the lantern village.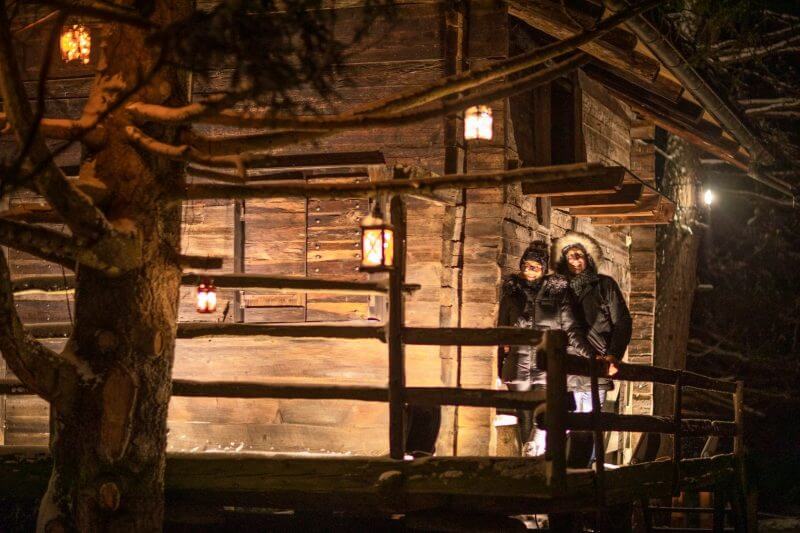 The festival runs until 5 January, 2020 and with the ski slopes already open and receiving more than half-a-metre of fresh snowfall this week alone, makes for a special Christmas/New Year holiday attraction on top of Crans Montana's famous ski slopes.
The free-to-visit festival features 25 or more different entertainers, including lots of shows, concerts, fashion shows, walk-around entertainers and workshops for children although there is only a charge for certain activities, such as the Big Wheel or the workshops.
?Focus Festival Etoile Bella Lui n°3 : Le Marché des Chefs ?‍? Nos meilleurs chefs se sont associés à un encaveur de la région pour vous proposer des suggestions gourmandes, givrées, originales, ou surprenantes, le long de la mythique rue du Prado ? Surprenez vos papilles durant ces 2 week-ends alléchants dans cet espace convivial et gourmand ✨??

Posted by Crans Montana on Friday, 6 December 2019
The chefs' market runs from 16.00 to 20.00 daily, there are fashion shows on Friday and Saturday, gospel concerts on Sunday, and of course the Big Wheel Village between 11.00 and 20.00 daily. The Lantern Path is illuminated from 17.00 to 22.00 daily.
Images ©Louis Dasselborne