Whistler is to be home to Canada's first 'pod' hotel when the new Pangea Pod Hotel, currently under construction at North America's biggest ski area, opens towards the end of next season.
Located in the pedestrian village, the pod hotel, which has been welcomed by the resort's business and civic leaders, is, "Designed for the discerning solo traveller seeking a boutique hotel feel, impressive design and a prime location at an affordable price-point, Pangea is set to fill Whistler's void between hostels and hotels," a promotional document states.
Pangea will feature a series of custom suites housing a total of 88 private sleeping pods. Each boutique pod will be lined in wood contain a memory foam double mattress. They'll also be equipped with individually controlled LED lights, multiple charging points (including USB ports) and an integrated fan for ventilation and white noise. There'll also be a lockable cabinet for valuables, hangers and hooks for clothes, and a storage area for luggage.
"Our unique pod hotel experience will speak to sophisticated, value-conscious guests unwilling to compromise on location, function, and aesthetics," says co-founder Russell Kling. "Currently we are working obsessively to perfect the industrial design of the pods and suites, as well as the interior design of the communal spaces. We are also relentlessly focused on the significant gut renovation to the interior and complete update to the exterior to bring this prime property into the 21st century."
Pangea will have a modular bathroom concept with each bathroom separated into four individually accessed components: shower cubicles, washrooms, vanities, and changing rooms. More than 60 of these bathroom components will be spread among Pangea's suites.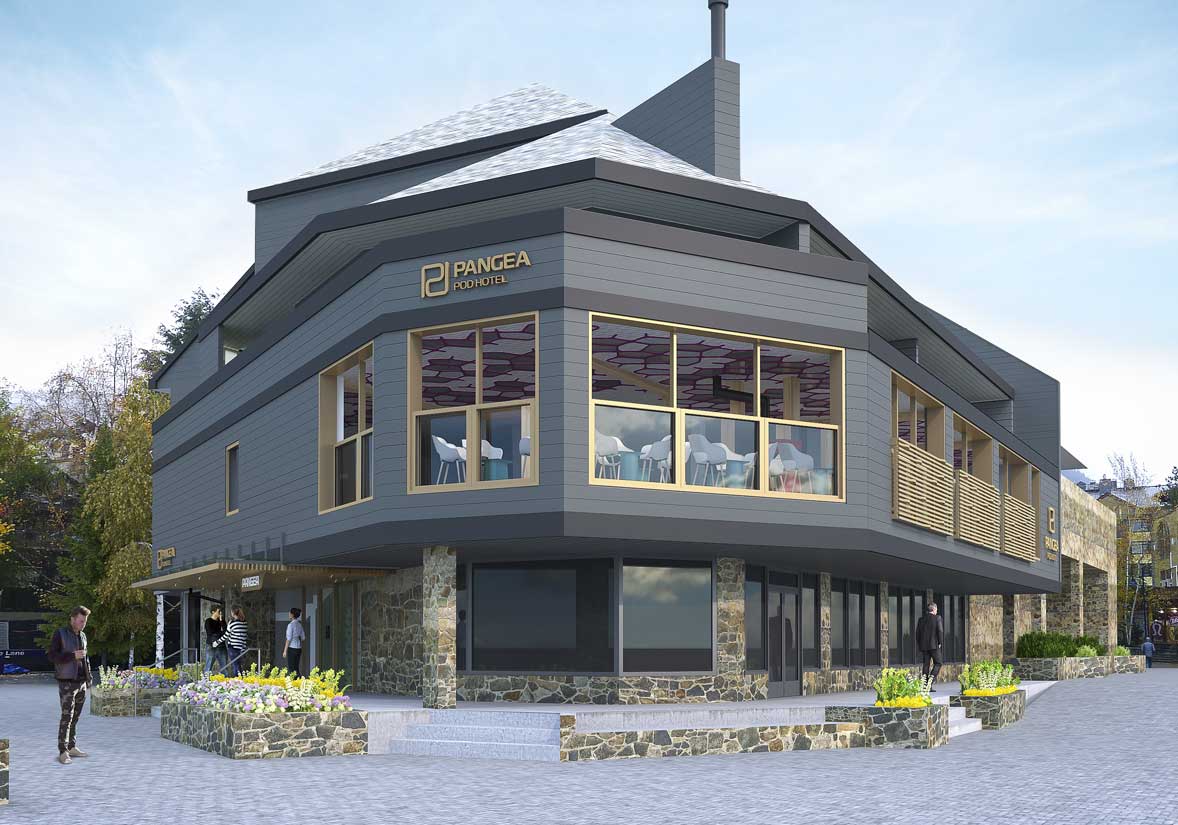 "After travelling the world extensively with my husband, Russell, we knew we had to approach the 'bathroom situation' differently to excite the kinds of travellers we want to attract," says Jelena Kling, Pangea's co-founder. "By creating these four-piece bathrooms and locating them all within the suites themselves, we add a level of privacy and convenience not commonly found in hostels or other capsule hotels."
Pangea's communal spaces will include The Living Room overlooking the Whistler Village Stroll and containing a café and bar and The Patio, a rooftop bar on the third floor.
"Pangea will reinvent accommodation in Whistler for a generation of travellers who expect more for less and want to spend their money on experiences, not on several hundred feet of hotel room space in which they simply sleep," says Russell. "Our guests seek a killer location, brilliant design, a cool vibe and certain key elements of privacy. They have money to spend, but not to waste."
"This is an excellent example of a substantial reinvestment in the Village, something that has been a priority of council, and important in keeping Whistler fresh and competitive," said Whistler Mayor Nancy Wilhelm-Morden.
The hotel is due to open in April 2018, room rates have not yet been announced.