EcoSki, the platform for high quality technical ski apparel from the most sustainable brands, is once again breaking the mould by offering plus-size kit for skiers and snowboarders to rent this winter.
New to hire — or purchase — for the 2023/34 winter season on EcoSki.co.uk is skiwear sized from XXXS to 4XL for women and from XS to 4XL for men. The platform is also stocking a range of kit for skiers and snowboarders who prefer a longer or shorter cut in the leg or arm.
The plus-size skiwear is part of the new range of quality, environmentally responsible clothing for the ski slopes for both men and women available to buy and rent this season for any period of time starting from four days.
"By stocking these much-needed, inclusive sizes in skiwear we are cementing our position as a platform that wants to encourage change across the industry," says EcoSki founder, Rachael Westbrook. "Two in three adults in Britain are larger than the sizes we see on all ski brand models — yet there are limited options available to anyone plus-size, taller or shorter than this for proper, technical ski kit.
"By offering these extensive ranges this winter we are not only changing the way we approach shopping and acquiring/wasting of skiwear but also to be inclusive of everyone. This winter we are stocking plus-size skiwear from Maier Sports and Halti, but haven't found any other larger sizes in other sustainable ski brands — and want to take this opportunity to call on the ski industry to start producing a bigger size range," Rachael added.
EcoSki was founded in January 2020 as a 'one-stop shop' for sustainable ski and snowboard wear, offering a comprehensive online rental service of ski kit from goggles to ski pants.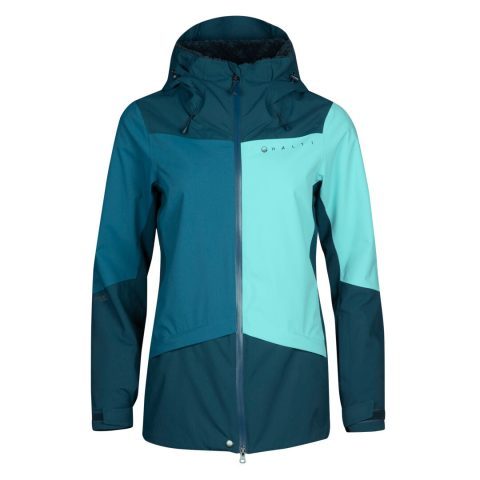 There are four distinct strands to the business: encouraging customers to repair, rent, buy new but buy better or buy preloved.
The team, spearheaded by founder Rachael Westbrook and ambassador Chemmy Alcott (pictured), is on a mission to help change the ski industry's current linear system of "Make-Take-Dispose" and pushing the ski industry to become fully circular.
Image above: Halti Planker jacket, available in sizes from XXS to 3XL
We regularly review the latest gear on our youtube channel see our 2023/24 Gear Playlist Here, or for the latest snow forecast and updates on where is best to ski now, as well as up to date gear reviews, you can check out our regular podcast here Apple | Spotify | Podcasts or search The White Out on your chosen podcast directory.