If there's one thing you can be sure to expect from the Audi Nines, it's freestyle skiing and snowboarding like you've never seen it before. Last winter, for its 11th edition, the Audi Nines 2019 by Falken continued to up its game, with two separate event setups running concurrently for the first time in its history.
While the men's course returned to Sölden, Austria, the women of the Audi Nines were busy creating a totally different setup up the road in Obergurgl.
Blasting onto the scene back in 2010, the Nine Knights and Nine Queens contests have seen the world's best freestyle skiers and snowboarders take to the slopes across a series of epic locations and setups growing in both size and stature.
Since becoming the Audi Nines in 2018, the event has continued to push boundaries in ways we didn't even think possible – 2018's insane 'SlopeX' course (think snow cross meets slopestyle but much, much bigger…) demonstrating this is an event that truly takes no prisoners.
One of the unique elements of the Audi Nines as an event, is that this is a setup that truly has the athletes at its heart, from conception to completion. Now, the introduction of a second resort, with a setup designed and created wholly by women, for women, has provided a welcome opportunity for female riders to shine in their own, bespoke setting.
From the initial planning phase, female athletes were involved as collaborators, brought on board to share their ideas with the course shapers and Audi Nines team. This resulted in a course which allowed riders to take on features they had always dreamed of.
"It's so special to be involved in the planning of one of my favourite sessions," says Canadian snowboarder and 2013 Olympic gold medallist Spencer O'Brien.
"It's a dream come true to work together with the other girls and the organisers to bring the perfect setup to life."
To create this perfect course, a dedicated team of eight shapers, two snowcats, and one excavator were called into action, with the experts at Schneestern helped out by the talented shapers of the Diamond Girls Crew.
Using over 35,000 cubic meters of snow, they created a course sure to challenge not only the athletes' ability, but also their imaginations and, in an Audi Nines first, the setup was maintained throughout the week by the all-female Diamond Crew.
The 2019 edition saw a space age theme hit the slopes of Obergurgl, with a setup that featured a huge 23-meter Big Air jump, a cannon rail, and the main centrepiece, the "UFO" feature. A combination of a rainbow rail with a wallride and some impressive extraterrestrial design inspiration, it set the scene for some incredible imagery.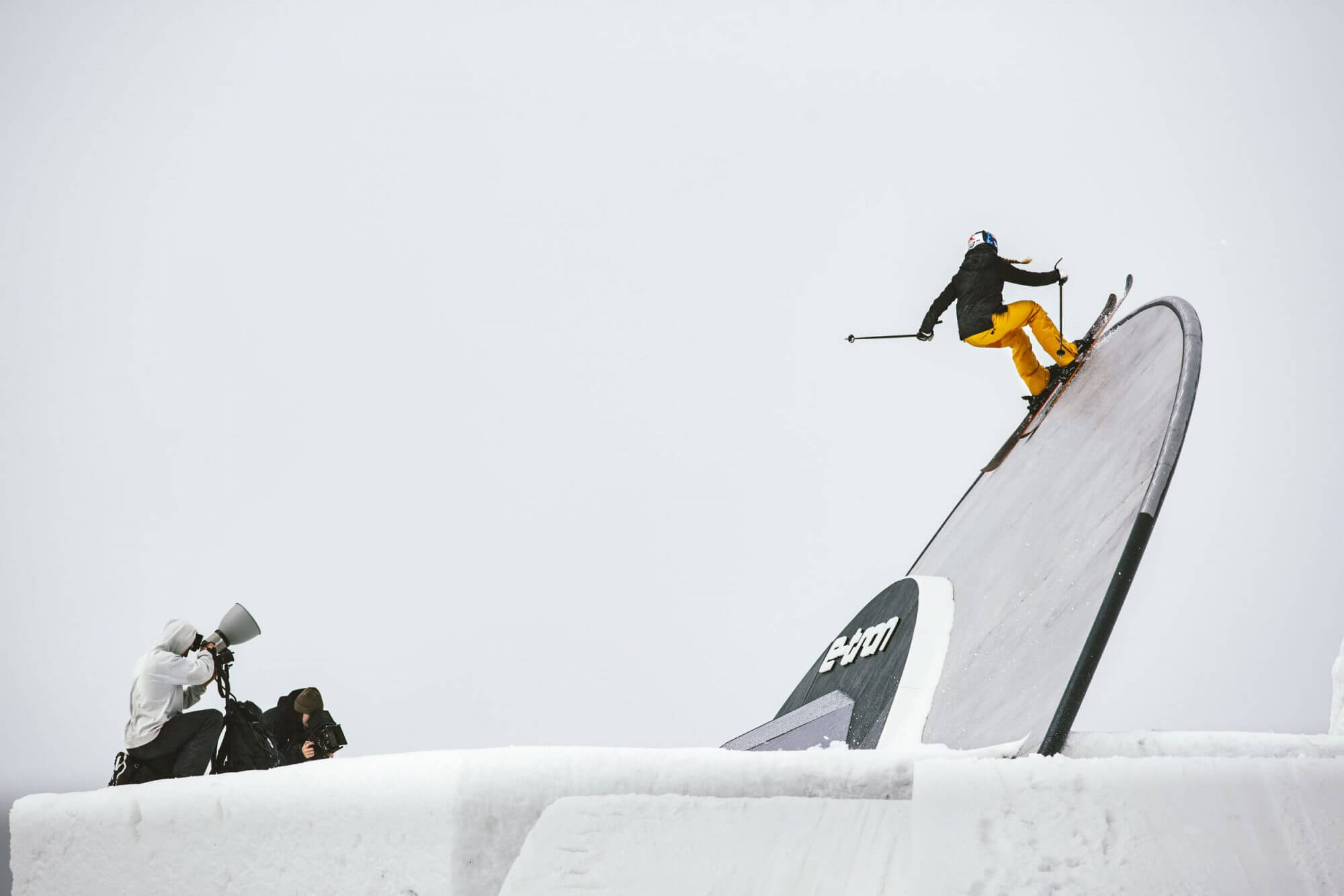 Luckily, throughout the week, world-class female photographers were on hand to capture all this action, as international heavyweights such as Sarah Hoefflin (Women's Ski) and Anna Gasser (Women's SNB) providing the goods on the course. In an industry that is notoriously male-dominated, this is something we seriously love to see.
Indeed, having two separate courses running concurrently, ultimately meant double the action for the 2019 Audi Nines.
Epic tricks, jaw-dropping air and a few impressive wipeouts were standard order for both resorts, though perhaps the most entertaining moment was two-time Olympic gold medallist David Wise's record-breaking quarterpipe highest air – a staggering 11.7 metres!
The men's setup saw two huge avalanche barriers converted into a serious freestyle playground, with big air jumps, giant quarterpipes, and the notorious "Launch Pad" – a 10-meter-high ramp which launched riders over a wild 32-meter gap. The lower section showcased the Audi Nines' signature creativity with spectacular transition features that saw top skiing names such as Freeride World Tour Champion Markus Eder and British freeski legend James 'Woodsy' Woods seemingly defy the laws of physics.
However, the boys also couldn't miss out on the epic setup up the road and actually ended up hitting the girls set up on the Sunday, saying it was one of the best jumps ever built!
The week was rounded off with a Big Air contest, on the women's side won by Johanne Killi (freeski) and Yuka Fujimori (snowboard). On the men's side, Elias Syrjaä took the freeski title while Mons Røisland topped the snowboard podium. Awards were also given for Ruler of the Week and Best Style.
The Audi Nines is a week of epic photography, video shoots and an exhilarating contest or two. However, as the 2019 event has shown, it's also so much more than this. It's an opportunity for riders to enjoy, experiment and entertain, taking their sports to previously inaccessible levels. For both men and women, the 2019 Audi Nines has firmly cemented the events' place as an event committed to progression and promotion of these world-class athletes and their amazing sport.
The Audi Nines returns 13-18 April 2020 – SÖLDEN | OBERGURGL-HOCHGURGL | ÖTZTAL | AUSTRIA
Rulers of the Week
Sebbe de Buck (Snowboard Men)
Laurie Blouin (Snowboard Women)
Lukas Müllauer (Ski Men)
Tess Ledeux (Ski Women)
Best Style
Sebbe de Buck (Snowboard Men)
Yuka Fujimori (Snowboard Women)
Ferdinand Dahl (Ski Men)
Johanne Killi (Ski Women