When we dream of the perfect ski holiday what do we think of? Dreamy winter landscapes, a ski area with plenty of varied terrain, a snug room by the slopes to call our own and of course wonderful mountain cuisine.
Winter in Austria's SalzburgerLand, the home of many of Austria's biggest and best-known ski resorts, as well as dozens more that can provide an equally magical holiday, offers just that, with a few added benefits like a short flight from the UK, though a small airport, with a short transfer on to your chosen resort. If it's going to be the best winter holiday ever you need to get the ingredients right from the start and the villages of Salzburgerland are both comfortable indoors and offer enticing, enchanting nature outdoors.
During the short winter days of December and January Salzburgerland really comes into its own. Silent, snow-covered forests, lakes frozen with thick ice, perfectly prepared ski slopes, cross-country ski tracks and winter hiking trails all await invite your arrival for some warming physical activity in the snow. The effort you need to make to justify stopping in the mountain huts for a large homemade cake and cream-topped hot chocolate.
Later on perhaps a toboggan ride, a snowball fight, a ski tour or a horse-drawn sleigh ride, whichever you prefer and then perhaps another stop-off in a mountain hut.
You are sure to love Austria's SalzburgerLand, where traditional customs exist seamlessly alongside a modern, Alpine lifestyle.
Whichever Kind of Winter Holiday You Like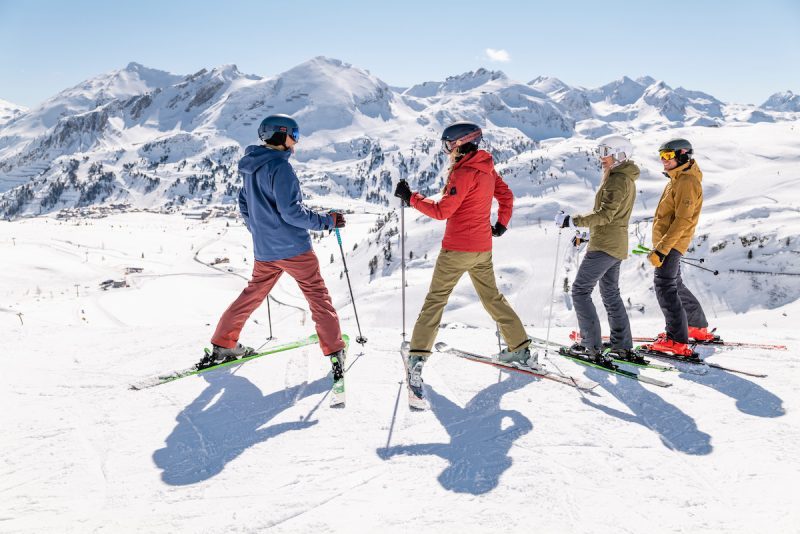 Winter in SalzburgerLand is all about being outside surrounded by the pristine natural world of snow …be it on the ski slopes, perhaps enjoying a winter's hike through the woods or a magical sleigh ride. If you are full of energy and flexibility you might try bouncing through a terrain park, whizzing down a long toboggan run or enjoying the exertion of a cross-country trail up at high-altitude.
Whichever your preference, you'll be able to indulge your love of winter in Salzburgerland, which is home to 70 winter sports resorts which between the offer 2,000 kilometres of downhill ski slopes, with fast, comfortable lifts to whisk you back up to the top.
But you don't have to whizz about if you prefer a more relaxed holiday, perhaps waking early to take in the "blue hour" of the early dawn when the wintery world seem almost unbelievably beautiful in the moonlight. Or just enjoying moving around in the crisp winter air as you deep snow-covered pine forests and frozen lakes, looking at the icicles hanging on hut roofs and soaking up the tranquillity of nature.
The Peace of Winter in the Mountains
Alongside the fun and excitement of the ski slopes, Austria's Salzburgerland in wintertime also offers an oasis of peace for those who just want to recharge in nature. The snow covered pastures and silent forest are a wonderful place to escape from our busy lives and soak up the winter wonderland. You can follow marked trails around any one of the region's villages or perhaps join an excursion in to the Rauriser Forest with that National Park rangers to learn all about life for the wild animals of the forest in winter and perhaps help to feed them. If you prefer to step out in the starlight there are guided torchlight hikes to join to. To speed things up a little SalzburgerLand offers more than 100 toboggan runs, many of them floodlit for use in the evening. Other family friendly activities offered at many locations include ice skating, the quickly engrossing sport of curling or snowshoe hiking. To warm up back indoors there are numerous Spa facilities in the region's hotela and the six thermal baths and wellness oases in SalzburgerLand.
Get Active In The Ice or Snow
If you want to speed things up a bit and try some of the many unique experiences that are possible within the winter landscape, Salzburgerland will not disappoint.
Local experts can teach you the skills of ice climbing, whether you're a complete beginner or have some experience, or you could get a different kind of adrenaline fix trying ice-kiting or even driving a Segway with special chunky tyres through the snow.
Cross-country skiing is big in the region and there's an extensive of ski trails across SalzburgerLand for all ability levels and both the classic and skating techniques. Of course you can rent equipment, take lessons or follow guides if you already have the skills and gear. There is even the option to add a laser rifle to your cross country skiing and try the exciting sport of laser biathlon, stopping to shoot at targets after the exertion of the ski. It's not as easy as you might think to hold the rifle straight with your heart racing from your skiing exertions!
A Top Choice For Ski Touring
Ski touring, the traditional way to downhill ski by putting skins under your skis and having special bindings to free the heel of your boots to allow you to ascend the slope is back in favour and guides are happy to show you the best and safest routes up and back down to enjoy this with the latest equipment.
On the Kitzsteinhorn above Kaprun near Zell am See there is a special ski touring trail, with another in the Fuschlsee region. Obertauern offers a ski tour training route to the Gnadenalm and as well as that Kitzsteinhorn trail, Zell am See-Kaprun is home to the first ski touring mountain in SalzburgerLand.
Fuel Up and Relax Completely
With 330 SalzburgerLand restaurants, cafes and mountain huts in the "Via Culinaria" Guide, you won't have any problem finding a great place to eat the fabulous mountain cuisine we all love on our winter mountain holidays. Some of the best mountain huts are also lined up on the "Culinary Pathway for Ski Hut Fans".
Apart from great food you can relax completely at one of the six modern thermal baths and wellness spas in the region, soaking those weary muscles after all your fun in the snow. Most are located close to the ski slopes and there are plenty of other Spa and sauna facilities in hotels and swimming pool complexes across the region too.
Wherever you do choose to stay in Austria's Salzburgerland you'll find all of these attractions, services and facilities close at hand and locals dedicated to providing you with an honest, real, high-quality holiday in this winter wonderland,