Pam Thorburn repeated some not-so-distant history while Jonathan Bingham started and ended his season on a high as the pair claimed Ski Cross victories at The BRITS today in Laax.
A former alpine skier, Thorburn turned to Ski Cross in 2012 and had instant success at The BRITS, but has been unable to compete at the event since due to a slew of untimely injuries. Her 2017/18 campaign was again hampered by a body seemingly under repair for the entire season, but despite not racing since January, the World Cup skier was able to come out and score her second-ever win at The BRITS.
Thorburn set the fastest time in qualifying by almost a second and maintained that ascendency when racing head-to-head in the final to win from fellow World Cup skier and two-time defending champion Emma Peters, while Andrea Seaton claimed the final place on the podium.
"It was a fun day. Emma Peters was definitely the one to beat so it's really nice to get the win here," said Thorburn. "It's funny actually, because I'm also here coaching a big group of kids from TXC, The Cross Collective, and it's a lot of stress coaching and competing, but I thought, 'I'm here, I might as well do it'."
"My shoulder is so wrecked, I've also got a couple of broken fingers I've got to sort out which is why I haven't raced since January. Getting my body right is my only focus right now, but we got a bunch of podiums with some of the younger skiers as well, so I guess there'll be some celebrating tonight."
Here at InTheSnow we never shy from a challenge, so I myself also thought I'd give the Ski Cross course a whirl, entering into the female Open category. This meant that I completed the lineup, starting alongside GB athletes Thorburn and Peters, with Andrea Seaton also a force to be reckoned with on the course! I came in fourth, which was somewhat inevitable… However I really enjoyed the experience and being a part of the BRITS. Keep your eyes peeled for a full piece on my experience in the next few weeks, and make sure you check out our BRITS roundup and Vlog at the end of the week!
Back on the Ski Cross course, the men's event saw a new BRITS champion, with Jonathan Bingham fast in qualification and clinical in the final to stand atop the podium.
Bingham had not raced at all this season, choosing to concentrate on his school studies, but the lack of competition certainly hadn't hampered his speed as he charged into second seeding for the final behind Seb Ison.
Having finished third at The BRITS in 2017, Bingham then put in a dominant performance in the championship race, leading from the first turn. Ison finished runner-up while PyeongChang Olympic halfpipe skier Pete Speight showed his versatility, claiming bronze after earlier qualifying in third.
"I started a bit slow and was behind going into the first corner, but then I managed to get into the lead and hold on to the end," said Bingham. "It's my first and only race of the year because I've been concentrating on school.
"In the summer, I hope to get fit and maybe try and get into some Europa Cups."
British Skiercross Championships taster

British Skiercross ChampionshipsMEN1st Jonathan Bingham2nd Seb Ison3rd Peter SpeightWOMEN1st Pam Thorburn2nd Emma Peters3rd Andrea SeatonFilmed by Jack WilliamsSwiss International Air Lines

Posted by The BRITS on Wednesday, 4 April 2018
Tomorrow brings with it day three of The BRITS 2018 with the with Ski Halfpipe and Snowboard Slopestyle competitions – we can't wait!
British Ski Cross Championships – Results
Men
1st – Jonathan Bingham
2nd – Seb Ison
3rd – Pete Speight
Women
1st – Pam Thorburn
2nd – Emma Peters
3rd – Andrea Seaton
Meanwhile, in the Picture Big Air Snowboard Championships, rising star Mia Brookes went on to take victory in the ladies competition, while Billy Cockrell stomped the men's with a superb back double cork 1080 mute. The weather conditions meant that the competition had to run slightly shorter than planned, but it was an awesome show of talent nonetheless!
Picture Big Air Snowboard Championships – Results
Men
1st – Billy Cockrell (Back double cork 1080 mute)
2nd – Harry Waite (see the video for his Cab double underflip)
3rd – George Waite
Women
1st – Mia Brookes (Backside 360 indy)
2nd – Cerys Allen
3rd – Maisie Hill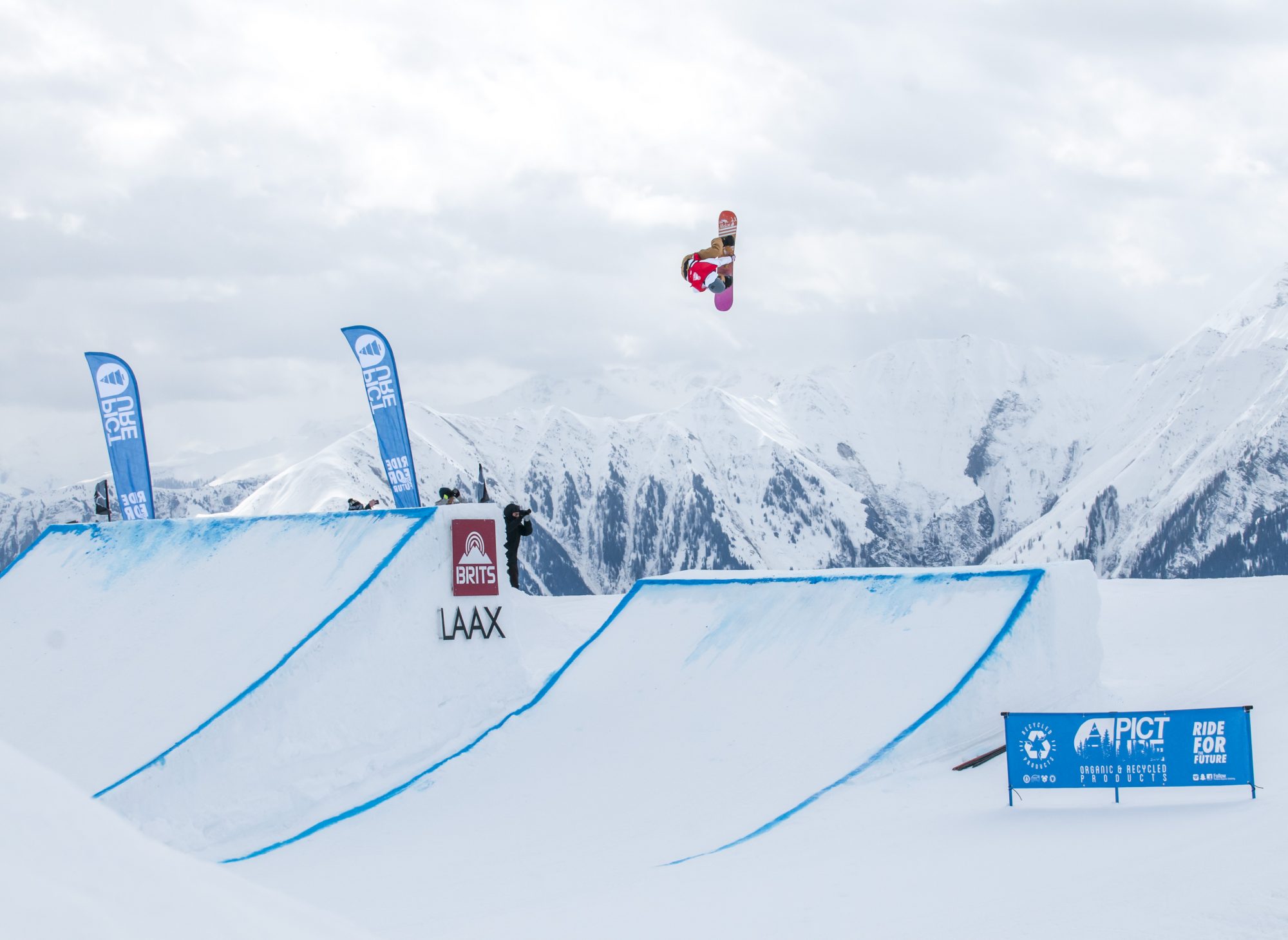 Be sure to follow The BRITS on their social channels for all the latest photos and videos from the championship as it happens – www.facebook.com/britssnow and @britssnow on Instagram.
The BRITS would not be possible without its highly supportive Partners: LAAX, Picture Organic Clothing, SWISS International Airlines, Switzerland Tourism and British Ski & Snowboard (BSS)