In further evidence that the ski season has become ever more topsy-turvy, skiers in the Alps for Easter are reporting "Mid-winter-like" conditions up high with temperatures double-digits below freezing on the highest runs and lots of fresh snowfall over the last few weeks. That's in contrast to actual mid-winter a few months ago when it was warm and there was little snowfall at lower altitudes.
The upside of the late running winter is that those ski areas with lots of high-altitude terrain that are planning to stay open to late April or even into May are now in good shape for a very-late season post-Easter ski trip.
(Image credit: Cande)
Tignes is topping Europe's snow depth tables with 4.5 metres (15 feet) of snow now lying on its glacier. That figure is almost double what it was in early March, highlighting how much snow has fallen over the past month. Normally snow depths peak around the start of March then start to drop, this season the numbers are continuing to climb into April, with more snow forecast over the next few days.
To add to the appeal of late season trip, Tignes also have special "spring break" deals and events on offer for the final three weeks of their season, from Mid April through to May 6th.
Milder temperatures are expected to arrive at last bringing the high possibility of sunshine – great weather to enjoy activities in, including laser biathlon or human curling. Or if discovery and learning is more your forte, try your hand at some different workshops, including 'introduction to ski touring' or a waxing workshop.
You won't be short of end of season experiences this April in Tignes – ski in the morning, relax in the afternoon and have fun in the evenings, what more could you want?
Montana Planton in Tignes le Lac featured by Peak Retreats and managed by Les Etincelles is situated right on the slopes with doorstep skiing possibility, this residence is right next to the ski lifts and just 50m from the resort centre.
Made up of just six apartments, Montana Planton has facilities including access to the onsite spa with outdoor heated swimming pool, hot tub, saunas, as well a ski room with heated ski lockers and direct access to the ski slopes.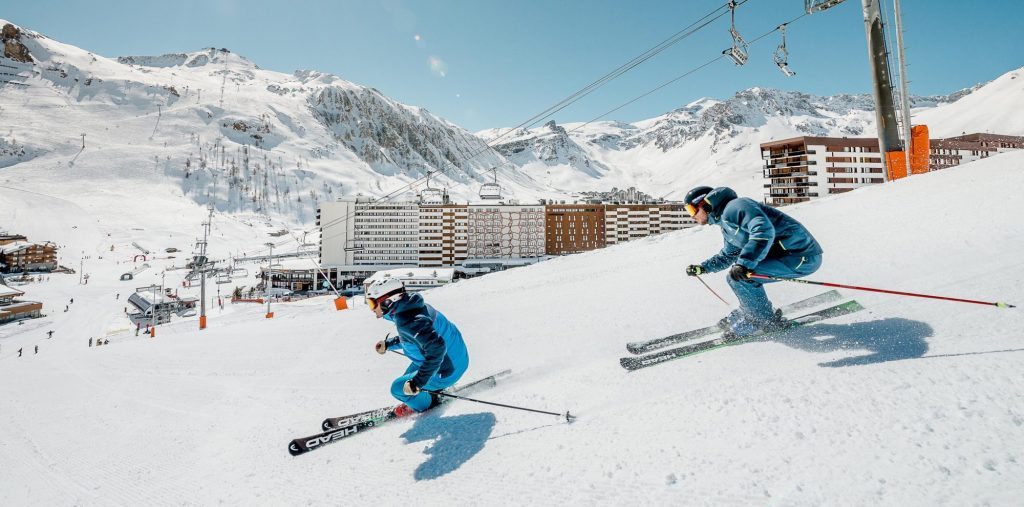 (Images credit Andy Parant / Tignes Tourist office unless otherwise stated)