There's always some new stories to do with the pandemic and ski holidays.
It rarely makes any difference to the fact that we can't go skiing and many people don't want to know until there's some clear good news.
But for those who do want to know, here's the latest bad and good news of interest to skiers.
Bad
The French government have confirmed ski lifts won't be able to operate there until at least the start of March.  The country has also closed its borders to non-EU nations and the UK's borders are also closed to non-essential travel so this doesn't make much difference to skiers living in the UK anyway.
The Scottish government appears to have extended the closure of Scotland's ski areas until at least the end of February in what would be the best season since 2010.
96 people from many different nations, including the UK, were caught by police in St Anton, Austria,  on ski holidays that are currently illegal there. Forced to quarantine the each now face fines of more than €2,000.
French ski workers temporarily blocked the Frejus tunnel to Italy in a protest to highlight hardship for the hundreds of thousands employed in the French ski industry due to lifts being closed there.
Among a list of predictions for coming ski seasons, a holiday company has predicted it will be at least two winters before apres-ski might return to normal, "I think après ski could return during the 2021-22 season in some capacity but there will be capacity limitations in place for any bars or restaurants and it will be for seated clients only. I think it will not be until 2023 that we see a return to après ski as we knew it," said Natasha Robertson, Co-Founder of chalet companies Bramble Ski & Haute Montagne.
(Planai, Austria)
Good
Slovenia has re-opened most of its ski areas.  Actually about 40 countries have their ski lifts open to local skiers, about 10 have them closed.
A Swiss scientific study carried out on lifts in Engelberg has discovered you're about 100 times more likely to catch the virus working a day in a two person office than riding up the mountain on a well-ventilated gondola. The odds grew to 1000 times less than if you joined a dinner party of eight people in an enclosed dining room.  They also found the virus transmission danger in a ventilated gondola cabin much lower than on public transport like a bus or a train.
Italy is continuing to move towards re-opening its ski areas from February 15th, if the pandemic is not too bad there at that point. However Brits can't travel to Italy at present anyway (see France above).
Austria is beginning to ease its lockdown but says it will be a fortnight until a decision is made on tourism (currently not permitted although ski lifts are open to locals), border restrictions may also be tightened. Again Brits can't travel to Austria at present anyway (see France above).
Maison Sport have launched a new service connecting independent ski instructors with passionate skiers and snowboarders who are unable to hit the slopes this winter, but have a desire to keep working on their ski skills. Skiers upload videos of their skiing and an independent instruction from Maison Sport will get back to them within 48 hours within tips. Maison Sport say it is a free service.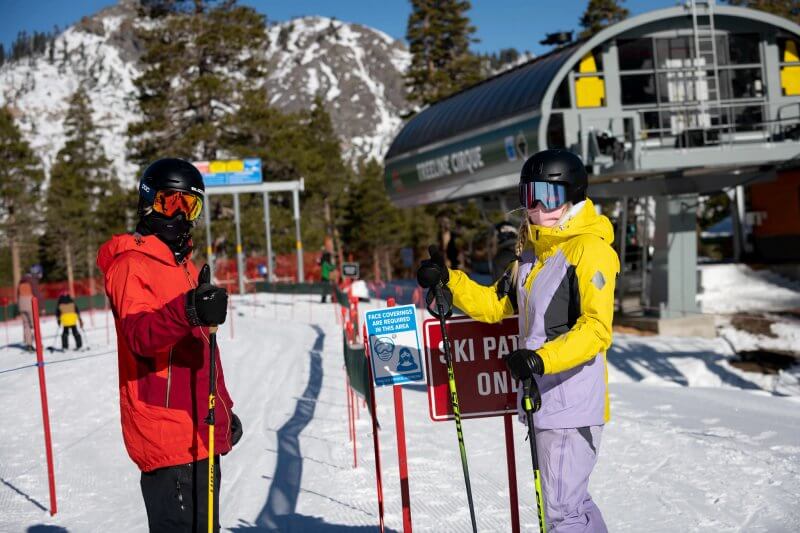 Disclaimer:
By writing about what's happening in ski resorts at present we are not implying anyone can go to them at present, or should try to go to them at present. We also apologise to those who have read this news against their will or better judgement and are upset to read anything about skiing at the moment whilst we can't go skiing. Travel from the UK for non-essential reasons is currently banned, as is travel in to most ski nations whether lifts are open or not or requires quarantine on arrival in most cases. Even if this were not the case travel options are limited and few insurance policies cover travel in the pandemic. 
Image top credit: Ski Dubai