There's always some new stories to do with the pandemic and ski holidays.
It rarely makes any difference to the fact that we can't go skiing and many people don't want to know until there's some clear good news.
But for those who do want to know, here's the latest bad and good news of interest to skiers.
Alas this week more bad news than good, but we've managed to dig up a few small positives tales from the general ongoing misery…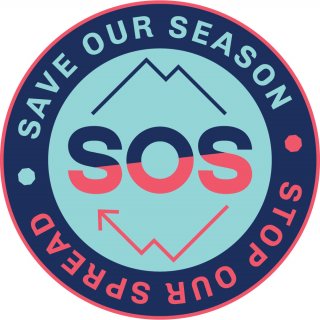 Bad
Italian resorts were due to have begun opening from last Monday, 15th February, but late on Sunday 14th the country's government unexpectedly extended the closure order to at least 5th March.
Crystal, the UK's largest ski holiday operator, as well as Inghams, the second largest, have announced that due to the continued impact of Covid-19 on worldwide travel and ski resorts, it won't be operating any holidays this season.
The Scottish government had advised against booking Easter holidays abroad or in Scotland.
Austria's Tirol region now requires skiers to have had a negative coronavirus test within the previous 48 hours, or to have recovered from coronavirus within the previous six-months. Several ski areas including Solden have decided to close until further notice as a result.  Hotels will also stay closed at least through to Easter.
Temperatures have risen and a thaw set in on lower slopes in Scotland which have had the most snowfall for a decade but remain closed due to pandemic restrictions.
A number of ski areas in Spain, including Formigal, which have not yet opened this winter, say they now will not open this winter.
Good
Austrian ski resort Fiebnerbrunn has responded to the requirement by the government of Tirol that skiers have negative coronavirus tests by offering free testing to all at the resort.
Sierra Nevada has re-opened its slopes to all residents of the surrounding Andalucía region providing they live is a district with less than 500 COVID infections per 100,000 people.
Snowbombing have announced a 2022 Pre-Sale will launch for one week only from 1st March – register you interest now.
Ontario's ski areas were allowed top re-open from Tuesday. Ontario had been the only region in North America where all ski areas had been closed due to the pandemic.
Although skiing is currently banned in Germany a few very small areas have managed to open by only accepting bookings for the whole area buy a family group.
Most ski areas are suffering in the pandemic because they can't open, or they can open but it costs more to operate under COVID restrictions and fewer people can get to them, but a select few report business is actually up! Mt Shasta in California has lots of space so even number limits are more visitors than it usually gets. It reports business is up thanks to great snow conditions and pent up demand.
Disclaimer:
By writing about what's happening in ski resorts at present we are not implying anyone can go to them at present, or should try to go to them at present. We also apologise to those who have read this news against their will or better judgement and are upset to read anything about skiing at the moment whilst we can't go skiing. Travel from the UK for non-essential reasons is currently banned, as is travel into most ski nations whether lifts are open or not, or requires quarantine on arrival in most cases. Even if this were not the case travel options are limited and few insurance policies cover travel in the pandemic.
Pic top: Les Gets