A new lift connection between two of Cortina d'Ampezzo's ski areas will make it possible to ski, in one direction, for around 40km (25 miles) as the crow flies – a trip that takes some 72km (45 miles) by road – from Cortina to Alpe di Suisi at the far end of Val Gardena, using lifts and groomed pistes.
This is believed to be the longest skiable link from one point to another that's possible anywhere in the world, using pistes and lifts, without needing to take a bus or other mechanised transport en route. However it does require a few hundred metres of walking, so another route, also from Cortina via the Sellaronda, but in to the Fassa instead of Gardena Valley may be considered the longest at 36km.
In either case the full route should be included in the Dolomiti Superski lift pass, except for one section where skiers are dragged behind a horse, where a horse-powered drag lift completes a key connection on the route.
(Image above credit: www.alefaedda.com Image top credit Cortina Marketing SeAm- Paola Dandrea)
Work on the new 4.6km long gondola that will make the key connection, currently requiring a 20 minute bus ride, will begin this spring, according to a statement this week from Cortina d'Ampezzo which is currently preparing to host the World Cup Finals next month, followed by the Alpine Skiing World Championships next year and the Winter Olympics again in 2026.
SkiResort.info note that the lift will have 8 passenger cabins, travel at six metres per second, have a capacity of 1,800 people per hour and take 14 minutes to make the connection.
"Spring 2020 will see the beginning of construction work for the new gondola that will link the Tofana and Cinque Torri areas, revolutionising the access to Cortina's slopes and making it possible to go from Cortina's centre to the slopes of Alta Badia just by lift and skiing through the areas of Tofana, Cinque Torri, Col Gallina and Lagazuoi. Besides making Cortina's ski area easier to enjoy, the lift will reduce road traffic and pollution," the resort statement says.
Skiers and boarders heading from Cortina to Val Gardena or one of the other ski areas such as Arabba or the Fassa Valley from Cortina via the new lift have a number of unique, world class attractions to enjoy en route.
At Lagazuoi, the sector currently only accessible by bus that will be connected by the new gondola, one of the world's most famous ski runs 'The Hidden Valley' begins an 8km (five mile) stand-alone run through spectacular isolation down to a point just a kilometre or so from the equally famous Sellaronda circuit, which links several leading ski regions in the Italian Dolomites to create one of the world's biggest ski regions.
To make the (fairly flat) connection however there's no mechanical lift and skiers are towed behind a unique 'ski lift' – pulled by horses.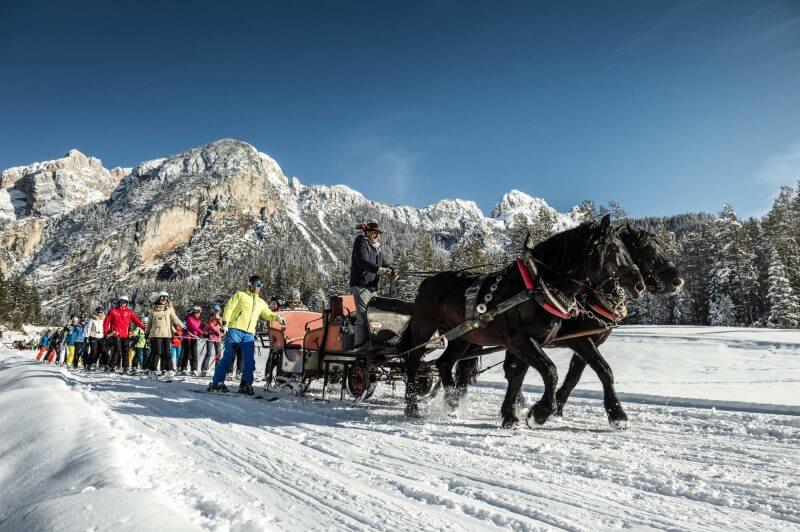 (The 'horse-powered-lift linking Alta Badia with Cortina's Lagazuoi ski area, picture by Alex Moling)
From there on in it is possible to ski in either direction around the Sellaronda and on to the far corners of ski areas including Alta Badia, much of the Val di Fassa and Val Gardena.
Cartographer and ski area expert Chris Schrahe considers that, unless any other ski runs are created as a result of the new lift, combining all the ski runs connected by the Sellaronda with those of Cortina would give a total of 435km of runs, making it the second biggest area in the world behind the 3 Valleys, overtaking Paradiski (La Plagne and Les Arcs).
"It would be like the Saalbach-Zell am See connection, working in only one direction with lifts but I would consider this as connected," said Mr Schrahe, referencing to the fact that whilst it will be possible to ski from Cortina to the Sellaronda, there is no ski lift back along the route of the Hidden Valley run, so a taxi or bus is needed for the return leg there.
However Mr Schrahe does not count the trip from Cortina to Alpe di Suisi as the longest, due to a section that requires some walking, and instead says a 36km trip from Cortina to another valley connected to the Sellaronda, will be the world's new longest 'fully skiable by pistes and lifts route at 36km.
"I do not consider Seiser Alm as part of the linked ski area because there is a walking distance of more than 400 meters in St. Ulrich in Val Gardena between the gondola stations. However 36 km between Cortina and Pozza di Fassa will be a new world record."
Cortina d'Ampezzo are yet to say when the lift, permission for the construction of which was given several years ago, is expected to be completed.