Travelling as a family can be stressful at times, so we've put together some of our top tips for ensuring your holiday goes as smoothly as possible, from booking through to heading out on the slopes!
In terms of travel, consider your options carefully.
How are your children with flying vs. the car? Luggage allowances differ vastly between the two, so if you know you are going to need a lot of stuff, it might be worth considering self-driving.
Consider the type of room, especially if you are booking a hotel.
Family rooms are ideal for those travelling with younger children, but older children may want their privacy.
If you can, travel with other families, with children of similar ages (and ideally abilities).
This gives your children an added layer of fun and they generally tend to enjoy ski school more if they are with their friends rather than with a group of strangers. This also allows you a little extra downtime as they will be able to entertain themselves with their friends after skiing or after dinner.
Think about the pros and cons of self-catering vs. catered.
Whether it's due to budget, dietary requirements, convenience or personal preference, one may be more suited to your family's needs than the other.
Ensure that your travel insurance fully covers the whole family for snow sports and is up to date.
Do your research on lift passes.
Find out exactly what it is that you need before you go, so that you don't end up overpaying for passes you don't need.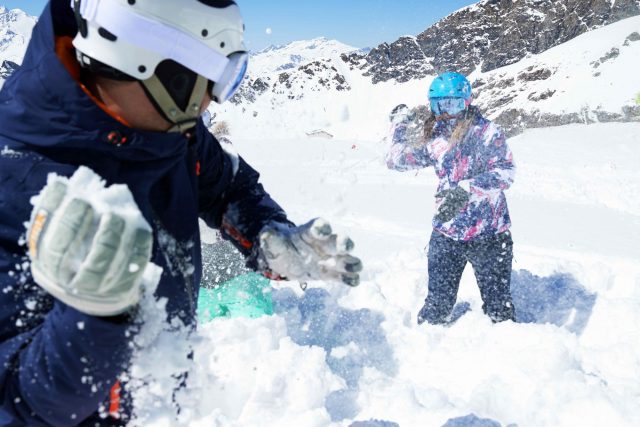 Do your homework!
Study a piste map and research the resort to ensure you know the area and are prepared for your first day to not lose any of that valuable ski time! It pays to know which areas are suited to each level of skier, which areas are best for certain times of day or certain snow conditions. If you can't find this information online, ask someone in resort – staff are often very knowledgeable on this (having skied there all season!) and are happy to help.
Book as much as you can in advance so that you are prepared when you arrive.
There's nothing worse than arriving in a resort and immediately having to make a mad dash to the ski hire shops, shopping around for deals and trying to ensure everything is sorted before your first day's skiing! With tour operators such as Crystal, you can book everything in one place, from tuition and lift passes to equipment, childcare and even off-slope activities to ensure everything is in place and taken care of before you even leave your house!
Try an indoor ski centre before you go!
Even if your children have skied before, it's a good idea to just refresh all of your memories of how it feels to be on your skis. For those that have only been once or twice, this means they will be more familiar with how to put the skis on or make a snow plough turn and won't have to spend their first morning regaining this knowledge. For adults too, this means no first morning getting your ski legs back – you can be up and running easy as pie!
Having the right kit is key – a cold, hungry child is a very miserable child.
Ensure you pack enough warm clothing and snacks, and also that you bring extra layers and energy boosts out on the slopes with you – there's no use bringing them and leaving them in the room!
Children will get tired, so know your child's limits and be careful not to push them too far.
You want them to enjoy the experience too so that they're as excited as you when next winter rolls around!