We all need technically sound gear on the slopes. It's a must. After all, you have to stay warm, dry and comfortable otherwise you'll be back at your chalet within an hour fed up and searching for dry base layers. 
But nowadays there's no excuse not to be stylish at the same time as staying practical – and dry! One brand to look out for this season is French skiwear specialists, Eider. Named after the European Eider duck known for its soft down feathers, Eider apparel is synonymous with technical, feature-filled clothing that'll be noticed whether you're on a blue or black run. To be honest, none of their jackets will look out of place chilling out in comfort on the terrace of a mountain restaurant with a hot chocolate or walking around town looking for souvenirs to take home.
Eider's design style focuses on high-end performance skiwear that crosses over into urban wear. It's a refreshing and coveted mix that works and means you're getting that successful combo between functional and fashionable. Technical and trendy. 
New for 2020 comes a range of men and women's jackets that have quickly become this season's must-buys. 
For men: 
For the resort skier – The Camber 3.0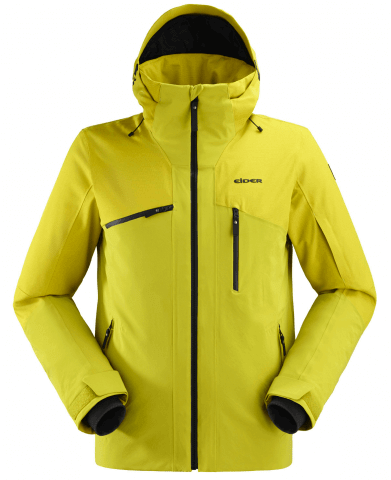 This is the third evolution of Eider's incredibly popular Camber Jacket. The Camber 3.0 features Eider's new Motion inserts. These strategically placed fabric panels allow freedom of movement while at the same time increasing breathability. That means that when you move more, and therefore sweat more, you also cool down more quickly – without a flash freeze. They're combined with Eider's four-way stretch fabric to really get you carving down the slopes.  
For the athletic skier – The M Jacket
The M Jacket has been specifically designed for athletic skiers and is part of Eider's Altitude Series. It also features the Motion inserts and four-way stretch fabric but also has an "active fit" racing style – including pre-shaped elbows. Made with Eider's Defender waterproof membrane coupled with Primaloft Silver insulation, this is a protective, warm jacket that won't slow you down.   
For women:
For the classy skier – The Danaide Jacket with Faux Fur
For an incredibly chic look, you could do no better than the Danaide Jacket with faux fur trim. This is the jacket that will get you spotted on the slopes and onto every Instagram feed. Look out for the fashionable monochrome version in black and white. Eider has paid particular attention to the fit and detailing of this jacket with a premium blend of ski function and feminine style. 
For the urban skier – The Rocks Jacket
A firm favourite among Eider fans, the Rocks Jacket is cosy and warm with a slender, feminine design. This jacket is also brilliant for après-ski and wearing around town as its style looks more urban than a traditional ski jacket, despite it still functioning incredibly well on the snow. This is a cosy, warm jacket – you'll only need a base layer underneath for spring skiing and maybe an added fleece layer on cold winter days.