It's been a 20k vertical metres day.  Face is a block of ice. Thighs are finished. You fall into a fleece-lined chair and smell hot chocolate with that unmistakable hint of rum.  Things are looking up!
Aluna Coconut is a gold medal-winning rum blend from Guatemala and the Caribbean, with 100% natural toasted coconut and pure, sustainably sourced coconut water but only a fraction of the sugar found in other brands.  You get the true flavour of coconut alongside the authentic warmth and complexity of high-quality rums with none of the sticky, synthetic flavours you might have experienced before. It means you can mix it with your favourite mixer, in a cocktail or even a hot chocolate without the drink becoming too sweet.
 Aluna Coconut Rum Hot Chocolate
For the perfect just-off-the-mountain pick me up, we recommend an Aluna Coconut Rum hot chocolate, ideally made with coconut milk for the full coconut experience.  
2 heaped scoops of rich hot chocolate powder (we like Clipper)
200ml coconut milk (or whatever milk you prefer)
25ml Aluna Coconut Rum
Directions:  Make hot chocolate. Stir in rum or serve as a shot on the side. Simple!
WIN!

Enter our prize draw for a chance to win an Apres-Ski Rum Hot Chocolate Kit courtesy of Aluna Coconut Rum, plus 3 runners-up prizes of a bottle of Aluna Coconut Rum.
Kit consists of:
1 x 70cl bottle of Aluna Coconut Rum
2 x Aluna Coconut enamel mugs
1 x Clipper Hot Chocolate powder
1 x Koko Coconut Milk
6 x 50ml Aluna Coconut miniature
Can't wait? You can always pick up a bottle in Waitrose stores nationally or online through Amazon, Ocado or the alunacoconut.com web shop.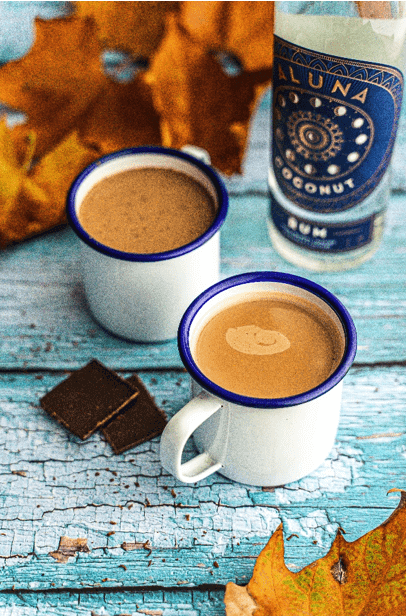 T's&C's: 18+ only. UK residents only. Prize draw ends & randomly chosen winner announced 18/12/2020.