Understandably, everyone has lots of questions about how the 2020/21 ski season will shape up.
At the moment, with everything pretty uncertain, it's annoyingly difficult to give definite answers. But we can try to look at what hard facts there are so far and get expert opinion where we can.
So please send us your questions!
"Is there going to be a 2020/21 ski season?"
Marc Leagas
Thanks, Marc. Of course, we have all learned in recent months that anything is possible.  However, happily, barring some other remarkable global event, the answer is a clear yes.
In fact, we could argue that the 2020-21 ski season is already underway with three areas – Austria's Hintertux and Molltal glaciers and well as Zermatt in Switzerland all re-opening at the end of May or start of June and staying open from now on through to next winter and spring.
Most other ski resorts certainly intend to open for the 2020/21 ski season, with many re-opening for summer mountain activities in fact from June to October.
The southern hemisphere's 2020 ski season also gets underway in June in Australia and New Zealand after pandemic restrictions were eased.
We have only heard of one ski area in the world (of more than 5,000 in 80 countries) hat has completely cancelled their ski season in Las Lenas in Argentina, which is usually open from June to September, has said they won't open in 2020 as the country remains in lockdown and all flights are grounded until September. They say that even when the lockdown is eased it will be too late for a viable season for them." (Answer given 28 May 2020)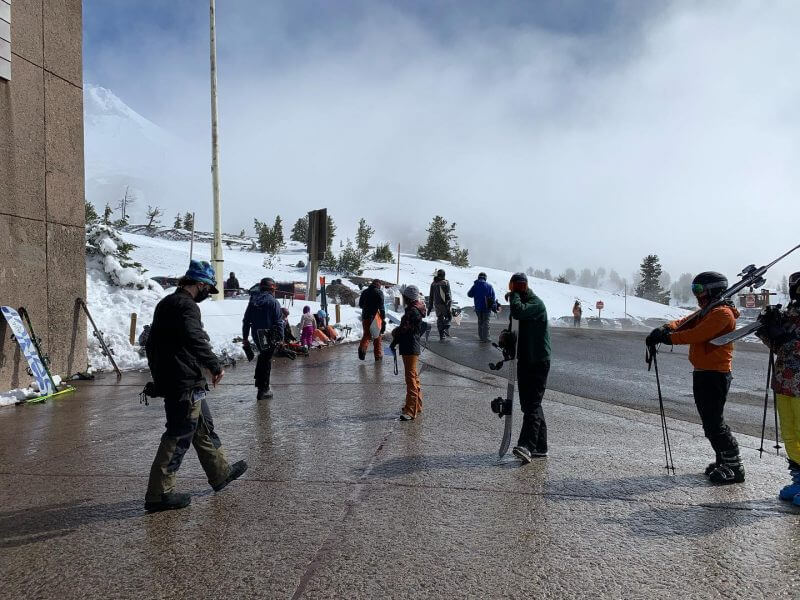 "How do authorities intend to police 'social distancing' with A) Getting on/queueing for lifts and B) in the bars at apres-ski?" Matt Bramall
Hello Matt, in terms of using lifts we already know this one as some ski areas have already re-opened for summer skiing and some big resorts are running their lifts again for hikers and mountain bikers.  The answer is it's a lot like supermarkets and DIY stores – two-metre spacings marked on the area where you queue to get on the lift, then on the lift just a few people allowed on the chair/gondola cabin at opposite ends and a few in cable cars – so far fewer per lift unless they are already together.  This seems to be working fine so far but we're all wondering how that might work at peak times next season.  When we ask resorts, the response is that they're still working it out and too early to say.
"We're unable to tell how the operation will look like during upcoming winter. As for summer season, we're able to welcome guests with a few rules like wearing masks, not too many people per gondola, safety distance and all the other common rules. For now, we can start in the summer season, which is good news. Everything depends on the development of Covid19 cases, which nobody can predict. We hope for the best," Karin Pasterer from the Saalbach Hinterglemm tourist office old us.
When Crystal Mountain in Washington State, USA re-opened in June 1st it said,
"Visitors need to be prepared for a different approach. There will be a new process for accessing the resort, parking and loading the gondola.  The gondola will be metered by the hour with the first reservation to upload between 8:00 to 9:00 a.m. and consecutive hourly time slots until 2:00 p.m. Once you're on the mountain you're welcome to enjoy the slopes in Green Valley for as long as you'd like but you must upload the gondola during your reservation arrival window – no exceptions. Only load the gondola and chairlift with those who came up in the same car as you, members of the same household or ride alone."
In terms of policing it, ski holidays are obviously supposed to be fun and it looks like resorts may employ staff to help police the social distancing, but mostly rely on skiers to be sensible and do so themselves,
"At the moment we are putting together the measures, which will apply to our guests using the cable cars. On the slopes, there will not be any restrictions. In the cabins and stations, people have to keep a distance of two metres apart and where this is not possible, we recommend they wear a mask. We appeal to the personal responsibility of the guests," said Mathias Imoberdorf of Zermatt's lift company.
In terms of apres-ski bars, again it's currently uncertain BUT the apres-ski scene has been highlighted by some politicians and public health officials as a key driver of the spread of the virus around Europe and sometimes further afield, with big legal actions and possible criminal prosecutions (for allegedly suppressing the first instances of the virus) currently getting underway so the consensus is that there'll be no cramped, sweaty part bars for the 2020/21 ski season. (Answer given 28 May 2020)
"Will it cost more?" Dave Whitehead
The fact that it will require more staff to get fewer people up the slopes and that a lot of extra cleaning time and costs clearly puts pressure on the finances of many ski areas when they try to balance the books and at least break even under the current restrictions.  It's early days in terms of what's re-opening whilst the pandemic is still happening (things might be more 'normal' by next season, we all hope) but so far re-opened ski areas have not increased prices much/at all.  Some that re-opened in the US say they broke even or lost money by doing so and said they reopened as a community gesture more than anything.  In the southern hemisphere it is more of a normal main winter season getting underway though and there have been reports of 25% price rises for lift tickets at some Australian resorts as they try to balance the books.  Against that some resorts in the Alps are selling season tickets for next winter at big discounts to try to get money flowing in so it's possible those wishing to take a chance on buying early could pay less than usual in some cases.  Airlines have been selling peak season flights for much less than usual too. (Answer given 5 June 2020).
"How will they manage hire equipment given it can sometimes take trying on numerous boots before a good fit (so you could be touching lots of pairs that will need to be disinfected) and usually an amount of heavy breathing whilst getting them on and off?"  Jayne Bennett
"We are looking forward to what we expect to be a normal ski season. We don't have details yet, we still have six months to go, but we will do all the necessary hygiene and social distancing necessary – in France it is one metre, not two, and we have enough space in our shop to allow up to 40 clients in at a time. Our boot fitting stations are all separate. For advance bookings for existing customers we can look up what boots and skis they had last time and have the same ones ready for them again if they were happy with them." Susan Dun at Snowberry, in Val d'Isère. (Answer given 4 June 2020).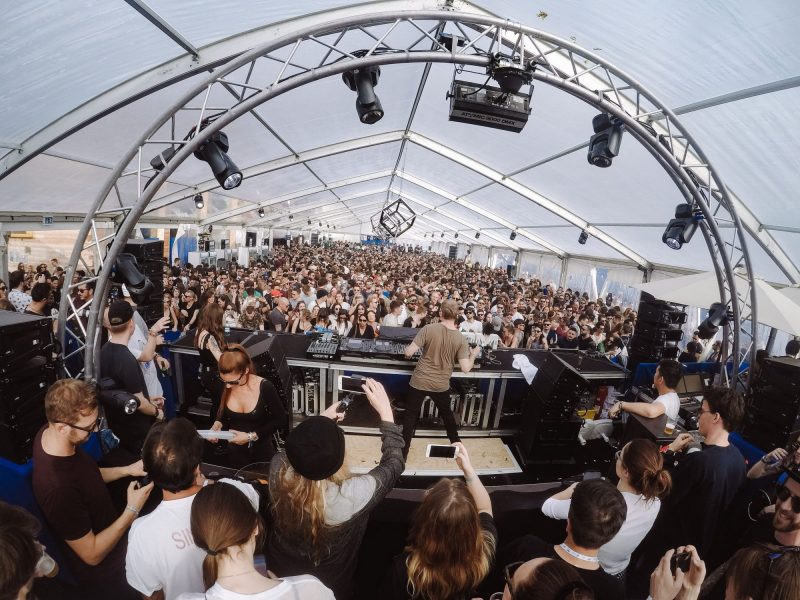 "Will the big festivals and events in the mountains take place?" Jane Green
Hi Jane. This is a tough one to call as on the one hand it looks like they should, but on the other, there's still uncertainty (as with so many things…).
The virus shut-down hit just as many big spring events were due to happen in March and April and when they were forced to cancel most were very clear they'd be back next spring. The Altitude Comedy Festival in Mayrhofen for example already set their dates for 2021 – March 29th – April 2nd.
A lot of people accepted tickets for 2021 versions of festivals rather than getting refunds on their cancelled 2020 festival tickets.
If all goes to plan it does look like festivals will be back on the agenda, with well thought out changes as required to ensure safety.  The resumption of large-scale events is in the schedule of the easing of lockdown in most countries.  Crans Montana, for example, plans to run its Caprices electro-music festival (above) delayed from April in September.
But against that, some events are already being cancelled next season, or possibly postponed to 2021-22. Though not a festival as such, the biggest of these is the Alpine Skiing World Championships due next February in Cortina d'Ampezzo, the organisers of which have requested a delay to March 2022 (decision pending).
In the US the Burton Open snowboarding competition that has run every year for four decades has been cancelled for 2021. (Answer given 28 May 2020)
Book with confidence this winter with