Arosa Lenzerheide is the name of one of Switzerland's biggest and best ski destinations. You may well have heard of both Arosa and Lenzerheide separately over the years, two classic Swiss ski resorts, both famous names in the ski world.
Known for their well-designed, snow-sure slopes, beautiful scenery, great facilities and high quality in everything from gastronomy to accommodation, they're resorts all of us would be happy to visit.
But a few seasons ago things changed dramatically! Arosa and Lenzerheide were linked by one of the world's coolest cable-car lifts to create one of Switzerland and Europe's biggest ski areas.
This huge ski domain now offers 225km of fully connected piste served by more than 40 lifts. Arosa Lenzerheide went from being a destination you might hope to visit one day to becoming one that every skier needs to visit.
World Class Skiing
Arosa Lenzerheide's ski area is one of the world's best with an incredible range of terrain for all levels of skier and snowboarder and for every taste. Along with wide gentle, perfectly groomed pistes for beginners and nervous intermediates there are big, steep-sided bowls for freeride freaks, and every type of ski run in between. On the slopes good skiers can also tackle the World Cup piste.
To add to the fun you can download the Skiline app and keep track of where you skied, how fast and much more and you can practise your ski racing and also get an automatic film of your skiing on the Skimovie route at Stätzertäli on the ski area's west side.
The slopes climb up to 2,865m above sea level meaning not only great long ski runs back down but also snow-sure altitudes to help guarantee great conditions.
For experienced freeriders the Rothorn in Parpan and the Arosa Weisshorn are among the most well-known Swiss freeride mountains, with great lines descending from the Rothorn and Weisshorn (second section) cable cars.
Freestyle skiers and boarders can have a ball in the Arosa Lenzerheide snow park, which extends to four different areas, again suitable for all tastes and levels. The spacious Tschuggen Park'n'Pipe is one of the best in Switzerland, whilst the Wood Ranch on the descent to the Weisshornbahn valley station and the Stätz Jib area, are both excellent too. The new fun slope in Stätzertäli is especially popular with families.
Besides regular days on the pistes the ski area organises lots of extra options to make your Arosa Lenzerheide ski holiday even more special. For example, with the Early Bird package you can get out on the slopes at 6.30am (or perhaps lie in a bit longer and take the 8am option, hmmmm) and have the freshly groomed slopes to yourself before a great breakfast. Or at the other end of the ski day, if you have not had enough of the slopes by the time the lifts close, there are night skiing options and even skiing under the full moon when it provides maximum moonlight each month.
Great Dining
The choice and quality of dining experiences on the mountain and in the resorts are a big attraction for foodies in Arosa Lenzerheide. You can expect a wide variety of culinary delights from Gault Millau and Michelin gourmet guide rated cuisine to genuine regional specialities, such as fondue and raclette in the Bündnerstübli.
Lots To Do
Although you can ski all day from dawn until dusk if you wish then just collapse into one of Arosa Lenzerheide's enticing restaurants or bars for the evening, there are plenty of other activities to try.
For example, Arosa Lenzerheide is one of the world's leading centres for the exciting sport of biathlon, a combination of cross-country skiing and rifle range target shooting. It's an intriguing mix of exertion on your skis and then needing to calm your body in order to shoot straight and it is great to watch the professionals doing it on Eurosport each winter.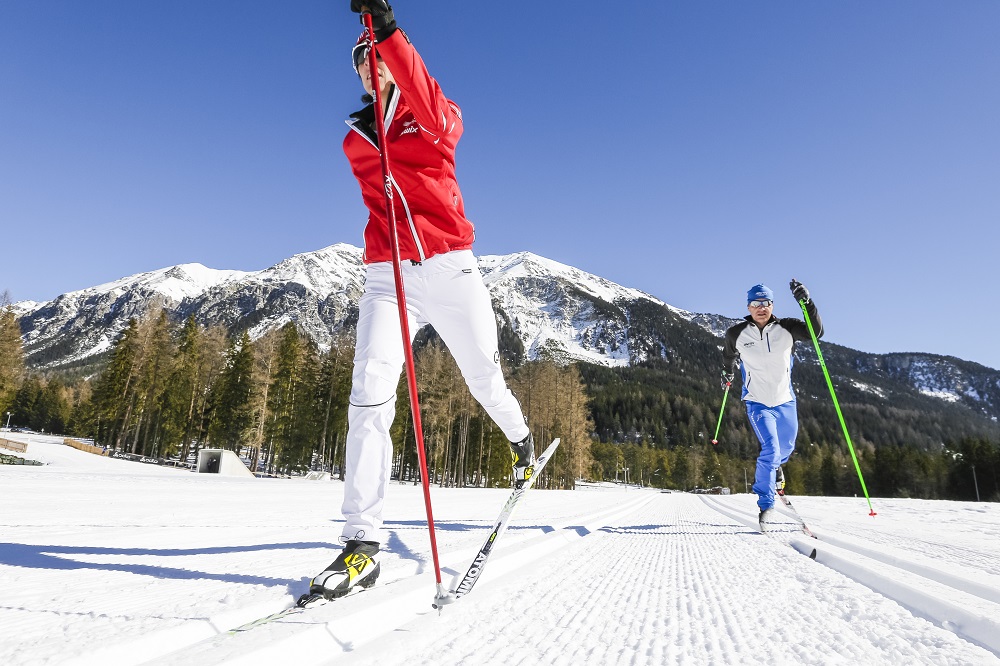 In Arosa Lenzerheide you can try it for yourself with a fun taster session, there are even special classes for children aged from 10 years old.
Winter hiking is also big in Arosa Lenzerheide with 140km of cleared and marked trails including the new Heidi & Gigi trail created as a result of the connection of the two halves of the ski area.
And there's plenty more besides: curling and ice skating or even ice hockey, sledging, snowshoeing and snow biking to name but a few.
Wide Ranging Accommodation
Arosa Lenzerheide is big enough to be able to offer every type of accommodation for all budgets.  You can stay in almost every type of property you can think of from a youth hostel right up to one of the most luxurious ski hotels in the world, the incredible Tschuggen Grand Hotel which has its own private funicular railway lifting you from the hotel to the ski slopes like a James Bond mastermind as well as one of the biggest and most spectacular spas you'll find in any ski area, created by the famous designer Mario Botta. You'll find lots of special packages available on the resort's website and it's easy to reach Arosa Lenzerheide with a flight to Zurich followed by a short transfer using Switzerland's famously efficient and uncrowded public transport system from the airport terminal right to the resort. The leading tour operator Inghams also offers holiday packages from the UK.
Ski School Included
The "Ski School Included" programme has been one of the region's most popular promotions and is back for its fifth season this winter 2016/2017.
The key idea behind 'Ski School Included' is to get more young people skiing and fight back against the problem in Switzerland and the wider world that fewer and fewer young people are getting out on the slopes.
Thanks to a partnership with many of the resort's hotels all group and ski and snowboard classes are free of charge for children born in or after 1999 (so up to around age seventeen or eighteen depending on the time of your holiday)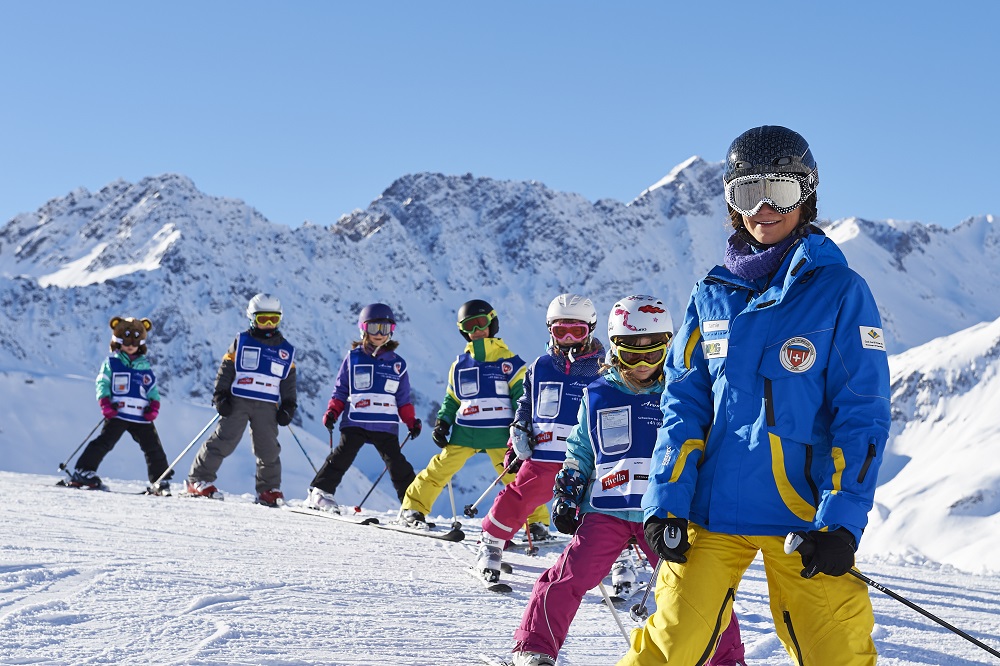 This offer is valid for a minimum two-night stay in many participating Arosa hotels and holiday apartments and for the two snowsports schools in Arosa, which have a reputation for being amongst the best in Switzerland for teaching children to ski.
Info
225km of piste / 43 lifts
Holidays from the UK:  inghams.co.uk
Enregistrer
Enregistrer
Enregistrer